Laser technology has greatly evolved since its first integration in devices. The different types of laser engraving devices are the best examples of what you can achieve with a simple laser beam. For instance, you can use the latest laser cutter models to work with wood, plastic, leather, rocks, and even some metals.
The extreme precision of the device opens a whole other universe of possibilities that match the best of creative minds. Laser engraving is widely used by several manufacturers, retailers, and advertisers to enhance their products with minimum effort.
In this regard, laser engraving is a rapidly growing industry, with newcomers joining regularly. It makes sense because laser engraving has the simplest business model that doesn't require much investment. Moreover, you don't need to spend on leasing a large workshop for your setup, and you can start a small laser engraving business right in your garage.
In short, laser engraving allows you to work on cool laser engraver projects and other ways to make money with a laser cutter. Here are the top 50 laser engraving projects that can help you earn money without complications.
Why are Laser Engraving Ideas so Popular?
Laser engraving is a vast field with something for everyone. You can use a single laser engraving for cutting, engraving, etching, and imprinting various concepts on a variety of materials without any problem. Moreover, it is a highly accurate device that cuts down the etching time of something as hard rock to a mere 15-minutes.
Furthermore, it uses advanced laser technology to ensure minimum material wastage in the process. Laser engraving doesn't require any physical effort except lifting the material and placing it inside the work area.
Secondly, laser engraving is a rapidly growing industry with high-profit potential. Manufacturers regularly outsource their printing and branding to local laser engravers as it is a feasible option that ensures timely delivery of goods.
Similarly, people like to customize their objects of interest to add a layer of uniqueness and personalization to almost anything. All these factors combine to form a huge list of things to make with a laser cutter with little to no experience.
Furthermore, the applications of laser engraving aren't limited to customization only. Nowadays, there are two types of laser engravers available in the market. Among them, the CO2 lasers are suitable for CNC laser engraver projects. The powerful laser beam can cut almost any soft material like wood, rubber, and plastic. The wide range of applications combined with the reasonable price makes it the best CO2 laser suitable for small businesses and home DIYers.
On the contrary, a fiber laser engraver is more of an industrial machine. It is a highly powerful device that can cut through thick metal sheets of steel, aluminum, and copper in no time. Moreover, you can also adjust the laser power according to your needs to ensure maximum productivity with minimum damage. However, any fiber laser is too powerful for soft materials, so it is best to understand your needs before purchasing one for your workshop.
In short, laser cutter engraver projects offer a chance to give your creativity a physical shape. The final products are high quality, durable, professional, and accurate without requiring any physical effort on your end. Therefore, laser engraving ideas are highly popular among folks these days. In fact, most people start engraving as a hobby and later develop a business brand to generate a handsome profit.
50 Best Laser Engraving Ideas to Make Money:
A laser engraver is a versatile machine that you can use for several purposes. For instance, a CO2 laser can be used to cut, engrave, etch, and manufacture fine quality products in no time. However, there are some skills that you must learn before diving deep into the laser universe.
First, you must know how the machine works, its requirements, and your limitations. The second step is to get a hold of graphics designing to design your creativity digitally and feed it to the laser engraver. However, you don't need to be a master of all these skills to do your first few laser engraver projects.
You can polish your skills if you get a grip on the laser engraving practice. Here are the top 50 laser engraving business ideas that can help you get a head start on your journey. Now, some of these projects require more skills than others. Therefore, it is best to judge your abilities before choosing one as your new project.
You can always come back for more ideas as you progress on your engraving journey to become the ultimate master of the laser engraving world. In my opinion, all these ideas are unique, and will surely earn you a profit if you manage to attract a suitable audience.
1. Unique Clock Designer: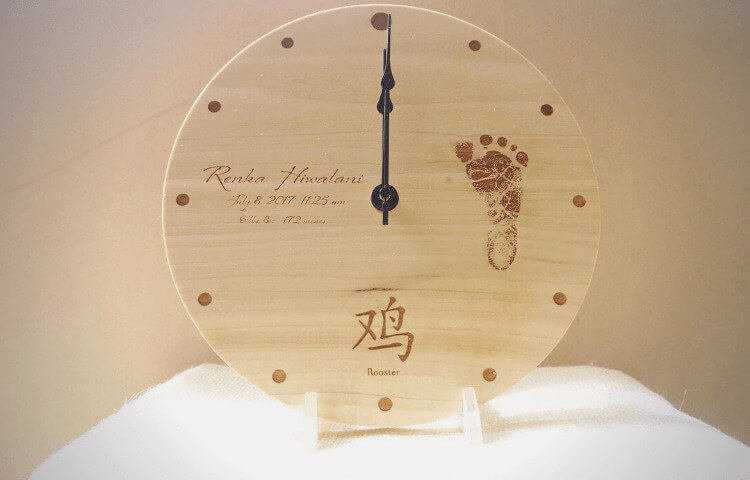 Clocks are simple devices that can enhance the elegance of any interior. In this regard, everyone wants something unique on their walls to impress the visitors. Moreover, almost every building has a wall clock these days, and it doesn't need to be boring at all. You can find several themes and niches for the project, and it doesn't require any technical experience whatsoever.
All you need is to think of a cool design, draw it on your computer, find suitable materials, buy the clock machinery, and start engraving your creative idea. Once the framework is complete, all there is left to do is to install the clock machinery, and you are good to go.
2. Junkyard Furniture Creations: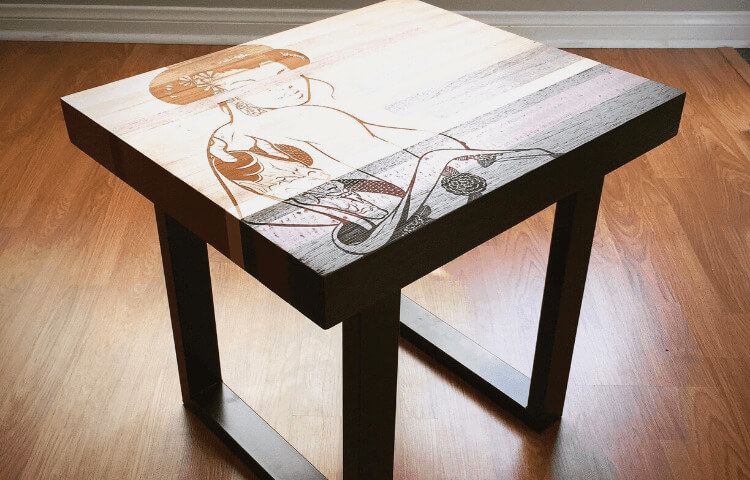 If you have enough tools in your workshop and the ability to think out of the box, this business idea is best for you. These days people want everything to be unique and creative, and furniture is the best place to start. You can visit your local junkyards and look for discarded furniture like couches, chairs, and beds in good condition.
Moreover, it is highly profitable as it doesn't require as much material as others. Simply choose the best item, fix it, use your creativity, and get brand-new furniture for sale.
3. Theme Toy Boxes: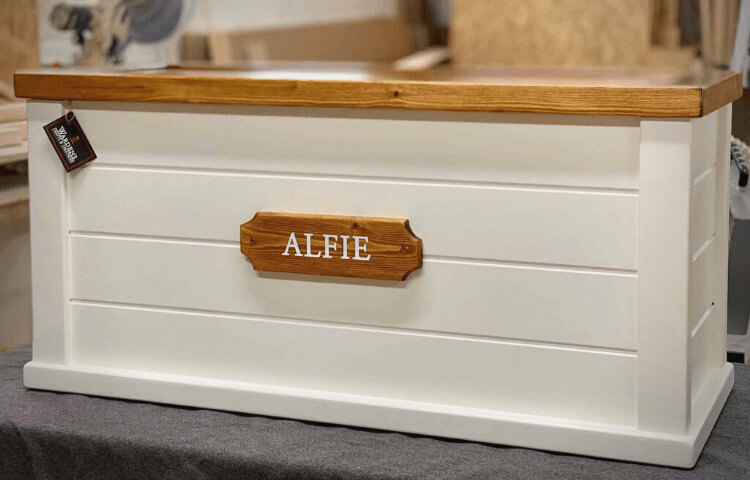 According to research, the kid's product industry is the one with the highest sales. It is because kids want new items once they get bored, and parents are willing to accept the demand if it is rational. So, manufacturing themed toy boxes is the best idea for a small business startup with less than $1,000 investment.
However, this business requires that you stay in touch with the latest kids' trends to know about their interests. Your design can be of any theme, from cowboys to space to happy animals, and so on. Once your product is complete, you can sell it online, personally, or to local retailers depending on your production capacity.
4. Business Cards: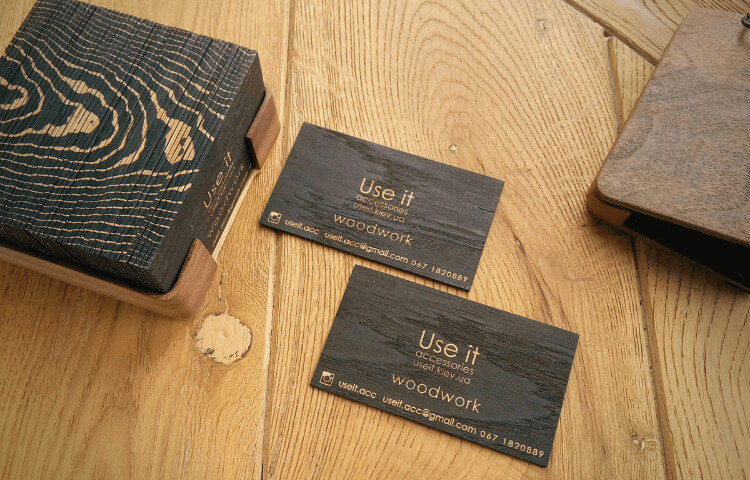 The marketing strategies evolve with the densification of the market. With new competitors in the market, the companies rely on innovative ideas to boost their sales. In this regard, handing out high-quality business cards seems like the number one choice. These days people print their business cards on durable materials like wood, plastic, and metals. This ensures that the customer starts to trust the firm as soon as he touches the card.
You can start by printing a few prototypes to show your capabilities to the clients and get bulk orders. In some cases, you don't even need to design the cards as the clients provide their own ideas. In any case, it is a long-term business idea with long-term potential and a high-profit margin.
5. Greeting Cards: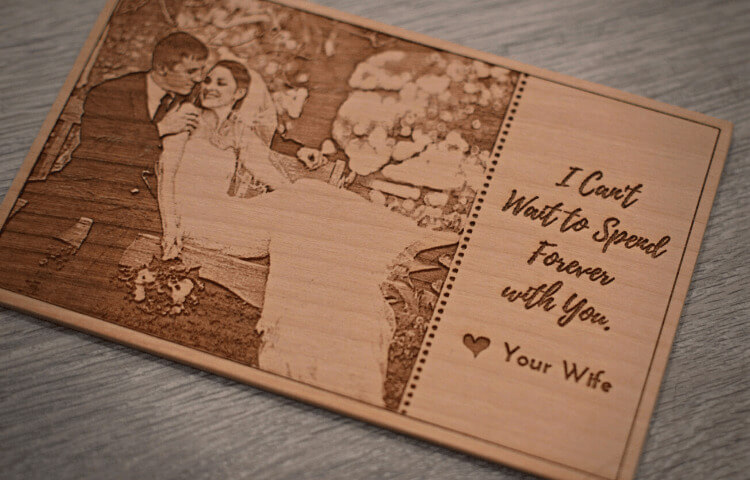 Like business cards, greeting cards are yet another way for businesses to attract more customers. Large firms often send high-quality greeting cards to special customers to let them know about ongoing offers and upcoming events. However, most greeting cards must be designed by the laser facility.
So, this business is suitable for people with some graphics designing experience and a lot of fun creativity. You can also start it as your part-time business expansion to show off your skills to the market. However, even one project is enough to pay off all your efforts in this sector. You can target businesses that require a consistent presence in the market, like dentists, real estate agents, and brands.
6. Decorative Wood Designer: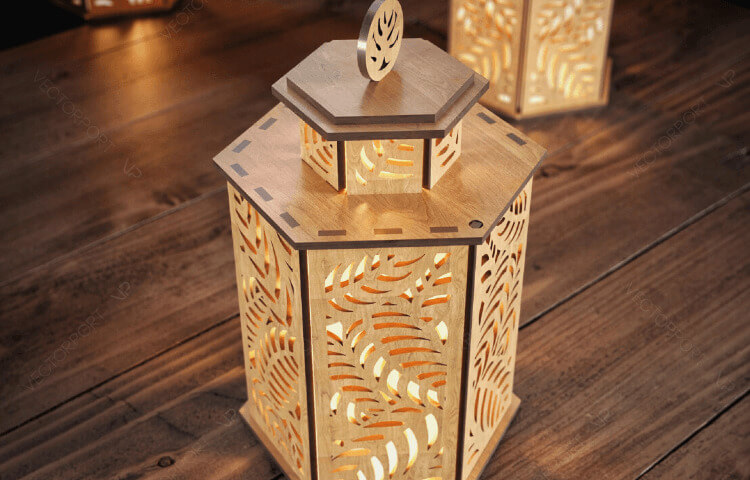 The power laser beam of your CO2 laser engraver can easily melt and engrave common hardwoods like maple, oak, and pine. You can use the device's pinpoint accuracy to manufacture outstanding products from plain wooden sheets. The choice of design can range from simple wall clocks to complex artwork, logos, and jewelry.
In any case, a laser engraver will never fail to meet your expectations when working on wood laser engraver project files. Moreover, you can even generate money by selling your work in the form of wooden ornaments online and in retail stores. The idea has the true potential of transforming your small business into an international brand.
7. Tombstones: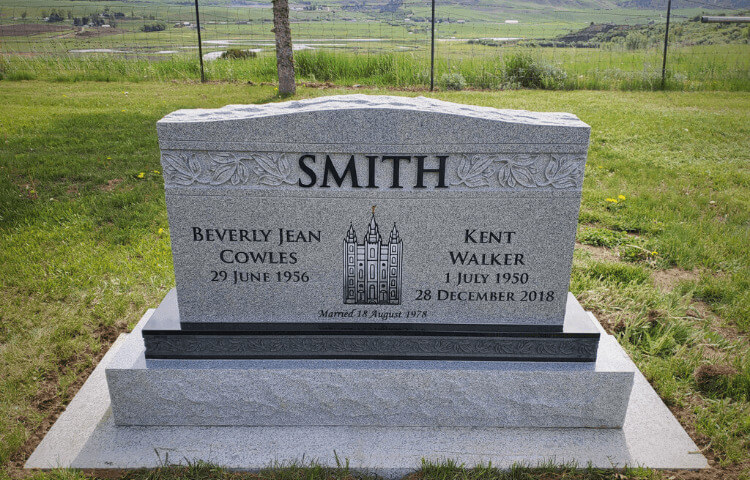 Tombstones have been used since ancient times. The stones required precise etching with sharp tools to engrave information about the deceased, which is very time-consuming. However, a laser engraver can make your job easier than ever before. If you own a funeral house, you must buy a laser engraver to boost your business.
All you need is a design template on your computer where you can input the user information to produce high-quality tombstones on the same day. Moreover, you don't need to rework the template as long as it pleases the deceased's family.
8. Glass Kitchen Instruments: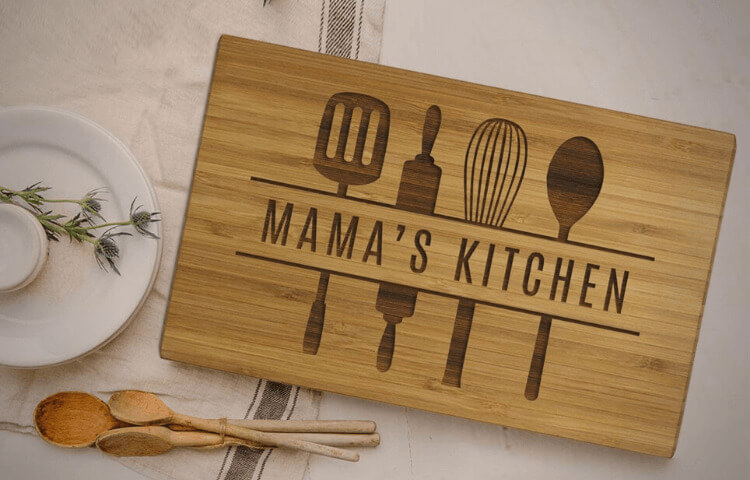 Kitchen instruments are a running item that quickly flies off the shelves. A single laser engraving device can convert your workshop into a go-to place for kitchen equipment. However, the business requires expertise in the graphics designing field where you can come up with new ideas all the time.
Alternatively, you can also hire a professional to do the designing while you print them on simple things like glass jars and plates. The process isn't different from working on wood, so you won't experience any problems if you are an experienced person. In any case, the best way to brand your laser work is to open a kitchen shop.
9. Book Covers: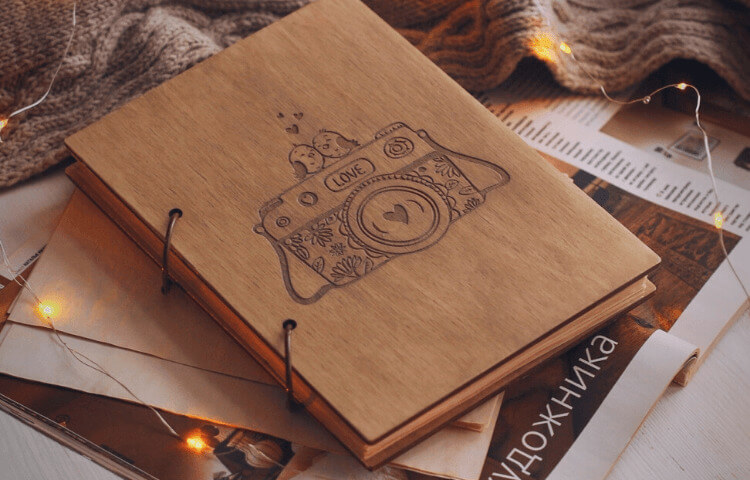 The best part about a CO2 laser is that it works great on leather and plastic. The powerful laser beam ensures to engrave the data without damaging even a single extra leather fiber. Moreover, engraved leather has an elegant burnt look that makes the book more appealing.
Therefore, major publishers get their book covers laser engraved to give them a premium feel. Similarly, you can also engrave custom data on wedding book covers and family photo albums as per demand. In any case, engraving book covers is a business with huge potential if you know the combination of font with colors.
10. Antique Furniture Refurbishing: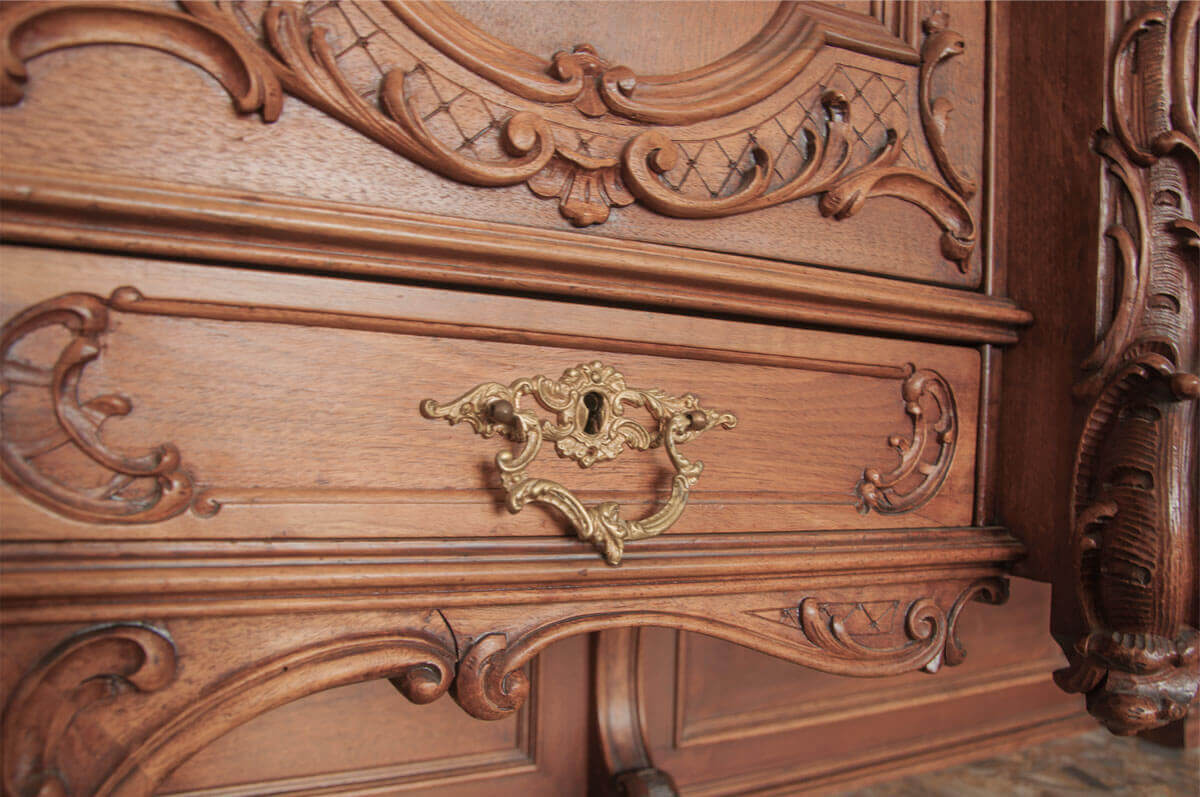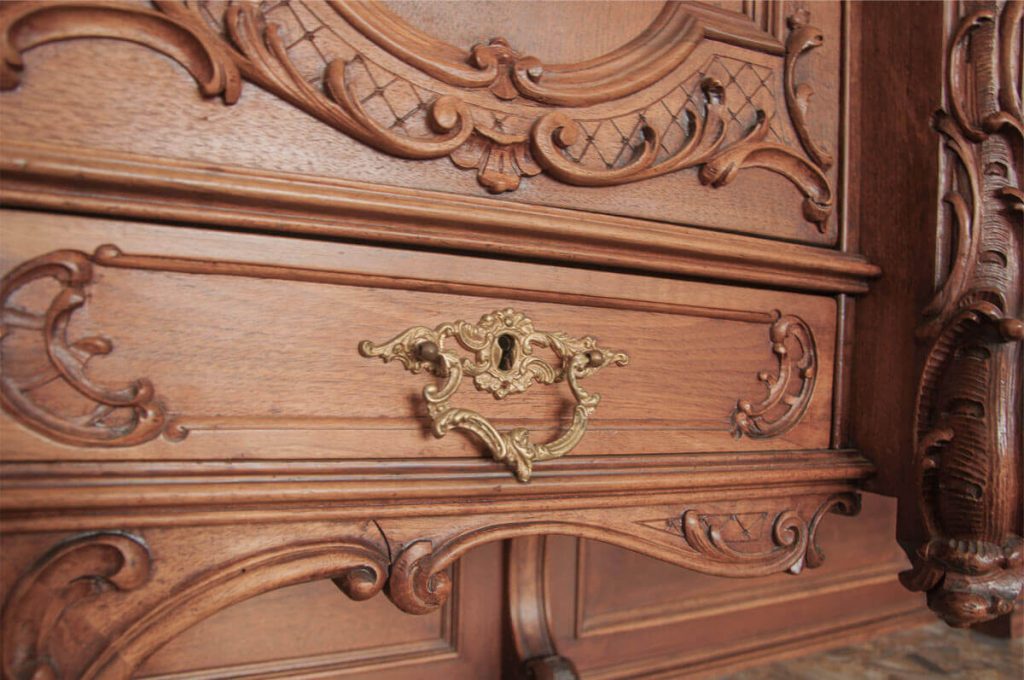 Custom engraving and refurbishing only enhance the value of antique furniture. There is an ever-rising demand for furniture refurbishing facilities in the world these days. Moreover, the business doesn't even require a commercial workshop if you have enough space in your backyard or garage.
You can always find valued customers who are willing to pay the right sum to fix their furniture. Furthermore, the business isn't limited to individual customers only. You can further extend your services to retailers who pay off a handsome sum to make any furniture brand-new before or after an auction.
11. Mirror Art Production: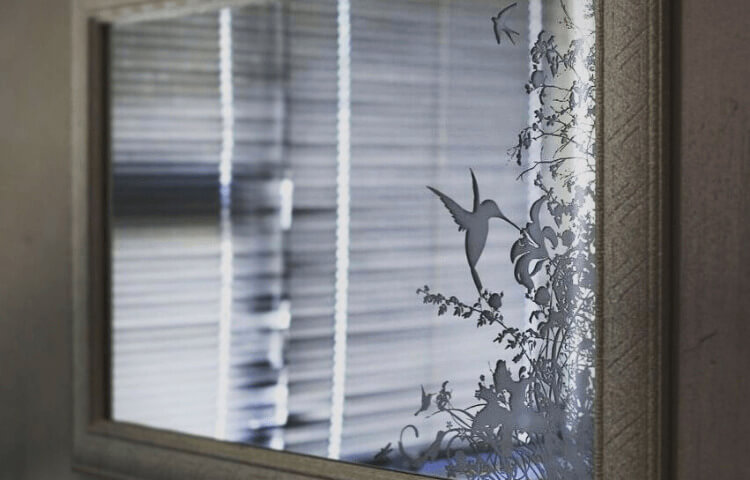 Mirror art has been used since colonial times. It is a simple artwork in which pieces from different mirrors are joined to form a colorful piece of art. Fortunately, the lost art has found its way back into the modern homes with themed interior design. Moreover, finding raw material for your mirror artwork isn't a hard job, as most glass shops dispose of small mirror pieces.
So, you can just buy a few perfectly sized mirrors and ask for small, discarded pieces from various retailers. You can then set your imagination free to create meaningful masterpieces and sell them to various customers. It is by far the most profitable business idea that requires minimum investment on your end.
12. Acrylic Items: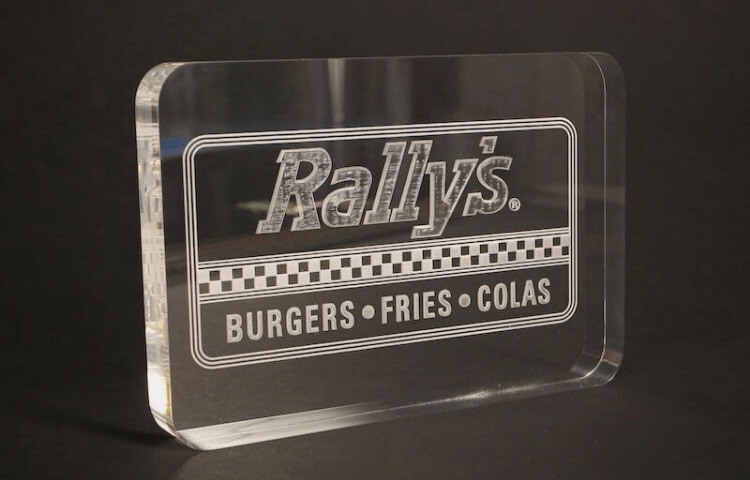 Acrylic material is the perfect base for working on creative, profitable welding projects. It is a transparent sheet that quickly melts under the laser and adheres to any object placed at the surface. The benefit of working with acrylic is that you don't need a powerful laser, i.e., an affordable one will get the job done.
So, now you have the perfect multipurpose material for producing decoration pieces, jewelry, marketing gadgets, logos, signboards, and anything else. Another reason to use acrylic in your laser engraver projects is that it comes in various shapes, sizes, and characteristics. In short, if you are still confused about where to begin, laser-cut acrylic projects will yield minimum losses.
13. Bridal Shoes: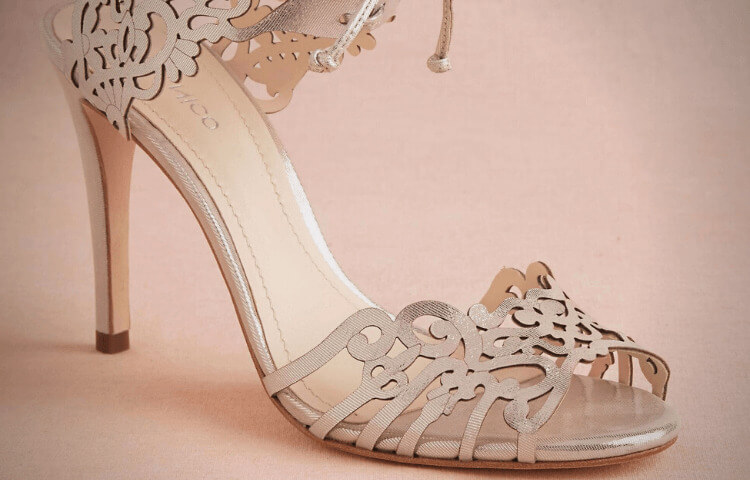 Marriage is considered the most important day, especially for the bride. Some even say that they have been planning their perfect wedding ever since they got their first doll. In this regard, nothing makes a bride happier than getting a personalized wedding dress, bridal shoes, and other items.
So, manufacturing custom bridal shoes or personalizing the ready-made ones is the perfect business idea for the wedding season. Using a simple laser engraver, you can design or redesign almost any bridal shoe according to the client's demands. However, before such a business, it is important that you are confident to work with leather and polymers.
14. Glass Etching: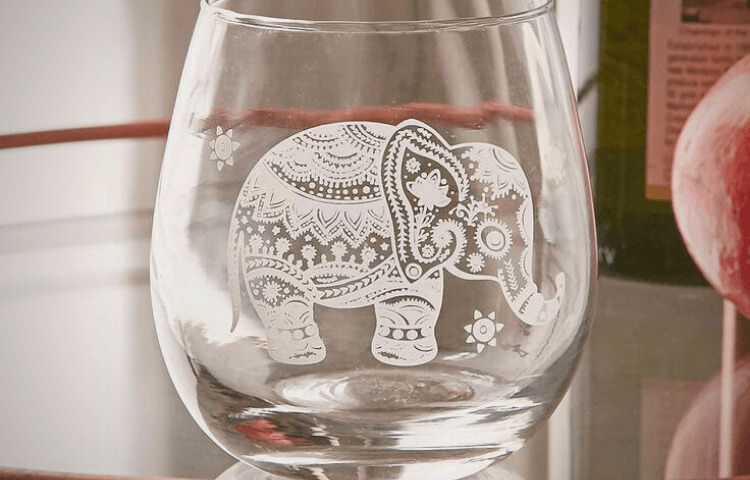 Nowadays, people want to etch their names and information on almost everything. You can find named cups and glasses in the market globally. So, it is a valued field that always stays in season. You can use a laser engraver to etch and engrave names, quotes, and branding on windows, cups, glasses, and crystal cubes.
Moreover, you can also set up an online brand to sell your manufactured products at a reasonable price. The business idea is perfect for those who want to open a small laser engraving business at home.
15. Engraved Fabrics: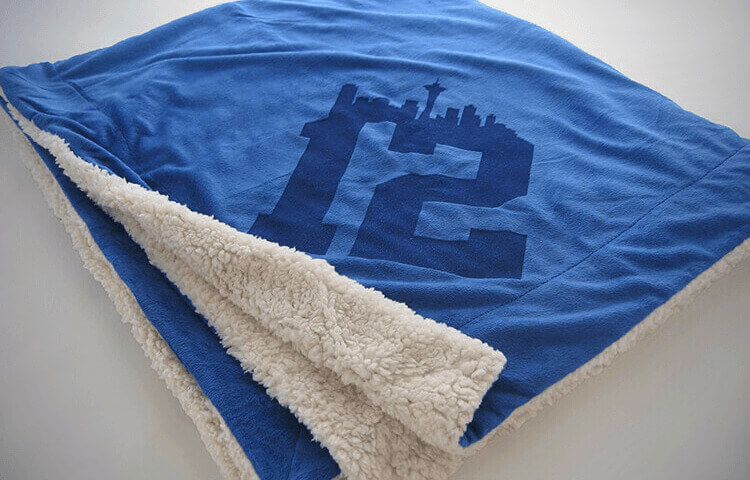 CO2 lasers work perfectly on different fabrics. This is a universal business idea with great profit potential. For this purpose, you need to buy some plain T-shirts and jerseys from the market for engraving. The colored laser engraving technology allows you to imprint company logos, branding, and personal information on different fabrics.
Manufacturers and sports teams hire laser engraving facilities to make unique apparel goods for their staff. So, once you establish a firm standing in the market, it is only a matter of time before various facilities approach you with big laser engraver projects.
16. Christmas Decor: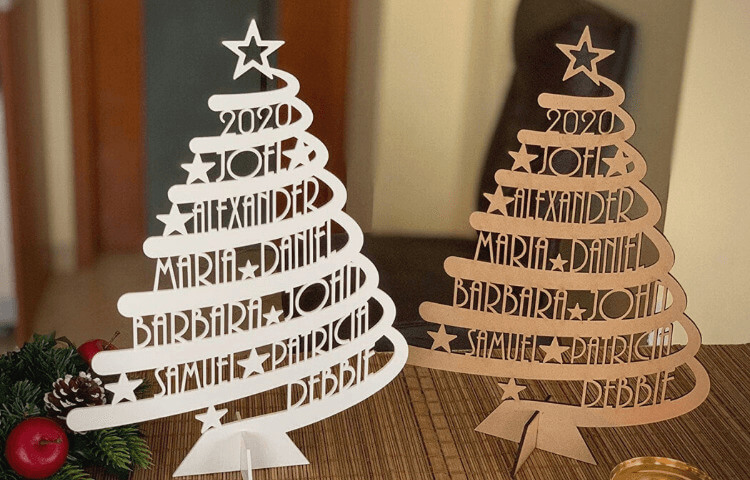 Christmas is by far the biggest festival celebrated all over the world. In the holiday season, people spend a lot of money on decorating their homes and offices. So, manufacturing Christmas ornaments can generate some part-time seasonal profit for your business. You can make Christmas décor products from almost any available material using your creativity and skills.
Moreover, you can sell your goods on multiple forums like Amazon, eBay, and local retail stores. The simplest décor items like tree decoration and wreaths require minimum effort and generate hefty profits. Similarly, you can also make personalized goods in order to boost your profit margin.
17. Photo Frames: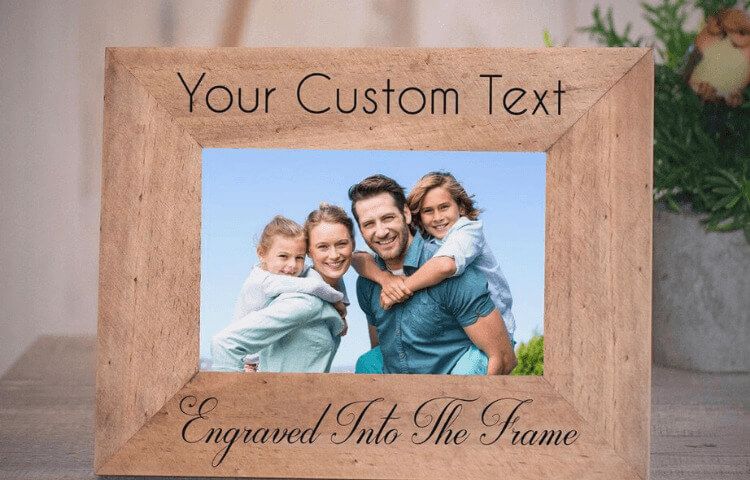 Photo frames are the best way to preserve memories and your loved ones. Moreover, a perfect frame enhances the elegance of any pictorial artwork and makes it meaningful. In this regard, you can establish a business of producing elegant photo frames made of wood, plastic, plaster, and aluminum.
All you need is a simple laser engraver, a creative mind, and targeting the right audience to generate profit. Moreover, you can also extend your business by offering customized photo frames to people who want to engrave valued information. In any case, it is a highly profitable business idea that doesn't require much hard work.
18. Laser Cut Art: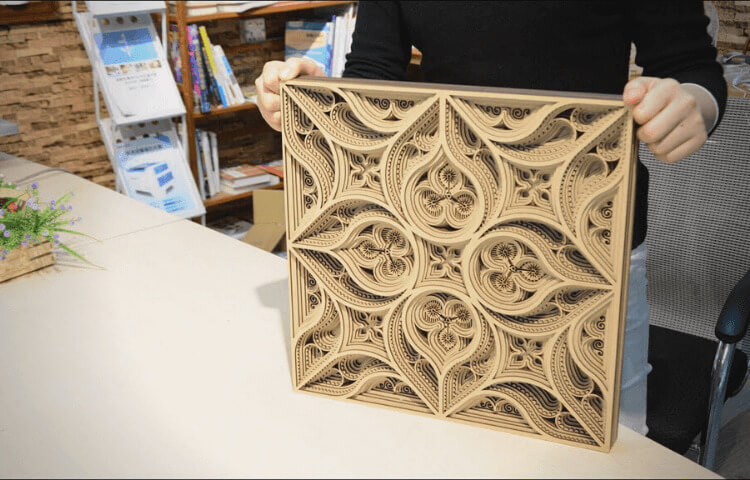 Laser cutting is a vast field with no limits for your creativity. You don't need paint and a brush to produce high-quality artwork at home. If you have the right creativity and graphic designing skills, you can create elegant artwork from almost anything at hand. The best part is that you don't need to open an art gallery to introduce yourself: the art sells itself.
So, if you are willing to dedicate a reasonable amount of time to your business, laser cutting can surely earn you a name in the market. The artwork can range from elegant wall art to state-of-the-art room décor items that go at an unbelievable price.
19. Laser Cut Coasters: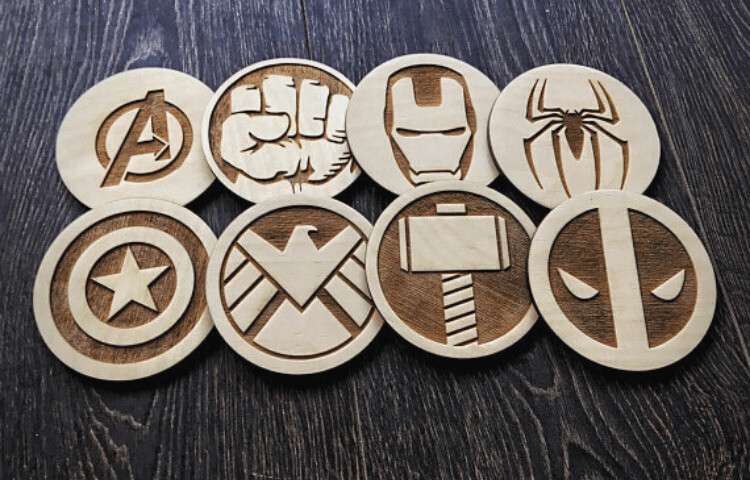 Coasters are simple items that boast great value to any table. Nowadays, marketing experts use coasters in restaurants and cafes for advertising. It is a brilliant concept as the customers view the product as soon as they pick up their cups.
So, if you know how to laser cut plastic or leather, you can open a coaster business in no time. Moreover, you don't need to worry if you are not good with graphics designing as there are plenty of free designs available online.
20. Welcome Mats: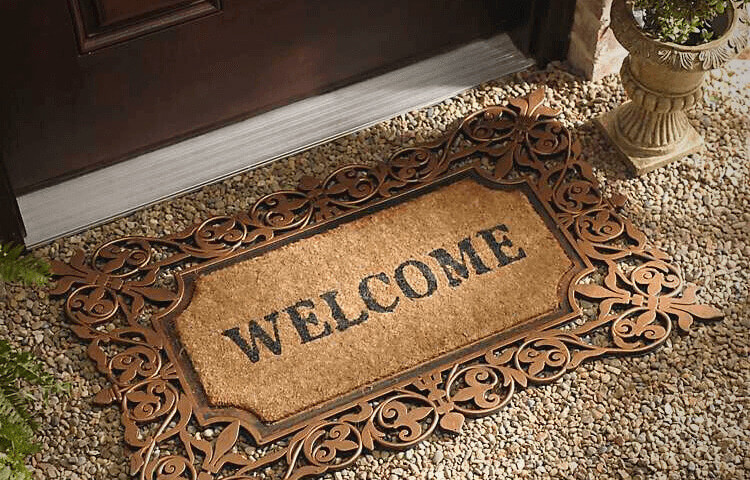 If you have already worked on the fabrics project, the next step is to extend to a new field. The benefit of laser engraving is that it transfers your design to almost any material without any problem. So, you can manufacture elegant welcome mats for individual customers.
Moreover, the project also has industrial value as major companies use personalized welcome mats to show off their uniqueness. In short, if you choose engraving fabrics as your field, this business idea will help you grow your business in no time.
21. Cut-outs: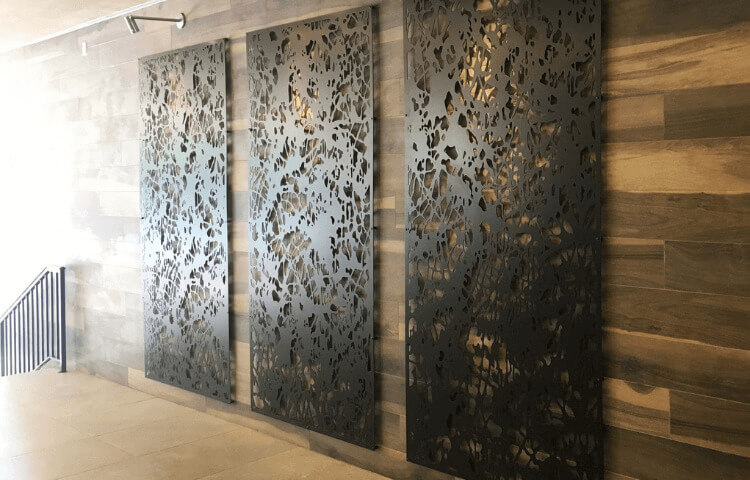 Precisely cutting hard material in such a way that it fits perfectly is an easy job for laser cutters. The laser guidance system ensures that the beam doesn't deviate even a single inch from its path. So, now you can manufacture special cut-outs for interior designers and carpenters looking for customized products.
However, this is a business idea for fiber laser cutters as they can work on almost any metal surface. Still, you can use a CO2 laser to cut anodized aluminum for simple laser engraver projects. In any case, this business idea is perfect if you are looking for a part-time hobby.
22. Customize Metal Cups: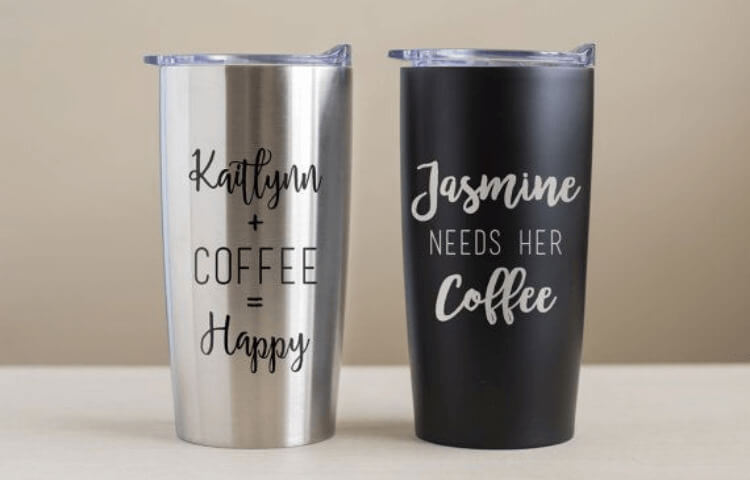 Metal is among the most durable materials for laser engraving. Its long service life ensures that the engraving stays intact for as long as the product is being used. Therefore, some people like to customize metal cups for a perfect sense of uniqueness in their stuff.
You can offer to customize metal cups if you have a 40W or above CO2 laser engraver in the workshop. However, you may need to purchase some stylish fonts for your setup to meet the customer's requirements. In any case, it is recommended only to use this idea as a part-time income.
23. Produce Laptop Stands: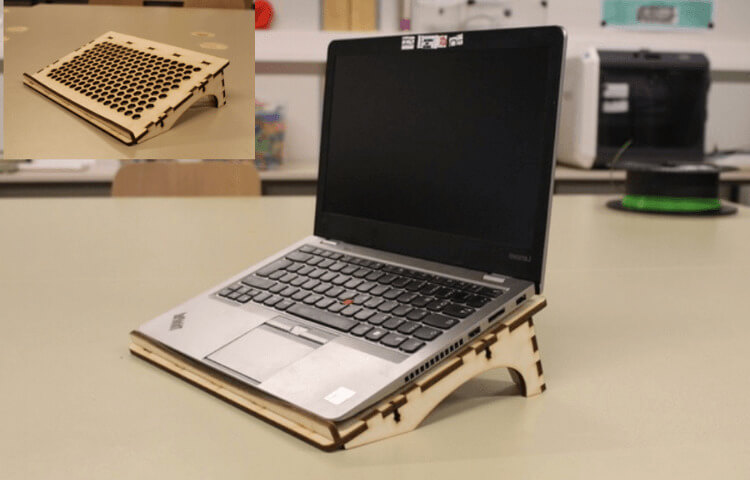 Laptops have completely taken over the computer industry for most workstations. Nowadays, even some gamers use laptops for non-competitive gaming in bed. However, the laptop quickly heats up if placed directly on the lap, and it isn't good for health as well. So, you can generate some profits by producing high-quality laptops that stand for the market.
Moreover, the current work-from-home condition has led to an increased demand for such products. In short, if you are good at carpentry or understand what it takes to make a comfortable stand, I highly recommend that you try this idea.
24. Laser Cut Bookmarks: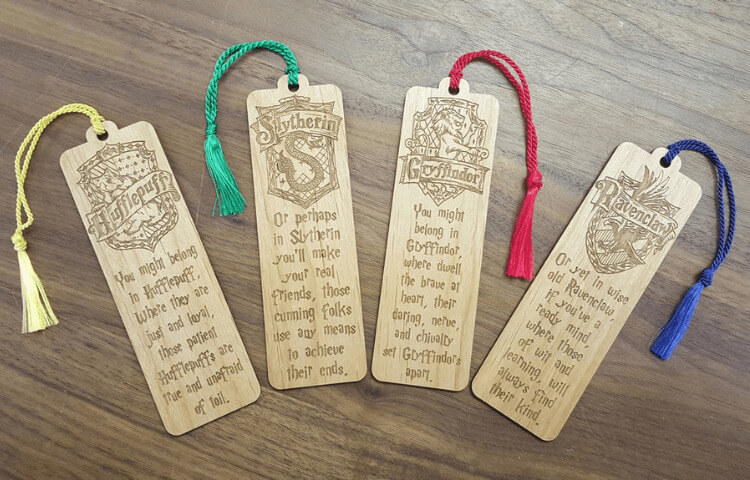 Bookmarks are the most important gadget for people who love reading. It is almost impossible for anyone to finish a book in one sitting. So, people use bookmarks to resume where they left after a break. Typical bookmarks are made from wood or leather. However, the beauty of bookmarks is that you can use almost any material in them.
So, if you have some leftover material after a bulk project, you can utilize it to make attractive bookmarks. Moreover, it doesn't require as much graphics designing if you know the basics. Think about shapes that motivate people to read more like a leaf or a feather. Design it yourself, or download it from the internet, and start making high-quality laser-cut bookmarks for some extra profit.
25. Custom Fireplace Mantels: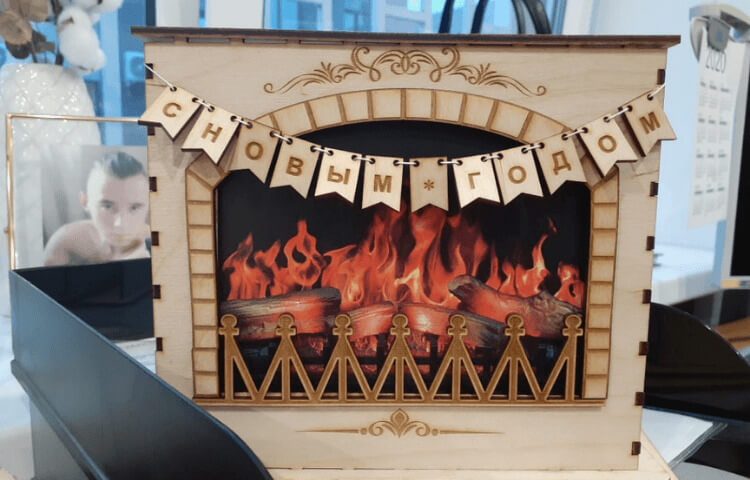 Modern homes use the gas fireplace in construction and renovation. All fireplaces have one thing in common, i.e., they need a mantel that matches the fireplace design. However, it is hard luck for the decorators to find the perfect mantel for every project.
So, you can cash the market supply gap by offering custom fireplace mantels for the customers. This business has huge potential, especially in a growing community with new constructions. So, if you live in such an area, no other project will yield more profits than this idea.
26. Laser Cut Jewelry: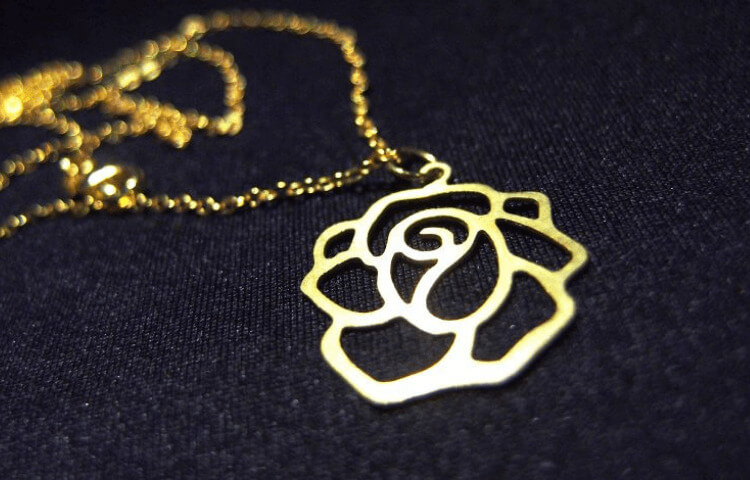 The beauty of jewelry is that it changes with the evolving trends. Modern jewelry isn't limited to gold, silver, and metals. As a matter of fact, teenagers prefer acrylic and fabric jewelry over gold. So, if you have good taste in fashion, this field is perfect for you. Custom-made jewelry is yet another item that can boost your sales.
In short, you can use your laser engraver to manufacture fashionable jewelry from plastic, wood, leather, and aluminum. This business idea has a high chance of transforming your workshop into a full-fledged jewelry brand if you put enough dedication into it.
27. Custom Leather Shoes: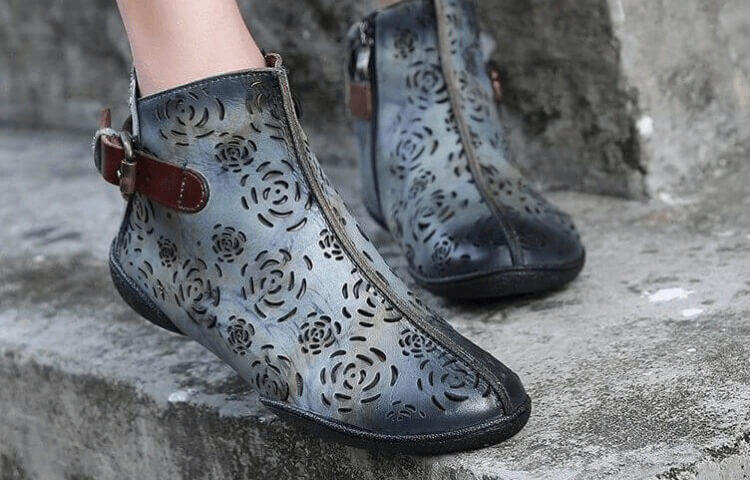 Laser engraving isn't all about manufacturing products that sell at an affordable price. If you want to target high-end, elite-class customers, you can always go for premium leather products. The ability to cut leather with a CO2 laser gives you the upper hand over other artisans.
You can produce unique designs or work as per the client's order to produce professional output in a minimum time. Moreover, you can also offer to customize pre-made leather shoes to earn without investing in the material. Overall, it is a profitable field but at a slow pace.
28. Custom Signs: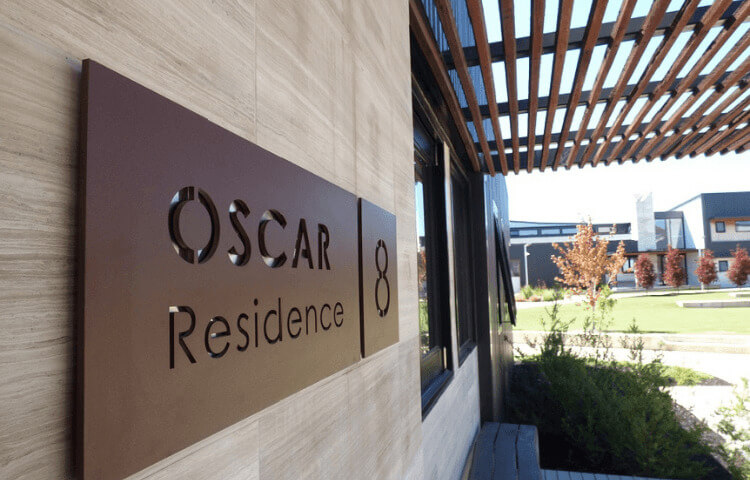 Custom sign boards are the best way to educate and attract customers for many businesses. Almost all the signs that you see in the streets are laser engraved. However, the market has a high demand with few suppliers. So, the field is perfect if you are looking for a full-time business with little to no competition in your area. The market has great potential in the form of individual clients, businesses, and even government projects. If you have the time to dedicate to such a business, this idea will yield great profits for you.
29. Cutting Puzzles from Steel: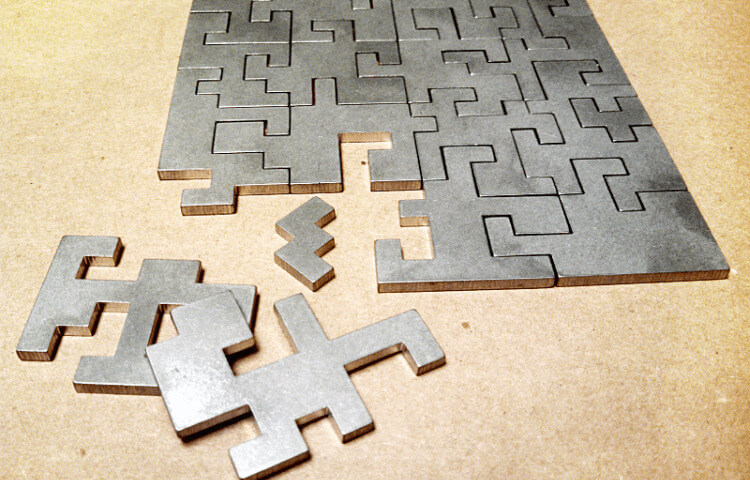 Puzzles are a great way to enjoy some quality time while training your brain. People who want an active mind generally depend on various puzzles in their spare time. However, most puzzles are made from soft materials like cardboard that get damaged very quickly. Therefore, smart people use metallic puzzles that they can use for several years.
You can use a fiber laser cutter to manufacture various puzzles from plain steel sheets. Moreover, producing puzzles isn't a complex task. Start by engraving a picture or a figure on a metal sheet. Then, increase the laser power to cut the picture into different shapes and sizes. Lastly, pack the puzzle in an attractive case to make the most out of your business.
30. Remodel Album Art Covers: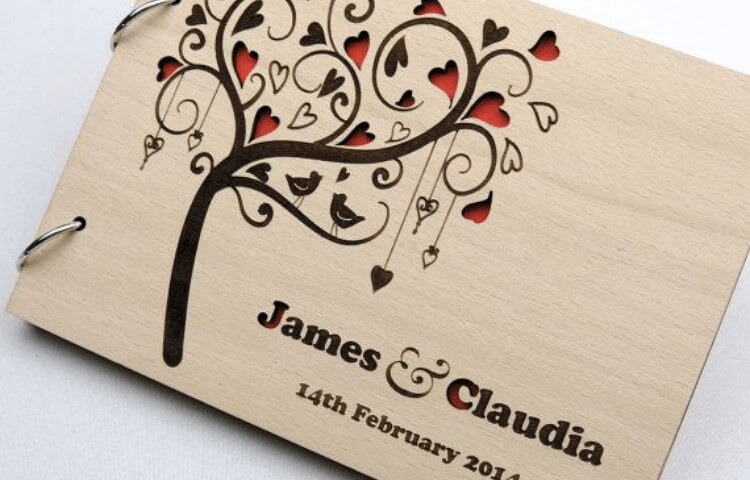 Album artwork is slowly fading as digital media records are replacing it. However, people with good taste still love to collect some classical art covers as a hobby. The brilliance of this idea is that the artwork can be used to decorate the interior space of any room. However, this business requires some investment as you have to collect the album covers from different stores.
Moreover, you must also interview several hobbyists to understand their expectations. Lastly, assemble all the records on an acrylic sheet and use your laser engraver to fix them in place. You can sell your products to individual customers or interior designers at a good value.
31. Architecture Decoration Pieces: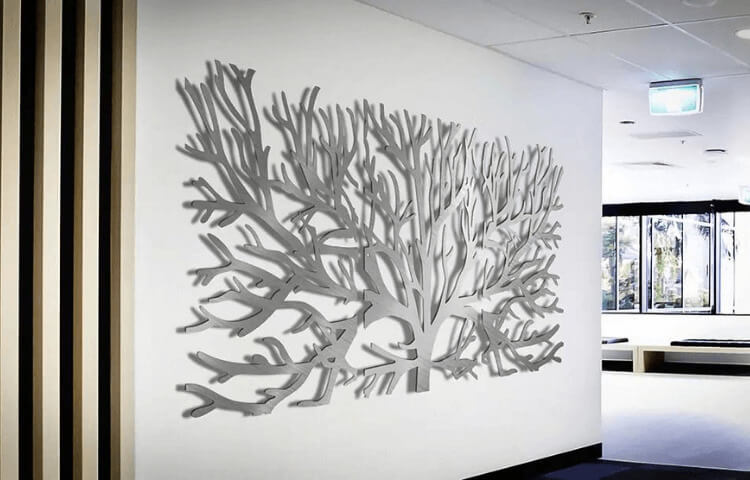 People use various artwork pieces to decorate their homes. Among them, the architectural models of famous places are the perfect way to show their love for traveling. It is a simple business that doesn't require much experience in graphics designing, as most blueprints are available online.
However, you may need some time to polish and decorate your products to look realistic. For example, you can download the blueprints of the Taj Mahal using a laser cutter to produce a small model using ceramic, plastic, or wood. Finally, use a sander to polish the edges and color the model.
32. Customize Smartphone Covers: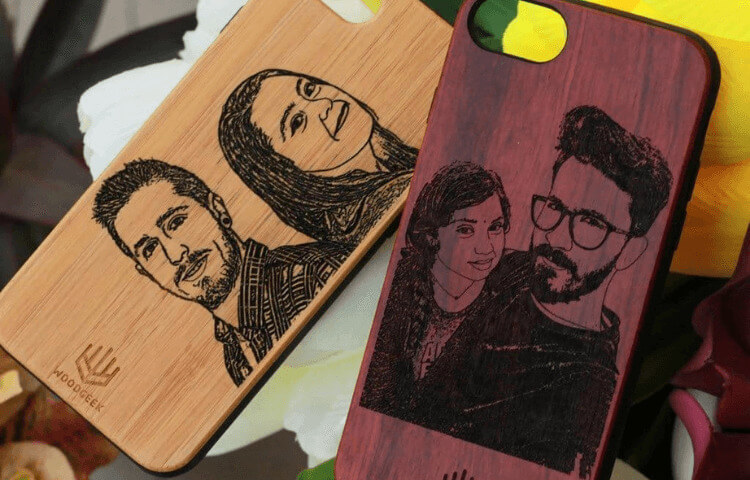 Smartphones are among the most commonly used items these days. It seems rather irrelevant to ask if someone owns a smartphone. However, it is a fragile device that requires a protective case. People love to use custom phone cases to show their uniqueness.
Fortunately, all you need is a CO2 laser engraver to imprint various designs on smartphone protective cases. So, if you are a good graphics designer, you can surely benefit from this growing business. It is best to start an online website where users can provide their own designs for you to engrave on custom phone cases for better results.
33. Photoengraving: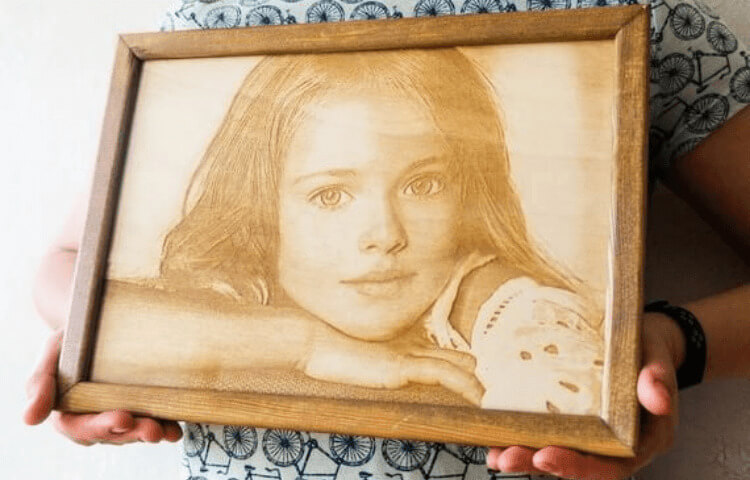 Photoengraving is yet another profitable area to establish a small laser engraving business. To preserve their memories, people like to engrave photos of their ideals and loved ones in durable materials like wood and black glass. Moreover, it makes the perfect wall art décor for homes and offices.
However, you must first understand how to work with grayscale images before starting a photoengraving business. After that, it's all about importing the design in the laser software, and the laser engraver takes care of the rest for you.
34. Wood Wall Art: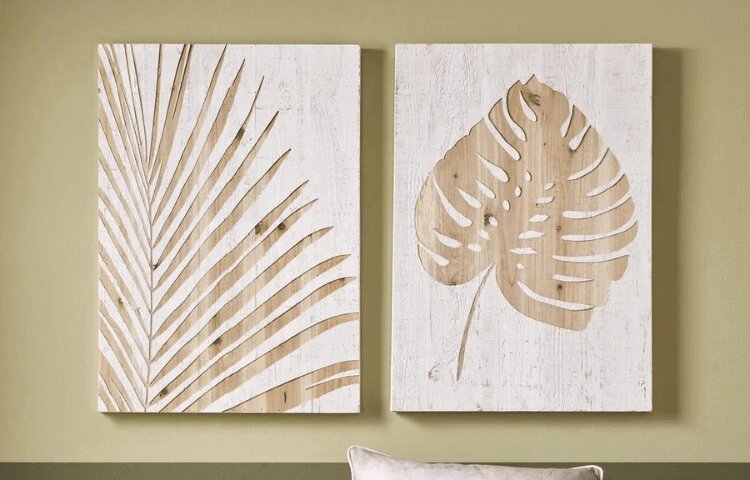 Walls are like blank slates, waiting for your creativity. In this regard, wooden wall art is the perfect way to enhance your interior décor without spending much. Moreover, setting up a wood wall art business is relatively simpler than others.
All you need is a laser engraver, a creative idea, and a blank wooden sheet. The laser engraver works on its own to automatically cut the wood into your desired design. You can also create custom wood arts for individual clients to further increase your profits.
35. Wedding Coasters: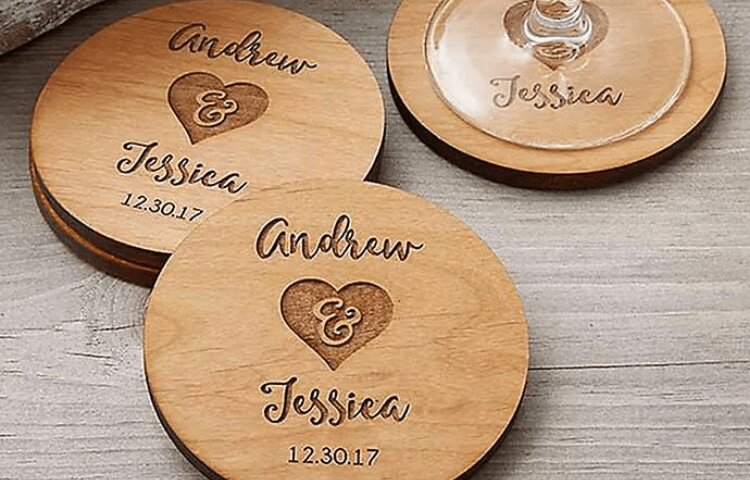 Wedding coasters are not very different from laser-cut coasters. In fact, producing wedding coasters is rather simpler and more profitable than the former. People want everything personalized on their weddings to make them a memorable event. So, if you have several marques in your locality, it is a profitable extension for your existing coaster business.
36. Mid-Century Modern Moth Clock: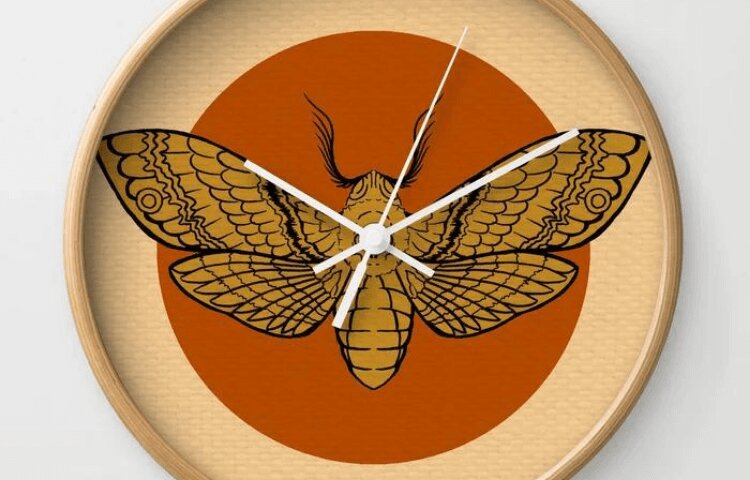 Mid-century was a time when great architecture and art were a trend. Fortunately, you can relive that period by theming your interior as one. Most people who love history are always on the look for such artifacts in the market. Moreover, producing a moth clock isn't different from laser cutting a simple wall art clock. So, it is an extension idea for those looking to make something extraordinary for the market.
37. Hanging Screen: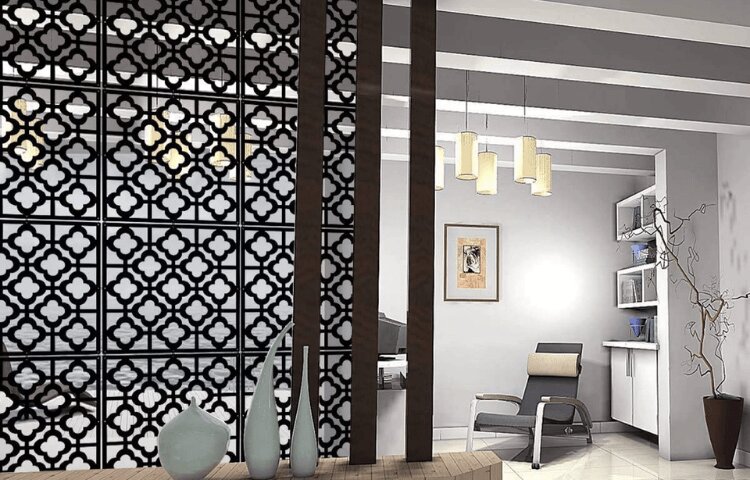 There is nothing that you can't make with a laser cutter. There are many forms of wall art that go well with almost any interior décor setting, and hanging screens are one of them. You can produce various attractive hanging screens like mosaics for the tasteful community. Moreover, these art pieces sell for almost double or even triple the price of others.
38 .Wedding Signage: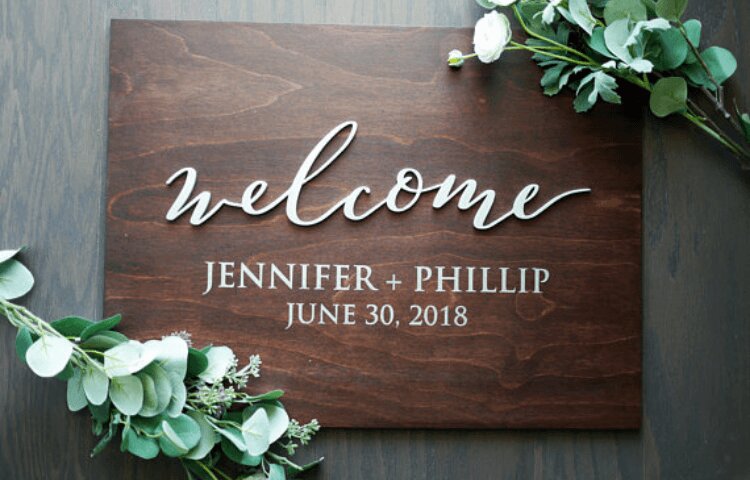 Another way to earn a little extra from the wedding season is to produce sophisticated wedding signages. You don't need to spend anything in terms of machinery and material. However, the business idea requires a tremendous amount of creativity, as adding flowers isn't enough in some cases. Still, if you are good with fonts and color contrast, this part-time business may pay off better than other aspects of your business.
39. Engrave Rings: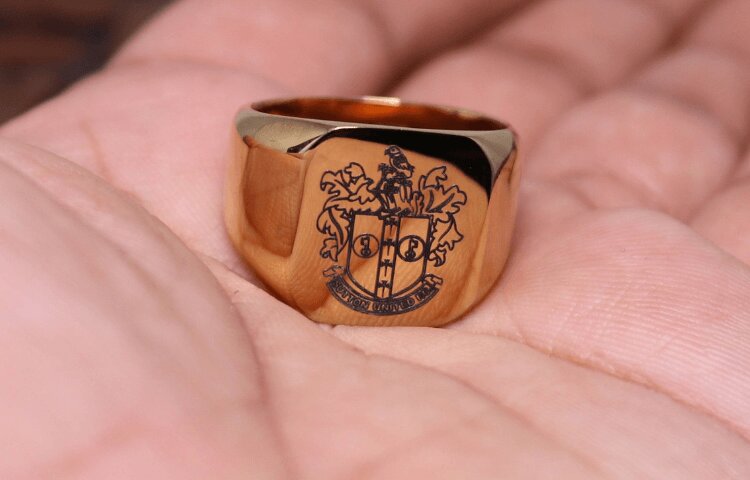 Engraved jewelry attracts women, unlike any other object. For example, if someone is looking for the perfect anniversary or wedding gift, an engraved ring is the way to go. Most people understand the importance of engraved rings, so the field has high-profit potential.
Moreover, it isn't a hard job as the laser engraver accurately imprints the name and data on the ring without damaging it. However, working on such a project isn't recommended unless you are well-experienced with lasers.
40. Wooden Necklace: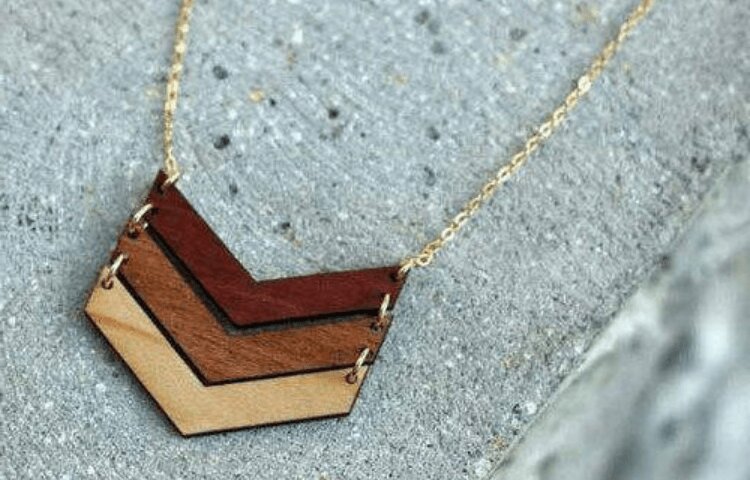 As mentioned before, modern jewelry isn't limited to gold and silver anymore. Millennials appreciate the objects for their looks rather than what they are made of. So, laser-cutting wooden necklaces can be a profitable side-business for your workshop. For instance, you can produce a wooden diamond statement necklace if you are an experienced engraver.
However, if you are new to the market, you can go with simpler necklace designs like a leaf or something. In any case, it is a profitable idea if you know where to sell your goods.
41. Geometric Earrings: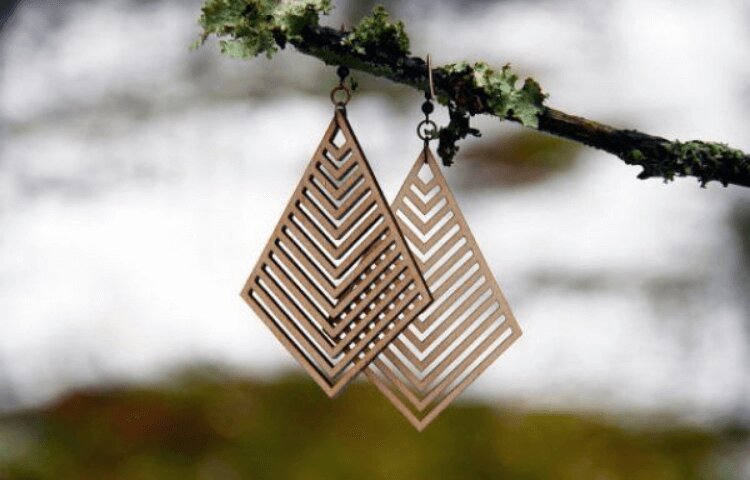 Earrings are the perfect gift for young females on their birthdays and anniversaries. Moreover, a personally engraved earring hits at another level. Producing such beautiful ornaments requires good laser skills and the right choice of material. For instance, you can produce a lightweight geometric earring using birch wood and sandpaper. Overall, if you want to make something for your loved ones or make a fortune, jewelry is the perfect answer to it.
42. Big Letter Branding: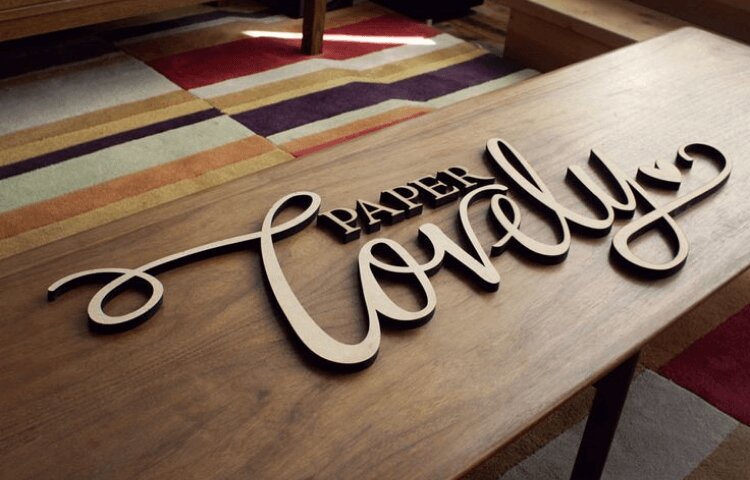 Marketing experts use different strategies to attract customers. In this regard, they hire laser engravers to produce branding signboards and artworks for their business. The material of branding depends on the usage. For instance, a signboard must be made from wood, plastic, or acrylic. Similarly, you can make branding for windows from glass, metal, or plastic. In any case, the business idea is perfect if you want to look for long-term projects.
43. Engraving Steel Cases: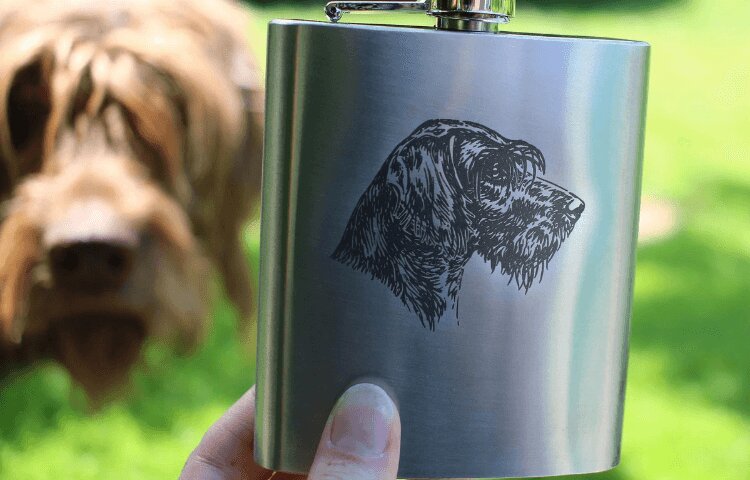 Manufacturers and production facilities use laser engraving for branding and imprinting important data on their products. However, establishing a laser department in the company isn't feasible for the business. So, they outsource the engraving to local laser facilities. If you have a fiber laser engraver, your best shot is to get a contract with such clients.
However, working with such clients means that you must always stay ahead of deadlines to build a good market reputation. So, if you have enough investment, I suggest that you drop all other ideas and start engraving steel cases.
44. Engraving Clothes: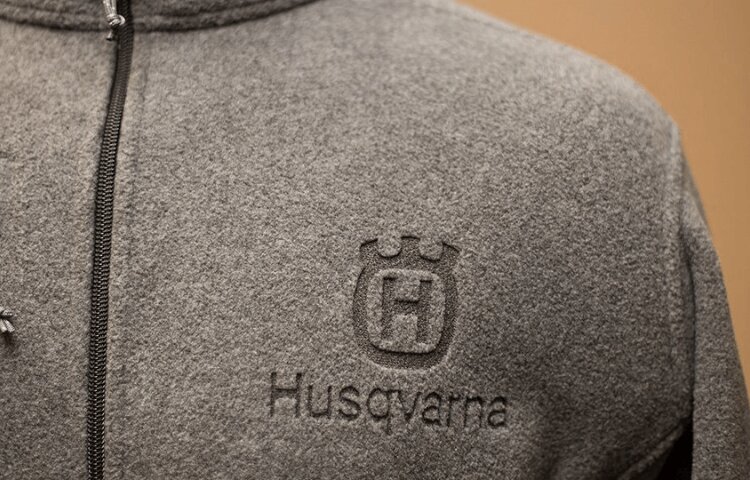 Modern fashion is greatly affected by the advancement of laser technology. The pinpoint accuracy of laser engravers allows the designers to imprint rather complex designs in T-shirts and other clothing materials. Moreover, some local clothing brands also hire laser engravers for branding and customization. Moreover, if you wanted to be a designer in the first place, well, now is your time to showcase your creativity on plain T-shirts. Overall, it is a profitable business field that only requires pure skill and marketing strategies.
45. Customizing Glass Cups: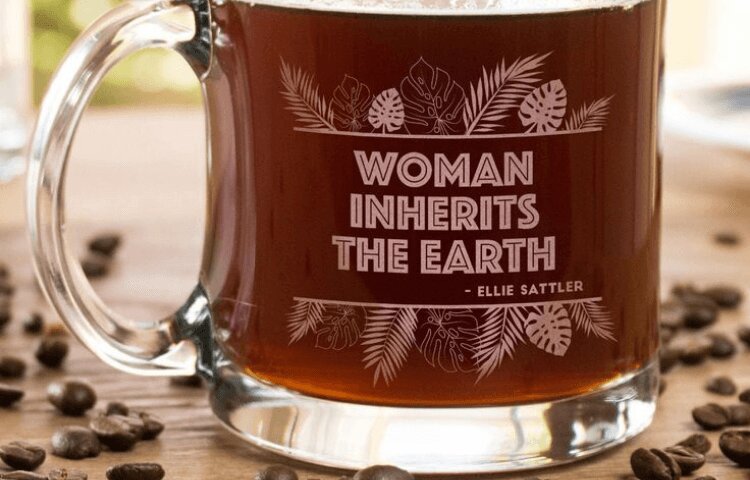 Custom cups are the perfect way to start your day. Laser engraving allows you to write almost anything from your name to a motivational quote on regular coffee mugs. You can start a custom cups business to transform simple cups into personalized items for your customers. Moreover, it doesn't require much investment as you can engrave almost any design, data, or cup using a cylinder laser engraver.
46. Name Tags for Pets: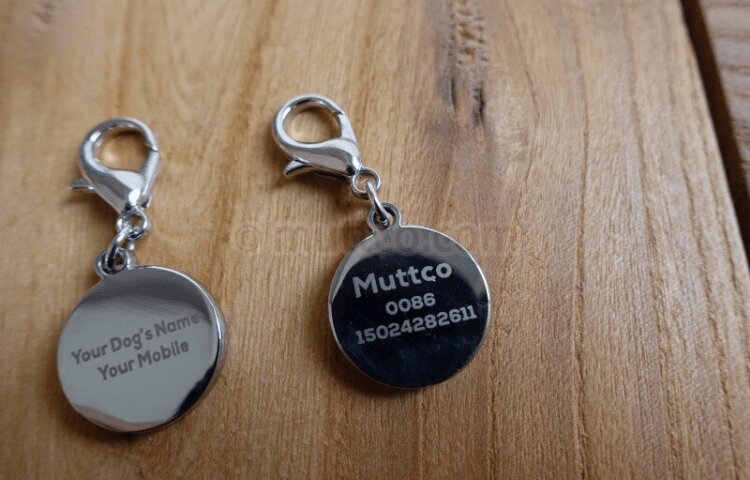 Nametags are the best way to give an identity to your beloved pets. It is also the first gift that you give your pet right after adoption. Therefore, people like to personalize the name tags with quotes of love and family details to show their love. It is a profitable business and a rather fun way to meet new people and knows about their mindset. However, you need a rather powerful CO2 laser or a fiber laser engraver to start this business. So, it is only best for a part-time extension of a laser engraving facility.
47. Colored Laser Engraving: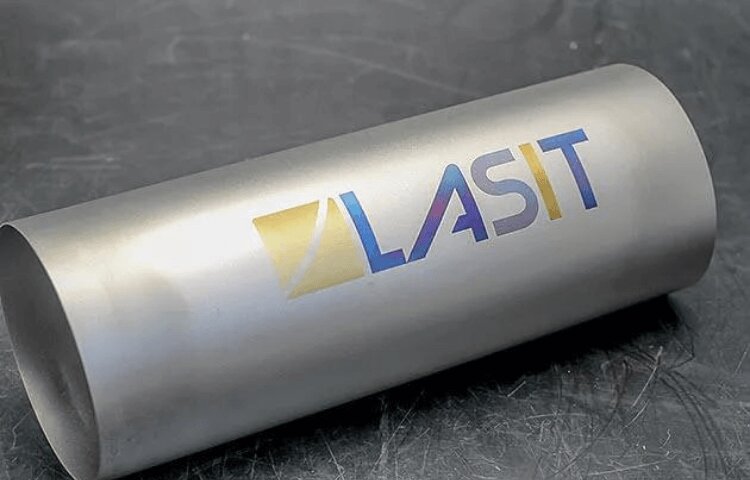 Colored laser engraving is a relatively new concept in the market. It allows you to imprint colored photos on durable material that doesn't fade over time. If you learn this new art, you can surely make a fortune in the market. The technique is not only used for photoengraving but also for producing various artworks. Thus, if you are a fan of art and good with graphics designing, there is a great profit for you in this field.
48. Leather Engraving: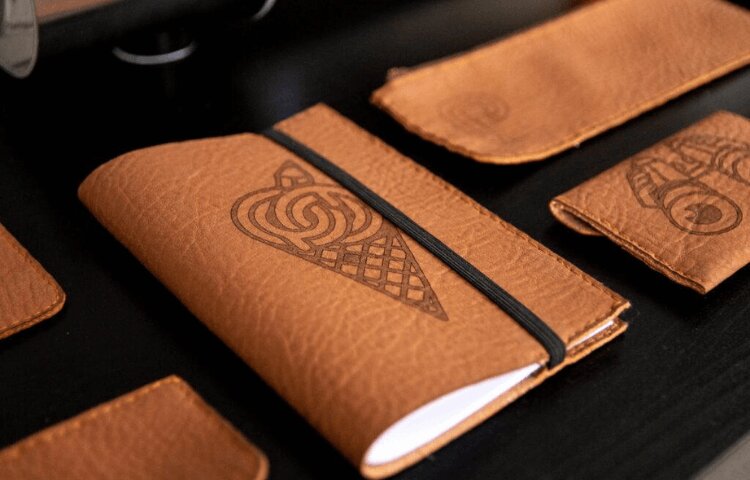 Leather is widely used in producing almost everything from shoes to wallets to belts, and so on. In this regard, you can manufacture various premium products or customize the existing ones using a laser engraver.
The most successful business is to provide engraved belts, bags, and wallets for customers looking for the perfect gift. In any case, it is a profitable field where you can easily target high-end customers who are looking for premium products.
49. Engraving Weapons: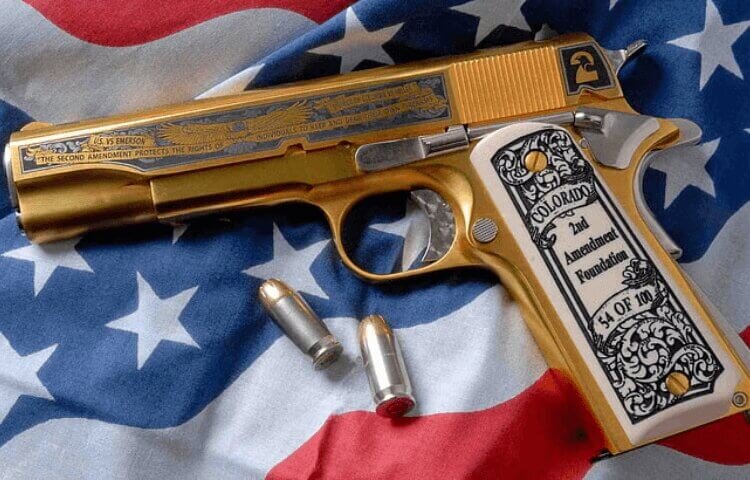 A true marksman loves his gun just like he loves his best friend. There is no other way to show your love than to engrave your name on the weapon. In this regard, hobbyists and professionals are always excited to engrave their weapons without damaging them, and lasers are the perfect way to do it.
Moreover, you don't need a powerful laser to etch the surface, as even a few millimeters of engraving leaves a lasting print. It is a good business idea if you are interested in custom weapons and knives.
50. Producing Boxes: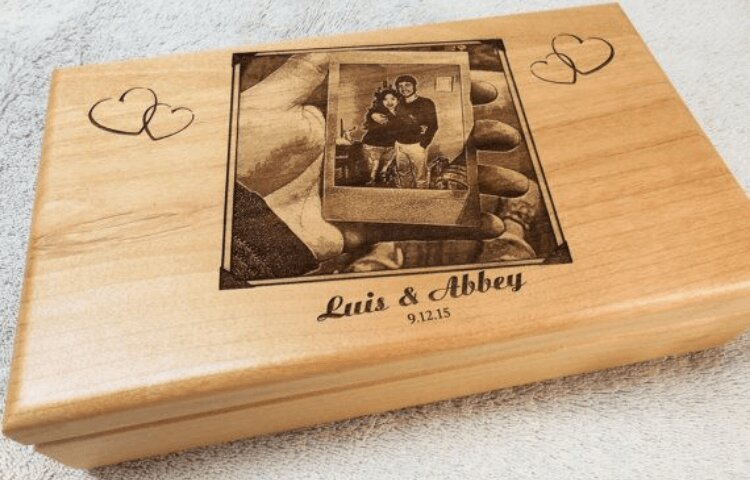 The best way to protect something is to put it in a special box. Therefore, people use jewelry boxes for ornaments, gadget boxes for their accessories, and toolboxes for their supplies. However, producing such complex boxes is rather easier if you use a laser engraver.
All you need is to cut the material in the right size and shape, join all the pieces using an adhesive, and paint it for further protection. So, if you are looking for an idea to start your small business, I can't think of anything simpler than producing laser-cut boxes.
Frequently Asked Questions:
What materials should not be cut with a laser cutter?
Laser cutters emit a powerful laser beam that can quickly melt any material. However, some materials like PVC, ABS, and plastic bottles catch fire under the influence of a laser beam. Similarly, you can't cut thick material sheets with a laser as they will only overheat without any progress.
How to make the engraving stand out?
There are several ways to make your engraving stand out from the material. For instance, you can cover the engraving with special paint contrasting with the material. Similarly, you can also leave the burn marks on wood for a beautiful effect. Lastly, photo engraving allows you to use grayscale vector images for sharper edges.
How to use a laser cutter?
1. Install the laser cutter and connect it to your computer.
2. Install the laser software like Grbl or Lightburn as per the requirements.
3. Design a vector image that you want to engrave using AutoCAD, Illustrator, CorelDraw, or any other software.
4. Import the design files in the laser software and adjust the settings like laser power and speed according to the material.
5. Place the material in the work area and press the run/print button to start the process.
Conclusion:
Laser cutting is a rapidly growing industry in the world. Manufacturers and production facilities outsource their laser department to engraving facilities for branding and engraving information.
Similarly, you can also use a laser engraver to cut, etch, engrave, and manufacture products and artworks using simple material. This article provides the top 50 laser engraver projects that you can use to develop a profitable business with minimum investment.