The appearance of anodized aluminum that has been laser engraved is altered. Anodizing is a technique that colors aluminum in a range of various colors. It is accomplished by the application of a specific coating that must be applied beforehand. Laser engraving can assist with this procedure by adding any engraving characters currently accessible on the surface.
Because of this, it provides excellent contrast when laser-etched, has moderate wear resistance and is extremely corrosion resistant. Anodized aluminum may be utilized in a wide range of applications, including construction.
Therefore, the material is a fantastic choice for a sign, plaque, and machine tag manufacture because of its exceptional durability. After being etched, the strong contrast it achieves makes it an excellent choice for applications like barcoding and QR codes.
Anodized aluminum is an aluminum alloy that has been colored via several anodizing methods. Anodizing is a chemical process that forms a porous oxide coating on the surface of a metal substance.
Even though anodized aluminum may be used for a broad range of purposes, most of these applications are not the best candidates for laser engraving. This article will discuss laser engraving anodized aluminum and how to set up a laser engraving machine.
What is Anodized Aluminum?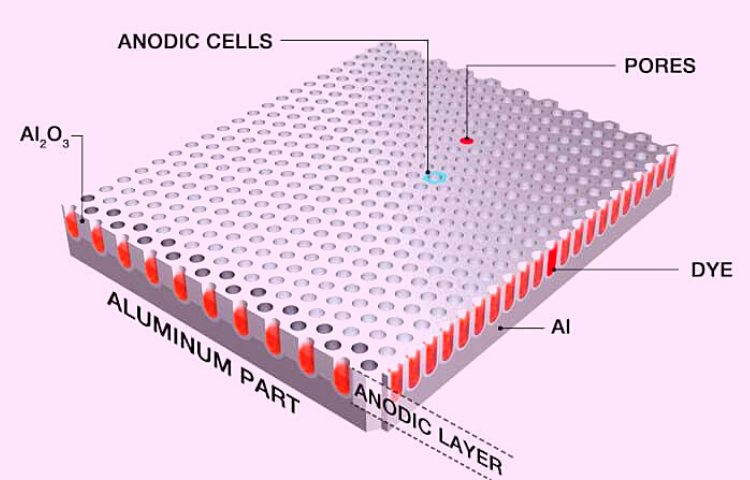 Anodizing is a name applied to an electrochemical process that involves adding an oxide layer to aluminum. This is accomplished by immersing the aluminum in an acid electrolyte solution and conducting an electric current through the metal. The anodizing serves as the cathode, while the normal aluminum serves as the anode.
As a result of this reaction, oxygen ions are liberated from the acid solution and join with aluminum atoms present on the metal's surface. Consequently, an oxide layer is formed on top of the existing material, then integrated into the existing material using a powerful molecular compound.
What is Laser Engraving Anodized Aluminum?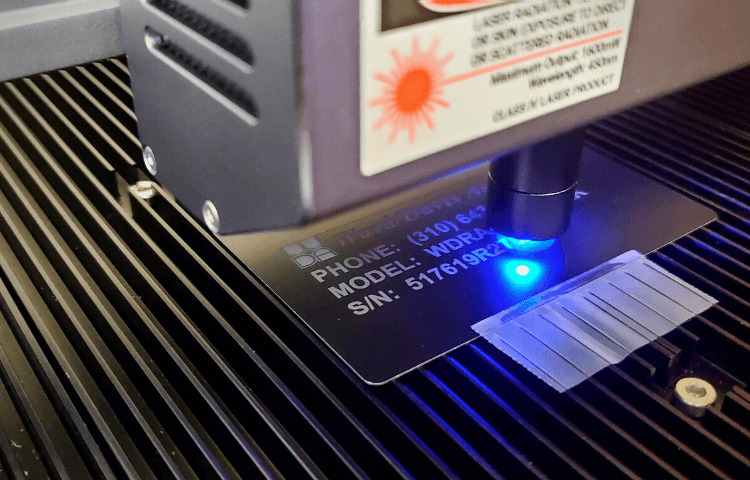 Laser anodized aluminum produces patterns with great contrast, which makes it perfect for use in plaques, signage, machine tags, barcoding, and QR applications, among other uses.
A laser may be used to make markings that are clear and brilliant. Both fiber lasers and CO2 lasers are effective for marking anodized metal, according to the manufacturer.
The most beneficial aspect of laser engraving is that the surface does not become chipped during engraving. The laser beam bleaches the dye, revealing the white color of the anodized layer beneath it.
However, while certain lasers can mark in a variety of grey to black colors, the engravings are clear and brilliant in the majority of situations.
A beautiful and lasting mark on promotional tags and signage may be created by laser engraving anodized metal, which is available in various colors. Promotional goods such as bottle openers, pens, and key chains may be personalized with your company's name or emblem by engraving them with a laser using your laser.
Why use a Laser to Engrave Aluminum?
Creating markings on metals may be accomplished using a variety of methods and processes. Laser engraving, on the other hand, offers certain distinct advantages. Here are a few advantages of laser engraving aluminum that you should consider.
Indelible Marks: Laser engraving on aluminum can tolerate mechanical stress, repetitive abrasion, ultraviolet exposure, and temperature stress, resulting in durable markings. As in aviation and automobile parts, this is a critical aspect to consider when designing markings that will be used for quality control and traceability purposes in the future. When it comes to creating promotional products that can endure the test of time, the same can be said about your company's marketing efforts.
Environmental: Laser engraving does not need the use of chemicals or inks. This implies that there will be no handling or trash disposal concerns.
Mobility: Since laser engraving is primarily a non-contact technique, it is a very adaptable procedure. It may be used to produce a wide variety of shapes and sizes. Because you don't have to clamp the component before engraving it, you may save a significant amount of time while using your laser.
Keeps aluminum's original characteristics: The protective anodized coating on the parent material is not removed by laser engraving, unlike other methods. Thus, its corrosion-resistant characteristics are maintained instead of other procedures such as salt spray testing, which remove the coating entirely.
Images with a high resolution: It's possible to engrave pictures and designs at resolutions of up to 1200 dots per inch with a laser engraver. Anodized aluminum is a very versatile material with exceptional characteristics. The technique of engraving on it is equally enjoyable and flexible.
The key is to understand what sort of material you are working with and how to change your laser settings properly. Providing you have decent material and a competent laser engraver, you should achieve satisfactory results.
Anodized Laser Marking: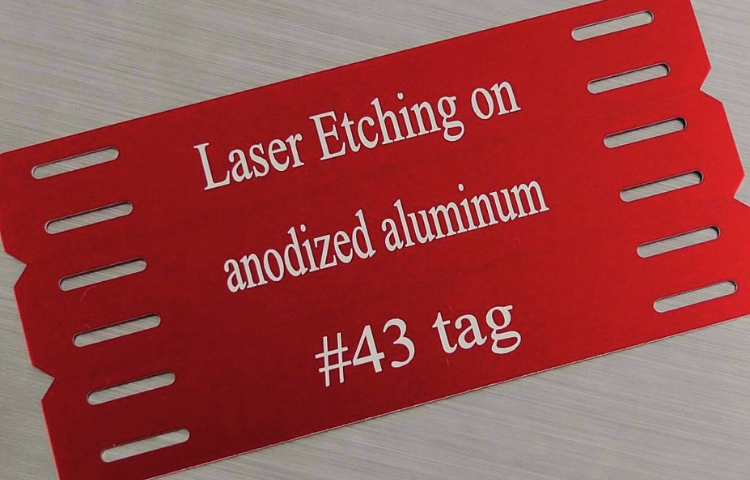 If you're looking to mark aluminum, the laser etching technique is the most often used method to do it. It is possible to label anodized aluminum on the surface of the anodized layer using this procedure. This material may be used in many applications because of its excellent resistance to corrosion and abrasive wear.
Laser etching may also mark the naked aluminum surface before the anodizing process to prevent corrosion. As a result, you may integrate traceability from the very beginning of the manufacturing process.
Laser Marking Characteristics:
Laser marking provides for quick and effective marking even in difficult settings with high temperatures and UV exposure. It also allows for the preservation of material characteristics such as corrosion resistance.
The dramatic contrast between the color of the anodized metal and that of the laser engraving is created by laser engraving on anodized aluminum.
Aside from that, the laser beam is extremely accurate and thin (0.1mm or 0.003 inches), allowing for the marking of intricate logos, very small letters, and virtually any form with ease.
Long-term durability is particularly essential in industries that intended to establish a traceability system for industrial components or customization. It is vital to provide products such as engraved presents that do not deteriorate over time.
What is the Best Laser Engraver for Anodized Aluminum?
Laser engraving on anodized metal is a difficult task that necessitates the use of a strong laser engraver. The majority of the projects make use of 50-watt lasers. A 20-watt laser, on the other hand, will do the task at slower rates and with more laser passes.
It is a good idea to utilize a laser engraver that is capable of handling aluminum. The WAINLUX L1 Laser Engraving Machine is a high-quality laser engraving machine ideal for anodized aluminum laser engraving applications.
Aluminum Laser Engraver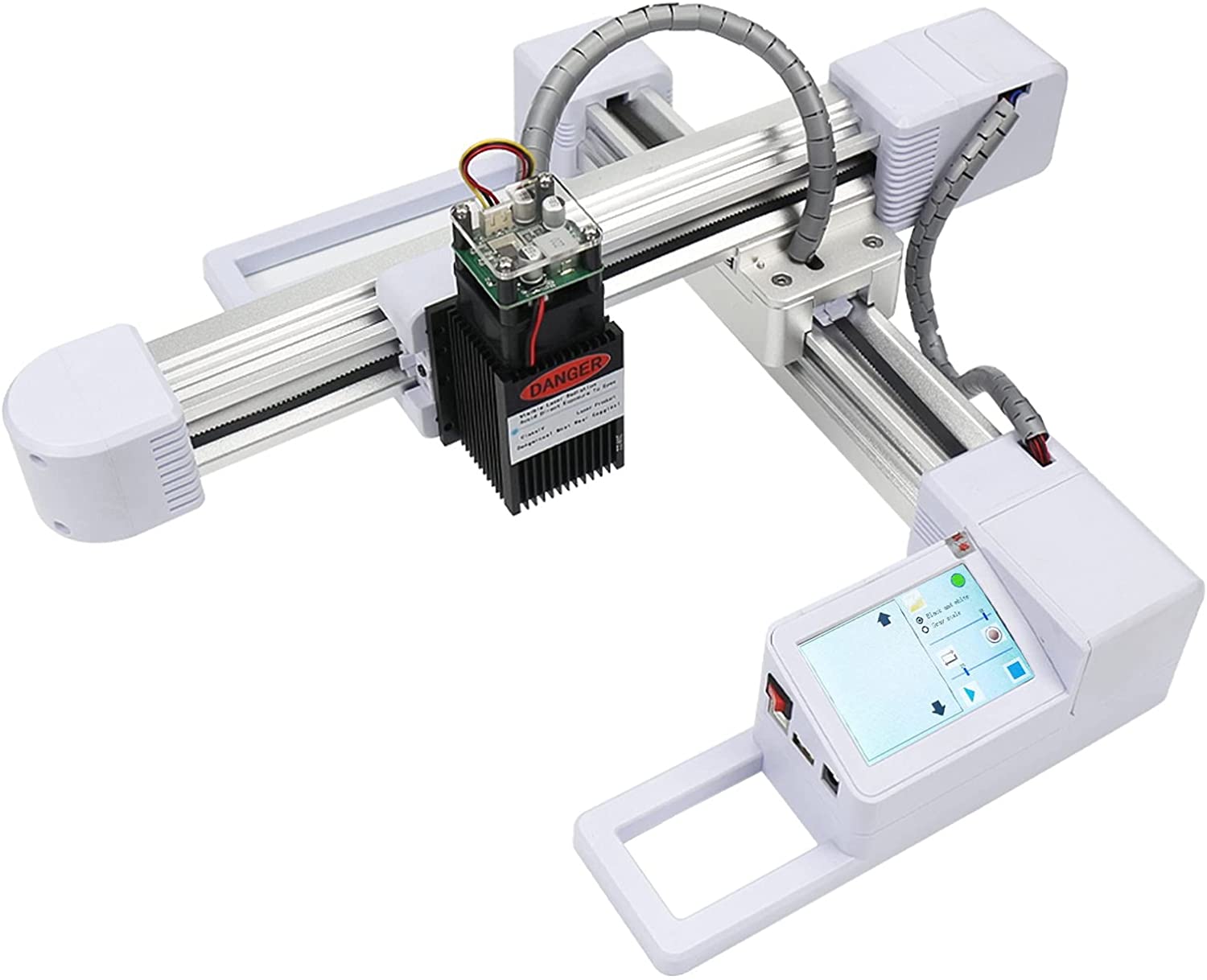 High-Quality Laser Engraver
Wifi Support
Best for Aluminum
3000mW High-Power Laser
Offline Touch-Screen Operation
Frequently Asked Questions:
What are the Types of Laser Anodized Aluminum?
The sort of anodized aluminum that is utilized will have an impact on the way the engraving is done in detail. In this case, affecting elements such as speed, exposure duration, and aftercare are considered.
Is it possible to laser engrave on anodized aluminum?
Using anodized aluminum for laser marking is a good idea. If you're looking to mark aluminum, the laser etching technique is the most often used method to do it. It is possible to label anodized aluminum on the surface of the anodized layer using this procedure.
Is it possible to etch aluminum?
Photochemical etching has emerged as a cost-effective and favored process for manufacturing thin metal components due to its low cost and high efficiency. Aluminum possesses several characteristics that make it an attractive etching material. Add Accordion Item
Conclusion:
Anodized metal may be laser engraved to make a brilliant show for your company's branding and marketing materials. Anodized aluminum is a great material for laser engraving since the engraving does not scratch off as it does with other materials.
We hope that this blog post has piqued your interest and prompted you to consider how you might make use of the engraving capabilities of your laser.