In terms of laser engraving, there are two possibilities available to you. You may choose between a conventional laser engraving, which can be purchased for a few hundred dollars, and a considerably higher-quality but more costly fiber laser engraver, which costs several thousand dollars.
A fiber laser engraver also referred to as a laser marking machine, can set you back several thousand dollars at the very least. As a result, you will achieve higher accuracy, durability, and adaptability levels than you would otherwise get with a standard laser engraver. But how do you go about selecting the most appropriate fiber laser engraving machine for your needs?
In this article, we'll show you the best fiber laser engravers available on the market right now, varying from inexpensive equipment to high-end machines. Those unfamiliar with this technology will first learn what fiber laser engraving is, how it differs from other techniques, why it is superior, and what applications it may be used for.
What is a Fiber Laser Engraver?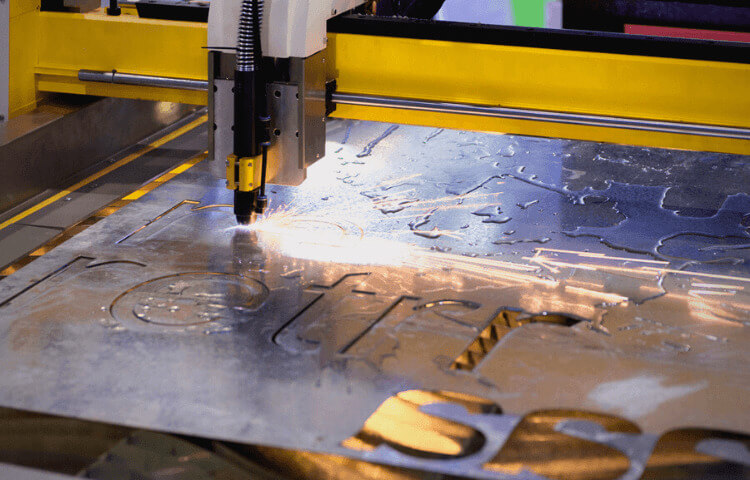 When laser engraving equipment is used, it projects highly focused energy beams onto the materials being worked on. The laser beam vaporizes the surface of the substance, leaving a permanent fissure, or "mark," in the material's composition.
Rather than being projected directly onto the material by the laser diodes in a fiber engraver, the laser beam is first passed via optical fibers before being projected onto the substrate. An optical fiber is a glass rod that is very thin, flexible, and transparent.
The glass rod absorbs just a small amount of the laser beam, internally reflected by the rod. As light travels through optical fibers, it is bombarded with photons, causing an enormous energy buildup in the system. This energy is then fed through a lens, concentrating it to carve the engraved materials precisely.
What Kinds of Fiber Lasers Are There?
There are several types of fiber lasers. Each kind combines a laser source and its output, a lens arrangement, and laser characteristics. As a result, many fiber lasers are available, each with a unique set of advantages. Choosing the most appropriate technology is essential for achieving the best possible results.
The Laser source:
Laser sources include optical fibers modified with rare-earth elements to create certain wavelengths at different frequencies. Knowing the laser source and its frequency allows you to quickly determine whether a fiber laser is appropriate for a certain application. Let's have a look at some such examples:
Because ytterbium-doped fiber lasers have a wavelength of 1064 nm, they are well suited for the process of metals in their raw state. The fiber lasers that Laserax uses for metal engraving and cleaning purposes are shown in the diagram below.
Thulium-doped fiber lasers have a frequency of 1940 nm and may be utilized for various purposes, including medical imaging and laser marking of plastic materials.
E-doped fiber lasers have a frequency of 1550 nm and are mostly utilized in the communications industry to transmit data. Even though they offer us high-speed internet access and voice-over IP, they are not employed for laser engraving operations.
Best Fiber Laser Engravers:
The use of fiber laser technology to decorate and label items, rather than the traditional layer-by-layer process, makes the seemingly impossible feasible by making it possible. Further down the page, you can find some of the best Fiber Laser Engraving Machines on our list, which you should consider purchasing in 2022.
1. Raycus Fiber Laser Engraver: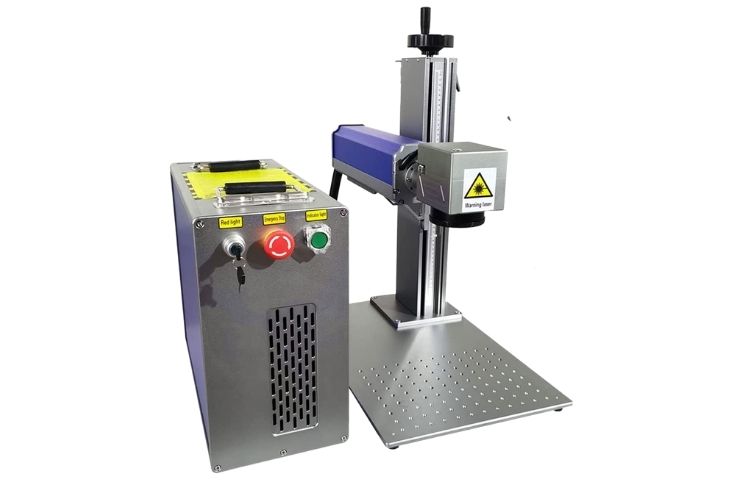 Manufacturer: DATOUBOSS
Laser Source: RAYCUS/JPT/MAX Optional
Laser Power: 20W 30W 50W
The Raycus Fiber Laser Engraver is a wonderful choice in terms of price and power if you're searching for a reasonably priced 50W fiber laser engraver. It is available in three different power levels: 20W, 30W, and 50W.
Material:
This machine can mark a broad range of materials in any configuration and is particularly effective at fiber laser engraving silver, stainless steel, plastic, copper, ceramic, and leather. It is also effective at marking a variety of materials.
A small F-field lens with an air gap design and a safe anti-reflective coating are included. Consequently, the machine has good flux and a deformation rate of less than 1 percent, resulting in precise and incredibly clear marking results.
Conversion Rate:
Because of its high electrical-optical exchange rate (70 percent), it can mark at speeds of up to 7 meters per second with an accuracy of 0.002 millimeters. This allows for speedy, high-performance engraving at speeds of up to 7 meters per second. Like the Datouboss machine, this engraver can produce up to 1 lac hours of work time.
When it comes to the Raycus Fiber Laser Engraving Machine, it has a programmable 80mm rotating chuck that allows for 360-degree rotating marking while maintaining no shaking and good precision. It's also quite simple to load and unload, allowing maximum efficiency.
Because of the detachable desk, this laser marking machine is also extremely adaptable in its use. You can quickly dismantle it by simply removing four screws, allowing you to work on workpieces that require more space than the usual working surface allows.
Applications:
It's also worth noting that this fiber optic laser engraving equipment is compatible with a broad selection of leading CAD and CAM applications, including CorelDraw, Auto CAD, and Adobe Photoshop.
When using the EZCAD operating software to manage the Raycus fiber laser engraving equipment, you'll need to be running on a Windows computer with the Windows operating system.
2. TEN-HIGH Portable Fiber Laser: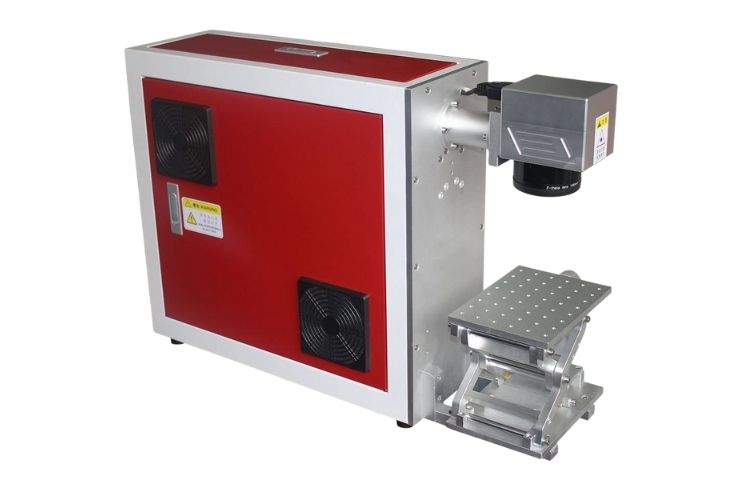 Manufacturer: TEN-HIGH
Laser Type: Fiber Lasers
Laser Power: 30W
As this Fiber Laser Engraving Machine consumes little energy, it is the most cost-effective choice for businesses seeking to maximize output while keeping the initial investment costs to a minimum. The TEN-HIGH Mobile Fiber Laser Marking Machine also has the advantage of being available in various colors, which is a nice feature.
Quality:
This fiber laser marking equipment is available for purchase for around $5,500, which is still a reasonable price considering the type of job it performs. A tiny laser marking machine of great quality begins working as soon as the power is applied to the unit.
Additionally, it includes incredible performance-based characteristics that make other businesses glad that they invested their money in it. The business that developed this technology has a marking rate at least five times faster than that of other conventional semiconductor marking machines.
Performance:
The performance of this machine has also been enhanced by the addition of a high-quality field mirror, which was designed and manufactured by the manufacturing firm. With the aid of the mirror, a high-quality beam may be formed, allowing more accurate marking to be achieved.
Consequently, this compact fiber laser marking equipment is the finest choice for businesses that need to label small electronic components and other comparable things.
Productivity:
The Ten-High Mobile Fiber Laser Marking Machine may accomplish more than one lac hours of productive activity. If you compare it with other models, it is a simple setup product with excellent stability.
Some consumers have reported that the product works flawlessly with stainless steel and other metal components. The optical seal system that comes with this machine is rather impressive. It might also be an excellent choice if you search for something new and exciting to incorporate into your organization.
Product Features:
There are four different color models available for the machine.
It may be used to mark a range of metals and non-metallic materials, and it is particularly effective on materials with high hardness, high melting temperature, and brittleness.
The marking speed is 3-5 times faster than that of a conventional YAG and DP semiconductor marking machine, and the marking depth may be regulated.
The machine has an integrated design structure, and it has a revolutionary optical seal system, which makes it stable, precise and elegant, and upmarket in appearance.
The service life of solid fiber lasers is more than 100,000 hours when they are used.
3. Triumph Fiber Laser Marking Machine: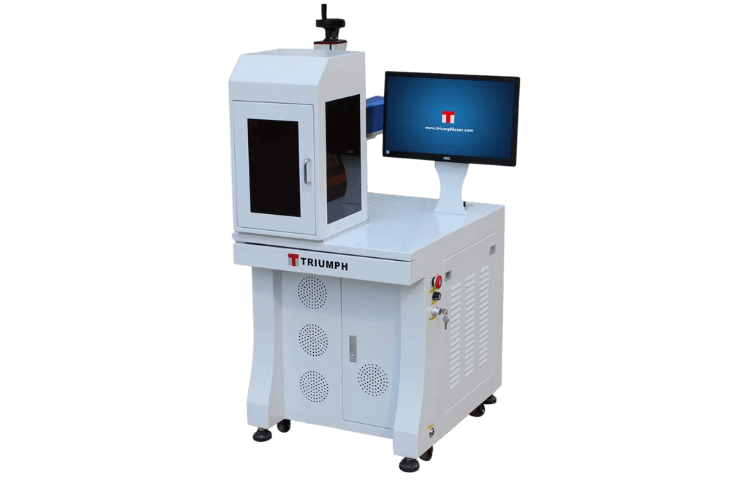 Manufacturer: TRIUMPH
Item Weight: 198 pounds
Laser Power: 30W
In terms of price and power, Triumph's 30W Fiber Laser Engraver is by far the most costly and powerful equipment on our list. It is best suited for usage in commercial and industrial environments.
Processing Ability:
With the help of a JPT laser, this engraver can etch a depth of 0.3mm and a breadth of 0.02mm into the surface of a piece of material.
As the fastest marking machine on our list, it is highly powerful and accurate, with an engraving velocity of 9000mm/s. It is also one of the most powerful marking machines available. Due to the long lifespan of the laser source, which may reach up to 100,000 hours, it is extremely reliable.
Engraving Area:
One of our favorite features of this DIY fiber laser engraver is that it not only has a conventional engraving area of 110mm x 110mm, but it also comes with an extra engraving area of 200mm x 200mm, which is included at no additional cost! The majority of other companies, on the other hand, only provide one size choice and charge extra for larger regions.
An 80mm rotating attachment is also included, which is useful for engraving cylinders. If you're working on jewelry, you may order customized ring engraving pieces from the manufacturer, according to the product's Amazon page.
Materials:
Like the other engravers on our list, Fiber laser marking machines can engrave a range of metals and nonmetallic materials. Projects accomplished on this machine, including rifle engraving, hardware engraving, and complex jewelry branding, are displayed in an extremely awesome gallery.
A spotless five-star rating on Amazon, like the SFX 30W engraver, confirms the high quality of this fiber laser marking machine, making it a good choice. Customers who have purchased the machine on Amazon have stated that it is simple to set up and produces excellent quality.
Product Features:
With a rotational attachment, you may work with any cylinder-shaped material for engraving, regardless of its shape.
Eye goggles for protection are supplied.
There is a footswitch incorporated.
Testing of aluminum sheets is included in the price.
Computer and Laser software EZCad are included, and the computer is compatible with either a 64-bit or a 32-bit computer system.
4. SFX 30W Fiber Laser Marker: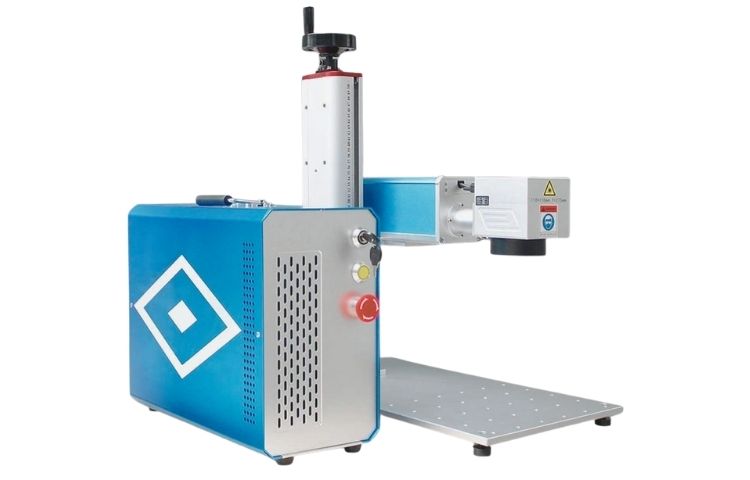 Manufacturer: TRIUMPH
Item Weight: 198 pounds
Laser Power: 30W
For industrial markets and engravers, the SFX 30W Fiber Laser Marker is a piece of special high-quality equipment. This fiber engraver makes use of a JPT laser source, which provides excellent versatility, a broad range of frequency modifications, and more precise control.
Design:
MOPA design, which employs pulse compensation and allows for the smallest pulse distortion, increases peak power for the fiber laser.
This laser marking machine may be used on several various materials, ranging from steel to plastic, and it is appropriate for a wide range of different applications. This machine provides great marking on various materials, including metal, jewels, and even memory banks.
Processing Mechanism:
With the addition of the three-jaw rotating chuck, you will be able to benefit from faster spring installation, more stable placement, higher precision, and increased efficiency.
Even if you're a complete newbie, getting started with this equipment will be a breeze because the laser comes pre-calibrated, and the installation is straightforward.
High Ratings:
Suppose you're curious about what other customers have to say about this laser engraving equipment. In that case, it has a perfect 5-star rating on Amazon, which suggests that it has a lot of satisfied consumers! SFX's customer service has received high appreciation from users for the ease with which the machine may be installed, its adaptability, and the quality of the laser it produces.
Product Features:
EZCAD Performance is consistent and has great dependability.
Compatibility with Windows XP, Vista, 7, 8, and 10.
The marking pace is increased to 7m/s thanks to imported laser scanning equipment.
The warranty is for two years.
Remote support is available.
Support for both customers and technical issues.
Choosing a Fiber Laser Marking System: Some Considerations
In most cases, you'll need to gather information about your production process before deciding on a laser marking system. These suggestions might assist you in determining not just what sort of system you want but also how the system should be set up.
Make a list of the materials that will be etched. Although fiber lasers can mark a wide range of metals (including aluminum, steel, and stainless steel), each alloy has its own set of qualities that influence how the laser light reacts with the surface.
Identify the information needed to be tagged if you have a traceability requirement for your product or service. Weight, part number, mold number, time and date, and so on are examples of the information that can be provided.
Decide on several sorts of markers. Text, alphanumeric characters, logos, and codes such as data matrix codes are examples of what can be used.
Calculate the amount of time you have available for marking. It is helpful to have a rough estimate when determining the appropriate laser power for your requirements.
Decide on whether to use lasers. Many different types of laser engraving solutions are available, including laser safety enclosures, a human-machine interface (HMI) that allows users to modify the laser for various operations easily, a dust removal system, an air knife that prevents dust buildup on the lens, and many others.
Find out how to get the IP rating you require. This is necessary according to the environment in which the fiber laser marking equipment is installed. Production facilities such as metal foundries and casting factories, for instance, require a higher level of security than assembly lines. The protection provided by some lasers against dust and fluid projections is superior to other lasers.
Frequently Asked Questions:
What is Fiber Laser Technology?
Knowing laser technology can help you buy a laser more wisely. Let's trace a laser beam's path from the laser diodes through the optical cable and ultimately to the part to be etched.
Can a fiber laser engrave?
Fiber lasers like the Instamark trademarked laser marking and engraving equipment may process metals, ceramics, and polymers.
Can a fiber laser etch metal?
Fiber lasers are ideal for engraving bare metals. They work well on stainless steel, aluminum, and nickel-plated metals.
Wrapping it Up:
If you want the greatest Laser Engraver for your organization, the Fiber Laser Engraver is it. Although there are other reasons for this, they will be discussed in greater detail in another article. Those seeking a Laser Engraver can check into the Fiber Laser Engraver, a relatively new technology. We hope you found our blog post to be informative!