Laser engraving is a technique to induce permanent markings on various materials. People use lasers to engrave on all kinds of materials like glass, wood, metal, and even stones. In this regard, marble and granite seem like suitable options due to their soft polishing and long lifespan. In some cases, the engraving lasts for hundreds of years without any damage. So, I will discuss the most widely used techniques for laser engraving granite.
Best Laser Engravers for Granite:
You can find many options when searching for the best granite laser engraving machine. However, it can be very confusing for some people as not every product is suitable for granite and stones. Therefore, I will provide the top 3-products that I consider worthy for both DIY projects and small businesses.
1. OMTech 40W CO2 Laser Engraver: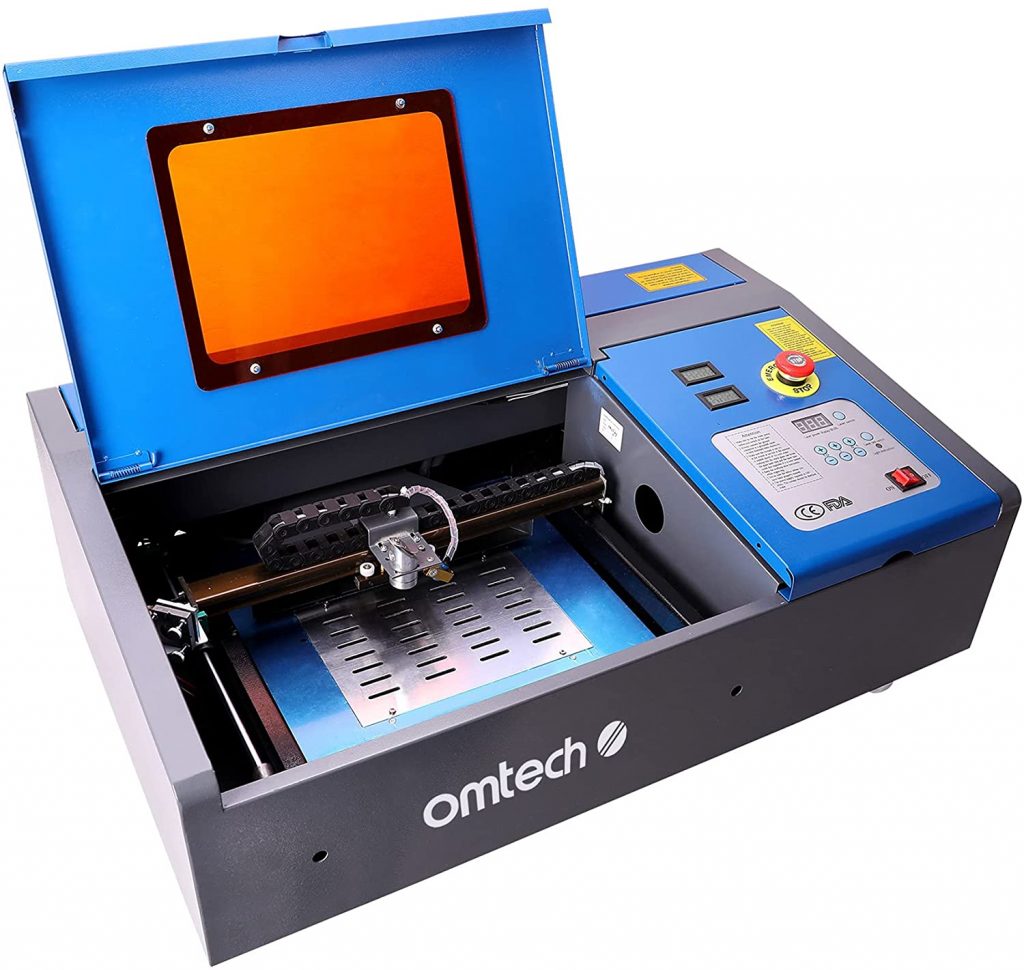 Laser engravers are complex pieces of equipment that usually require assembly before use. You need to hire a professional for the job if you are not good with numerous small components. However, OMTech 40W is an all-in-one laser engraver that comes ready to use right out of the box. Moreover, you don't need a separate computer system for it because powerful laser software is integrated within the laser engraver.
Easy to use
Powerful laser module
It doesn't overheat
Touch control panel
Red dot guidance
2. ATOMSTACK A5 Pro Laser Engraver: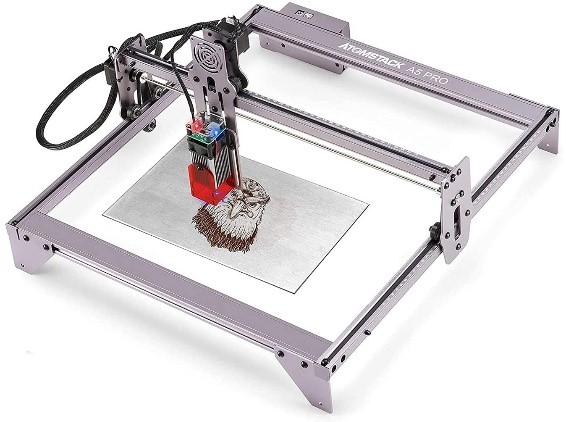 All laser engravers come with a powerful CO2 laser module. The laser can harm your eyesight or even burn the skin. Therefore, safety should be your number one priority in laser engraving. ATOMSTACK A5 is a user-friendly laser engraver that comes with advanced safety features. The laser tracker ensures that the laser never diverts from its course, the acrylic display keeps your eyes protected from the beam and the temperature sensor prevents the laser from overheating.
User-friendly
Semi-assembled
5W laser module
Large work area
Eye protection
Laser tracker
3. MYSWEETY 2 in 1 7000mW CNC 3018Pro: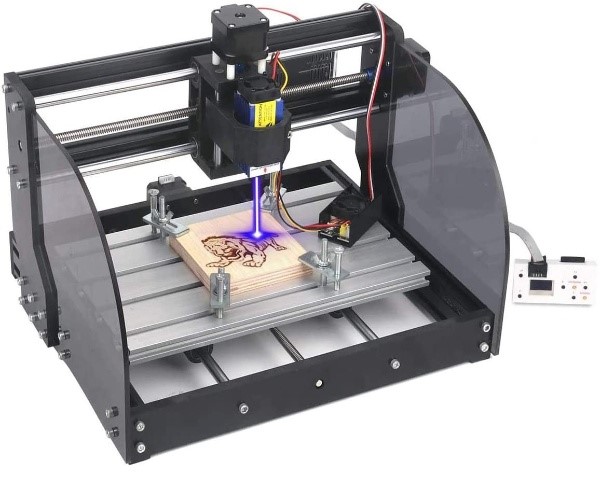 The effectiveness of any laser engraver depends on the laser power. The more powerful the laser, the better it will engrave on a variety of materials. So, if your project involves laser etching various hard materials, I highly recommend MYSWEETY 2-in-1 laser engraver to you.
Upgradable laser module
Powerful 7W laser
Adjustable spindle motor
Works in offline mode
It engraves various materials like stone, wood, metal, and plastic
How to Engrave Granite?
The major benefit of the engraving text, images, and information is that the impression lasts for as long as the material itself. Otherwise, there is no way to remove engraving from any material without damaging it.
Usually, you can engrave granite using two methods: diamond cutting and laser engraving. In this regard, black granite is the most suitable material for both methods because it produces black and white grayscale photoengraving.
Engrave Granite Using a Laser Engraver:
The stone laser engraving machine is currently the simplest yet most effective way to etch hard materials like granite. It saves your precious time and ensures professional results every time. As a result, people prefer laser etching granite over any other method.
Materials Required: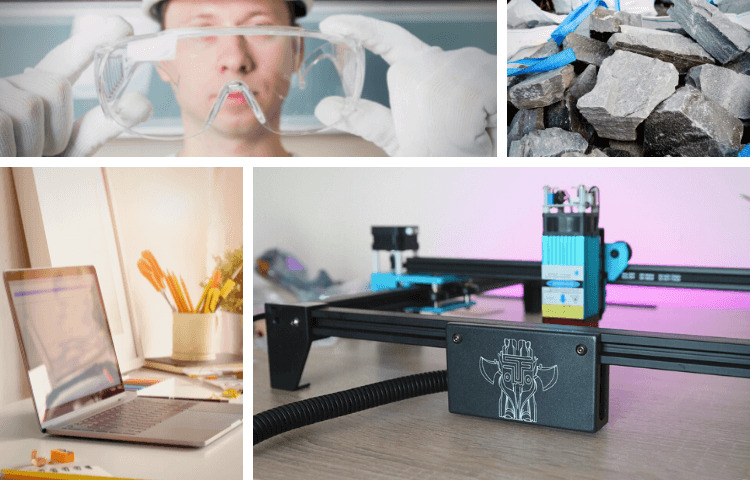 Computer or laptop
Stone laser engraving machine
Safety glasses
Engraving granite slab
Step-by-Step Procedure:
Design the text, data, or image on a computer. You can use your preferred software like CAD, MS paint, illustrator, or Grbl.
Export the design in any common picture file format like PNG, JPG, SVG, or XML.
Open the laser software depending on the laser engraver's manufacturer. Usually, all laser engravers support Lightburn, Candle, or Grbl.
You can import your pre-designed images directly to the laser software for printing.
Slightly wipe the granite slab with a dusting cloth to remove any debris.
Place the granite slab in the laser engraver's work area and close the protection lid.
Make sure that you select laser engraving granite settings to optimize the laser power and engraving speed automatically.
Press the print button and monitor the laser while wearing safety glasses for eye protection.
Usually, the best laser engraver for granite comes with advanced safety features that prevent overheating and misprinting. Otherwise, I recommend that you should immediately stop printing if the laser diverts from its path.
Engrave Granite Using a Cutter: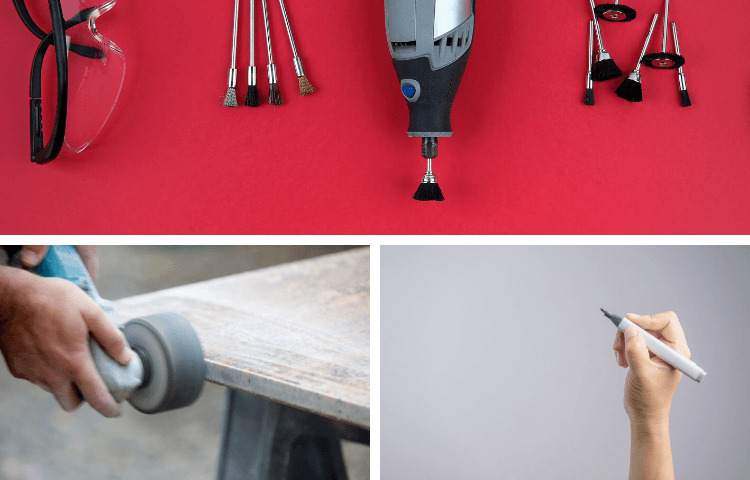 Stone cutting is an efficient yet time-consuming way to engrave all kinds of information on granite. However, it requires the right set of tools, years of practice, and absolute accuracy, as there is no room for a mistake.
Furthermore, a stone cutter requires manual tracing with sharp bits, so it is potentially hazardous for inexperienced users. The benefit of a stonecutter is that it is comparatively cheaper than a laser engraver, and you can achieve the desired engraving thickness for detailing.
Materials Required:
Polished granite stone.
Permanent marker or pencil
Diamond-burr engraving bit.
Step-by-Step:
First, you must finalize your design either on the computer or on paper.
Once the design is finalized, use a permanent marker to carefully draw the design's outline on the granite slab.
Likewise, you can also print the design and cut the outlines using a sharp blade. Simply place the print on the stone and trace the outlines using a permanent marker.
Install the diamond-burr engraving bit on your rotary tool and set it at the lowest speed.
Gently start tracing the design outlines in one swift motion as if you are writing with a pen.
Keep tracing the outlines repeatedly till the bit has created a small groove throughout the design.
Gradually increase the drill's speed as well as increase the pressure to ensure that the diamond bit penetrates to the desired depth.
Remove the granite dust using a dusting cloth or brush and wash away the remaining dust using a wet sponge.
Carefully examine the engraving and ensure that the groove's depth is the same throughout the design.
Fill the finished design with epoxy or enamel paint with a contrasting color such as white or grey to enhance the quality of the engraving.
If you notice uneven engraving, use the rotary drill on that area while maintaining the same amount of pressure.
Tips for Engraving Stones:
A laser engraver greatly reduces the time required for engraving and produces desirable results all the time. However, you can follow some of these tips to minimize any room for error:
Always use a naturally polished, homogeneous, and fine-grained stone like marble, basalt, or granite.
The stone's size should be suitable for the design; else, you can resize the image to match the stone's dimensions.
Use a suitable laser engraver with at least 20W power to ensure ideal engraving in minimum passes.
Set the laser speed to low to ensure an even groove depth throughout the design.
Carefully monitor the laser's path and temperature throughout the process. Immediately stop the printing if the laser overheats or deflects from the original path.
Never rinse the material before laser engraving because water molecules can highly affect the process.
Fill the engraving with suitable paint color to enhance the engraving and make it easily visible.
Different Types of Stones for Laser Engraving: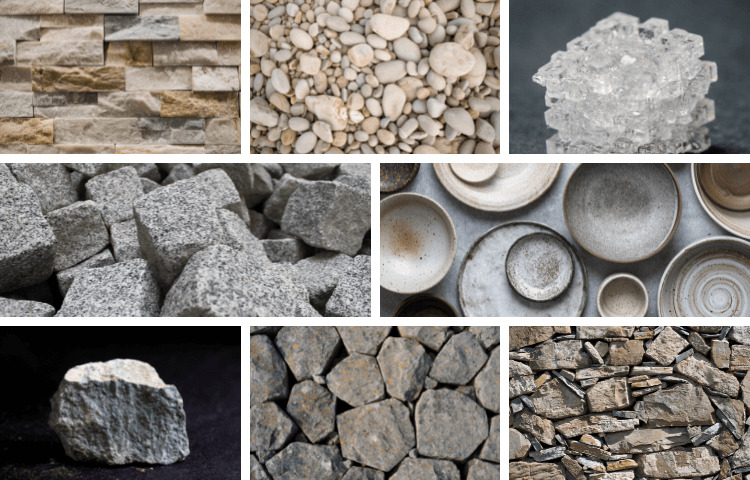 Any CO2 laser engraver with at least 20W power is suitable for engraving various types of stones. However, it is recommended that you only use soft, polished, homogeneous, and fine-grained stones for optimal engraving. Some examples of such stones for laser engraving are:
Granite
Ceramic, porcelain
Stone tiles
Pebbles
Salt crystals
Marble
Basalt
Natural stone
Slate
Advantages of Laser Engraving Stones:
Laser engraving is the modern and most effective way to etch stone without damaging its surface. Therefore, stone engraving on an industrial level is carried out with a suitable laser machine. There are many advantages of using this modern technique for engraving hard stones; some of them are:
Simple Process:
Laser engraving stone can be as simple as using a printer to make a document. All you have to do is to choose the right material, import your design, customize the settings and let the machine take care of the rest. Moreover, laser engravers are usually very straightforward to understand, so you don't need any prior experience to engrave like a professional.
Variety of Materials:
A single powerful laser engraver is suitable for engraving on various materials like stone, wood, leather, soft metals, glass, and acrylic material. So, you don't need any specialized tools if you choose to engrave on any material other than stone.
Accuracy:
Stone engraving using a rotary tool can be fun, but it comes with potential risks. For instance, a slight slip of the hand can completely ruin your design. However, you don't need to worry about such problems when using a laser engraver. The device understands the design and automatically performs the engraving with you as an audience. So, laser engravers are highly precise and etch with an accuracy of less than 0.03mm path deflection.
Minimum Material Damage:
People use special engravable material for effective etching. Some of the materials can be costly or hard to find. Similarly, people engrave their names and data on personal belongings for customization. The problem with other methods of engraving is that there is always a risk of material damage.
On the contrary, laser engraving is a contactless procedure with little to no risk of material damage. The laser only penetrates up to a few millimeters in the material. So, laser engraving is the only material-friendly way to etch permanent markings on any material.
Frequently Asked Questions:
What is the difference between engraving and etching on granite tile?
Etching is a process of chemically carving the outer layer of the granite tile to produce the desired results. On the contrary, engraving is a method that involves physically chipping off the outer layer of granite. So, engraving on a granite tile lasts much longer than etching.
Which would last longer the engraving on a headstone made of marble or granite?
Generally, granite has a longer lifespan than marble. It is because granite is chemically inert, and the natural agents have minimal effect on its lifespan. On the other hand, marble is made from calcium that slowly washes away with rain. So, a granite headstone lasts a couple of centuries longer than marble.
What does a thin granite slab suitable for engraving cost?
The thickness of a granite slab determines its market worth. For instance, a thin granite slab for engraving can cost anywhere between $5 to $50 from the market. Moreover, you can save some money if you buy the material from your local hardware store.
Conclusion:
Granite is the most suitable stone for laser engraving due to its fine-grained, homogenous structure and longer lifespan. However, you need a suitable laser engraver to imprint permanent markings on the stone. Therefore, in this article, I have discussed in detail the best machine for laser engraving granite and how to engrave granite.