Laser engraving has gained great popularity as a hobby in recent years. Some people even decided to take their skills to the next level by starting a laser engraving business. The current pandemic forced everyone to stay in their homes, so people consider setting up a home-based small business for a change.
If you are always looking for things to laser engrave, now is the best time to start your own business. Moreover, you don't need to invest in the expensive fiber laser marking system; you can choose the best laser engraver for a small business that you can afford. If you like the sound of that, this article will guide you on how you can start your laser engraving business at home.
Why Start a Laser Engraving Business?
Exceptionality is the first step to any successful business, and laser engraving has lots of it. The best thing about an engraved product is that no one can copy your work as the skills and mindset are different for everyone.
Regardless, the laser cutting and engraving business is a rising field with great potential in it. So, if you are considering changing your work, I suggest that you look into the laser etching and engraving field. Here are a few reasons why laser engraving is considered the most rapidly developing business field:
Profit Margins: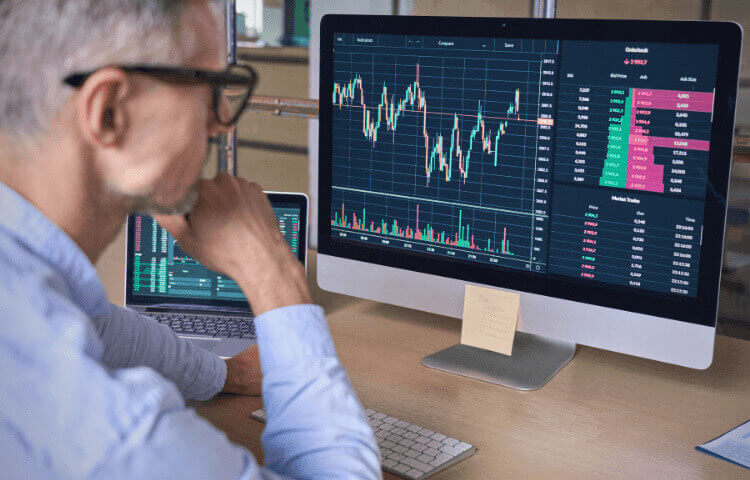 Before starting any business, the first thing to consider is the cost price to sale price ratio. The business is considered successful if it has a large profit margin or a high business rate. A laser engraving business fulfills both these criteria with no second opinions.
For instance, the cost of engraving only includes the utility bills and the engraving material, considering you already own a laser engraver. You can transform any typical piece of material into a state-of-the-art decoration product in just a couple of hours.
For example, you bought a piece of wood, engraved an elegant design on it, and now you can sell it for almost double the price.
Ease of Job:
Modern jobs require either high skills or advanced machinery. As you know, material engraving has been around for centuries. However, the modern laser engravers are computer-controlled and don't require as much labor on your end.
All you need is a good graphical design, some basic computer knowledge, and you can set up your laser engraving business. Some laser engravers are even automatic that ensure a crisp and professional look on each engraving while ensuring maximum protection.
So, skill isn't a problem as long as you are willing to invest your time and money in the new business.
Low Investment:
The great thing about setting up a laser cutting home business is that it doesn't require as much investment as other businesses.
For instance, you don't need to rent a shop in the starting days of your business. You can use the garage area or even set up a workshop in the backyard. In most cases, customers either bring their own goods for engraving or order a design on standard materials.
Similarly, modern laser devices are cheap, effective, low-maintenance, and easy to install. For instance, you can even get the best laser cutter under 500 from Amazon or your local hardware store.
Multi-purpose Setup:
Laser engravers aren't limited to one type of material or design in this instance. A single engraving CO2 laser engraver is suitable for working on wood, leather, plastic, paper, cards, PVC, and some soft metals.
Similarly, modern laser devices can even print 3D designs on the material of your choice. So, your creativity and imagination will never be limited due to a physical barrier. Moreover, you can purchase a powerful fiber laser once your business starts generating revenue. Thus laser engraving business is a multi-purpose setup that can satisfy different types of customers if you have the right set of skills.
Convenience:
Laser engraving combines the profit margin of a full-time business with the convenience of a home-based setup. You are not bound to anyone if you are the business owner, work at your schedule, take breaks whenever you feel like it, and chill along the way.
Moreover, most people who opened a successful laser engraving home business used to be laser enthusiast DIYers. So, if you are one such person, the new business would only bring peace of mind and interest to your life.
Costs to Start a Laser Engraving Business:
As mentioned earlier, starting a laser engraving business doesn't cost as much as others. For instance, you can start your small business at home for under $5000 or even less. Here is the breakdown cost of everything that you will need to start the business:
| Purpose | Cost |
| --- | --- |
| Business & corporation name | $200 |
| Business cards & marketing | $200-$300 |
| Website Setup | $200-$500 |
| Laser Engraver | $500-$2000 |
| Computer station | $800 |
| Liability Insurance | $600 |
| Online marketing & SEO | $500-$800 |
| Materials & tools | $500 |
Is Laser Engraving Business Profitable?
Laser engraving is an emerging field in the world. It is a highly profitable business as it has lower overheads and doesn't require as much investment. Moreover, you are not limited to doing a single task for the rest of your life.
For instance, you can offer customization services to people who bring their own cups, trophies, and rings. You can also start crafting your own masterpieces if you have the right tools and skills. These goods can then be sold online on different stores or your own Ecommerce website.
Similarly, large profit deals are a big part of any laser engraving business. Nowadays, many manufacturers prefer to have their branding, product specifications, and data engraved on the products instead of printing stickers. The stickers have a lower lifespan than gradually start to fade with the passage of time.
On the contrary, a laser engraving stays put as long as the product is serviceable. In some cases, the engraving lasts even longer than the service life of the product itself. So, you can take bulk orders from large manufacturers to boost your business and have a steady income.
Furthermore, the lower investment required for the business makes it most favorable, especially for hobbyists. All you need is a small portion of the house, a laser engraver, a workbench, a computer, and unlimited ideas.
Laser engraving is usually a single-person job. So, you won't need to hire assistants or laborers for your business in the starting days. Thus, laser engraving is among the most profitable businesses all over the world.
Benefits of Starting a Laser Engraving Business: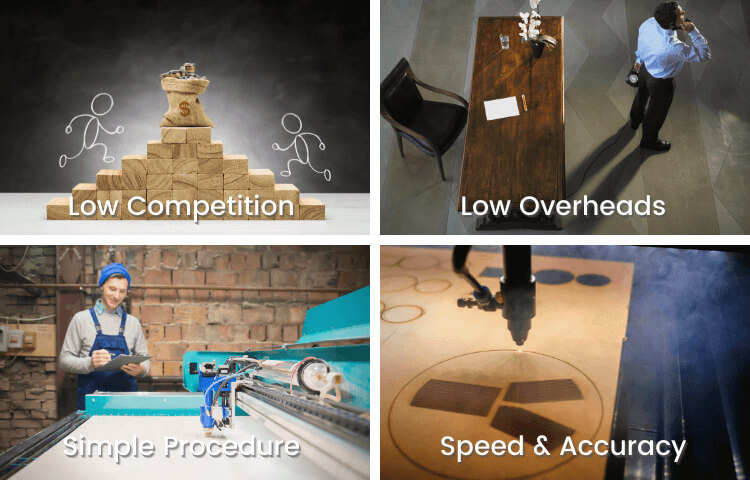 Any business's advantages are one of the biggest concerns, especially for beginners. For example, they worry about the competition in the market, the specialization, the skills, and the amount of investment required to start the business. However, laser engraving is one such field that holds great potential in all these disciplines to aid your concerns. Here are a few benefits of laser engraving:
Low Competition:
Nowadays, most vendors and manufacturers prefer laser marking and engraving over stickers. The branding that you see on most electronic appliances is usually laser engraved to prolong its lifespan. Similarly, the specifications and other important details are engraved on the casing to ensure customer satisfaction.
However, setting up a laser engraving department in the manufacturing unit is a little too expensive for small businesses. Therefore, they hire external workers for their bulk projects at an affordable price. The problem is that there aren't many reliable laser engravers in the market yet.
So, if you start a laser engraving business now, you will face little to no competition in the market. Moreover, you will develop new skills and polish the existing skills to become the most successful business in the locality over time. So, now seems like the best time for anyone to start their small laser engraving business at home.
Simple Procedure:
Laser engraving used to be a hard task that required several skills for a professional touch. However, modern laser engravers are automatic and computer-controlled. All you need is to design the pattern graphically, input it into the software, and the computer will take care of the rest for you.
Moreover, you don't need to monitor the procedure all the time. Most machines come with self-maintenance and safety features that prevent the machine from overheating and prevent material damage. So, it won't be wrong to say that modern laser engraving is a considerably safe and simple procedure. However, you still need to practice before officially announcing your services for a few months.
Low Overheads:
The laser engraver is a one-time investment in the long run. Usually, the best portable laser engraver costs less than $500. The only recurring costs you need to run the business are electricity bills, software licenses, marketing, and material.
Moreover, it is a one-person job, so labor costs aren't a problem if you know the skill. So, laser engraving has relatively lower overhead costs than most other businesses.
Furthermore, no material goes to waste if you have the right amount of creativity. You can always recycle the excess material to produce attractive products and sell them online to double the profits.
Speed & Accuracy:
The laser is the most accurate device ever invented in the history of humankind. The small yet powerful light beam ensures maximum speed and accuracy all the time. Furthermore, it is controlled by computer software instead of manual focus.
So, the job is significantly fast and convenient even for beginners. A typical laser engraving job takes less than one hour to complete. So, you can satisfy maximum customers or clear a bulk order in minimum time if you give the right input.
Steps to Starting a Laser Engraving Business: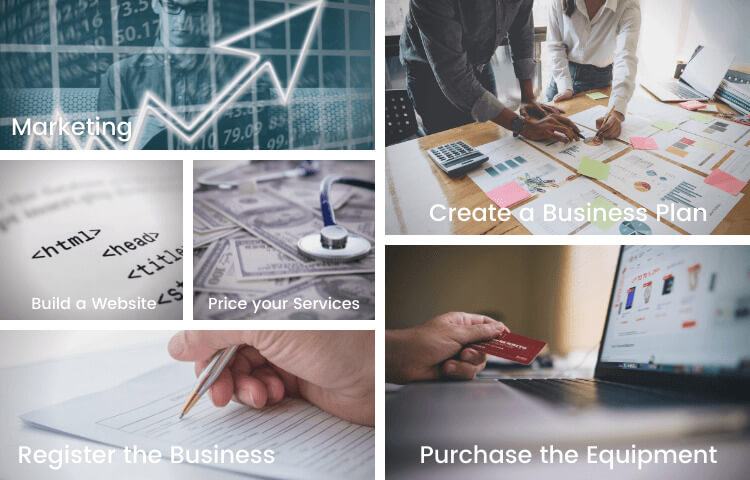 Starting a laser engraving business isn't as complex as most people consider it to be. If you are willing to invest your time and money into the business, it will eventually grow to become a successful entity. However, it starts slow and gradually flies towards success like most businesses. So, patience is yet another factor that greatly determines your journey towards achieving the goal. Here are the 7-steps that you must follow to start a successful business:
1. Create a Business Plan:
Are you ready to take a leap into the endless world of laser engraving? Not yet! First, it would be best to form a practical business plan for the future. Most businesses start with success but gradually close down due to a lack of proper business planning.
The first thing you should do is to understand the basics of the field. Dive deep into the basics of laser technology, how it works, what you need, what skills are required, and so on.
Similarly, the plan doesn't need to be comprehensive at the start. Simply do market research and choose your targeted customers. Form a short-term, medium-term, and long-term plan about how your business should start, where it should focus, and how long before you grow the business.
2. Purchase the Equipment:
Once you have established a firm and practical business plan, it is time to start your investment. First, allocate a convenient portion of your house for the workshop.
Alternatively, you can rent a small commercial place to set up your office and workshop if your house doesn't have enough spare space.
Next, purchase the best laser cutter for small businesses that you can afford. You will also need to purchase a computer, a workbench, material, and some basic tools to work on various materials.
Similarly, you may also take laser engraving courses to polish your skills and acquire certification. The certificates will also help you establish a reliable brand and apply for permits.
3. Marketing:
Marketing may seem like an overpriced fancy job, but trust me, getting your brand out there is the most important factor. There are several forms of marketing that you can follow to introduce your brand to the market.
For example, you can print business cards brochures, visit potential customers, create an online website, and hire social media marketing. In the end, it will pay you off in the form of boosted sales, more customers, and firm ground to start the business.
In most cases, the marketing will pre-establish your brand even before completing your first project. So, don't underestimate the power of modern marketing, and allocate a significant budget for this step.
4. Price your Services:
Price and skills are the two factors that determine the success of any business. Your marketing and portfolio will only seem like fancy words to the customers as a new entry. So, it is best to study the current market rates and price your goods at an affordable yet believable level.
In most cases, the local customers look for the cheapest option in the market. On the contrary, manufacturers and businesses consider the lowest price a sign of low-quality and poor services. Therefore, it would be best to provide a medium-range rate to satisfy all types of customers.
5. Register the Business:
The first thing you must do is to register your business even before taking your first order. This establishes your company as a trusted brand and saves you from suing customers and competitors.
Moreover, a registered firm receives a better customer response as compared to a new company around the corner. So, if you want your business to start flying right at the start, hire a lawyer. Business registration isn't a complex job as long as it is straightforward, legal, and free from complexations.
6. Build a Website:
The internet is the modern newspaper that most customers consult for their projects. A strong online presence ensures maximum customer reachability, informs the visitors about what you have to offer, and saves you from the pre-contract meetings.
Moreover, you may also offer online booking services to have the goods delivered to the customers without even a single meeting.
According to a study, only the businesses with a strong online presence were operational during the lockdown. So, build a website for your business or hire a professional to get the job done.
7. Start Laser Engraving:
Now that you have established a locally registered business with a strong online presence, it is time to start making money. You can work on custom artwork while you are waiting for your first order to monetize your spare time. You can enlist the completed works in your website's portfolio and sell the goods at a reasonable price.
Furthermore, timing is the key to success in this field. So, make sure that none of the orders are delayed as it affects your brand reliability and the customer firm as well. Over time, you can extend your business by purchasing additional equipment and hiring employees.
Things to Consider Before Starting a Laser Engraving Business:
No doubt, laser engraving is an emerging field of business in the world. However, it faces the same challenges and risks as any other business. So, it would be best to prepare yourself for the upcoming days before setting out on your journey to becoming a successful firm.
Study the pros and cons of laser technology as well as its limitations.
Marketing and reaching out to the customers are ongoing expenses. So, be financially ready for it.
Custom artwork and individual projects are only a small portion of your profit. Always aim for bulk orders from manufacturers and corporations.
Establish a good reputation in the market and maintain it throughout the lifespan of your business.
Insurance is critical as there is a great risk of the machine and human error in the job.
Though significantly low, there is still competition in the market. So, make sure to always provide top-quality work in every project.
Talk to other businesses for guidance and ask them for recommendations and references.
Frequently Asked Questions:
How to start a laser engraving business at home?
Starting a laser engraving business at home is not as complex as other businesses. All you need is a laser engraver, a computer, some skills, patience, and proper financing to get started.
How much can you make with the laser engraving business?
The amount of profit that a laser engraving business generates depends on the size of your setup and the brand's reliability. A well-established laser engraving business can generate anywhere between $10,000 to $50,000 gross profit after subtracting all the maintenance costs, labor salaries, and overheads.
How to turn laser engraving into a business?
Laser engraving is a skill that has great business potential, especially in the modern world. If you follow the right guidelines, you can turn your laser engraving workshop into a business in under a month. For this purpose, register your brand, invest in marketing, and start producing top-quality products.
How to advertise your laser engraving business?
Proper marketing and advertising are the keys to any successful business. You can start by printing business cards and brochures. Build an online website for the business and create social media accounts and pages. Moreover, investing in social media marketing will greatly boost your marketing campaign.
How much does a laser engraving machine cost?
A typical CO2 laser engraver with advanced safety and automation features cost anywhere between $500 to $2000. Moreover, if you are looking for an industrial fiber laser, the cost can reach up to $20.000 depending on your requirements.
Conclusion:
Laser engraving is an emerging business field with great potential and a high-profit margin. However, you need the right set of tools, skills, and specialization certificates to establish a successful laser engraving business.
The business has low overheads and recurring bulk projects if you provide reliable, top-quality work. This article provides the proper guidelines to help you establish your small business at home; I hope it is informative and helpful for you.