Industrial laser cutting and engraving machine prices range anywhere between $5000 to $10,000. These units come packed with a heavy-duty laser suitable for engraving some of the hardest materials. But you don't have to spend that much if you are just taking your first steps in the world.
Affordable laser engravers are the best choice for your home or small business. It is possible to find some of the best cheap laser engravers for under $500. In this article, you can find the best affordable laser engraving machines of 2022.
Quick Pick:
I have selected the top 3 cheap laser engravers to make your selection process quick and easier in case you are in hurry. Here is the list:
Best Overall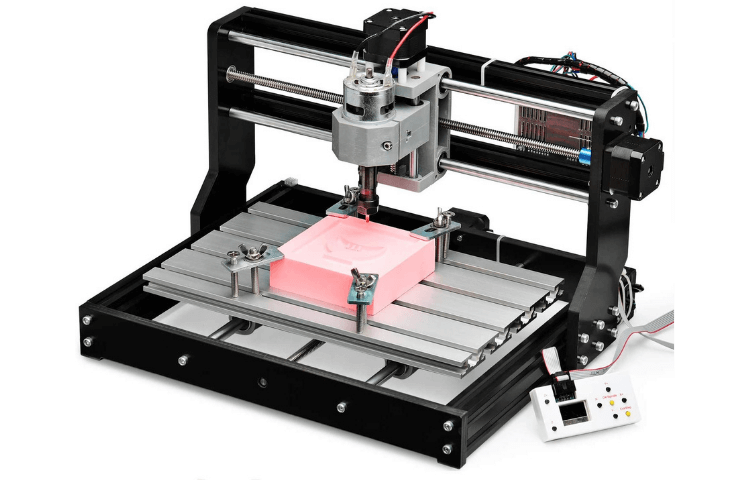 Genmitsu CNC 3018-PRO Router Kit
Features
GRBL Control
XYZ Axis
Custom software
Expert's Choice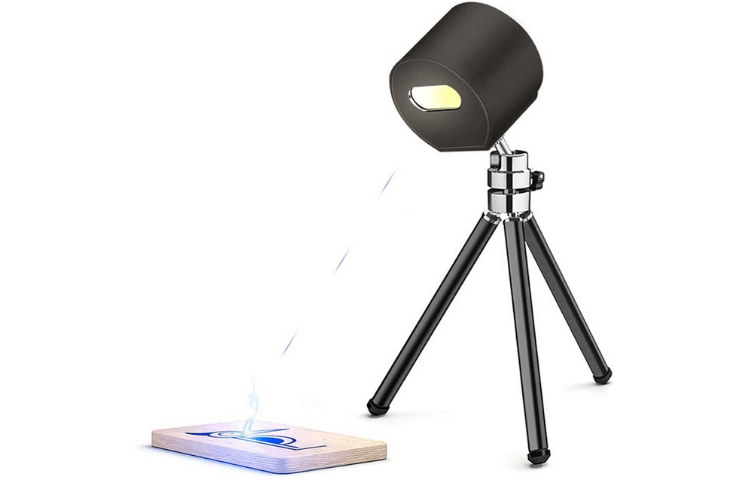 LaserPecker Compact Laser Engraver
Features
Desktop Laser Engraver
Protective Goggles
Four engraving modes
Best Cheap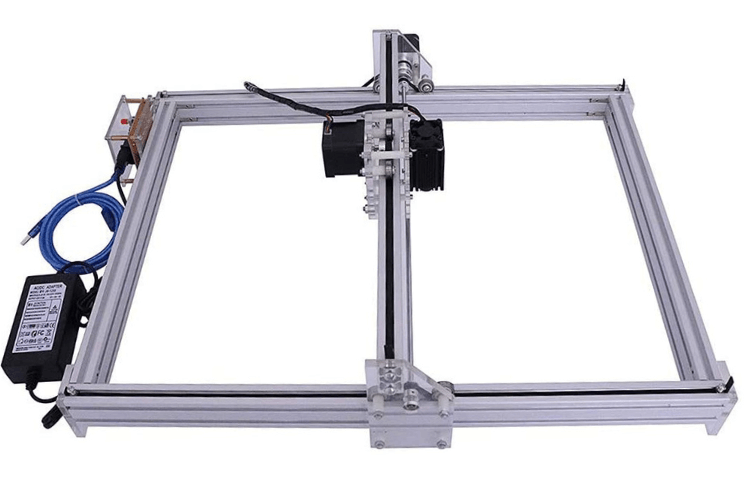 BACHIN DIY CNC Engraver
Features
Logo Engraver
Softer materials
Entry-level laser engraver
Guide to Laser Engraving Materials:
Laser engraving is a method of permanently etching text, logos, and designs on the desired material. However, not every material is suitable for laser engraving. The available materials like wood, leather, acrylics, aluminum, and some metals are modified for the best results. Some of the qualities of laser engraving materials are:
The Cap Layer:
The topmost layer of the engraving material is known as the cap. This cap of the material is coated with a thin layer of a special chemical that is very thin and allows instant vaporization by a suitable type of laser. For instance, the CO2 laser is suitable for softer materials like wood, plastic, and acrylics. The diode laser is suitable for the softest materials like paper and leather. Lastly, the fiber laser is suitable for hard materials like steel and metals. The cap's chemical also increases the durability of the sheet for increased durability.
The Core Layer:
The core layer is improved with a special coat of acrylic or some other flexible material for permanent marking effects. The thickness of the core layer ranges from 0.1mm to 3.2mm, depending on the material. Moreover, the core layer prevents the laser from fully penetrating the material. Moreover, the core layer is responsible for enhanced durability and the laser burns that you can find on professional engravings. You can also use locally available materials for engraving, but the final result won't be as professional.
Here is a list of materials that you can use with a laser engraver:
Paper and cardboard
Thermoplastics such as ABS, PC, etc.
Acrylic and glass
Wood Parts
Coated metals
Jewelry
Stones
Metals such as:

Aluminum
Copper
Stainless steel
Silver
Gold
Raster Engraving vs. Vector Engraving:
All digital images and texts are available in either Raster or Vector format. The basic difference between the two formats is that Raster images consist of numerous pixels, while the Vector images are made from lines and various geometrical shapes. Vector images are of high quality, and they don't get blurred when you resize the image. On the contrary, Raster images lose pixel quality when you magnify the image.
Raster Engraving:
The Raster laser engraving works in a very similar manner to an inkjet printer. The printing starts from the center of a line and goes in the X and Y axis to print. This mode is suitable when engraving images on material, but the design is not as accurate, and you have no control over the laser intensity. In short, you can only have a consistent laser density throughout the pattern.
Vector Engraving:
Vector images are of the highest quality as the image pixels are not lost. In this mode, the laser moves in one direction, with both axles moving at the same speed. You can also adjust the laser density on a specific line to make it darker or lighter according to the design. Most professionals use a Vector image for laser engraving and logo designing.
Top 8 Cheap Laser Engravers of 2022: Specifications, Reviews, and Features
Here is the list of the cheapest yet feature-rich laser engravers of 2022. So, without any delay, let's get started:
1. Genmitsu CNC 3018-PRO Router Kit:
No one can compete with China when it comes to producing high-tech laser engravers at an affordable price. Chinese brands like Genmitsu bring even the latest technology laser cutters in everyone's grasp. 3018-Pro M is the best option for both home DIYers and small business owners.
Features:
The 3018-Pro M laser engraver provides some of the best features at an affordable price. For instance, the strong build quality due to heavy-duty casing materials ensures that you can use the unit for extended periods. Similarly, the CO2 laser module produces a strong laser beam that can etch most soft materials like PVC, plastic, and even thin aluminum sheets. The upgraded motherboard comes with an ABS design and fan improvements. This improved system prevents the laser from moving out of sync and keeps the module at optimum temperature.
Software:
The 3018-PROVer comes with offline software upgrade features. You can control all the features of the device even if you don't have a computer in your workshop. Moreover, this device is compatible with Candle and Grbl that you can use for editing, designing, and printing using a Windows or Macintosh-based computer.
2. LaserPecker Compact Laser Engraver:
Don't you have a computer in your workshop? Well, no worries because the LaserPecker compact laser engraver doesn't require any. This unit is one of the best low-cost laser engravers that you can find in the market. It comes with several smart features that make this product user-friendly and efficient.
Features:
The problem with most entry-level laser engravers is that they are not powerful enough. As a result, people tend to upgrade from such devices as soon as their skills improve. However, LaserPecker is a game-changer in this category. It provides the best engraving feature due to its mobility.
Moreover, you are not limited to the traditional horizontal etching only. It means that you can even engrave on both vertical and horizontal surfaces without any limitations. Another great feature of this unit is the low power mode. You can even turn your device into a portable laser engraving by powering it with a power bank.
Software:
The LaserPecker laser engraver is a wireless device that doesn't require any physical connection to your system. It comes with a built-in Bluetooth module that connects with your smartphone regardless of the brand. You can download the LaserPecker smartphone app from the Appstore. This app supports all major file formats like SVG, BMP, Jpeg, Vector, and G-Code. Moreover, you can also create new designs or edit existing content within the smart app.
3. BACHIN DIY CNC Engraver:
Hobbyists and beginners don't need a powerful machine for their first steps. Still, manufacturers force them to spend more on even basic laser engraving jobs. However, BACHIN understands what is the best laser engraving machine and also their low budgets. Therefore, they came up with the best affordable laser engraver for beginners and DIYers.
Features:
The BACHIN laser engraver is a desktop unit. You can place it side-by-side with your computer system and still have space left for other important stuff. Similarly, advanced laser protection offers just the right intensity according to the material and the design. In short, you don't have to worry about the complexities of laser engraving because this self-learning device is there to help you out. As a result, the product is also very effective for students and technical academies.
Software:
BACHIN doesn't come with custom laser software for your PC. The plus point is that you can use almost any third-party software for printing. You get the plus point of applying personal designing skills and your favorite software for engraving. However, you can only use a Windows-based computer for this cheap laser engraving machine.
4. Befon Laser Engraver:
When using a powerful laser engraver, you have to compromise on either the efficiency or the laser intensity. The Befon laser engraver provides efficient laser power combined with up to 97% eye protection. It means you can show your skills even to a family audience without worrying about safety hazards.
Features:
The first thing that you notice is the powerful 40W CO2 laser module that comes with this unit. This upgraded laser is more efficient than any other unit in this price range. For instance, the normal laser spot is 0.3mm x 0.5mm, which is effective but still not as efficient.
On the contrary, Befon's powerful compression laser offers an improved 0.16mm x 0.19mm laser spot. It means that you can achieve the desired line thickness in a single pass only. This powerful laser can effectively etch hardwood, thin steel sheets, and even acrylics.
Software:
Most computers have either a Windows or a Mac-based OS. The Befon laser engraver is compatible with both these major operating systems. You can also install the drivers on a Linux device with some alterations to the .inf file. Moreover, you can use Laser Grbl, LightBurn, Candle, and CAD software for designing, editing, and printing your images.
5. MYSWEETY 2 in 1 3018 Pro-M CNC:
Do you work with hard materials and thin metal sheets? Well, no need to invest in a powerful laser engraver with a hefty price tag. You get all the power you need for light-duty metal engraving at an affordable price with the MySweety 3018-Pro laser engraver. Trust me when I tell you, it is impossible to get such advanced features in this price range.
Features:
First of all, you can work in all three dimensions with this laser engraver. The three axles are programmed to move at different speeds to achieve the perfect design every time. You can also use this device for laser cutting some flammable materials like plastic and PVC.
Similarly, aluminum can art is the new trend around the corner. You can use the 3018-Pro for cutting and etching soft stainless steel sheets without any problem. Similarly, the advanced aluminum heatsink removes maximum heat from the unit to keep it under 40 degrees Celsius all the time.
Software:
Like all premium laser engravers, the 3018-Pro is also compatible with all third-party Windows designing software. You can use Adobe Illustrator or AutoCAD for designing your image. The design can then be imported to laser software for automatic etching.
6. Uttiny DIY Cylindrical Engraver:
The great thing about laser engraving is that the material isn't always a square slab. Instead, you can turn your attention to curved and cylindrical objects and cash the factor of uniqueness. Moreover, cylindrical laser engraving has great applications for printing logos, text, and information in the manufacturing sector. If you are looking for a unique small business idea, cylinder laser engraving could be a profitable option.
Features:
Uttiny is one of the few brands that produce laser engravers for curved surfaces. The powerful 15W laser engraver is suitable for etching on most bottle materials like wood, plastic, bamboo, and even stainless steel cans. Moreover, you can also increase or decrease the laser intensity and thickness by changing the focal length of the laser lens.
Similarly, the unit's compact size doesn't require a special desk and can fit almost anywhere in your workshop. The laser speed is also much improved than other products in this list. It means that you can finish bulky projects within the given time.
Software:
You need to have a Windows-based computer system to operate the Uttiny DIY Cylindrical Engraver. This device seamlessly connects with your PC using a USB cable that comes in the package. You can use almost any designing tool to produce your desired patterns and fonts. Moreover, the LightBurn, Candle, and Grbl laser software is compatible with this unit.
7. WAINLUX Laser Engraver:
Laser engravers don't always have to be large and heavy. Sometimes, you just need a simple, compact laser engraver that doesn't require any technical skills. WAINLUX is such a lightweight device suitable for beginners and students. Moreover, it comes pre-assembled and ready to use right out of the box.
Features:
The device looks weak and light visually, but its performance is enough to stun anyone. The list of amazing features and endless possibilities of this product can amaze anyone. For instance, it is one of the few smartphone laser engravers that doesn't require any special hardware or a computer system for its operation.
Similarly, the laser is suitable for softer materials, including paper sheets, bamboo, and ceramic materials. However, you should go for a more powerful laser engraver if you want to etch wood and metals.
Software:
First of all, you can carry the operating system of this unit in your pocket because it is your smartphone. The device connects with your phone through a Bluetooth connection. You can download the WAINLUX smartphone app from both Google Play Store and Apple Appstore. This powerful software is compatible with every WAINLUX device, and you can use it to design, print, and edit existing designs in all picture formats.
8. Laser Engraver A5 Pro:
People avoid buying laser engravers for their home workshops due to the safety hazards. The laser is powerful enough to vaporize and burn several hard materials. As good as it sounds, this laser is potentially dangerous for the eyes, and there is always a fire hazard. However, Laser Engraver A5 Pro is different from most other products. It provides advanced safety features that even make this device family-friendly.
Features:
Safety should always be the number one priority in laser engravers. But you can't always be careful enough to keep an eye on the unit while working. The A5 pro understands your concerns and provides the ultimate safety features for you and your family.
For instance, the laser tracking system monitors the laser's path and stops it immediately if it deflects. Similarly, your laser engraver will also stop if it detects any major change in the material thickness to prevent burning. As a result, this product is suitable for teaching your kid and students without worrying about hazards.
Software:
The unit is compatible with all major Windows and Macintosh-based computer software. You can design your images on Adobe illustrator, AutoCAD, CorelDraw, and even LightBurn. The designs are then imported to the laser software, and the unit does the rest. You can even monitor the laser as it etches the material because the work area is covered with a special acrylic sheet that absorbs up to 97% ultraviolet light to keep your eyes protected.
Buying Guide: How to Choose a Cheap Laser Engraver?
Cheap laser engravers are usually suitable for home DIYs and small workshops. Therefore, you should not expect much in terms of laser power and durability. Still, there are some aspects that you should keep in mind before choosing a product.
Assembly:
The assembly of any laser engraver requires technical assistance. It is because the machine consists of several small but useful components. Therefore, if you don't want to spend hours in the assembly, you should get a unit that comes pre-assembled or at least with a clear user manual. Moreover, improper assembling can decrease the machine's performance and even cause harm to your workshop.
Software Support:
People either have a Windows PC or a MacBook in their workshop. Moreover, some users don't have any computers at all near the laser engraver. If you have to buy a separate PC for the laser engraver, it will only add to the cost. Therefore, make sure that your device is compatible with your existing computer or at least supports a wireless connection to your smartphone.
Laser Power: 
Some affordable laser engravers can even etch wood and thin stainless steel sheets. Buying an inferior laser machine doesn't cut through the material, and a powerful laser can completely penetrate the surface. Therefore, always choose a product that is compatible with your desired materials for the best results.
Work Area:
The work area of a laser engraver ensures that your material completely fits in the device without any alteration. Moreover, some laser engravers are suitable for cylindrical materials like plastic tubes and stainless steel cans. So, it would be best to choose a device with a larger working area for the best user experience.
Size:
The size is one of the most important factors to consider when selecting a laser engraver. It should fit on your existing desk without any major setup changes. Moreover, smaller laser engravers have the plus point of portability. So, it would be best to choose a laser engraver that best suits your design requirements.
Applications of Laser Engraving:
Laser engraving increases the beauty of any material by up to 10 times. For example, a blank wooden slab can become a work worthy of being placed in a museum through laser engraving. Nowadays, laser engraving finds its applications in wood carving, acrylic cutting, and metal etching.
The benefit of laser engraving material is that its effect is permanent and can even live longer than the designer. This is the reason why ancient cultures used to engrave important information on solid materials like wood, stone, and metal.
Similarly, laser engraving is also a big part of the food culture. People use an engraving machine for melting cheese and other edible materials to produce eye-catching art. In short, you can etch and cut almost all materials like wood, stone, stainless steel, bamboo, plastic, acrylics, ceramic material, and even aluminum.
Frequently Asked Questions:
Conclusion:
In short, laser engravers don't necessarily have to be heavy-duty and expensive. Some cheap laser engravers can meet your expectations while saving your hard-earned money. This article includes some of the best cheap laser engravers in the market with just the right performance for your DIY projects.