Laser cutting has been a profession for many years. Many people took a hobbyist approach to laser engraving, but the expensive machines kept them back. However, 2022 proved the best year for DIY laser engraving enthusiasts. Several manufacturers have introduced affordable laser cutters under $500 that allows everyone to work on their hobby at home. In this article, I will explain all there is to know about the cheap laser cutters of 2022.
Quick Pick:
The list of budget laser engraving machines goes on and on. However, some brands and machines are superior to others in terms of reliability and features. Here are my top 3 choices to help you out:
Best Overall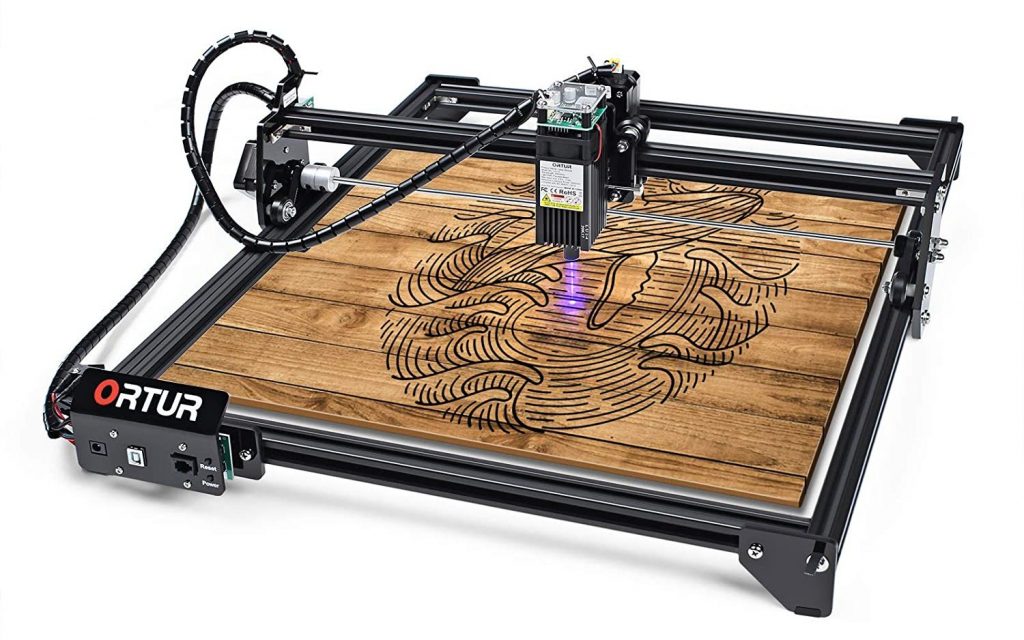 ORTUR Laser Master 2 Laser Engraving and Cutting Machine
Features
Compressed Spot
32-bit Motherboard
Eye Protection
Expert's Choice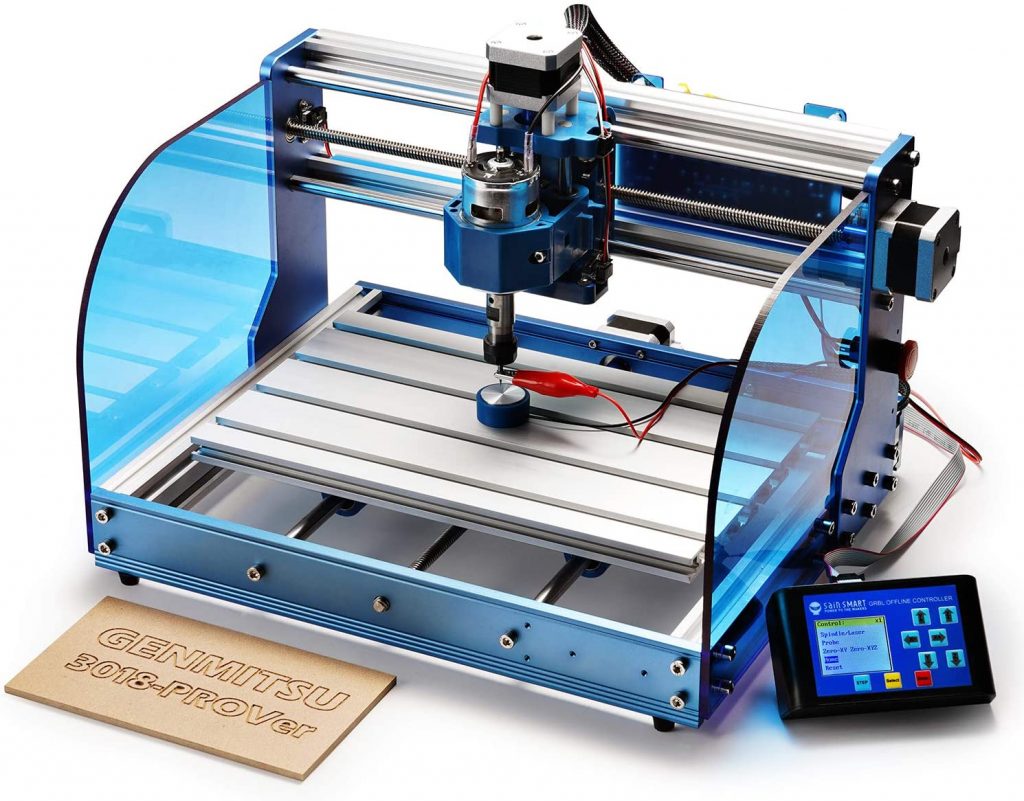 SainSmart Genmitsu CNC Router Machine 3018-PROVer
Features
XYZ Plain work area
Offline Control
Desktop CNC
Best Cheap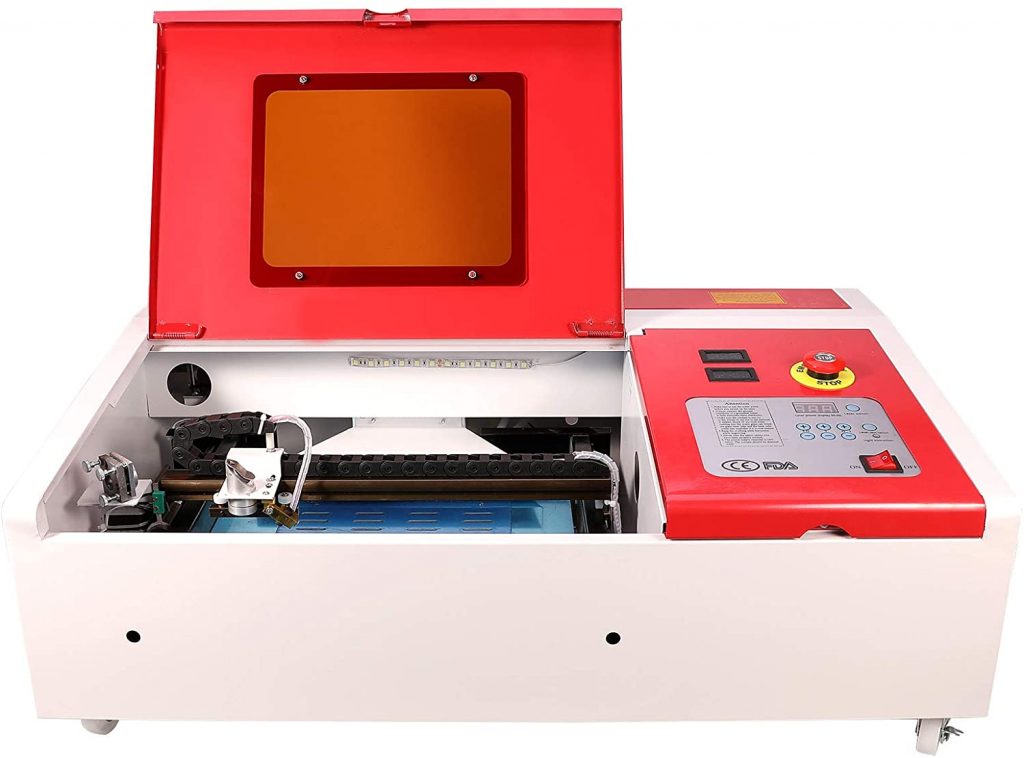 OMTech 40W CO2 Laser Engraving and Cutting Machine
Features
Desktop Engraver
CO2 Laser
Red Dot Pointer
Are There Affordable Laser Cutters?
The latest technology has allowed manufacturers to produce entry-level laser cutters for home users. You can easily find a lot of options when searching for affordable laser cutters in the market. The plus point of these devices is the low cost, low maintenance, and smaller surface area.
However, these machines are not suitable for heavy-duty projects, and I don't recommend using such a device for professional work. It is because the units are made with softer material and don't last long when operated for an extended period. The high-speed laser can quickly start to melt the casing and rails of your small CNC laser cutter. In short, the cheap laser cutter is only suitable for beginners and occasional laser engraving.
Are Cheap Laser Engravers any good?
Even cheap laser engravers can perform well if used for appropriate projects. For instance, cheap laser engravers are best for you if you only plan to cut or etch wood, plastic, and paper.
The low-power laser provides greater accuracy, saves your desk space, and doesn't completely penetrate through the material slab. Furthermore, the cheap laser cutters draw less power than the full-fledged units, and you can still achieve a professional design with a second or third pass.
On the contrary, cheap laser engravers are not suitable for hard materials like metals and acrylics. Therefore, if you are planning to take laser engraving as a profession, it would be best to choose a normal laser engraver with at least 50W power.
Choosing the right type of laser is another point that you should keep in mind. The CO2 laser is suitable for softer materials but comes at an affordable price. The fiber laser costs more but is more powerful and suitable for professional work.
10 Affordable Laser Cutters of 2022: Specifications, Reviews and Features
Here is the list of the cheapest yet feature-rich laser cutters of 2022. So, without any delay, let's get started:
1. SainSmart Genmitsu CNC Router Machine 3018-PROVer:
Best Chinese Laser Cutter
SainSmart is a Chinese manufacturer that produces export-quality laser cutters for both professionals and beginners. All their units provide reliable performance and durable build quality. The 3018-PROVer provides premium features and extended software support at an affordable price.
Features:
The 3018-PROVer laser cutter is specially designed with home DIYers in mind. The advanced safety features allow you to monitor the design without worrying about any safety hazards. For instance, the 5mm covering sheet is made with an acrylic material and prevents any material chips from flying towards you.
Similarly, an Arduino chip monitors the laser motion and controls it from going off-grid even by a millimeter. All the mechanical components of this machine are manufactured by Toshiba, especially the drivers. Therefore, the unit is highly efficient and doesn't make any excessive noise.
Software:
The 3018-PROVer comes with offline software upgrade features. You can control all the features of the device even if you don't have a computer in your workshop. Moreover, this device is compatible with Candle and Grbl that you can use for editing, designing, and printing using a Windows or Macintosh-based computer.
2. OMTech 40W Laser Engraver and Cutter:
Cheap Laser Cutter for Home Use
Assembling the laser cutter is one of the worst nightmares of every beginner, especially if you don't understand the technical parts. Moreover, hiring a professional for the job only adds to your cost price. Therefore, Orion OMTech 40W laser engraver provides a turnkey unit that comes ready to use.
Features:
OMTech 40W is an all-in DIY home-based laser cutter. All the features from unboxing to maneuvering to safety favor the best user experience possible. For example, you have the option to make it a portable laser engraver with pointer wheels. These wheels provide you the option to move the device to the workshop and then place it in storage after using it without any help.
Similarly, the attachment of the tight clamp provides the tightest grip on the tabletop so that the unit doesn't vibrate during etching. Moreover, the red dot pointer works as a guiding laser to provide maximum efficiency to the user.
Software:
Just like the features, this unit is solid in software support too. Even without a computer connection, you can operate this device, and the USB port allows you to print pre-designed images. Similarly, the WIFI and the wired connections are suitable for LaserDRW and smartphone apps.
3. ORTUR Laser Master 2 Laser Engraver:


Best Laser Cutter for Beginners
Laser engravers always complained that no device could conquer both performance and firmware grounds. The Laser Master 2 is basically every enthusiast's dream come true. This laser engraver is equally suitable for both professionals and home DIYers. You can find your preferred hardware with the same solid firmware from the wide range of choices.
Features:
Laser Master 2 is a solid contender for the top 3 list due to its premium features and sturdy build quality. This inexpensive laser cutter is for sure the best choice for professionals and home users alike. This device is suitable for all sorts of softer materials like PVC, acrylics, plastic, and obviously wood.
You will find auto laser-based sensors on all four corners of the workspace. The machine determines the dimensions of the material slab and adjusts the design ratio accordingly. In short, if you want the best laser cutting experience at home, this device is the best home laser cutter for you.
Software:
ORTUR provides the most stable firmware in their offline TFT unit. You can view, print, and even edit some file formats without any computer connection. Similarly, the grbl and LightBurn software provide the most straightforward user experience on your computer. Besides, you can also use other software for designing like AutoCAD, Illustrator, and CorelDraw.
4. MYSWEETY 2 in 1 5500mW CNC 3018 Pro Engraver Machine:
Best Laser Cutter for Beginners
The first step in the laser cutting world is the hardest because you don't know anything about the technical stuff. In that case, you need an entry-level laser cutter with simple controls, automation, and a powerful laser to experiment with all kinds of material. MYSWEETY 2 in 1 5500mW is one such machine that provides a complete experience just like a full-sized professional unit.
Features:
Ok, so the first thing you worry about laser engraving is the safety hazards, right? Well, the good news is that you don't have to worry about that with the MYSWEETY 2 in 1 5500mW laser engraver. It comes with a built-in laser path controller that prevents any accidental shaking, and the laser stops as soon as it moves out of the pattern.
Similarly, you also get an emergency stop button that you can use at any time. The built-in short circuit protection keeps your device safe from overclocking the laser. Lastly, the heavy-duty plastic casing provides the ultimate damage protection without adding much weight to the unit.
Software:
You get a TFT display unit with this build. It doesn't require an active internet connection with the computer to control various features of the device. You can even insert your USB flash in the display unit and print your own designs.
This unit also has pre-defined settings for various materials to adjust the laser intensity automatically. It works with different 3rd party computer software to provide the perfect professional style experience for everyone.
5. NEJE Master 2S 20W Laser Engraver:
Best Desktop Laser Cutter
You will need a more powerful laser engraver as you progress with your hobby. More power means you need better safety features and software improvements to support your creativity. NEJE Master 2S is one such laser cutting machine that provides all the premium features you need without extending the price tag. You can get a Master 2S unit at the same affordable price as any other cheap laser cutter.
Features:
When it comes to features, the NEJE Master 2S has tons of them. The professional-grade laser provides the perfect capacity to etch all soft materials as well as aluminum without worrying about the consequences. The advanced laser temperature controller is there for your safety. This module prevents overheating the laser or damaging the device.
Moreover, if you are using a soft or thin material, the laser guidance will prevent you from over-etching the material, and the laser won't completely penetrate the slab. You can also reduce the motor's RPM to achieve the perfect burn in a single pass. In short, these devices provide you a lot more room for creativity than any other.
Software:
NEJE version of Grbl software is well-known in the laser engraving world. It works in the same way as any other device but with many improvements. For instance, you can import several file formats like BMP, JPG, PNG, and Vector files directly from the USB device or the NEJE cloud service. Moreover, it also supports the CAD files for complex designs from AutoCAD, Civil 3D, and CorelDraw.
6. MYSWEETY 2 in 1 7000mW CNC 3018 Pro-M Engraver:
Suppose you loved the great features of the top pick, but the power failed to interest you. In that case, here is another MYSWEETY 2 in 1 product with improved laser power, better software, and an increased workspace. In short, if the previous selection wasn't good enough for you, this one will be your best choice ever.
Features:
The MYSWEETY 2 in 1 7000mW provides all the great features as its predecessor but with several improvements. For instance, the 5mm acrylic sheet is not bigger to prevent even a single chip from flying towards you. Similarly, the laser is powerful enough to cut PVC and acrylic materials like butter with a knife.
You don't have to worry about overheating the device as well because the fan control is manual, and you can select the fan speed. Similarly, the X, Y, and Z Plains can be set to manual selection for irregularly shaped material slabs. You have complete control over your design without compromising the safety features of the unit.
Software:
The device's TFT display unit is powered by the infamous Grbl software with a cloud connection. You don't need a USB flash to transfer the designs. Instead, store them in the cloud for universal access from home, school, and workshop. Moreover, laser software like LightBurn is also compatible with this budget laser engraver.
7. Cenoz Upgrade CNC 3018 Pro GRBL Control:
Overheating is the biggest enemy of laser cutters. It slowly kills the laser power, and an overheated device can start vaporizing the casing material, even if it is aluminum or heavy-duty plastic. Therefore, if your project requires extensive laser operations, you need a laser cutter with an improved cooling system. Cenoz Upgrade CNC 3018 Pro is made for such projects because it's all about heat management and power adjustments.
Features:
The features of this unit are appealing for both home users and professionals. The affordable price of this device provides the best transition from a beginner laser etcher to a more advanced one. You can keep working on your project for several hours without worrying about the overheating issue.
The integrated heat sink works in close coordination with the fans to ensure that the device remains at optimal temperature. Similarly, you don't need a professional's help during the assembly because it comes with clear instructions and takes less than 20 minutes.
The powerful laser is suitable for almost all soft materials as well as some soft metals. You will get professional experience at home if you buy this awesome laser engraver.
Software:
Gbrl with 3-axis control is a handy upgrade to the typical laser grbl software. It provides complete control over the laser's movement because you get to declare the x, y, and z planes. This feature is advantageous when working with irregularly shaped objects. You can edit, resize and even design on this new grbl software without requiring a computer system in your workshop.
8. GanGou Laser Engraver:
Best Laser Cutter for Leather
Sometimes you just need speed and accuracy rather than details and perfection. This case is especially useful for speedy projects and experimentation. If you are just getting started with laser engravers, I assure you the GanGou Laser Engraver should be your go-to device.
Features:
Are you amused by leather engraving? If yes, then you should go no further down the list. This device provides the perfect diode laser with improved accuracy and a faster speed in a single package. The powerful laser system allows you to engrave complex design patterns even on curved leather and bamboo surfaces.
In fact, you can even start your small business with this device, and the customers will always be happy with your speed. Moreover, the lightweight of the unit allows you to carry the machine from home to your workshop without requiring any help. In short, the device may look weak, but its performance will always prove you wrong.
Software:
You need a Windows-based computer system with an active internet connection to operate this device. But again, who doesn't have a computer in their work these days. The integrated chip automatically detects your Windows version and installs the required drivers.
Moreover, you can use this unit with any 3rd party design software you like as it supports several file formats like JPG / GIF / BMP / DIB / ICO / CUR /PNG.
9. VEVOR CNC Router Machine:
Best Cheapest Laser Cutter
Do you want to test and improve your skills before purchasing a real laser cutter? Nothing should stop you from getting your hands on the most affordable laser cutter on the market. You can even use it as a disposable homemade laser cutter to experiment with various materials before getting started. Moreover, you can even test your designs before finally putting them on display.
Features:
You shouldn't expect much from such a small CNC laser cutter coming at such an unbelievable price. In this way, you will be more amazed at what this small device can do for you. For instance, the laser is powerful enough for etching leather, bamboo, and even wood and acrylics with multiple passes.
Moreover, you don't have to worry about damaging the casing because the laser isn't powerful enough for that. So, you can even use this laser cutter to teach your kid and introduce him to your hobby.
Software:
The device even comes with a control board with built-in grbl software for etching with your Windows computer system. It supports more file formats than even most premium laser cutters and works with better efficiency than you have ever seen. In short, no one will ever believe that you got this powerful device in under a hundred bucks.
10. Genmitsu CNC 3018-PRO Router:
I have chosen a mid-ranged cheap laser cutter to end the list. If none of the above products caught your attention, this one surely will. It provides the best laser cutting experience that you can expect from such a price tag. This device is suitable for both beginners and home DIYers alike.
Features:
Genmitsu CNC 3018-PRO is the improved version of its predecessor, the 3018 unit. It provides improvements in the laser power as well as better maneuverability with the laser. The advanced guidance system provides you full access to the design axis so that you can carve almost every shape of material without any alterations.
Moreover, the cam access provides you real-time insight into the laser, and you can stop the laser if it goes off-track, even by an inch. Similarly, you can carve several materials with this powerful tool unless it is a metal.
Software:
Genmitsu understands that only a user can help another user. Therefore, they provide open-source licensed CAM software in their Arduino control unit. You can ask and discuss your issues with the active community and receive an instant response. Moreover, it is compatible with all major software like LightBurn, Grbl, and Candle that you can use it on any Operating system of your choice.
Laser Cutter Buying Guide: Things to Consider Before Buying Laser Cutters
The laser cutter is a complex device with several technical factors. If you overlook any of these factors, the chances are that you won't get the desired results even with compatible material. Therefore, here are a few things that you should keep in mind when choosing a cheap laser cutter:
Size:
The size of the laser engraver should match your workshop and desk size. Otherwise, you will have to make changes to the setup. Moreover, larger laser engravers are heavy-duty and expensive. So, you should consider the nature of your work before selecting a device for your workshop.
Laser type:
Different lasers are suitable for etching materials. For instance, CO2 lasers can cut softer materials like wood, plastic, and acrylic materials. Similarly, the fiber laser can carve hard metals and all other materials without any problem. Diode lasers are suitable for paper, leather, and plastic sheets.
Software compatibility: 
The TFT control units that you get with almost every laser engraver are powered by grbl firmware. It is a powerful software that you can use for printing offline without a computer system.
Similarly, laser software is based on different computer operating systems like Windows, Linux, and Macintosh. Moreover, the designing software can only import limited picture file formats. Similarly, you should consider all these requirements when purchasing a laser engraver.
What are the disadvantages of laser cutting?
The laser cutter is perhaps one of the most powerful tools available in the market. It can etch and penetrate almost any material regardless of its thickness. However, even this tool comes with its own set of disadvantages, some of them are:
Experience: "Practice makes a man perfect" is the most suitable phrase in the case of lasing cutting. You need a steady hand, technical expertise, and years of practice before you can start etching like a Pro. Moreover, there is no eraser in the laser cutter, so you don't have any room for a mistake.
Material limitations: Yes, you can etch anything that you want but with the right type of laser only. For instance, you need a diode laser for leather and paper. A CO2 laser is suitable for plastic, acrylic, and wood, and last but not least; the fiber laser is suitable for certain metals. However, you still can't etch a diamond, tungsten, or a sheet of stainless steel with a powerful laser engraver.
Fumes: Maybe you didn't know it before, but the laser is produced by ionizing a cloud of gases, including carbon dioxide, nitrogen, and helium. These ions are very dangerous if you are exposed for an extended period without protection. Similarly, the laser vaporizes the material for etching. The vaporized material is dispersed in the air in the form of fumes that can even cause cancer and other diseases. Therefore, it is best always to use appropriate safety gadgets whenever you use a laser cutter.
Frequently Asked Questions:
Conclusion:
By now, you understand the importance of a laser cutter and how you can use a cheap laser cutter at home. I hope that you found the perfect product that suits your needs from my list. Good luck with laser cutting!