Laser cutters and engravers are some of those useful instruments that any enthusiast or workshop should have in their arsenal of equipment. They truly are the most convenient method to get started customizing since they provide you the freedom to put your stamp on just about everything.
Laser cutters provide you the flexibility to deal with a wide range of materials. For a few hundred dollars, you can get your hands on a machine that can engrave acrylic, glass, plywood, wood, felt, leather, and a variety of other materials. While searching for the best laser engraver for metal, you'll need to be a little more selective in your selection.
Almost all laser engravers can work with smooth surfaces; not all can work with metal because it is considerably harder than glass or plastic.
When it comes to creating distinctive effects for your designs, the laser engraver is one of the most flexible tools you may have at your disposal. However, given the large number of engravers available on the market, it might be difficult to identify the one that best suits your requirements.
This article will take a look at some of the top laser engravers now available on the market and will assist you in determining whether or not they are a suitable match for you.
Top 3 Picks:
I know, even the top 8 list seems to confuse some individuals. Therefore, I have further shortened the list to provide the top 3 best Laser Engravers of 2021. All these products have a unique feature that makes them stand out from the list. If you couldn't find your dream product in it, you should probably read the rest of the article.
Expert Choice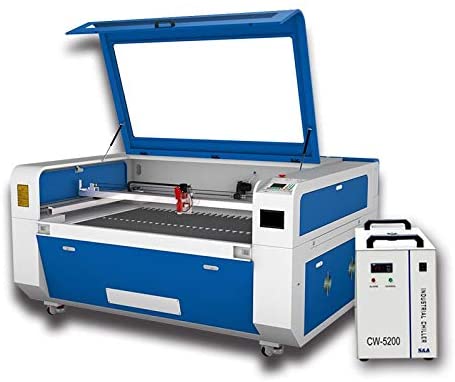 Reci W8 CO2 Laser Engraver Cutter
Specifications
Laser Power: 180W
Engraving Area: 1300*900mm
Engraving Materials: Glass, Marble, Acrylic
Features
Ability to engrave into almost any substance
It has a blower
High Power
Best Overall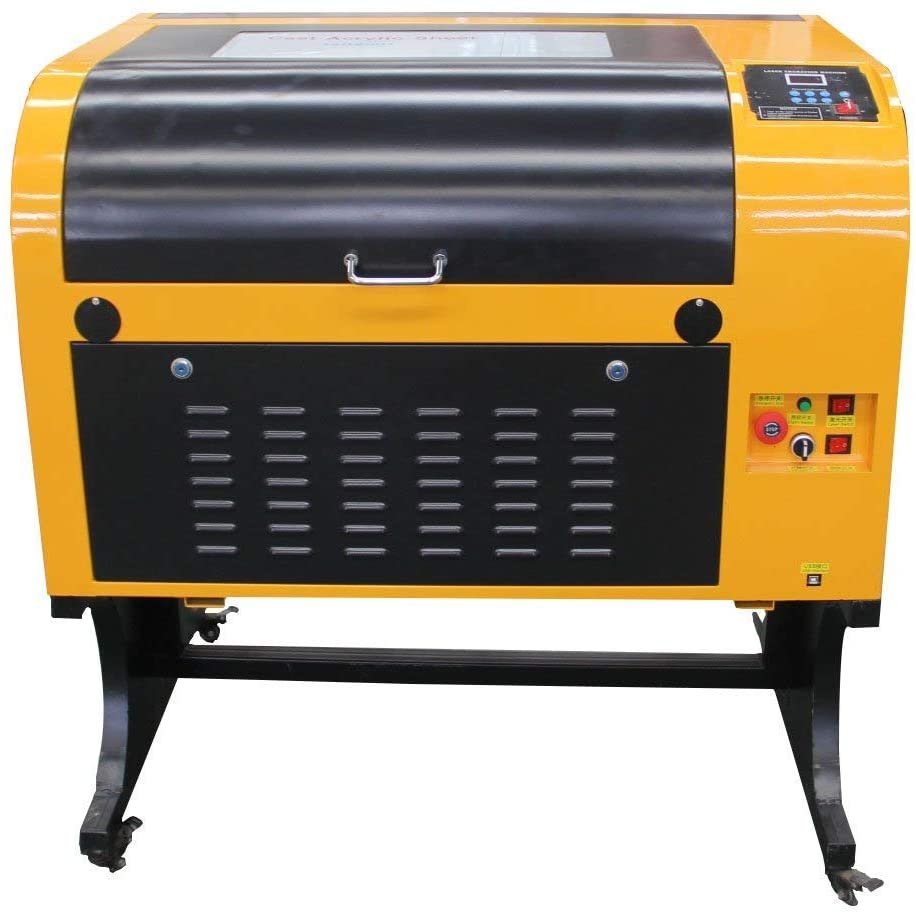 TEN-HIGH Upgraded Version CO2
Specifications
Laser Power: 50W
Engraving Area: 400x600mm
Engraving Materials: Wood, Glass, Plastic
Features
Pre-installed Rotary Switch
Good Compatibility with Different OS
Enhanced Digital Display
Best Cheap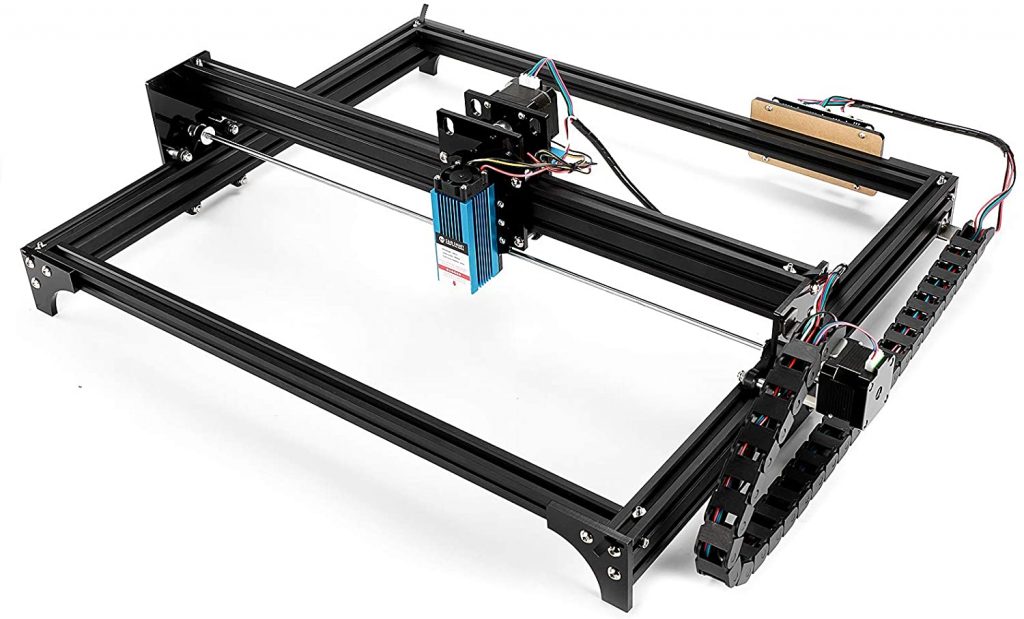 Genmitsu LE5040 CNC Laser Engraver
Specifications
Laser Power: 5500MW
Engraving Area: 19.7× 15.7 inches
Engraving Materials: Aluminum, MDF, wood
Features
High Efficiency
Excellent Laser Module
Large Working Area
1. DIY CNC Desktop Laser Engraver (Best for DIY Projects)
Desktop CNC machines have grown in popularity during the last few years, particularly among hobbyists. In case you're unfamiliar with the term, a desktop CNC machine is a computer equipped with a robotic arm that can be programmed to cut various materials using a laser, router bit, or engraver bit, among other things.
Compatibility:
The computer may be any type of PC or Mac, and the robotic arm can be linked to any type of computer, including a desktop, laptop, or even a Raspberry Pi computer. Even though these devices are becoming increasingly popular, they are still prohibitively expensive.
Performance:
With an engraving area of 15.7 x 19.7 inches, this 2500MW laser engraver has a maximum power of 2500MW. If you are searching for an engraver capable of producing high-quality monochrome patterns, this would be an excellent choice. It may be engraved on various materials, including wood, hardwood, sponges, paper, leather, and phone casings.
Features:
A one-year guarantee is included, which means that if any of the components fail within one year of purchase, they will be replaced at no additional cost to the customer. The fact that this is 2500MW laser equipment means that it can easily engrave most hardwoods and even laser cut them if it's what you're trying to do. The program supports many file types, including Jpeg, PNG, Gifs, Bitmap, DIB, CUR, and Icon.
Customer Reviews:
---
2. Genmitsu LE5040 CNC Laser Engraver (Best Budget Machine)
It has a cutting area of 19.7 by 15.7 inches and can cut at a maximum speed of 10,000 millimeters per minute on the Genmitsu laser engraver. A huge cutting surface is an excellent option for a home-based business since it can be used to engrave a wide range of objects.
Compatibility:
It makes use of open-source software (LaserGrbl), which has a thriving community, ensuring that you will have access to a wealth of information on how to alter pictures for engraving. However, in contrast to laser engraving, this program is not ideal if you want to laser cut instead of laser engraving. If you want to do laser cutting, you're better off using another picture editing program.
Features:
Plywood, oak, paper, bamboo, anodized aluminum, and even cloth are among the suggested items for use with this engraving machine. The ease with which this machine can be assembled and operated, as well as the speed with which it can engrave your materials, is its most significant advantage. Furthermore, if you search for stainless steel machine engraving, the Genmitsu engraver will be a poor choice for your requirements.
Customer Reviews:
---
3. A5 Laser Engraver (A5 Pro) (Easy to Operate)
This attractive-looking laser engraver from Atomstack is under $500, and it comes from a company that has tried some fairly fascinating things lately, most particularly a 3D printer that uses flexible filaments and is capable of printing on flexible surfaces as well.
Compatibility:
Atomstack's products have a distinctive appearance, especially true with the A5 Pro and its Titanium-colored frame. However, aside from the aesthetics, there are several other noteworthy characteristics, including a wide 410 × 400 mm work surface and a relatively light weight of about 4 kg. Due to its compact size and compatibility with LaserGRBL and LightBurn, both of which are important engraving software programs, it is very simple to keep and carry.
Power:
One thing to keep in mind is that, while the laser's input power is indicated as 40 W, it is more than likely only outputting a laser with a power of approximately 5 W in reality.
Performance:
Diode laser engravers are not the most powerful laser cutter. The laser utilized in this demonstration is likely powerful enough to produce some pretty nice engraving on wood, leather, and even some paint coats on metals such as aluminum. The work should be quite crisp as well, thanks to the 0.1 mm precision.
Customer Reviews:
---
4. TEN-HIGH Upgraded Version CO2 (Best Overall)
TEN-HIGH CO2 Upgraded Version Engraving Machine is a high-performance laser engraving machine. In addition to acrylic and plywood, it is capable of cutting through PVC and leather. If you are looking for an all-in-one laser engraver for your workshop, this product is perfect for you.
Performance:
In addition, the placement precision is 0.15 mm on the engraving machine. The graphic operating panel is incredibly simple to navigate and operate. When cutting cork and other comparable materials, the manufacturing precision metal-mold laser head can make cuts as small as 6 mm in thickness. It is the best Laser engraving machine with 60W of power.
Compatibility:
Besides supporting the whole range of CorelDraw formats, it also supports the following image file formats: BMP/DIAB, JPG/JPEG/PNG/PIXEL/GIF/WMF/EMF/PCX/TIF/WMF/TIFF. This model is equipped with a better laser head and a maximum axial fan and water cooling, which allow for efficient heat and fume dispersion.
Features:
Furthermore, it is equipped with an electric automated lifting system and a blown flame-retardant system, designed to avoid burning while the machine is in action. In the box are the following items: the native software, the focal length card, the exhaust pipe, the power cord, the USB cable and key, sticky tape, clamp, a cutoff switch, an air pump, and a water pump (if applicable).
Customer Reviews:
---
5. TEN-HIGH 3020 (Very Precise)
In comparison to the previously covered Ten-High engraver, the new Ten-HIGH 3020 is a more advanced model. It provides you with a far greater workspace, allowing you to operate on a bigger scale if necessary.
Performance:
Featuring a very accurate engraver with a precision of 0.01mm, the 3020 is ideal for fine engraving. Additionally, the 3020 can engrave at speeds of up to 600mm per second when operating at maximum speed. It means that you can engrave on a surface of 12 inches by 8 inches with this engraver.
Compatibility:
The 3020 is compatible with CorelDraw, as is the case with the previous Ten-HIGH versions. The main improvement is that now it can be used on a Desktop pc running Windows, Macintosh, or any Linux flavor.
Features:
The Ten-HIGH 3020 is equipped with two exhaust fans, which assist in minimizing the build-up of vapors produced while etching plastic and other types of materials. The device may also be connected to your Windows personal computer using a USB port.
Customer Reviews:
---
6. Reci W8 CO2 Laser Engraver Cutter (Best Premium Machine)
The Reci W8 Laser Cutter Equipment is a high-capacity engraving machine that uses an air-assisted engraving function to maximize productivity. It also works with applications such as CorelDraw and AutoCAD, and it supports the following file formats: BMP, jpg, Dxf, ai DST, and las.
Compatibility:
Your computer system will be connected to the 180W Reci W8 through a wired Standard USB cable connection. This model weighs a lot. There is simply no other way to put it. Due to its size and weight (946 pounds), it would require its own dedicated space.
Performance:
A maximum engraving speed of up to 60000 mm per minute is achieved, and a maximum cutting speed of 5000 mm/min is achieved. Precision is 0.01 mm, which implies it can engrave even the smallest details in your materials with pinpoint accuracy. The air pump and exhaust fan work together to guarantee sufficient heat dissipation when the machine is in operation.
Features:
Even with the SFX machine, it is still not possible to carve onto metal. However, you may engrave into just about every other material available, including wood, Plexi, glass, hardwood, crystal, Mdf, acrylic, and a variety of other materials.
Customer Reviews:
---
7. OMTech 55W CO2 Laser Engraver Cutter (Best for All Non-Metal Materials)
The OMTECH laser engraver cutting machine offers a bigger engraving area and more laser power than the competition, allowing it to tackle huge projects without difficulty. It is one of the finest laser engravers available for businesses and professionals that want to finish larger tasks quickly and efficiently.
Features:
The control panel allows you to modify the location of the laser head and the laser strength, allowing you to process a variety of materials up to 10millimeters thick. Through automated defect detection based on current monitoring, the auxiliary display panel helps to reduce the likelihood of power supply and laser tube failures in the field. The 4-pin extension feature also allows you to connect a rotating axis attachment to your CO2 laser cutter, allowing you to produce even more unusual forms with your laser cutter.
Performance:
The huge working surface of this laser engraver makes it suitable for cutting and engraving large, irregularly shaped items. In addition, the pass-through etching tabletop door allows you to process objects that other laser engravers are unable to handle successfully. The use of lasers for cutting and engraving might be hazardous. And that's why this laser cutter is equipped with a multi-window tinted acrylic cowl, which allows you to directly and safely watch the engraving process while operating the machine.
Compatibility:
To have the finest laser engraver, you must also have the best software. This open system is functional with any laser software application, including LightBurn, AutoCAD, and CorelDRAW. It is also interoperable with third-party software programs. Using the USB interface to do engraving and cutting tasks is possible even if you do not have a computer on hand. You may upload the files straight from a USB stick to complete your engraving and cutting tasks.
Safety:
When the lid is opened, an automated shut-off sensor disables the laser system, ensuring your safety. A conventional air compressor removes the waste created during the engraving process, allowing for the more efficient functioning of the engraving machine.
Customer Reviews:
---
8. OMTech 40W CO2 Laser Engraving Cutting Machine (Best for Professionals)
If you do not want a huge engraving area or a high laser intensity, desktop laser engraving equipment is an excellent choice for you. It's a trustworthy tiny laser cutter and engraver perfect for amateurs and people working on small-scale projects.
Performance:
Because of its compact overall dimension of 32″ x 20″ x 10″, the desktop laser cutter may be easily placed on the table without taking up a lot of room. While the 8″ x 12″ engraving area on this tiny device is substantial. A dual design enables you to engrave uneven materials with ease due to the dual-platform design. A tiny laser cutter with accurate capabilities, it is an excellent home laser cutter for small workplaces.
Features:
The updated LCD screen has an emergency button that allows you to turn down your computer quickly in an emergency. Two screens indicate the temperatures of the water and laser, able to track the temp of the machine in real-time to ensure that laser operations are as efficient as possible. When it comes to desktop laser cutters, safety is essential because many tiny laser engravers do not have the comprehensive security measures found in full-size laser cutting equipment.
Adaptability:
It increases airflow while also lowering noise levels and increasing laser performance overall. It is fitted with a triangular particle exhaust outlet that improves ventilation while also offering security for the X/Y axis of the machine. There are four wheels on the bottom for easy mobility, as well as a lock at the bottom to keep it securely in place.
Customer Reviews:
---
Detailed Laser Engraver Buying Guide:
Lasers are employed in various applications other than office laser pointers, such as heavy-duty machinery and tools. As previously said in this article, this includes devices such as the top laser engravers available on the market. With the capabilities and tools that they provide, you may quickly engrave any picture or pattern of your choice on a variety of different surfaces.
Even though we have discussed such characteristics and specs, we are here to provide you with a thorough purchasing guide for the finest laser engravers if you want any further information. You may simply consider the following aspects while looking for the best laser engraver for your needs:
The extent of the patterns or designs that you may engrave on a particular surface is limited by the capabilities of a laser engraver. As a result, if you want to engrave huge items, you must first determine the engraving size of your laser engraver before proceeding.
In most cases, this engraving size is specified in millimeters (mm), and it includes sizes such as 100 mm x 100 mm, 200 x 200 mm, 400 x 400 mm, and a few more options. Out of all these possibilities, the biggest engraving size (400 mm × 400 mm) is the most suitable for heavy-duty applications.
Even though a laser engraver is primarily designed for engraving designs, shapes, figures, pictures, and text on a given surface using a strong laser.
Many of you may be interested in additional features for your DIY laser cutting machine projects and the engraving function. As a result, several laser engravers are available on the market that does additional duties that are comparable.
For example, a large number of laser engravers are equipped with 3D printing and CNC cutting capabilities. These laser engravers are extremely flexible and may be used for a variety of large-scale DIY projects.
Since a laser can be quite hazardous if used wrong, you must choose a laser engraving machine that is safe to use before making your purchase. Consequently, it is a good idea to search for any safety certificates that may be available. Fortunately, most laser engravers come with various safety certifications, including UL, CE, FCC, FDA, IEC, RoHS, and several other designations. It is advised that you choose a laser engraver that contains a number of these features.
Your laser engraver should not only be safe to use, but it should also be dependable in its operation. Other than the build quality, checking the warranty term given by the manufacturer is a fantastic method to guarantee that you are purchasing a very dependable laser engraver. The majority of laser engravers come with a one-year guarantee, although some may be longer.
Frequently Asked Questions:
Wrapping it Up:
There are no restrictions on the types of laser cutters and engraving equipment that can be purchased. If you're interested in simple engraving on leather and vinyl stickers, you can pick up an entry-level choice for around $200, or you can work your way up to more complex engraving on wood and metal.
We hope this article has given you some insight into how to choose the finest laser engraver for your needs.