The making of rubber stamps is popular in various industries. Previously rubber stamps were popular in offices for formal use. Usually, these stamps include the name of the employee or employee id.
As technology advances, these rubber stamps are also advancing. These days laser engraved rubber stamps are popular among teenagers. It is because industries are creating rubber stamps and having custom designs. The custom designs could be of mehndi or tattoos.
While using laser engraving equipment for the production of rubber stamps, you can create hundreds of rubber stamps within a few minutes. You can create stamps in multiple colors.
The mehndi and tattoo designers love multicolor rubber stamps. The patterns of the rubber stamps are delicate enough that you cannot get the quality while designing by hand.
How to Laser Engrave Rubber Stamps?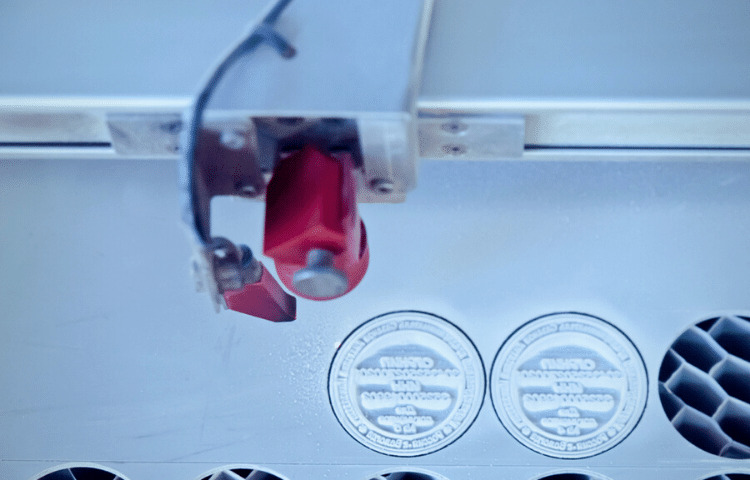 Custom rubber stamp creation can be a simple and satisfying process. You'll need a laser engraver, rubber stamp material, and a stamp design. The design is engraved into the rubber stamp material using a laser engraver.
Before starting your project, please read the instructions and safety precautions for the laser engraving machine. Always wear protective eyewear and safety attire when using a laser engraver for rubber stamps.
You can design your custom rubber stamp after the laser engraver is ready and set up. You can choose which design you want to imprint on the stamp material. The process of a laser engraver is the rubber stamp will then have the design etched into it. It gives a clean and polished appearance.
When making rubber stamps with a laser engraver, consider using a masking material to protect the stamp material in areas where you don't want to engrave. It will ensure that the design is neat and professional.
Once the stamp is complete, mount it on a mounting block and use it. It can also be kept safe and used for many years.
Using a laser engraver to make personalized rubber stamps can be a simple and enjoyable process. With the appropriate tools and some practice, you can create distinctive stamps for any occasion.
Materials & Tools:
It's simple and affordable to personalize almost any item by making custom rubber stamps. You'll need a few supplies and tools to get started. You'll need a rubber stamp material, like silicone or rubber, a stamp design, and an ink pad in the desired color.
You will need a laser and a heat press to engrave rubber stamps. A laser-engraved rubber stamp machine can mark wood, plastic, leather, and rubber. It works with multiple shapes and sizes and allows for the creation of custom stamp designs.
A heat press is also required for making rubber stamps and helps ensure the design does not fade or smudge. You can make lovely, personalized rubber stamps to remember special occasions. Using the right supplies and tools, you can give your products a distinctive touch.
The Popularity of Laser Engravers for Rubber Stamps:
Using a laser engraver to create custom rubber stamps is becoming more popular for businesses and individuals. Laser engravers provide the precision and speed that traditional rubber stamps do not.
Laser-cut rubber stamps are sturdy, affordable, and highly customizable material that makes it possible to reproduce intricate and detailed designs quickly and precisely. Businesses can use the laser engraving machine to create custom rubber stamps for various applications, including promotional materials and one-of-a-kind occasion cards.
Laser engraving is an excellent option for making unique rubber stamps because it can quickly and precisely engrave various materials.
Step-By-Step Guide for Laser Engraving on Rubber:
Gather material: You will need a laser cutter and the rubber stamp material of your choice before beginning. You must use a graphic design program like Adobe Illustrator to create your design.
Create your design for engraving rubber stamp: Once you have your design, you can get started on the engraving file. Make sure the design is in vector format and that any text or numbers are converted to curves.
Now export the file to laser cutter software: Open the file in your laser cutter software and adjust the settings to match the rubber stamp material. Make sure you choose the appropriate power and speed settings for the material.
Securing the rubber stamp material: Place the rubber material on the laser cutter bed and secure it with clips or tape.
Start the machine for engraving rubber stamps: After securing the material, you can start the laser engraving procedure. Keep an eye on the engraving process to ensure the settings don't change.
Remove the rubber stamp from the laser engraving machine: After the engraving is finished, you can take the stamp out of the laser cutter bed. Handle the stamp carefully because the material might be hot.
The custom rubber stamp is ready to use: It's time to use your customized rubber stamp. You can enjoy using your new stamp and store it safely when not in use.
Tips for Laser Engraving Rubber Stamp: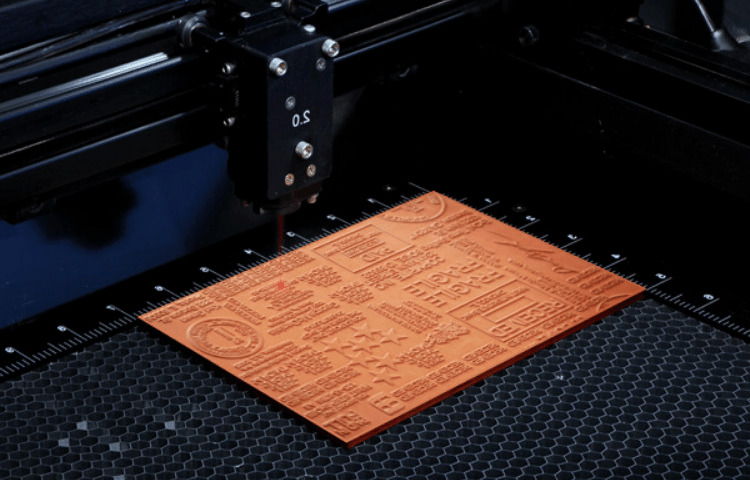 One excellent way to give your projects a unique touch is to make a custom rubber stamp using a laser engraving machine. One perfect choice is laser engraving. Creating a custom stamp for an unforgettable event or designing a logo for a company are both acceptable options.
The following advice will help you laser-engrave a rubber stamp.
Take into account the rubber stamp's design. Select a pattern that appeals to you and stands out when engraved. Make sure the design is straightforward and easily recognizable if you're making a logo stamp. When your design is complete, you must convert it to a vector file to be laser-cut.
Pick a rubber stamp material that works for you. Although many materials are available, wood, rubber, and foam are the most popular. Each material has unique advantages and disadvantages. It's crucial to think about which will suit your needs the best. Foam, for instance, is lightweight and straightforward to cut, but it might not be appropriate for outdoor use. Although wood is more resilient, laser cutting is more complicated.
When you're ready to begin laser engraving, follow all safety instructions. Using laser engraving can be risky, so taking the appropriate safety measures is essential. Wear gloves, a long-sleeved shirt, and safety glasses to protect your skin and eyes. Additionally, avoid pointing the laser directly at anyone and keep the device in a well-ventilated area.
These recommendations will help you create the ideal laser-cut rubber stamp. Your custom stamp will add something special to any project if it is made with the appropriate materials, design, and safety precautions.
Automatic Ink Stamping Machine:
An automatic ink stamping machine is a tool used to quickly and precisely apply ink in the desired pattern or design to a variety of products. The device can imprint images, text, and logos on products.
The rollers that make up the automatic ink stamping machine hold the stamping components. Typically, the substance is an ink or dye with a silicone or rubber base. After being fed into the rollers, the material is applied to the surface that will receive the stamp. A computer with software having different stamp designs, sizes, and shapes manages the stamping process.
Users who want unique touch for their products must use an ink stamping machine. It is an excellent option for companies and people who need to apply permanent markings and designs to their products quickly and precisely.
Frequently Asked Questions:
What benefits do laser-engraved rubber stamps offer?
Laser engraving rubber stamps have several benefits, including improved durability and water resistance. It creates greater accuracy and detail when compared with conventional stamp-making techniques.
What do we need to provide to engrave the rubber stamp?
You only need to provide a high-resolution image or vector file (like. ai,.eps,.svg, or.pdf), and the rest will handle the laser engraving machine.
Can we use laser engraving for rubber?
Rubber stamps are made with laser engraving. You can also use laser engraving for wood, metal, and plastic.
How long does it take to laser engrave a rubber stamp?
Laser engraving is a quick and effective process. Engraving a rubber stamp typically takes one to five minutes, depending on the size and complexity of the design.
Does laser engraving damage the rubber?
No, because laser engraving is a non-contact process, the rubber will not be damaged or altered in any way.
Bottom Line:
Rubber stamps can be laser engraved to give any project a unique touch. During this procedure, a rubber stamp is laser-etched with a design to produce an impressive, crisp imprint. Laser engraving is a quick, effective, and precise process.
You can customize your stamp with laser engraving to include text, images, or logos; the results will make your stamp look professional. The result is a stunning and innovative rubber stamp that will leave a lasting impression. Therefore, laser-engraved rubber stamps are your best option if you need a unique rubber stamp for your upcoming project. It's a fantastic option for anyone trying to make a good impression.