Every producer and vendor in the jewelry industry needs a laser engraving machine. For a long time, engraving metals, jewelry, and other materials have been widespread. However, incredible high-tech laser engraving equipment has lately been produced to tackle all of your metallic and non-metallic marking issues.
We'll go over the basics of laser engraving, including its history, the many technologies utilized in the process, and how to choose the best laser engraving machine for jewelry.
Many regulations now demand that producers and distributors have their inventories uniquely recognized. In reality, practically all produced products are seen to use one method or another to record their stocks.
Let's look at the epic history of engraving and how it evolved into modern laser engraving as we know it today before moving on to the current period.
History of Jewelry Engraving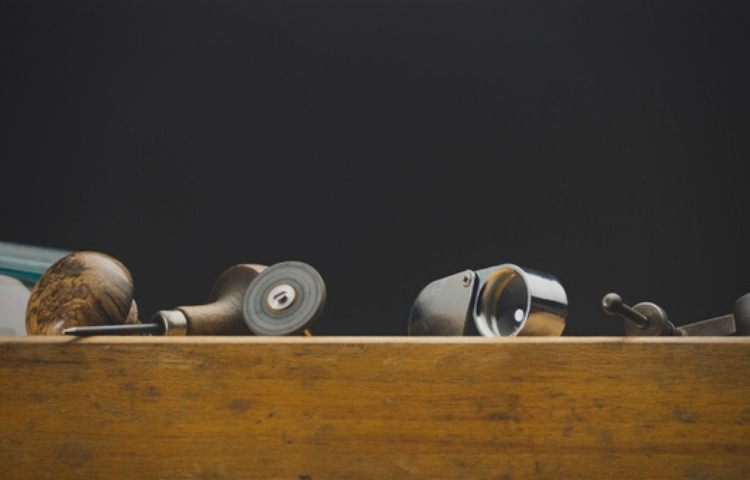 Engraving has been practiced since the Middle Stone Ages, about 60,000 years ago. Later, carvings on bones, ivory, and rocks dating from the same age became popular.
Engraving evolved over time and eventually became a vocation. As a result, it's been utilized for ornamentation, particularly metallic embellishments, for a long time. Furthermore, artists used various engraving techniques to decorate metalwork like swords, shields, and armors.
Originally, engraving was employed to generate permanent cast dyes and then create printed decorates. On the other hand, Engraving techniques evolved. They became widely employed for the ornamentation of metallic decorations such as jewelry by carving patterns, which added texture and increased their value.
The need for engraving gold jewelry has risen dramatically in recent years. People love to wear customized jewelry with their names engraved on it, which is one of the main reasons.
Furthermore, it has become a legislative necessity for merchants to label their jewelry with certain serial numbers and codes to identify it.
As a result, laser engraving has become the preferred process for engraving jewelry. What exactly is laser engraving, and how does it work? In the next section, we'll take a look.
Function and Advantages of Laser Technology:
Design Possibilities Are Endless:
With a laser machine, almost any design may be created.
Even 1-point letters and the tiniest geometries are readable.
You have complete creative control when designing insignia, logos, graphics, or patterns.
Even photos can be applied in as little time as feasible.
DirectMark or JobControl is a laser software program that allows you to laser mark directly from your graphics program, making it as simple as printing.
Maximum Adaptability:
With a single laser machine, you may laser engrave gold (gold engraving), as well as bracelets, necklaces, and rings made of various materials.
If you want to personalize things or picture engrave decorations, laser marking and laser engraving bring up a world of design options for jewelers.
Exceptional Marking Effects – An Excellent Tool:
Laser marking may be done with extreme precision on even the tiniest geometries.
Thanks to high-quality components, high-quality optics, and beam quality are achieved.
Component location using a camera for optimal precision and ease of usage
Non-contact and Process-Safe Material Processing:
It is not necessary to clamp or secure the material tightly.
Consistently good results while conserving time
Jewelry Laser Engraving Techniques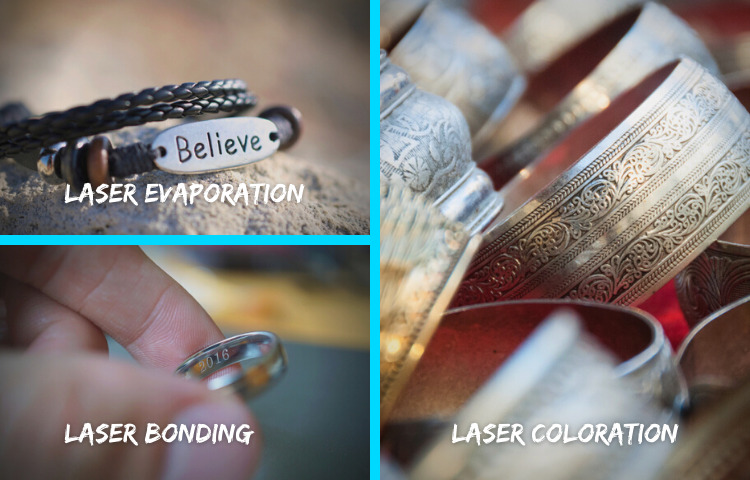 Jewelry engravings can be done in a variety of ways, including:
Laser Evaporation:
When this form of laser engraving is used, it generates a lot of heat, which causes the material to evaporate from the surface. The most known advantages of this technology is that the surface is less damaged during this.
Laser Etching:
Another popular method is etching or laser foaming. This approach involves melting a portion of the material with the help of a laser, then depositing and cooling the molten material to produce the required shape.
Thus, in this example, the etched shape is determined by the pulse of beam velocity. The damage to the base material is a significant downside of this procedure.
Related Post: Learn Key Difference Between Etching and Engraving
Laser Bonding:
A different material is combined with the original material via the laser bonding procedure. The laser facilitates the bonding of the outer material to the base material in the required shape.
Laser Coat and Mask:
The base material is coated with an outer material engraved using laser engraving equipment in this approach. This procedure is effective when the original material must be kept as safe as possible.
Laser Coloration:
Laser coloration is the process of moving a laser to a surface repeatedly, causing de-coloration of the spot exposed to the laser for a longer time.
Types of Laser Technologies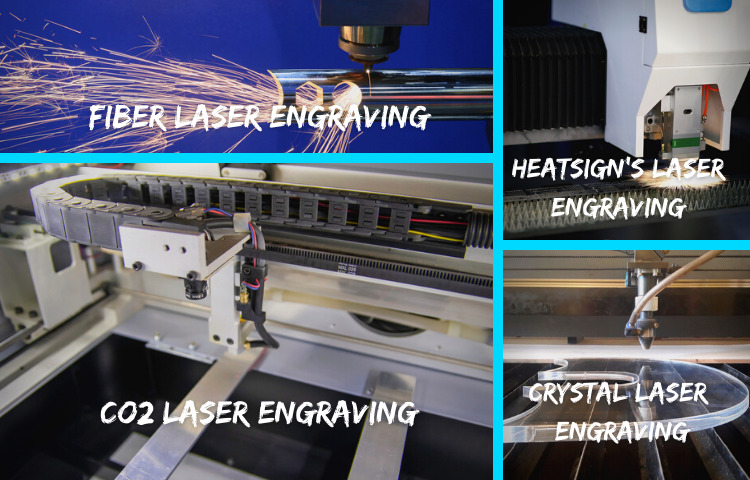 For the laser engraving of jewelry, there are three types of laser technology. For Example:
Crystal Laser Engraving Machine:
Crystal laser technology is another sort of laser tech that is widely employed. This technology makes use of a crystal to generate the desired laser
Crystal Laser Engraving Machine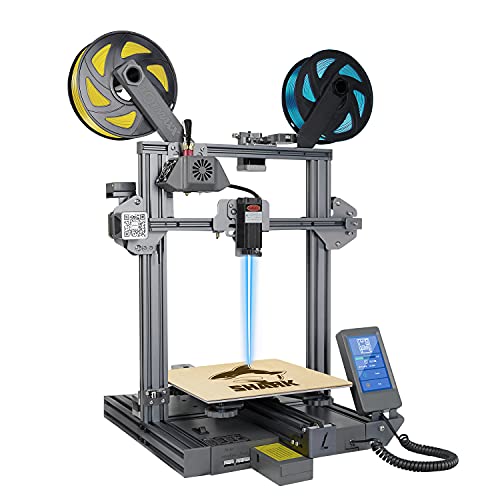 3D Laser Printer
All Metal Dual Extruder
Ultra-Silent Driver
More Features
Warranty and Service
CO2 Laser Engraving Machine:
Gas-based lasers use Helium or CO2 as a source of energy. These were among the first lasers introduced in a market, and their market value has remained stable even as other technologies have progressed.
Fiber Laser Engraving Machine:
Fiber laser engraving is the most recent technology on the market among the ways available. This method is the simplest, delivers the best results, and takes the shortest time to complete. Because of these factors, most jewelry retailers prefer fiber laser engraving.
The medium is a fiber laser, an optical fiber doped with ytterbium (a rare element). While engraving, this makes the laser beam stronger and more effective.
As a result, fiber laser engravers are among the most extensively utilized laser engravers for this specific Purpose of jewelry engraving. These compact, lightweight engravers are easy to operate. That is why they are the preferred option for most jewelry retailers.
HeatSign's Laser Engraving Machine for Jewelry:
The HeatSign jewelry engraving machine is one of the greatest modern-day jewelry engraving machines available, offering precision, accuracy, and a high level of durability.
The machine's high-quality shock absorbers dampen the vibrations produced during milling, allowing you to enjoy a smooth engraving session. This produces exquisite results that distinguish your goods from the rest of the pack.
HeatSign's laser engraving machines are extremely configurable and come with state-of-the-art built-in software that can automatically update content and serial numbers.
The laser engraving machine for jewelry allows the user to choose from various forms and engraving on a vast range of materials such as Aluminum, Copper, Ceramics, Gold, Brass, Silver, and even plastics like ABS PVC, PP, PE, and others.
How to Choose the Right Laser Engraving Machine for the Job?
You may find it difficult to choose the laser engraving machine that best suits your needs among the numerous machines on the market. However, here's how to pick the best laser engraving machine for your needs.
Check the Power Output Source:
When buying a laser engraving machine for jewelry, the first thing to look for is the laser engraving machine's power output source.
As a result, the output power source you choose will be determined by your requirements and the task at hand.
If you want to engrave hard materials such as marbles or stones, you'll need a CO2 laser with a higher power rating, such as 40-150W.
If you want to use a laser machine to mark and engrave jewelry, you can use a fiber laser with a minimum power of 20W, 30W, or 50W.
Though the laser engraving machine's power rating has no bearing on the machine's quality, the quality of the laser engraving machine is determined by the correct combination of the power source and the laser's core technology.
The Technology Used:
Thus, the high quality of the laser engraving machine for jewelry is determined by the proper combination of laser technology and laser power.
As initially said, there are several core laser technologies on the market today. In each scenario, your needs and the material you choose to engrave will determine the appropriate product for you.
However, you can use Fiber-based laser engraving equipment for jewelry, which will meet all of your fundamental needs and deliver flawless results.
Ease of Use: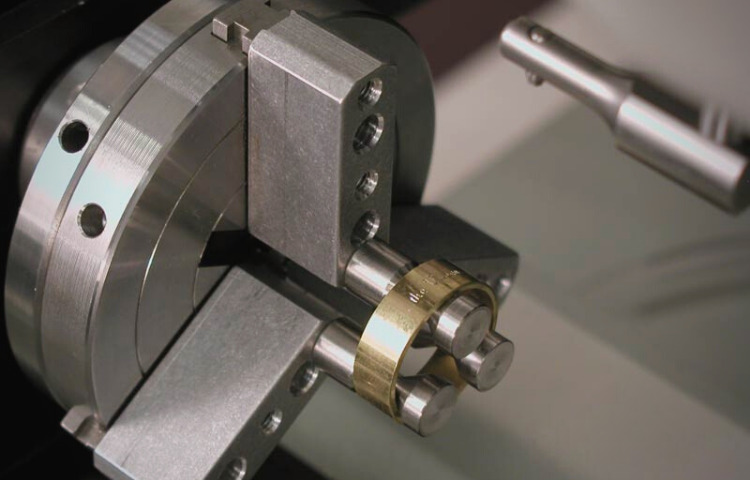 The next step is to select the most appropriate machine for the job at hand. In addition, a machine that can clamp the product and work on it is preferred.
Furthermore, the clamp should not be rigid and fixed but should allow for rotating motion. This will make things easier for you to work on the bracelet/ring and create highly unique designs.
Precision:
The precision of the machine is one of the most significant factors. A machine with a maximum precision of less than 1mm should be employed to achieve near-perfect results.
You can adjust the precision of the laser engraving machine based on the size of the jewelry or other material you work with.
The Software:
The laser engraving machine's software is also significant in selecting the best machine for your work.
For example, HeatSign's laser engraving instrument comes with software that allows you to engrave in incremental order. Also, look at the software's version, its release date, and the level of customization it provides.
Frequently asked questions:
Is it possible to laser engrave silver?
For engraving sterling silver, laser engraving equipment is ideal. The laser beam's precision ensures that very little is wasted when engraving or cutting the material. Given the expensive cost of metal, any waste can hurt a company's bottom line.
What is the durability of laser engraving?
Compared to traditional engraving, laser marking produces fine detail that lasts longer. Writing or artwork can be engraved into the material at highly particular depths.
Is it possible to remove laser engraving?
Simple wet abrasion followed by wet polishing should be sufficient to remove a very shallow engraving. The thermal impact depth of laser engraving can be deep enough to resurface with natural etching. On fine blades, deep engraving and stamping would be difficult to remove.
Conclusion:
Laser engraving is a fantastic method of creating unique and personal Jewelry. Each piece will be adorned with an engraved design customized to reflect the wearer's personality. Laser engraving is a fantastic method to add a personal touch to Jewelry, and it can be done on a variety of different types of Jewelry.
This blog is a fantastic resource for anybody interested in learning more about Laser Engraving machines for Jewelry. We hope you found this article informative and useful.