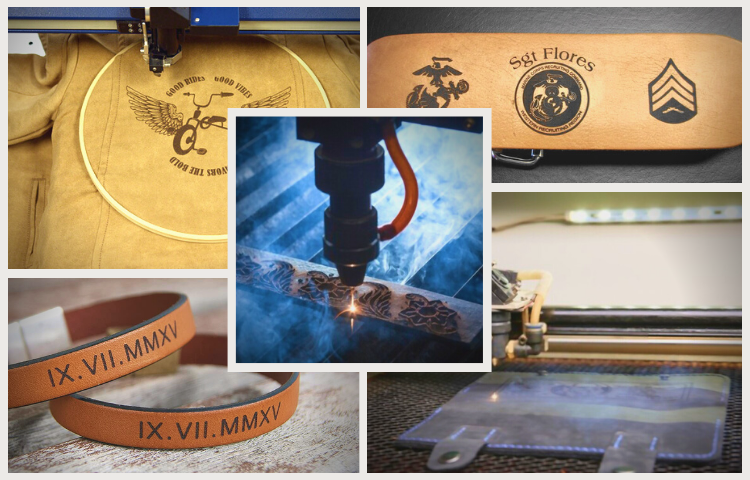 Laser engraving is fairly popular among people. It is because the fast-moving laser cutter provides accurate results for complex designs in a limited time.
In this regard, leather is a common material suitable for laser engravers. Leather is a soft, durable, and cheap material that is used in several personal items. For example, laser engraving leather wallets increase the perceived value for the customer.
Similarly, you can use the best laser engraver for leather to etch raw leather sheets, premade leather objects, and everything in between. Therefore, in this article, I will discuss everything you need to know to get started with laser engraving leather.
Types of Engravable Leather: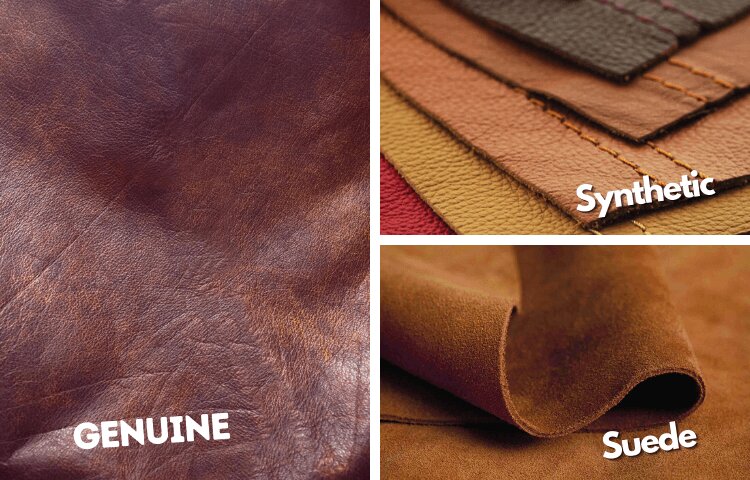 Leather laser cutting service providers prefer natural materials over synthetic ones. It is because natural leather produces dark burn marks with great contrast. You can produce elegant marking results by altering the laser speed, power, and engraving depth. In this regard, manufacturers use different types of leather for various engraving projects. The most common types of engravable leather are:
Synthetic Leather:
Some people don't like the very concept of leather products. They love nature and look at the world from a different perspective. However, manufacturers don't want to keep their customers away from the benefits of leather products.
So, synthetic leather material like leatherette, nubuck, suede, and Alcantara is used instead. The material has very similar qualities to natural leather so that it can be used for laser engraving as well. However, you need to confirm from the manufacturer as synthetic leather sometimes contains PVC compounds.
Suede Leather:
Furthermore, suede leather tends to get stained easily. Therefore, manufacturers cover it with a layer of coat spray. Luckily the spray provides a rusty look to the leather and makes it suitable for laser engraving.
Suede is natural leather which makes it the perfect material for producing various objects like wallets and holsters. However, the leather is naturally rough and hard to etch.
Genuine Leather:
Natural leathers obtained from hides come in the category of genuine leather. However, there are many types of leather, and each responds differently to laser engraving.
Therefore, you may have to experiment with different laser speeds and power to find the perfect settings for the material. The only suggestion that I can give is that it is best to start with low laser settings and then gradually increase till you find the sweet spot.
Benefits of Cutting Leather with a Laser:
Laser printing on leather is the best method of cutting and etching with minimal damage. You can use other means of cutting, but the results may not be as desirable. Here are some benefits of cutting leather with a laser:
Precision: Laser engraver is controlled with computer software. This takes away the factor of any error in the design. So, laser cutting provides highly accurate and precise designs.
Speed: Laser engraving leather produces accurate results in a few minutes. The complex designs take several hours if you try any other methods of cutting leather.
Natural look: Laser cutting is a process in which a fast-moving laser vaporizes the topmost layer of leather. As a result, laser engraving leather produces high contrast marking.
Permanent: Cutting and etching produced by a laser engraver are long-lasting. In some cases, the marking lasts even longer than the object.
Detailed design: It is impossible to achieve the perfection in details of the design without a laser engraver. The whole process is computer-controlled. So, even the smaller details are not left behind.
What Are Some Examples of Leather Applications?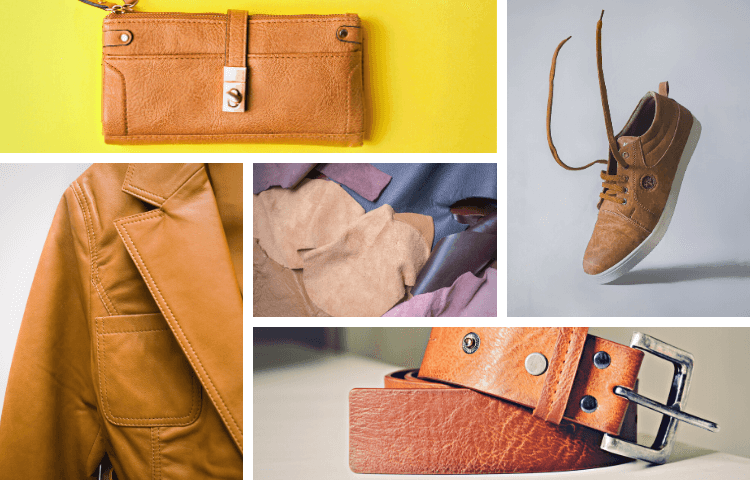 Leather is an ancient material that has been used by humans for thousands of years. Initially, leather and hides were only used to make clothing. However, the applications of leather also progressed along with the technology. Now, humans started using leather to make body armor and boots as well.
In short, the applications of leather have grown from simple to complex with the passage of time. Nowadays, both natural and synthetic leather is used to manufacture a variety of goods. Some of them are:
Crafts
Office products
Accessories
Purses
Pants
Pouches
Shoes
Briefcases
Clothing
Belts
Wallets
Promotional items
Bracelets
Tips for Laser Engraving Leather:
Laser engraving is very effective on soft materials like plastic, wood, and leather. So, the tips and general guidelines that you need to follow are very similar as well. It is because all these materials vaporize very quickly and produce high-contrast cuts. The laser etching leather will always produce desirable results if you follow these tips:
First of all, you need to ensure that you use the correct laser settings for the project. Generally, the goal is to produce high-contrast and deep cuts without damaging the material.
So, you can either contact the manufacturer of the material for any specifications or experiment with various laser power and speed settings to find the optimum settings.
The laser DPI is a very crucial factor to consider in the project. Usually, you need at least a 300 DPI laser to engrave on leather. However, you need to optimize the settings according to the design that you are trying to imprint. For example, 600DPI laser resolution is suitable for engraving images on leather.
For best results, always prefer grayscale graphics in the design. It is because leather reacts beautifully to high-quality laser beams. It produces striking contrasts on different levels of gray.
Vector images are most suitable for laser engraving leather. However, it is impossible to convert every raster image to a vector. Instead, what you can do is to imprint a combination of both.
First, start with the raster image engraving. Once the process has finished, draw a vector outline of it and restart the engraving process.
The vector outline will help you achieve a higher contrast, better resolution, and perfect details.
Always wipe the finished design with a damp chamois leather to remove any extra molt from the leather.
However, keep in mind that an overpowered laser beam will always damage the material and yield unsought results.
If you are using a 40-50W laser, set the laser power to 70% and adjust the laser speed accordingly. Similarly, a 100-120W laser should be kept at 30%, and the speed should be increased a little.
Why Should I Buy a Laser for Marking Leather?
Leather is a durable material composed of soft fibers. As a result, it is very easy to engrave on leather using simple tools. However, the conventional methods of etching leather are very costly in terms of time, effort, and money. Therefore, the best way to engrave leather is to use a laser engraver.
The laser machine makes it very easy to mark on the leather. The high-power laser beam vaporizes the topmost layer of leather in a single pass.
Moreover, it is a contactless process, so no sharp and expensive replacement parts are a part of the project.
The laser is controlled by computer software that constantly monitors the laser's whereabouts in real time.
Computer-controlled means that there is little to no chance of error in the final design.
You can use several leather laser engraving ideas in both raster images to imprint on the laser. So, there is plenty of room for creativity and customization.
A laser engraver saves you the time and effort required for a successful design. Moreover, it doesn't require purchasing any new equipment after every project. So, laser engraving leather is a budget-friendly technique.
You can start a laser engraving leather service after purchasing the machine and improving your skills.
Best Laser Engraver for Engraving Leather Products: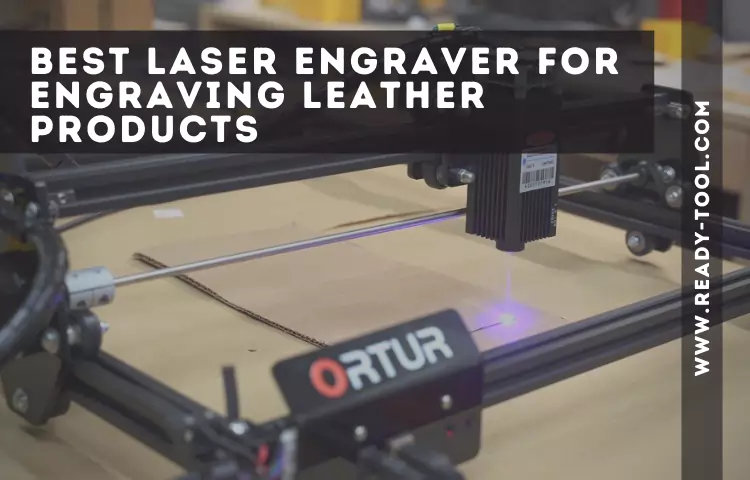 The market is full of CNC leather engraving machines. All these products boast high quality, enhanced accuracy, and professional-grade performance.
However, not every machine is capable of cutting or marking leather without causing any damage. It is because you need a specific environment and the best laser engraving leather settings to achieve such goals.
Luckily, Ortur Laser Master 2 is a device that can actually cut engravable leather without any problems.
The device offers just enough laser power to vaporize only the upper layer of the material while protecting the lower levels.
Moreover, you can place the device on a small tabletop without adding any extra furniture to your workshop. The device has a built-in ventilation system that prevents overheating the system.
Similarly, the advanced safety features of the Laser Master 2 ensure user safety and prevent unnecessary damage to the leather.
Moreover, you can connect the device to popular laser software like Laser Grbl. This software has a built-in editor, designer and supports several image formats. So, you can also design in your preferred software like AutoCAD, CorelDraw, or Adobe Illustrator and then import the design to the laser software.
Pros
Easy to assemble
Affordable price
All types of leather are supported
Wide range of materials
Powerful laser module
Advanced safety features
Cons
It only supports Windows computers.
You can't control it with a smartphone.
Frequently Asked Questions:
How to seal leather after laser engraving?
Laser engraving leather leaves burn marks and a nasty odor. The smell goes away after some time. However, you need to seal the leather by applying a non-adhesive cleaner liquid and gently scrubbing the extra edges. Other than that, the laser engraver automatically seals the edges during engraving.
What settings are best for laser engraving leather?
The settings you need to engrave leather depends on the type of laser and the material. For instance, you need 70% power and 300-600DPI resolution on a 40-50W laser. Similarly, reduce the power to 30% on a 120W laser. The laser speed depends on several factors, so you start with a slow speed and gradually increase it for desired results.
What leather wallet is best for engraving with a laser?
The best laser engravers can engrave all types of non-PVC leathers. In the case of a wallet, the best results are produced on genuine natural leather or suede leather wallets.
Conclusion:
Engraving leather is a sensitive task that requires great precision and effort. Fortunately, the laser engravers make this task ridiculously simple by automation. This article explains all the concepts of laser engraving wallets to get you started on the right track.