Laser is a futuristic technology used in most modern equipment. You can find several laser machines used in engineering, arts, and medical for their pinpoint accuracy and speed of light.
The same power laser technology is used in laser engravers for cutting and marking various materials. In this regard, the MOPA fiber laser is the strongest selection as it can cut through almost any material without any problems.
This article will discuss the basic concepts of fiber laser engraving and also provide some suggestions to help you choose the best MOPA machine.
What is a MOPA Laser?
MOPA or Master Oscillator Power Amplifier is a laser technique that utilizes the power of magnification to enhance the capabilities of any laser beam. MOPA is used in several laser machines that allow you to engrave on hard objects like metal with a slower laser.
A typical MOPA system consists of a master laser such as the CO2 or fiber laser and a magnification lens. The lens amplifies the laser power by producing oscillations and boosting the laser frequency. As a result, a fast-moving, powerful laser beam acts on the material to quickly melt it and form engraving.
How Does MOPA Laser Marking Machine Work?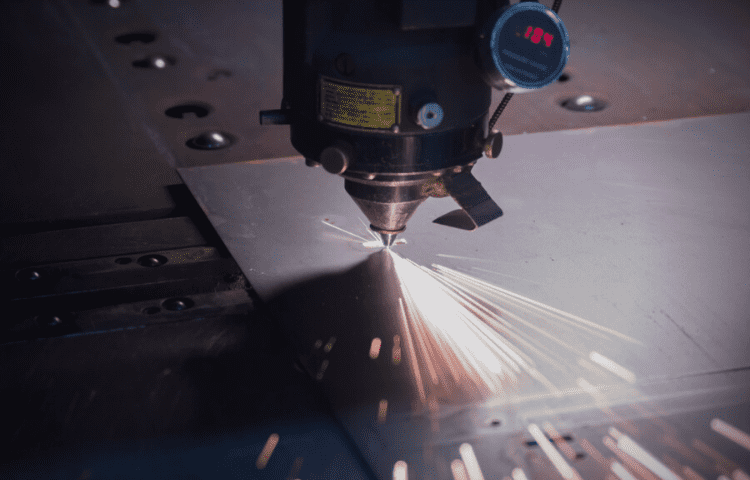 Nowadays, several laser marking systems are used in machines. Different systems have their own sets of advantages and disadvantages for various fields. However, MOPA is the most effective, powerful, and innovative technology in the laser industry. It is mostly used in cheap laser machines to enhance their laser power without adding much to the cost.
Previously, users had to choose either power and price range while compromising on the other. For instance, the powerful industrial fiber laser engravers make it possible to work with all materials, including stainless steel. However, these machines are very expensive and inaccessible for common small businesses.
Similarly, the cheaper CO2 lasers are much affordable, but their applications are limited only to a few soft materials. In this regard, a MOPA laser machine provides up to four times more power from a cheap laser module without increasing the price tag.
The Fiber Laser: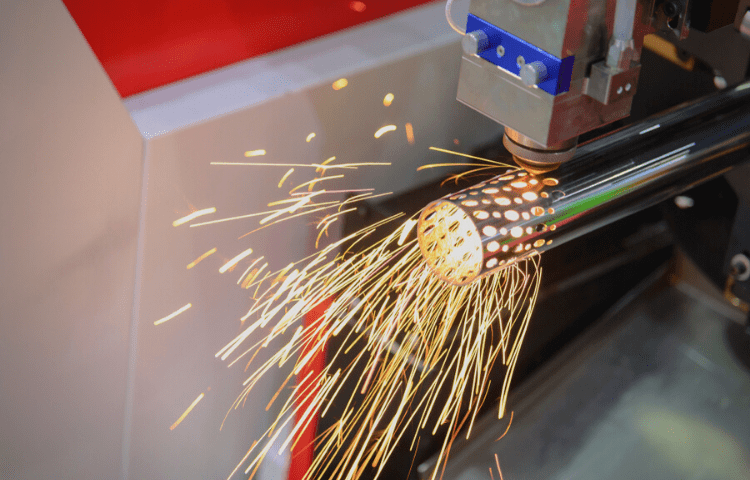 Fiber is the most powerful type of laser that you can find in the market. It is vital for etching and engraving on hard materials like metal, copper, leather, and wood. Moreover, a single fiber laser engraver can be used for laser cutting, engraving, marking, and etching.
So, you don't need to invest in multiple products to work on the projects as it is all possible with a single unit. If you compare a fiber laser with CO2, the difference between their laser power is huge. In short, if you want to work on heavy-duty material, a fiber laser is your only way to do it.
What is a MOPA Fiber Laser?
Fiber laser engravers that come with MOPA technology are known as MOPA fiber lasers. It uses a special lens technology to oscillate and amplify the laser power up to four times. The amplified laser beam focuses on a single point through the lens to achieve desired results.
The MOPA fiber laser marking machines use Q-switched technology that supports the power supplier to produce the path light within 1 to 500 kHz. As a result, it is possible to work with hard metals like stainless steel, copper, brass, chromium, aluminum, and gold and silver jewelry.
Furthermore, you can utilize the powerful laser beam to etch and mark on the material as well. For instance, when a powerful laser beam is focused on a point for a short interval, the material becomes dark in color. However, the material's strength and integrity are not compromised in the process. Such a laser procedure is known as fiber MOPA laser marking.
Top 3 MOPA Fiber Laser Machines:
The market is full of products that boast about power and accuracy. But in most cases, it is just a great boast, a little roast. Fortunately, some products like JPT MOPA M7 do everything you expect from a premium MOPA amplifier device. Here are some suggestions to help you out:
1. Triumph 50w Fiber Laser: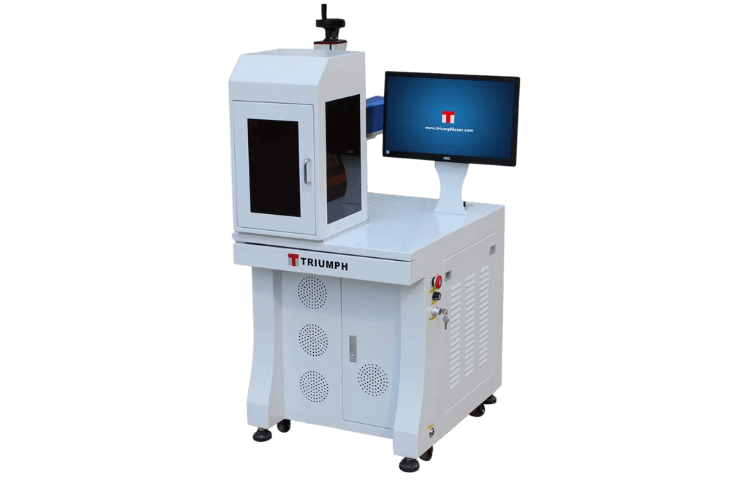 Work Area: 110 x 110 mm
Laser Speed: <9000MM/S
Laser Power: 50W
Rotary attachment: 80mm
Software: Triumph Laser software, Laser GRBL
Triumph is a leading manufacturer of CO2 and fiber laser machines. They are known to utilize the latest technology in the world to optimize laser machines. For instance, the 50W MOPA fiber laser is an effective device that can penetrate thin metal sheets up to 0.3mm thickness. So, you can use this laser engraver for both DIY and business purposes.
Features: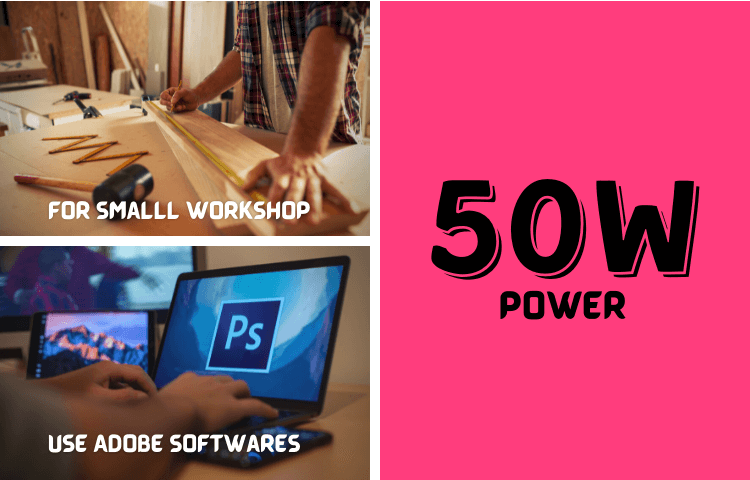 The best thing about this laser engraver is its optimized size. The compact design is perfect for use even in small workshops. All you need is a workbench, a computer, and some experience to get started with the laser machine. The laser passes through a special 200x200mm lens that significantly amplifies the laser power.
Similarly, the work area of this laser engraver is suitable for working with medium metal sheets. However, you need to remember that this powerful laser can penetrate up to 0.3mm depth. So, make sure to use a thick sheet or adjust the laser power according to the material.
Software:
Triumph 50W is a professional MOPA machine compatible with most laser and design software. For instance, you can design on Photoshop, Illustrator, CAD, or any other software of your choice. However, you need a Windows operating system to run the Triumph laser program on your PC.
Pros
Personalized laser software
Greater engraving depth
Eye protection goggles
80mm Rotary attachment
Supports all major file formats
Cons
The work area is comparatively smaller than other products
2. JPT Fiber Laser US Stock 50W: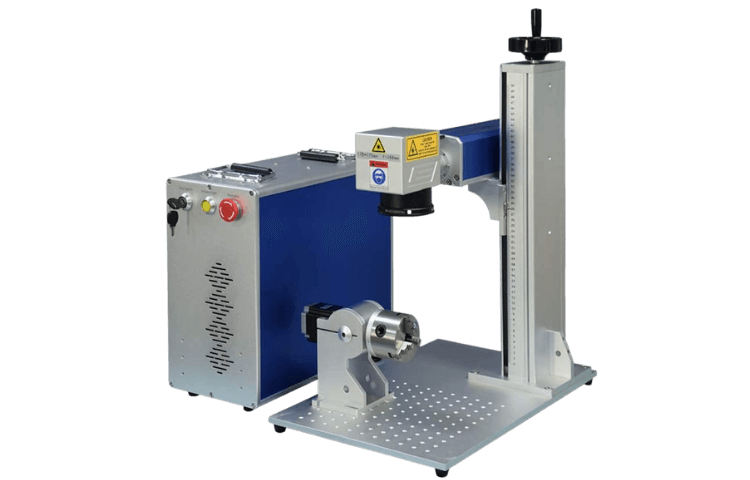 Work Area: 175 x 175 mm
Laser Speed: <7M/S
Laser power: 50W
Rotary attachment: 80mm
Software: JPT Laser software, EzCAD 2
JPT is a leading American manufacturer of laser-based customization equipment. Their fiber laser engravers are widely used in the professional and commercial markets. Their products are highly reliable, powerful, and consistent in their use. A single JPT device has a minimum lifespan of at least 5-6 years before it even needs maintenance. So, if you are looking for a reliable laser MOPA machine, I suggest that you get one from JPT.
Features: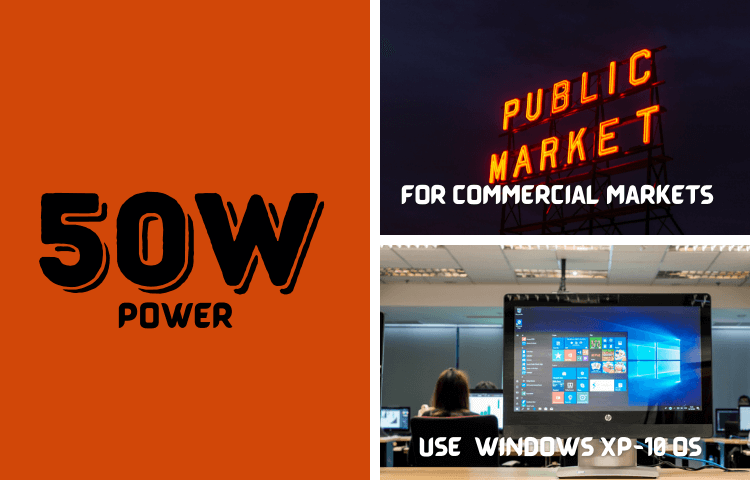 JPT 50W laser machine is a powerful engraver optimized to provide maximum consumer satisfaction. Even inexperienced workers can use this laser machine without any problems. For instance, the large work area is covered with a special coating that guides the user throughout the process.
Similarly, the imported laser scanning system enhances the laser speed to up to 7m/s for a speedy project. You can use the laser machine to work on all metals and some non-metals without any problem. In short, if this is your first fiber laser engraver, you should definitely check this one out.
Software:
JPT provides personalized laser software to work with. However, the software is only compatible with Windows XP-10 OS. So, if you own a MacBook, this laser machine will not work on it. Other than that, the laser software supports all major picture formats regardless of which design software you use.
Pros
Supports all design software
Higher laser speed
Imported laser scanning system
80mm Rotary attachment
Precise re-positioning
Cons
It is not compatible with Laser Grbl software
3. JPT M7 MOPA Fiber Laser 60W: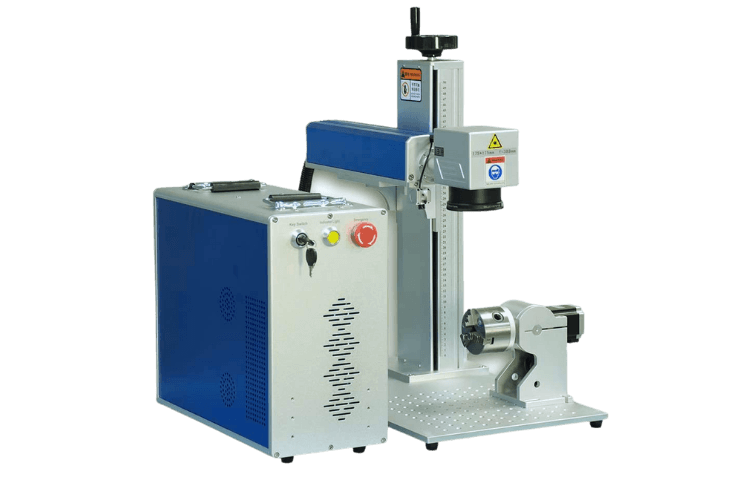 Work Area: 175 x 175 mm
Laser Speed: <7M/S
Laser Power: 60W
Rotary Attachment: 80mm
Software: JPT Laser software, EzCAD 2
The M7 is yet another powerful MOPA fiber laser engraver by JPT. It provides several performance improvements and safety features to enhance efficiency. It is the flagship model, so you should expect the best experience that the brand can provide. So, if you are looking for a top-notch fiber laser, this is the best one for you.
Features: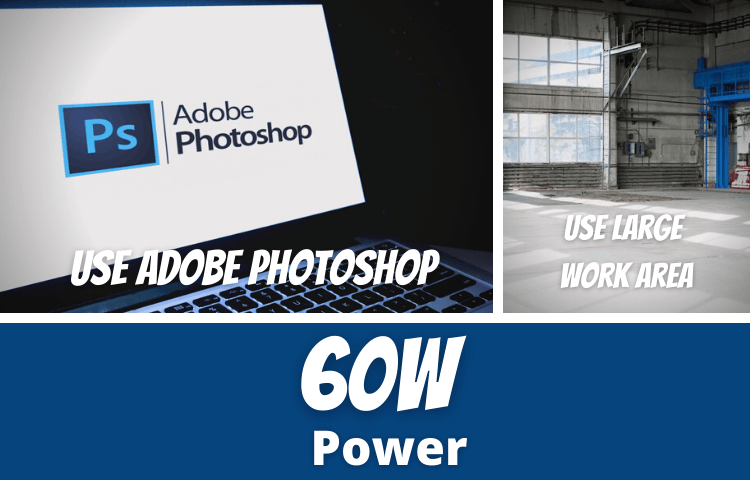 The M7 series comes with the largest work area that you can find in any commercial or small fiber laser. Moreover, you also get a 200mm MOPA lens to mark the area and guide the laser beam. This laser module can engrave and mark on some of the hardest metals like stainless steel with pinpoint accuracy.
You can even use this device for marking on guns and blades. Speed and accuracy are the things that make any laser machine better than the other. Fortunately, this unit has a re-positioning accuracy of 0.002mm with a 7m/s laser conversion speed.
Software:
The M7 MOPA fiber laser machine is compatible with all Windows design software like AutoCAD, CorelDraw, and Adobe Photoshop. Moreover, you can install the JPT laser software on your PC to control various features.
Pros
Flagship model
Fast laser speed
Pin-point accuracy
Custom laser software
Up to 4000KHz pulse duration
Cons
It is comparatively expensive than other products
Applications of MOPA Fiber Laser:
MOPA lasers are optimized for color marking natural and treated metals like anodized aluminum and stainless steel.
The marking process doesn't damage the material's strength and integrity.
You can use the laser on machines and equipment without damaging its vital components.
The MOPA laser can create color variations by varying the laser power and speed.
It can cut and engrave hard metals like stainless steel through multiple passes.
MOPA lasers don't face overheating problems.
The marking is highly durable and may last as long as the material itself.
MOPA laser is more reliable than normal lasers as the marking and engraving are resistant to passivation and sterilization cycles.
You can adjust the pulse duration of a MOPA laser.
The laser can be optimized for removing paint and previous engravings.
Advantages of MOPA Fiber Laser:
The optical intensities are low compared to intensities in a typical laser.
The pulse duration can be adjusted in steps between 4 and 200 ns for color and design variations.
A gain-switched laser diode gives more flexibility that can be favorable to neglect the additional optical elements
MOPA lasers increase the diode life and enhance the laser capabilities.
The MOPA technology can amplify the laser power of fiber and CO2 laser modules without adding much to the total cost.
You can adjust various laser settings like laser power, speed, pulse, duration, and engraving depth directly from the laser software.
Differences Between MOPA Fiber Lasers and YAG Lasers: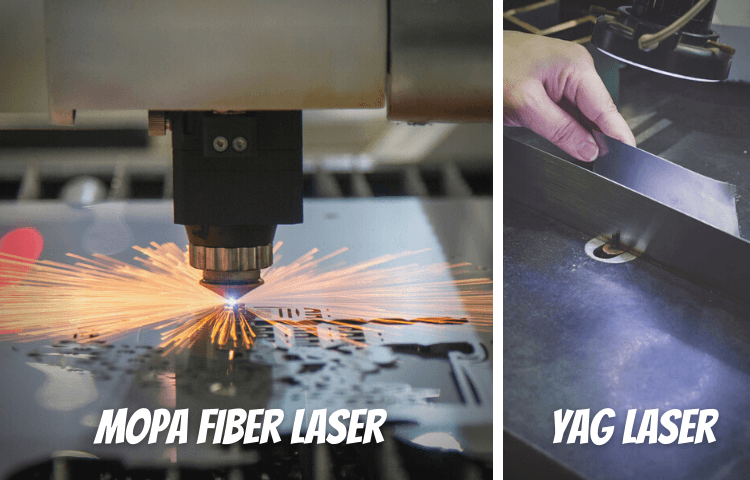 Currently, manufacturers utilize either a MOPA or YAG laser system in their devices. However, the YAG system is slightly outdated and has several consequences in modern times. Here's why:
YAG or Flash Lamp laser system is a technique that uses a bulb for the pumping mechanism and a YAG crystal as the gain medium. All this equipment resides in a gold-plated cavity. The drawback of the YAG system is that it is slightly expensive, and the bulb has a short lifespan. Moreover, the laser amplification is not as reliable and consistent as the MOPA system.
MOPA is a modern laser system that is widely used in all fiber and CO2 laser engravers. It uses a semiconductor as the pumping mechanism and an optical fiber as the gain medium. Similarly, the doped optical fiber also serves as the resonating mechanism.
In short, the MOPA laser system is more efficient and optimized for modern laser machines. It provides higher durability, reliability, and efficiency than the YAG lasers.
Frequently Asked Questions:
What is MOPA?
Master Oscillator Power Amplifier or MOPA is a laser amplification technique that uses optical fiber technology to enhance the laser power and speed. It is usually used in CO2 and fiber lasers to mark and engrave on hard materials.
How do I know if I have a MOPA laser?
Connect the laser engraver to a computer with laser software. If you find an option to adjust the pulse duration, you have a MOPA laser. Similarly, if the laser provides higher power and accuracy than the device specifications, it is a work of the MOPA technology.
Which fiber laser is better, MOPA or Q-switched?
Both MOPA and Q-switched laser systems are based on the same principle. The only difference between the two is that you can adjust the pulse duration on a MOPA system and vice versa. In this regard, the MOPA laser is slightly better than the Q-switched.
Conclusion:
MOPA is the latest laser system that uses optical fiber and semiconductor technology to amplify laser power. Usually, this technology is used in CO2 and fiber laser machines. You can use a MOPA machine for engraving and marking hard metals like stainless steel.
Moreover, the MOPA marking is highly durable and resistant to sterilizations. This article includes everything that you need to know about MOPA fiber lasers.