Not so long ago, laser engravers were only affordable by large businesses and multinational firms. However, times have changed, and laser cutter brands have made it possible for everyone to afford a laser engraver for their home and workshop. The laser cutter is a powerful addition to your workshop that helps you quickly transform ordinary material into a piece of art.
Technology has evolved so much that anyone can buy a laser engraver. Adding a laser cutter to your toolkit can greatly improve your business and open new markets for you. However, if you just got the idea of getting a laser cutter, chances are the wide range of options will confuse you. Therefore, I will provide a complete guide about the best laser cutters of 2022 and how to choose them.
Best Cheap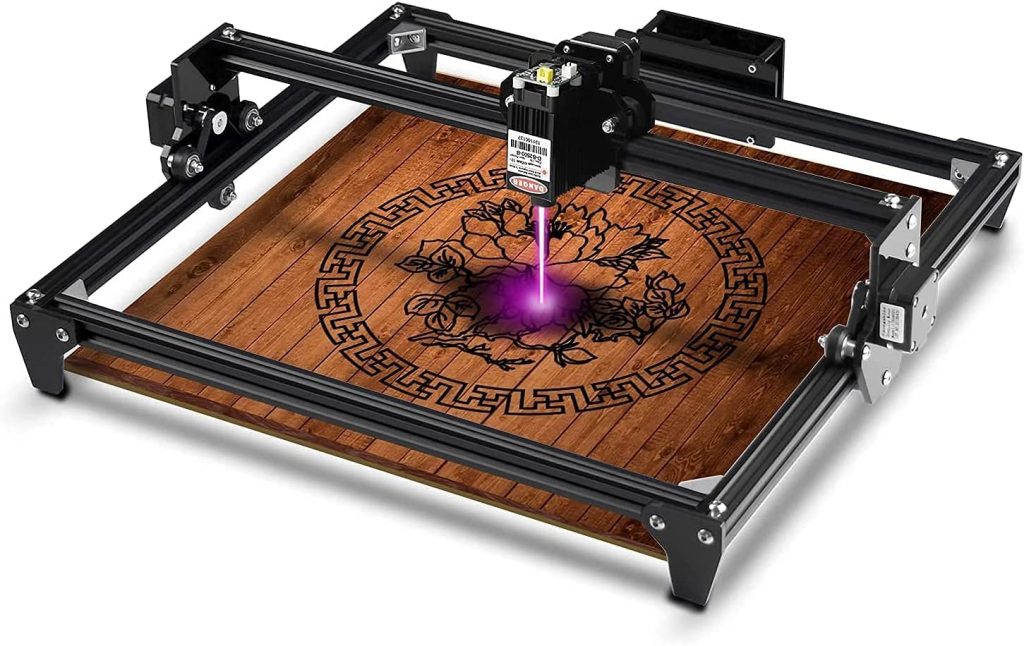 Twotrees Totem Laser Engraver CNC
Features
CNC Laser
LaserGRBL Compatible
Detachable Motherboard
Expert's Choice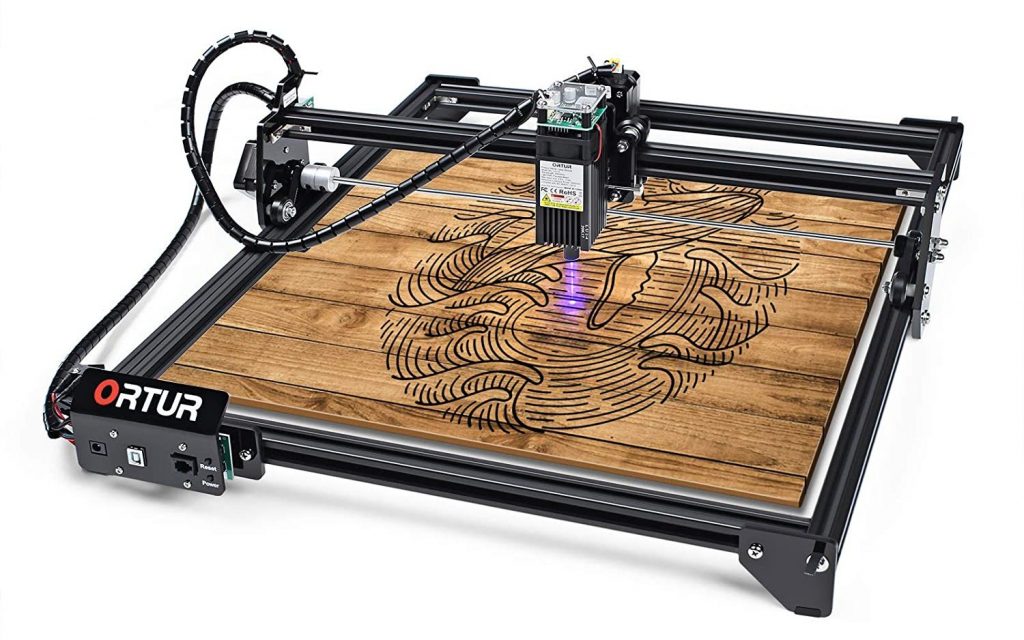 ORTUR Laser Master 2 Laser Engraver
Features
32-bit Motherboard
Fixed-Focus
Weight: 7.7lbs
Best Overall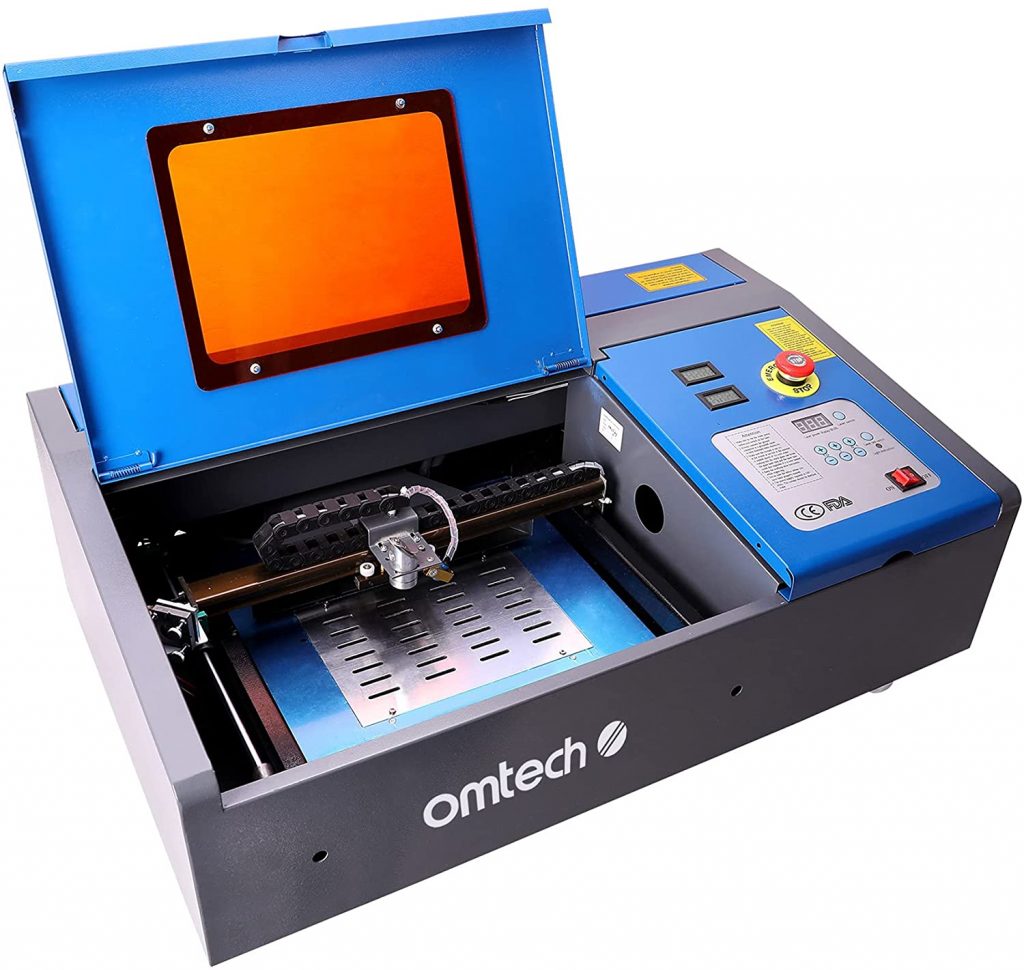 OMTech 40W CO2 Laser Engraver
Features
40W CO2 laser
Digital control panel
Integrated Cooling fan
How Does a Laser Cutter Work?
A laser engraver is a powerful machine that focuses high-speed CO2 laser beams through an optical path system to cut, etch and engrave solid materials. To etch various materials according to your desired shape, you can double the laser engraver as a 3D laser cutter. Material engraving is an ancient art first used by the Chinese, and then it found its way to ancient Egypt. In those days, design, patterns, and texts were engraved on slabs of wood and rock by etching.
However, the method was not efficient enough as there is no room for mistakes, and the impact force could damage or crack the material. On the contrary, advanced laser engraving technology uses a powerful laser beam to penetrate the material's surface and engrave digital designs automatically with an accuracy of 0.001mm.
The powerful ionizer of the laser engraver ionizes different gases in the laser to produce anions. The ions are focused on the material in the form of a laser by means of several powerful lenses. When the laser comes in contact with the material under consideration, it starts vaporizing it.
Did you know?
Every material found on earth has a specific melting point. Even combustibles like wood and fabric have a certain melting point at which they start vaporizing. This scientific fact was recently proven experimentally by the YouTuber, TheActionLab.
The vaporized portion of the material leaves behind permanent markings of up to a few mm thickness. The laser cutter is connected to computer software that controls the laser's movement and intensity according to the vector image provided. In short, laser engraving is the most accurate and efficient way to engrave any design on several materials.
Types of Laser Cutters:
Laser cutters are based on the latest technology that provides a convenient way to engrave and etch several materials without any physical exhaustion. However, there are three types of laser cutters depending on the type of laser used in the device. Each type of laser is suitable for vaporizing different materials and specified thicknesses. Therefore, you need to understand the type of material that you are working with before choosing the best laser cutter and engraver.
1. CO2 Laser:
CO2 is probably the most commonly used laser engraver for small businesses and home DIY projects. It is because CO2 lasers are safer than others, and they can cut a wide range of materials. The gas tube inside the laser contains a cloud of carbon dioxide, some inert gas like helium, and few other gases. When high-voltage electric current passes through the cloud, the gases ionize to form cations and anions. These high-speed atoms are then focused on the material through a series of mirrored lenses with maximum reflective index. Moreover, the laser produced by CO2 is in the invisible light spectrum and doesn't damage your eyes.
Materials:
The CO2 laser is suitable for engraving on wood, paper, plexiglass, and non-ferrous metals like aluminum and acrylic materials. Some people even melt food items with a CO2 laser, including cheese, plants, chestnuts, and butter.
Power:
CO2 lasers can provide a power of up to several Kilowatts. However, the laser used in most engravers uses 25-100W to provide a wavelength of 10.6 micrometers.
2. Fiber Laser:
Fiber laser is the most powerful type of laser used in engraving devices. Instead of reflective glass, it uses a series of fiberglass tubes to reflect and amplify the laser's intensity by up to several hundred times. For instance, the wavelength produced by the fiber laser can reach up to 1064 micrometers. These lasers are far more powerful than any other and can melt pretty much any material and thickness. However, manufacturers avoid using a fiber laser in their devices due to its high cost and powerful applications. However, the fiber laser produces bright light in the visible spectrum that can damage eyesight. Therefore, professional training is required before you can operate fiber laser-based devices.
Material:
Fiber laser is suitable for metals and non-metallic materials alike. It can be used to engrave, cut, and etch iron, steel, aluminum of up to 20mm thickness. Similarly, the laser has no problem in cutting wood, plastic, acrylics, and a number of other non-metallic materials.
Power:
Fiber laser produces several hundred times more powerful laser beams than CO2 laser while using the same amount of energy. Moreover, the power of the laser can be adjusted in some devices, such as the MORA. Fiber laser is available in 20W to 5KW options with a wavelength of 1064 micrometers.
3. Diode Lasers:
Diode lasers lie on the lower end of the power grid. They are far inferior to CO2 lasers and only used for cutting thin materials like paper and thin plastic. However, these lasers are more power-efficient than any other laser. The diode laser only draws a portion of a watt to produce etching and cutting effects on the material. Moreover, you can attach these lasers to CNC routers and 3D printers by using specific software and generated codes. Despite being inferior, the diode laser is widely used in the industrial sector because it uses less power to get the job done.
Material:
The diode laser can cut and engrave on thin materials like paper and thin sheets of plastic. Even the thin plastic requires several passes before it can be engraved using the diode laser.
Power:
The diode laser requires a few milliwatts on the low-end up to 4 watts on the high-end for engraving.
Top 10 Laser Cutters of 2022: Review and Comparison
Now that you understand what you can achieve with a laser cutter, it is time to review your options. So let's get started:
1. ORTUR Laser Master 2 Laser Engraver:


Best Laser Cutter for Beginners
ORTUR Laser Master 2 quickly became the landmark for judging future home-based laser engraving devices. It is a powerful laser engraver that can easily cut through non-ferrous metals, acrylics, and wood. It offers several power options to choose from according to your project. For instance, you can choose from 7W, 15W, and 20W options without compromising the device's weight and compact size.
Assembly:
The device comes almost pre-assembled right out of the box. On average, the complete assembly takes less than 45 minutes because there is nothing left for you to figure out. Moreover, a detailed tutorial is available on YouTube for beginners.
Features:
This laser engraver can easily engrave permanent markings on plywood and other thin materials only with 80% power and a single pass. You can improve the design quality by adjusting the laser power and making a second pass.
Software:
The device offers powerful software support with LightBurn and LaserGRBL compatibility. Furthermore, you can import all image formats like Jpeg, Vector, BMP, and PNG for editing and engraving purposes.
2. OMTech 40W CO2 Laser Engraver:
Best Turnkey Laser Engraver
Not everyone has the workshop space to install a full-fledged laser engraver with an inferior laser power than K40. Moreover, the assembly and operations of a normal laser engraver make any DIY project very complicated. In that case, the OMTech 40W is the best thing that can happen to your small business and home workshop.
Assembly:
It is a superior laser engraver that comes pre-assembled right out of the box. You don't need any prior experience to use this device. The easy-to-use controls and the display panel make every laser engraving project fun and efficient for you. Moreover, it even has a built-in ventilation fan as well as other protection features, including water-break protection to ensure user safety.
Features:
The compact design of this laser engraver allows you to place it on any desktop and connect it to your computer. Moreover, you don't need a computer if you have the designs stored in a USB flash drive. All you need is to insert the USB in the port, choose the design using the control panel, place the material in the work area, and the device will take care of the rest for you.
Software:
This device is currently only supported by the Windows operating system. It is compatible with LaserDRW that works side-by-side with Corellaser to design, edit, import, and engrave the patterns on some metals, acrylic, stone, rubber, and plywood.
3. Twotrees Totem Laser Engraver CNC:
Best Laser Engraver for Small Business
Small businesses are most affected due to the lack of medium-range laser cutters in the market. For instance, affordable home laser engravers have a smaller work area which is not suitable for professional work. On the contrary, the high-end premium laser cutters provide more than enough work area and a large number of applications but with a hefty price tag. Twotrees Totem Laser Engraver is one of the few devices in the market that understands what small business owners want from their laser cutter.
Assembly:
The device comes in a small package for easier transport, but it costs you the assembly time. However, most workshop-based laser cutters are permanently installed on the desk so that the first assembly won't be a problem in the future. On average, the Twotrees Totem Laser Engraver requires about 1.5 hours for complete assembly and software installation.
Features:
The device is made especially for professional works, but home DIYers can also use them without any problem. You can get a speed of about 8000 mm/min or 133.3mm/sec without overheating the assembly. Moreover, this device is built to last for a very long time without compromising on the lightweight. For instance, the combination of aluminum rails and heavy-duty plastic provides the required durability.
Software:
Twotrees Totem is a universal machine that doesn't require any special computer specs for laser engraving. Most professionals use a Windows-based computer due to its convenience and low price. Therefore, Twotrees Totem is compatible with almost all vector design software, including CorelDraw and LightBurn, for designing, editing, and printing.
4. Dremel LC40-03 40W CO2 Laser Engraver:
Universal Laser Cutter
Dremel has been the leading American manufacturer of laser engravers and several other tools for 85 years. All their products are specifically designed for professionals and heavy-duty projects. Dremel LC40-03 is an industrial-grade laser engraver that can be used in workshops as well as technical classrooms. LC40-03 is currently the most highly-rated product available in the market.
Assembly:
Dremel LC40-03 is on the heavy side when it comes to the weight factor. However, this weight is utilized in keeping the device free from resonance and vibrations during engraving and cutting. Moreover, it is a heavy-duty machine, so it doesn't come pre-assembled out of the box. Therefore, you will need help from professionals or an assistant to lift and install the various components. On average, it takes about one hour to assemble the device and get it running.
Features:
Dremel LC40-03 is optimized to provide the best and most convenient user experience to everyone. It provides the perfect safety that you need when teaching students or training your employees. Moreover, the semi-transparent top lid provides the perfect view to control the laser if you want to customize your design mid-way.
It comes with a UL-certified class 3 product that is deemed safe by the authorities and still provides all the power boost you need. You can use this device when working with soft materials like wood, rubber, fabric, and plastic to hard materials like aluminum and stone.
Software:
Dremel is the leading brand in the USA so, you should expect nothing less than the best. Dremel's Laser Control Web Application Software provides all the designing, editing, importing, and engraving features that you need in a single interface. Moreover, the web-based application is supported by every operating system with internet access.
5. LaserPecker pro Laser Engraver Machine:
Best DIY Laser Cutting Machine
Laser engraving is the most popular hobby among DIYers. It allows you to imprint your creativity on ordinary materials and make them a work of art. However, laser engravers can be costly or take up a lot of space in your workshop. In this regard, the LaserPecker pro compact laser engraver provides the perfect laser performance without taking up much space and at an affordable price.
Assembly:
LaserPecker compact laser engraver comes pre-assembled right out of the box. You don't need to hire a professional or even get help from a friend to install this powerful device. Another innovative technology used in this device's design is the foldable hinge. For instance, you can fold the engraver to a size of 19.5×15.3×2.5 cm, which is less than even a small handbook. Thus, you will only see the laser engraver when it's in use.
Features:
When it comes to features, this compact laser engraver has tons of them. The advanced safety G-sensor ensures that you only engrave to a precision of 0.001mm. The sensor detects if the laser goes out of path due to the shaking hand, or if the material slab is moved even by an inch, and the laser is stopped immediately. Similarly, eye protection glasses are included in the package to keep your eyes safe from the blue laser.
Software:
LaserPecker is optimized to meet your everyday requirements. Not everyone has a computer in their workshop. Therefore, you can download LaserPecker software for Windows, Android, and IOS to control the various features as well as design and edit your images in the app. Moreover, you can override the laser movement right from the smartphone application.
6. JPT 50W Fiber Laser Engraver:
Best Laser Cutter for Metals
The advantage of laser engraving technology is that it allows you to imprint your designs on both soft and hard materials, including metals. However, the accuracy and power required for etching ferrous metals are higher than most CO2 lasers can offer. In this case, you need a fiber laser-based engraver to cut and etch hard metals, stones, and even soft metals with equal ease. JPT 50W Fiber Laser Engraver is the perfect device for those who want a fiber laser engraver with authorized safety certifications.
Assembly:
Fiber lasers are far more powerful than any DIYer can handle. In fact, you need certification before using a fiber laser device. Therefore, the JPT 50W Fiber Laser Engraver is an industrial-grade machine that requires professional technicians for its assembly. Moreover, you can ask for professional help directly from the manufacturer's customer support. In short, the device requires assembling on screws level and thus requires several hours before you can use it.
Features:
The most stunning feature of the JPT 50W engraver is its powerful laser. You can use this device to cut through up to 20mm metals without any problems. Moreover, all the soft materials like wood and plastic sheets are also compatible with this device.
The machine comes with a package of free maintenance over a span of 5 years, and you can ask for an extension. The high rate of electrical-optical conversion is about 70%, the highest efficiency that you can get in any device.
Software:
Like most fiber lasers, it is compatible with all Windows-based picture formats, including PCX, Jpeg, BMP, SVG, PNG, Vector, Raw, and many more. As a result, you can feel free to use your favorite graphic designing software like Photoshop, Illustrator, AutoCAD, CorelDraw, LightBurn, and the signature EZ CAD software by the manufacturer.
7. SCULPFUN S6 Pro Laser Engraver:
Best Chinese Laser Cutter
No one can compete with the Chinese when it comes to innovative products at an affordable price. SCULPFUN S6 Pro is the pioneer of the limits that you can achieve with Chinese technology. This has a lot to do with the fact that engraving was, in fact, invented in ancient China. If you are looking for the perfect Chinese laser engraver with tons of features, this product is the best one for you.
Assembly:
SCULPFUN S6 Pro comes semi-assembled in the package. It is because assembled devices have a larger surface area, so the manufacturer ships a semi-assembled device with clear instructions and a complete toolkit. It takes about 30 minutes to assemble the device and get it running.
Features:
The S6 Pro comes with an improved CO2 laser technology that can penetrate almost all materials except for a few hard metals. The laser beam is greatly focused on the slab with a lower beam diameter to maximize the beam intensity. Similarly, it offers greater safety features than any other product in this category.
Software:
S6 Pro laser engraver is compatible with almost all graphic designing programs and laser engraver software based on both Windows and Mac operating systems. So, you can use all picture file formats for engraving your design.
8. ATOMSTACK A5 Pro Laser Engraver:
ATOMSTACK A5 Pro is probably one of the finest laser engravers for home users as well as small businesses. It provides great accuracy and improved controls at an affordable price. This device can fulfill all your engraving needs without requiring any upgrades or attachments.
Assembly:
The devices come in a semi-assembled form with a complete package required for assembly. It takes two people to lift and install this laser engraver on a desktop. The average time, reported by many users, is between 45-60 minutes before the laser engraver was functional.
Features:
First of all, the ATOMSTACK A5 Pro comes with an ultra-fine laser of .5-5W laser power. Such power is suitable for cutting soft materials including plastic, Plexiglass, wood, leather, and acrylic materials in a single pass.
The solid steel structure ensures that you can operate the laser for several hours without worrying about wear & damage. Similarly, the UV-light absorbing display glass ensures that about 97% of the hazardous rays are absorbed so you can let the family watch your work.
Software:
This device has universal software and hardware support. You can use LightBurn and LaserGRBL with this device. Moreover, you can also use all the popular graphic designing tools for the design and then import your work into one of these laser software. The USB connection allows you to print already imported designs without even a computer connected directly.
9. TEN-HIGH Upgraded Laser Engraver:
Best CO2 Laser Cutter
Ten-high is a well-known manufacturer producing long-lasting and powerful laser engravers. Their device is for both professionals and home-based hobbyists alike. The 40W CO2 laser engraver is one of the DIY machines that require little to no past experience with laser engraving.
Assembly:
The device requires no assembly in general and comes ready to use right out of the box. However, you still need to connect a few cables and cords to power up the device. A detailed instruction guide is provided in the package, and you can also take help from YouTube tutorials.
Features:
TEN-HIGH Upgraded Laser Engraver is one of the few products in the market to offer an AIO- based water-cooling system. It is an improved way of keeping the device cool even during intense engraving sessions.
Therefore, even small businesses can take full advantage of this device's features. You can use this powerful laser engraver to etch most common materials like paper, plastic, stone, wood, and aluminum. Moreover, the engraving speed is adjustable according to your needs without compromising on performance.
Software:
Like most laser engravers, TEN-HIGH Upgraded Laser Engraver is also compatible with all the well-known graphic designing software like CorelDraw, Photoshop, and CAD. Moreover, the driver installation is very simple, and you can use this device with all Windows versions.
10. A5 Laser Engraver CNC:
Best Compact Laser Engraver for Students
When it comes to teaching the students, you only need a moderate laser to ensure safety and fun. The A5 laser engraver is specially designed for students and beginners to provide a complete laser engraving experience while keeping things simple. If you want to learn or teach someone, this product is best for you. Otherwise, I won't recommend it to professionals and experienced DIYers.
Assembly:
The assembly of the A5 Pro laser engraver is as simple as it gets. If you know how to tighten the screws, you can do it yourself. Moreover, it is a lightweight machine, so only one person is required for the assembly. It will take you less than 15 minutes to get this device started.
Features:
This entry-level laser engraver might be more powerful than you think. It can etch almost all the material in either one or two passes that you can engrave with more powerful machines. Moreover, it offers more safety features than you can find in any other CNC-protected laser engraver.
Software:
This device is compatible with SVG, Vector, PNG, Jpeg, and Raw picture formats. You can import your design in the LightBurn software (Windows version) and start printing on solid materials instantly.
Buying Guide & Tips:
Laser engraving requires a powerful laser along with a sturdy build quality to resist heat. However, laser cutting machines can cost a lot on your budget. Therefore, it is important to choose your product wisely. Here are a few things that you should keep in mind:
Software compatibility: The laser engraver is only useful if it matches your computer operating system. Laser software is based on different operating systems like Windows, Linux, and Macintosh. Moreover, the designing software can only import limited picture file formats. So, you should consider all these requirements when purchasing a laser engraver.
Laser type: Different lasers are suitable for etching the materials. For instance, CO2 lasers can cut softer materials like wood, plastic, and acrylic materials. Similarly, the fiber laser can carve hard metals and all other materials without any problem. Diode lasers are suitable for paper, leather, and plastic sheets.
Size: The size of the laser engraver should match your workshop and desk size. Otherwise, you will have to make changes to the setup. Moreover, larger laser engravers are heavy-duty and expensive. So, you should consider the nature of your work before selecting a device for your workshop.
How to Use a Laser Cutting Machine?
All laser engravers are operated the same way. This guide will provide a step-by-step tutorial on how to use a laser engraver efficiently.
Install the laser engraver on your desktop and connect it to the computer using the USB port.
Install drivers and recommended laser software on the computer by downloading it from the official website of the manufacturer.
Choose the best possible material for the engraving that offers as little kerf as possible.
Clean the material slab on the work area and close the machine's protective CNC casing to protect your eyes.
Import your design file into the laser software and adjust the laser's intensity and speed accordingly.
Press the print button in the software, and the engraver will take care of the rest.
Make sure to keep an eye on the laser while it works to ensure precision and perfect engraving.
Frequently Asked Questions:
Conclusion:
To wrap it up, the laser cutter is the most advanced etching tool that you can get from the market. Modern laser engravers are available at an affordable price and offer several features that can give your DIY project a professional touch. I hope you found your dream laser cutter on this list.