Look around you; chances are you will find everything is made from wood or metal. It is because both these materials are highly durable and etchable to make various products. What if there was a way to enhance further the beauty of what you already have or just make a new gift from scratch? Fortunately, the laser engraver is the right tool for the job. Therefore, in this article, I will discuss the best laser engravers for wood and metal and how to choose the perfect device for the job.
My Recommendation:
I engrave wood, plastic, and metal for fun. Being a DIYer myself, it is my job to keep you safe from falsely advertised products. Personally, I use MySweety DIY CNC 3018PRO-M in my home workshop. It is a 5500mW CO2 laser machine that doesn't require a separate computer for its operation. Moreover, the built-in Grbl software is useful to import, edit, and print various figures in 2D. So, if you don't have time to read the whole article, I'd recommend that you check it out before moving any further down the list.
Top 5 Best Laser Engravers of 2022:
Not every product is the best option for both wood and metal. You have to be very specific when purchasing the best laser engraver. Here are my top picks:
Image
Product
Features
Price

Best Overall

Mysweety DIY Cnc 3018pro-M 3 Axis Cnc Router Kit

Grbl Control
Offline mode
External cooling fan

Check Latest Price

Expert Choice

ORTUR Laser Master 2

32-Bit motherboard
Eye protection
Larger than an A3 work area

Check Latest PriceRead Full Review
Beamo 30W Desktop Laser Cutter & Engraver

Industrial-grade features
Laser cutter + engraver
Smart Lid sensor

Check Latest PriceRead Full Review
Laserpecker Compact Laser Engraver

Multiple orientations
Smartphone App
Battery-powered

Check Latest Price

Best Cheap

Titoe 2 in 1 5500mW Laser Engraver

Suitable for curved materials
Beginner-friendly
Advanced control board

Check Latest Price
1. Mysweety DIY Cnc 3018Pro-M 3 Axis CNC Router Kit: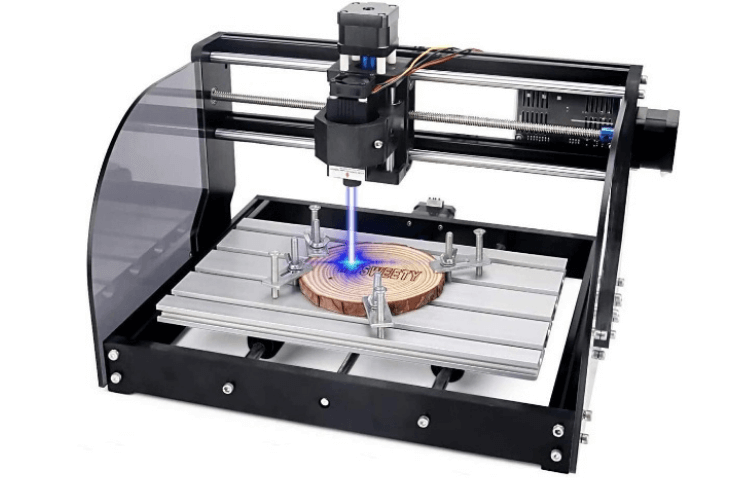 Work area: 300 x 180 x 45 mm
Laser type: CO2 CNC
Power: 60W
Dimensions: 17.3 x 9.5 x 6.6 inches
Weight: 16.76 pounds
Software: Laser Grbl, offline LED panel (Window only)
MySweety 3018-Pro is the perfect entry-level laser engraver for both DIY and professionals. It provides exceptional safety features without compromising on laser power. This is also the device that I personally use in my home workshop. So, if you want the best laser engraver for wood, metal, and several other materials, this device is perfect for you.
Features:
The 3018-Pro laser engraver is full of features from top to bottom. For instance, the work area is relatively larger than other machines in this category. So, you can engrave larger wooden and metallic slabs without any problems. Similarly, it offers greater safety features to the level that you can even let your family watch the project. You can use the 5500mW laser to cut wood, leather, and even some soft metals.
Software:
MySweety 3018-Pro comes with built-in Grbl software. You can control it using the touch panel screen during offline mode. Moreover, it connects to your Windows PC to use the Grbl software with some extra features.
Pros
Large work area
CO2 laser
Dual 5mm acrylic covers
Stable laser module
Fixed heatsink
Cons
It doesn't support Mac computers and laptops
2. ORTUR Laser Master 2: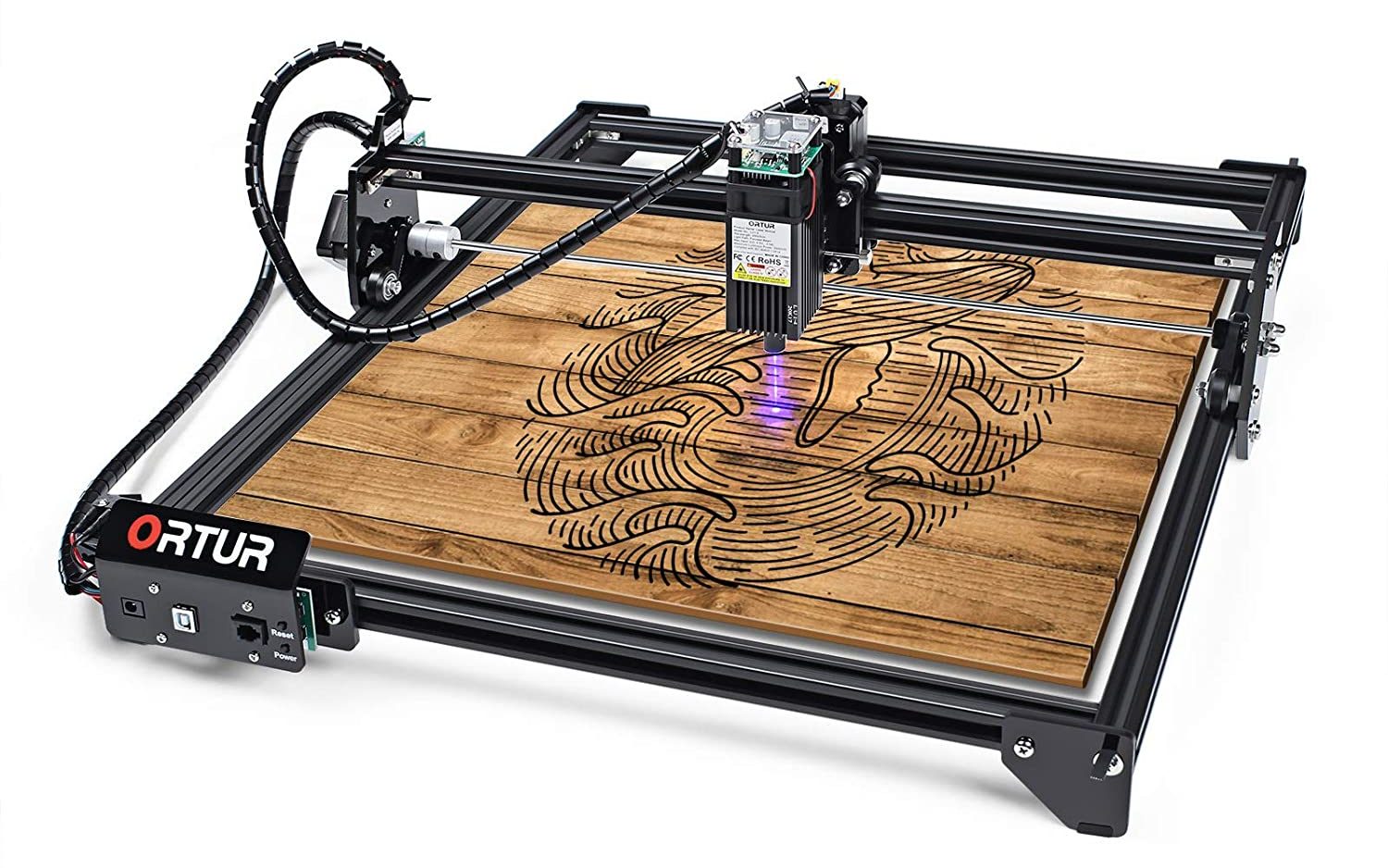 Work area: 400 x 430mm
Laser type: CO2 CNC
Power: 20W
Dimensions: 22.44 x 21.65 x 6.9 inches 
Weight: 7.68 pounds
Software: Laser Grbl, CAD, LightBurn (Window + Mac + Linux)
Honestly, some DIY machines are not suitable for professional work. However, ORTUR is a brand that takes care of both home users and professionals alike. Therefore, the Laser Master 2 is designed to help everyone. So, if you are starting a small business, I recommend that you check this one out.
Features:
Laser Master 2 is the fastest and most efficient laser machine on the list. Its 1200-5500 mW module is just enough power to cut wood, leather, paper, polymers, and a large variety of soft metals like aluminum and copper. Similarly, a G-sensor is integrated into the upgraded motherboard. This sensor detects the laser's path and immediately stops if the laser diverts from its path or if there's any change in material. So, you don't have to stick to the work area all the time.
Software:
ORTUR is famous for its universal compatibility with all computer operating systems. For instance, you can connect your Laser Master 2 with any Windows, Mac, or Linux machine to use different software. Similarly, you can design your images in CAD, CorelDraw, and Adobe Illustrator then import the file to the laser software without any problems.
Pros
Universal compatibility
Huge work area
Professional features
G-sensor motherboard
Advanced safety features
Cons
A Wi-Fi chip would make it worthy of laser engraver of the year
3. Beamo 30W Desktop Laser Cutter & Engraver: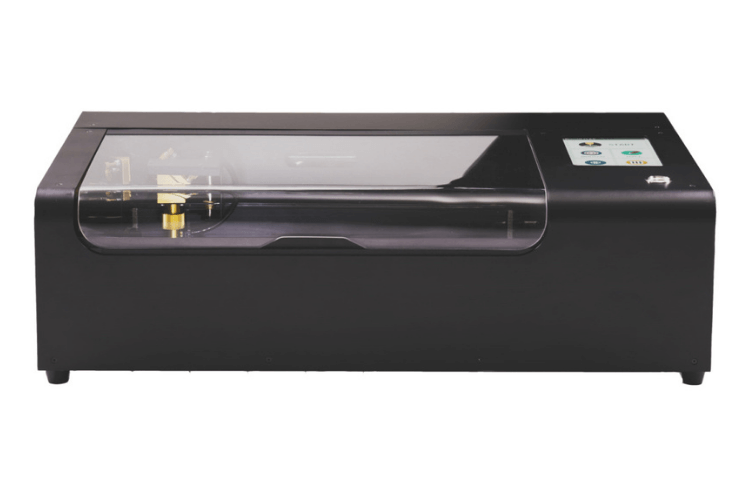 Work area: 300 x 360mm
Laser type: CO2 CNC
Power: 30W
Dimensions: 24 x 20 x 10 inches
Weight: 49 pounds
Software: Laser Grbl (Built-in)
What do you see when you imagine a laser engraver? Large assembly connected to a powerful computer and requires a separate desktop. Well, Beam 30W is the exact opposite of all these things. It is a multifunctional laser engraving machine for wood and metals that doesn't require separate space on the desk. So, if you want an all-in-one laser unit, then this product is the best one for you.
Features:
The features are the reason why Beamo 30W found its way into this list. The laser module is powerful enough to cut, etch, and engrave with an accuracy of 0.04mm, which is smaller than human hair. Similarly, it comes with advanced safety features that ensure the laser is contained inside the casing all the time.
For instance, the smart lid sensor stops the laser whenever you open the case during a project. You also get an emergency power button to stop the process immediately. Lastly, the laser machine doesn't overheat even during long projects. The external air cooler provides 200CFM ventilation to keep things well within the temperature limits.
Software:
You don't need a computer to operate this laser engraver. It comes with stable, simple yet effective Laser Grbl software installed in the touch panel. You can directly upload the pictures in any file extension to the laser machine. The software provides enough tools to edit, adjust, and optimize the design for printing.
Pros
External air cooler
Turnkey operation
Wood and metal laser cutter
Lid sensor
Bluetooth connection to Android and iPhone
Cons
The unit is pretty heavy, to be called a handheld laser engraver for metal
4. Laserpecker Compact Laser Engraver: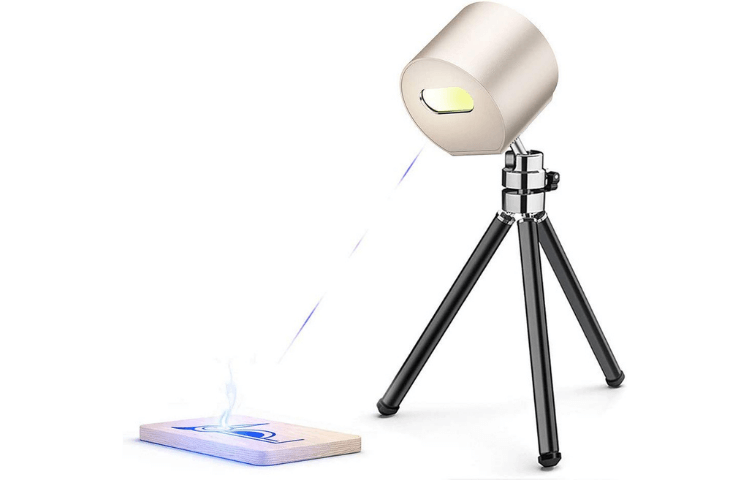 Work area: 10cm x 10cm (vertical x horizontal) 
Laser type: CO2 CNC
Power: 3V (power bank) 
Dimensions: 8.58 x 7.44 x 4.49 inches 
Weight: 1.1 pounds
Software: LaserPecker 1 smartphone App.
A great benefit of modern technology is that it provides greater power in smaller sizes. For example, you can store a whole room's data on your smartphone. Similarly, laser engravers are now more powerful than ever but with a compact size. LaserPecker 1 is such a compact and handheld laser engraver for metal. So, if you don't have a home workshop, I'd suggest that you buy one of these devices for your DIY projects.
Features:
The list of advanced features of LaserPecker L1 is never-ending. For instance, it is the world's only portable laser engraver that can even cut and engrave soft metals. Similarly, you don't need a power socket because it only needs a USB power bank to operate.
However, it doesn't mean that you will be compromising on the safety features. The device provides top-notch safety mechanisms like path and material tracking as well as overheating shutdown and password protection.
Software:
You can carry a portable laser engraver anywhere but not your computer system. Don't worry because this product doesn't need any. You can download the multifunctional LaserPecker smartphone app on all Android and IOS devices. The software supports all major file formats, and you can even download custom fonts for stylish text engraving.
Pros
Portable
Lightweight
Advanced safety features
Affordable price
Bluetooth connection to smartphones
It engraves both vertically and horizontally
Cons
The device is only suitable for small and light engraving projects
5. Titoe 2 in 1 5500mW Laser Engraver: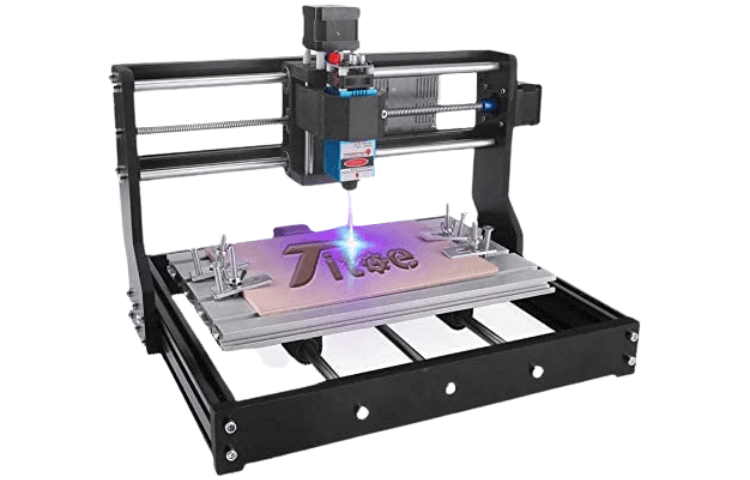 Work area: 300 x 180 x 45 mm
Laser type: CO2 CNC
Power: 3000mW-5500mW
Dimensions:  17.8 x 9.6 x 7 inches
Weight: 15.52 pounds
Software: Laser Grbl, CAD (Windows only)
If you didn't like my recommendation for some reason but liked the idea, then the Titoe laser engraver will surely be of interest to you. The overall specs and the working principle of MySweety and Titoe laser engraver are very similar. However, it is slightly less expensive and cuts through all soft materials without any exception.
Features:
Titoe has a larger work area that can fit almost any A3-sized rectangular wooden or metallic slab. So, you can customize almost any material and make the perfect gift. However, this device is not suitable for beginners or people with no experience. The lower price costs you the safety features like acrylic covering. You still get a pair of safety glasses in the box for your protection, but that's about it. On the bright side, the device gives you 3-axis manual control over the laser.
Software:
The device comes with built-in Grbl software that you can control with the colored touch panel. Moreover, you can even connect the laser to your Windows PC to easily customize all picture file formats like Jpg, PNG, SVG, and XML.
Pros
Affordable price
Sturdy build quality
Manual laser control
Suitable for wood and metal
Offline mode
Upgradeable laser module
Cons
It is potentially hazardous for amateur and inexperienced users
Buying Guide: How to choose the best laser engraver for wood and metal?
The market is full of cheap laser engravers for wood and metal. However, they are often falsely advertised and don't work as described by the manufacturer. Therefore, you have to be very careful when choosing a product. These few factors will help you out:
Work Area:
Buying a DIY laser engraver means that you will be working with typical A3-sized rectangular materials. So, any device with at least 300 x 300mm area is more than enough for you. However, some materials such as glass are curved, and you need a special laser engraver for curved surfaces for the project.
Laser Type:
All DIY laser engravers come with a diode or CO2 module. Some expensive industrial devices have Fiber lasers. So, if you plan to cut softer material, then a cheap laser engraver for wood and metal is suitable for you. This laser can cut wood, bamboo, paper, leather, plastic, and soft metals like copper and aluminum. However, if you want to engrave hard metals like stainless steel, then it would be best to go for the expensive fiber laser engraver.
Safety Features:
Material engravers use a powerful laser beam to vaporize the material and produce permanent burns. The same laser can be very dangerous if it comes in contact with the human body. Therefore, it is best to always choose a laser engraver with maximum safety features like an acrylic laser container, safety goggles, emergency button, Lid sensor, and G-sensor.
Laser Engraver for Metal vs. Laser Engraving Machine for Wood:
Wood is relatively softer than metal and quickly vaporizes with a suitable laser engraver. On The contrary, metal is a hard material that requires the best fiber laser engraver for optimum engraving.
Laser engravers for wood have a powerful CO2 laser. Any 3000mW or higher CO2 laser module is more than enough to engrave both soft and hardwoods. Moreover, you can even use the same laser module to engrave on softer metals like aluminum and copper. Otherwise, all other metals require a very expensive Fiber metal.
Read Also: Laser Etching vs. Laser Engraving
Frequently Asked Questions:
What size laser engraver is needed for wood and metal?
Engraving wood and metallic slabs often come in A4 or A3 sizes. So, any laser engraver with at least 250 x 250mm work area is suitable for your project.
What wood is best for engraving?
Usually, the wood for engraving is available from the market. This slab is made from wooden slabs attached to a fiber layer. However, you can use any commonly available wood like the American Maple to get the desired results.
What is the best type of laser engraver for home use on metal?
Home laser engravers come with a diode or CO2 laser modules. Any machine with at least a 3000mW CO2 laser will work on soft metals. For best results, I'd recommend any 5500mW CO2 laser engraver.
Conclusion:
Laser engravers are usually used to accurately produce permanent markings on hard materials like wood and metal. However, you need a suitable machine to get the desired results. Therefore, I have reviewed the top 5 best laser engravers for wood and metal in this article.