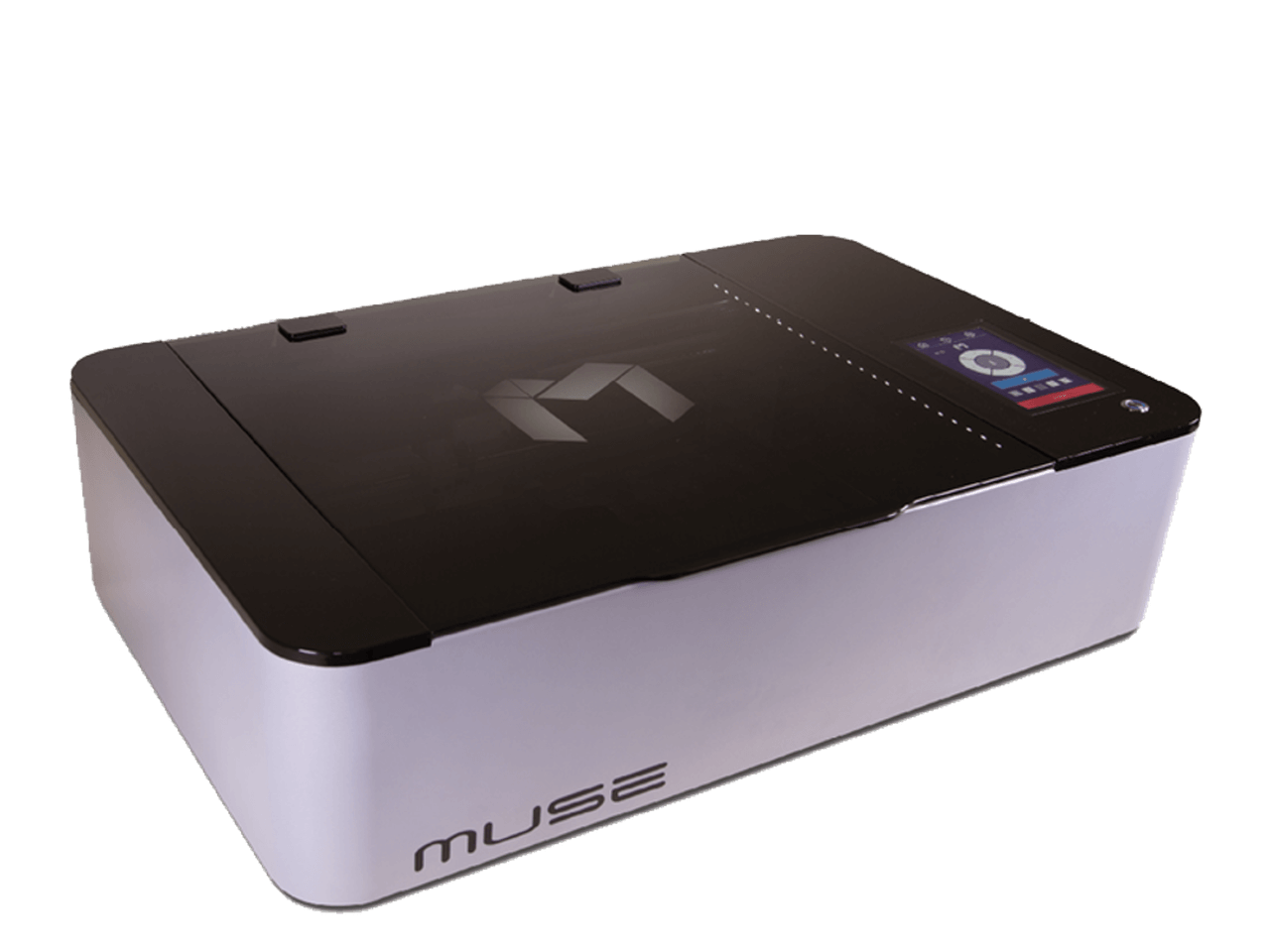 Quick Overview:
Full Spectrum Laser (FSL) manufactures various fabrication equipment, like 3D printers and laser cutters, suitable for use at various levels of expertise, from amateur to professional. And the FSL Muse is yet another challenger in the amateur laser market; it is a machine with a 40W laser, a water-cooled Carbon dioxide laser, and an external cooling unit, among other features.
Laser Specifications & Major Features
| | |
| --- | --- |
| Laser Classification | Class 3 |
| Laser Power | 40W |
| Laser Type | Sealed CO2 Laser Tube |
| Resolution | Up to 1000dpi |
| Gross Power | <1000W |
| Power Supply | AC 110V |
| Compatibility | Windows, Mac, Linux |
| Operating Temperature | 0° – 45°C |
| File Import Options | .jpg, .png, .bpm, .pdf, .svg |
| Minimum Screen Resolution | 1024 x 768 pixels |
| Operation Modes | Precision Raster, Vector, or Combined Modes |
| Motion Control | High-speed, high precision stepper motors |
| Wireless Compatibility | 802.11n |
Muse is a laser cutter worth considering if you're in the market for a new laser cutter. It is both strong and simple to use, and it has a really attractive look. I've been using mine for quite some time now, and I'm very satisfied with it. If you're on the fence regarding whether or not to purchase one, I strongly advise you to give it a shot. You won't be dissatisfied with this purchase!
What is Muse Laser Cutter?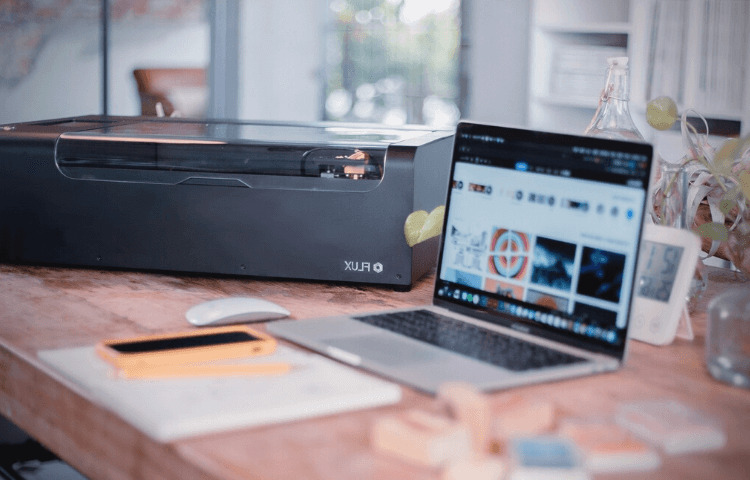 On the market today, the Muse Laser Cutter is widely considered to be one of the most efficient and well-known laser cutters available on the market.
The FSL Muse is equipped with a solid metal body structure, a Seven inches LCD screen, a detachable surface, and the easy-to-use management and software known as RetinaEngrave v3.0 to enhance the usefulness of the 20-by-12-inch work surface.
It is possible to cut and engrave a wide range of soft and hard materials with the 40-watt CO2 laser. All of this is accessible in a desktop-sized machine and can be easily accommodated on any workstation.
Utilizing the FSL Muse 40W Laser Cutter and Engraver, you may create original art, develop your small company, enrich your environment, educate your students, and innovate without restriction.
Muse Laser Cutter Features: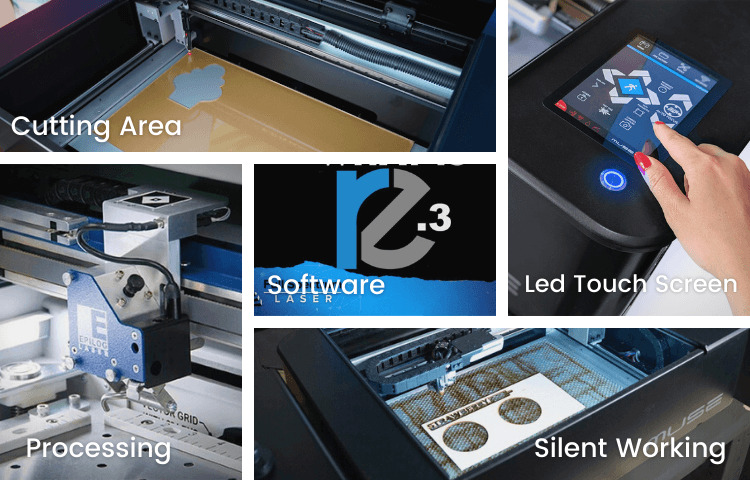 It is ideal for any business to cut their unique materials and make personalized goods. Muse Laser Cutter is available for purchase online. The Muse has several features that make cutting swift, simple, and safe, among other things. Let's take a closer look at the muse laser's characteristics.
1. Cutting Area
Right away, you'll have a 508x305mmwork surface to work with. I've discovered that this is more than plenty to cover what I need to perform for most tasks. This is especially important if you cut and etch on small items such as cutting boards and similar items.
If you need to engrave anything larger than the unit's surface area, the entire floor may be removed. Because of this, you may position the laser right on top of the object you wish to engrave. I've seen others use this to engrave a huge tabletop or even tiles that have been laid down on a floor, which is quite cool.
2. Led Touch Screen
All Muse systems are equipped with a touch screen of 4×6 inches. This provides you with access to job settings, focusing, system settings, and previous projects, among other things. I noticed that it was difficult to locate where the touch would trigger.
I was having trouble with the jog regions since I kept pressing them in the wrong spot, and nothing would happen. However, I was able to figure it out rather fast.
3. Processing
In addition to the laser itself, you'll need three more components: compressed air, cooling water, and an exhaust system, all of which are standard. This is handled in a variety of ways by various firms. A plastic bucket of water provides water cooling with an underwater pump included in my less expensive laser.
The Muse incorporates all of this information into the Cool-Box. This equipment integrates everything into a single unit and links directly to the controller, allowing the software to adjust the expander and water flow as needed.
You may also purchase an extra exhaust fan, which boosts the unit's capacity to expel the fumes to a greater extent. This was included in my unit, but I didn't need to use it because the internal fans on the laser were more than adequate for my requirements.
I work in an extremely well-ventilated workplace. It would be quite useful to cut more dangerous materials in a confined area, and I had that fan.
4. Portability and Build Quality
The Muse 3D is composed of metal and has a glass top to protect the contents. It weighs 54 pounds, making it one of the most difficult items to move throughout the business. My device is mounted on a mobile desk with wheels, which allows me to move it around more easily.
Using the detachable base would need the assistance of at least two persons to move it around without causing anything to get out of alignment or smashing the glass top.
6. Motorized Autofocus
When the 3D camera data is not accessible, a sophisticated mechanical sensor incorporated into the laser head offers backup height data to the system.
The ability to establish different focus points on materials of varying thicknesses ahead of time is a significant benefit of this method. This will allow you to move more rapidly between engravings, allowing you more time to get more work done overall.
7. Software
In addition to the equipment, Full Spectrum includes its software, Retina Engrave 3.0, with each purchase. The capacity to operate without an internet connection is a significant advantage.
This contrasts to Glowforge, where everything is done over the internet. Depending on your preference, you may connect to the Muse by wifi or through an ethernet connector. The retina is a web-based application compatible with PCs, Macs, and Linux.
Retina Engrave provides the ability to alter vectors in their entirety. This means that you won't need to use another application, such as Adobe Illustrator, to produce artwork.
An image processing system, which converts non-vector images (like.jpg or.png files) into greyscaled versions suitable for engraving, is also included in the package. Engraving is offered at three resolutions: 250, 500, and 1,000 DPI.
8. Class 3 40w Laser
The 40W laser with a frequency of 1000 dpi is common for hobby-grade equipment of this type — the maker claims it is suitable for cutting and etching quarter-inch plywood or acrylic, as well as leather, among others other materials. Depending on your needs, even more, complex applications may be achieved with this laser, such as engraving steel or glass.
9. Silent Working and Warranty
Concerning the amount of noise produced by the laser, while it is rather quiet, you can notice a high-pitched whining when it is cutting, particularly at certain frequencies.
The built-in fan on the laser and the compressor and water motor in the Cool Box is the most-noisy components. Even though I had everything turned on and running at the start of the video review, you can still easily converse with other people.
Muse laser comes with a one-year warranty as standard equipment and their customer service has been excellent in dealing with any concerns that I've had during my testing.
Muse Laser Cutter Applications:
3D Engraving Technology: Muse brings etching to a whole new level by replicating 3D effects and creating items of incredible artistry with incredible detail.
Cutting Technology: The Muse is the laser engraver manufacturers and other creative creators have been waiting for, and you can get your hands on one right now! Muse provides the most cutting-edge technologies available on the market, from creating unique art to replicating components for speedy building.
Marking Technology: Quick laser pulses are used to mark material to generate crisp images from photographs or creative artwork.
Inside the Muse Laser Engraver: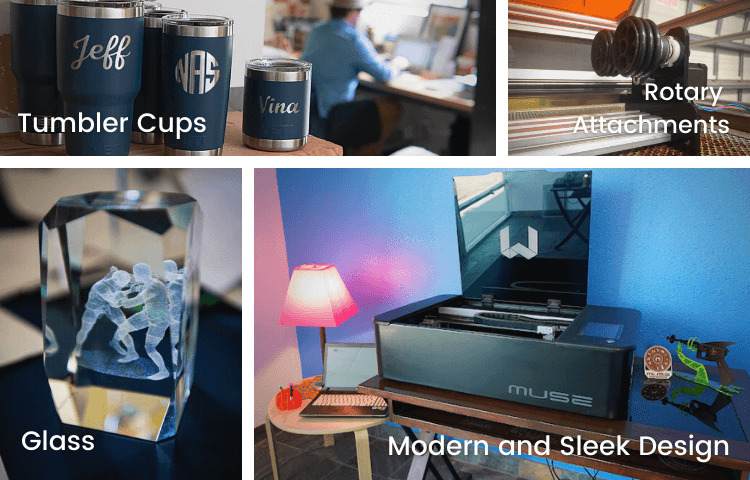 Rotary Attachments: You can engrave curved goods like wine bottles and souvenir glasses with a Rotary attachment, which opens up a whole new world of possibilities.
Versatility: With Muse's adaptability, you may create an incredible range of crafts and projects that can be completed with a laser cutter. Muse gives you the ability to see what you want to create, whether it's unforgettable presents for friends and family or beginning your own business. She is the power to bring your vision to life.
Tumbler Cups: Logos, photos, phrases, and creative designs may be added to mugs and cups to make them unique.
Removable Floor: Consider using a detachable bottom for larger tasks, such as engraving frames, to break out of the box.
Glass: Vinegar jars, drinking glasses, bottles, and other personalized items.
Curved Items: The Rotary allows the engraving of curved objects such as bottles, rolling pins, mini-bats, and other similar items, substantially expanding the number of projects undertaken.
Modern and Sleek Design: Muse's powerful design elements allow you to work more effectively. Muse's LCD Touch Screen Interaction puts the power of the program right in your hands. With the help of an inbuilt camera system, you may achieve finer alignment and translate hand drawings. When working with spherical goods, the rotary attachments come in handy.
Who Should Buy Muse Laser Cutter?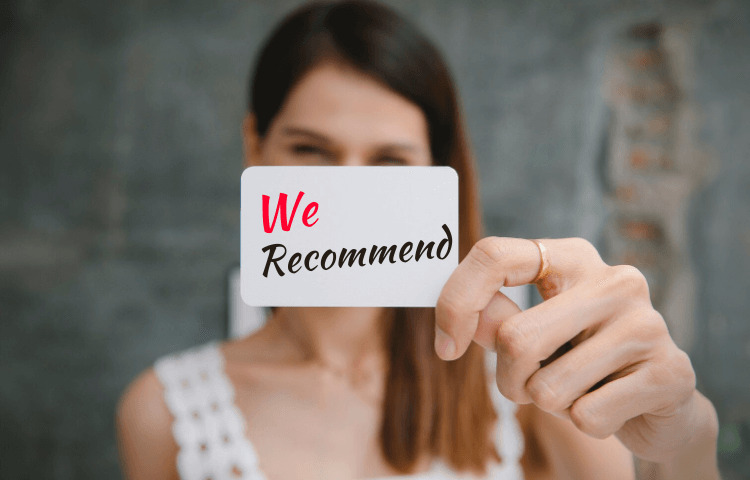 Whenever someone inquires about whether or not they should invest in a certain laser, my response is always the same. It depends. The Full Spectrum Muse 3D is no exception to this rule.
It is expensive, especially if you choose devices with camera capabilities, such as 2D and 3D. In light of its simplicity of use, I would suggest the Muse Core to anybody looking to utilize an additive manufacturing machine in a more professional situation, such as when developing small-scale goods or in a maker space. This is especially true if you haven't had much previous experience with lasers.
There are far less expensive ways to enter the market of lasers, like the famous K40 CO2, or my bigger 50W version, which I developed. However, these will need several updates and modifications. Compared to the Muse, you won't be able to begin cutting and engraving immediately out of the packaging.
Frequently Asked Questions:
A muse laser is not cheap, so how much does one cost?
The Autofocus feature is included in the purchase of the Muse 3D, which is $5,999. In the end, the Muse Fiber 3D is essentially the same as the CO2 laser system, with the addition of a fiber laser for cutting and engraving metal.
Is it possible for laser engraving to wear off?
As long as you keep the ring on your finger, the laser engravings inside the ring will not fade away. This is true regardless of which metal you pick. Because your skin is not more durable than metal, the laser engraving will not be worn away by the elements.
Is laser etching the same as wood burning in terms of results?
The texture is what makes the difference. A work that has been wood burned will have more character and depth. Laser engraving gives a more flat appearance and feels than traditional engraving.
Conclusion:
A terrific machine for any hobbyist or small business that needs to make prototypes, decorations, or wants something creative to display in their living room, the Muse is a great choice.
Because of its small size does not take up much room and can be utilized with the least amount of noise interruption. If you're searching for a professional-grade laser cutter, the expense may not be worth it, given how infrequently you'll use the machine. Whatever the case, this is a fantastic product!