Whether you want to add a one-of-a-kind design element to your products, customize valued objects, or take your workshop to the next level, investing in laser engraving equipment can help you accomplish your objectives. It makes it possible for designers, enthusiasts, and business owners to add one-of-a-kind components to their creations without leaving the convenience of their homes.
These devices can engrave intricate detail with pinpoint precision using a powerful laser. They are quite simple to use; all you need to do is upload the design of your choice, and the operating system will plot out the path the laser will take. Because this is a subtractive manufacturing method, the laser will then burn and vaporize the precise pattern and thickness that you wish in the material that you have chosen.
Portable laser engravers are extremely effective instruments that are utilized for the process of engraving. They have a wide range of applications, including working with wood, leather, plastic, and a great many other materials besides. Additionally, they are compatible with a wide variety of formats and types of material. This article discusses some of the most effective portable laser engraver options available.
Our Top 7 Picks for the Best Portable Laser Engraver:
1. NEJE 3 N30820 Laser Engraver: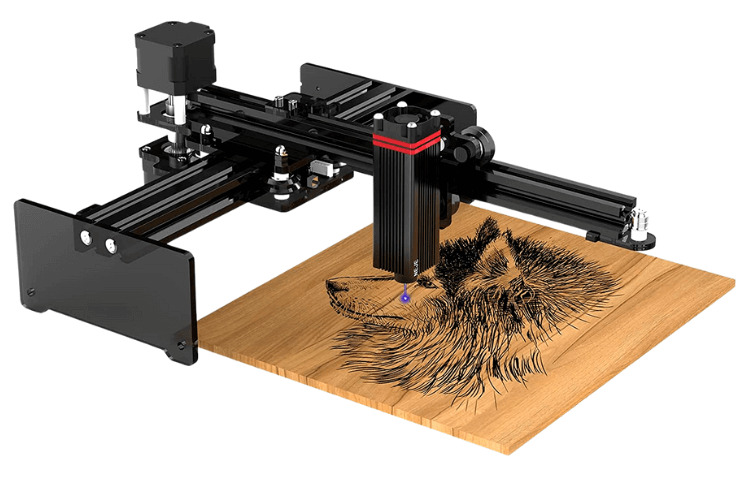 Brand: NEJE
Engraving Area: 460 x 810 mm
Safety Protection: MEMS
Support Software: LaserGRBL, Lightburn
Weight:
It weighs roughly 4 pounds and has aluminum gantry profiles, contributing to its high build quality. High traverse speed in the X and Y axes is possible using powerful 42 mm stepper motors and a lightweight laser module.
Cutting Applications:
To begin engraving, you must connect the cords and install the accompanying software; the machine will arrive pre-assembled. Paper can be cut cleanly using a diode laser with a power output of 2.5 watts and a wavelength of 450 nanometers. It is also possible to engrave on various materials, including MDF, wood, cloth, leather, acrylic, foam, and paper, among other things.
Laser Area:
The laser spot size of the Neja Master 2 small is 0.03 x 0.03 mm, and the laser head features a tuning knob that allows the focus of the laser to be adjusted. It comes with limit switches that may also be used as homing switches, allowing the laser module to adjust to the starting location.
The Neje Master 2 small is powered by Neje firmware and includes built-in Bluetooth, enabling it to connect with smartphones for wireless operation. Additionally, it has a USB cord that can be used to connect the engraver to a computer, and it comes with both of these features already installed.
Software:
It has specialized computer software and a mobile application that can connect to the engraver. With this application, you can link to the engraver and transmit commands to begin the engraving process using whatever picture you want.
The graphical user interface of the computer program is intuitive. It includes a guest mode in which you may use your smartphone to scan a QR code and then immediately transfer the engraving picture from your phone to the software applications.
You won't be able to utilize popular applications like LightBurn or LaserGRBL if you use the Neje program or app, even though both are quite simple. In addition to including a pair of safety goggles in the package, the Neje Master 2 small is equipped with a motion detection safety function that shuts off the laser if the engraver senses any movement.
It can be installed upright to perform engraving on vertical surfaces thanks to its compact size and the mounting holes supplied on the two endplates.
Product Features:
5.5-7.5 watts of output power are available from the NEJE 3 engraving machine, which has the NEJE classic multi-function N30820 module.
The module includes an intelligent driver integrated right in, and this driver can dynamically modify the fan to operate more quietly.
Only four screws are required to finish the installation of the full testing equipment.
Suitable for novices.
Pros
Compact Laser Engraver.
Powerful.
Good Software Support.
2. Comgrow Laser Engraving Machine: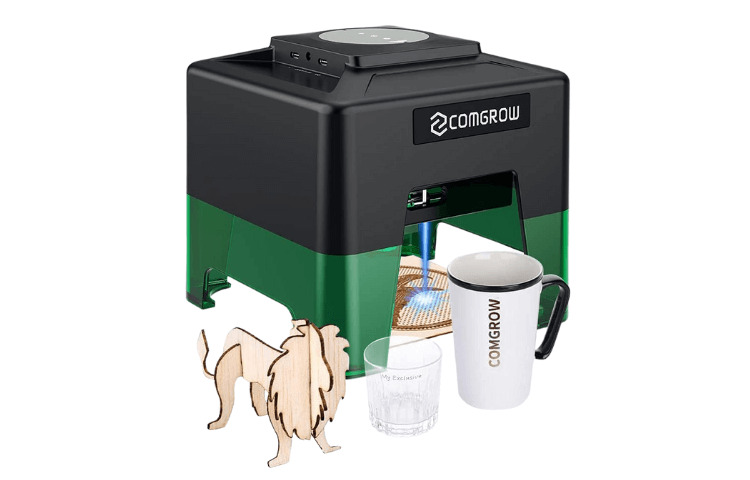 Brand: Comgrow
Engraving size: 3.8″x3.4″
Laser head power: 1.6W
Support operating system: Windows/Android/IOS
Entry Level Laser Engraver:
The Comgrow Mini is an entry-level laser engraver with low power output, is portable, and is both simple and inexpensive. Lead screws that are stepper motors allow the laser module to glide along the X and Y axes of the coordinate system.
The Comgrow Mini's body comprises two parts: an upper plastic shell containing the laser module and the driving mechanism and lower green-acrylic feet that also function as a protective cover against the brilliant laser. The upper plastic shell is located at the top of the device.
Installation:
It comes as a unit that is already partially constructed, and all that is required of you to finish the assembly is to attach the green acrylic feet to the visual elements and scan the QR code on the packaging to install the program.
Power Output:
The Comgrow Mini contains a laser module with a power output of 1.5 watts and a wavelength of 445 nanometers. This module offers an engraving resolution of 508 dots per inch, which leads to decent results when engraving and excellent clarity when printing grayscale photos.
Engraving Materials:
It produces good results when engraving a range of components like paper, suede, wood, fabric, and cardboard, among others. Additionally, it is useful for cutting paper, cloth, and cardboard.
You may also use the Comgrow Mini to engrave crystal and anodized metal, but you will need to ensure that the work surface is covered in a coat of temporary paint in a dark hue beforehand. Although it does not have autofocus, the laser's head includes a knob that can be moved either clockwise or counterclockwise to change the laser's focus.
Interface:
The Comgrow Mini features a USB interface that allows for a computer connection and Bluetooth connectivity possibilities for connecting with a mobile device, such as a smartphone.
Software:
It is controlled by a specialized software known as "Blue Laser," which is simple to operate and, similar to the vast majority of other engraving applications, gives users the ability to write, draw, or import photographs into the app before beginning the engraving process.
In addition to a locking plate, the Comgrow Mini package comes with an adapter, a USB cable, safety goggles, and a few sample material pieces that may be used to test your engraver.
Locking Function:
The locking plate functions as a foundation plate that prevents your workstation from being damaged by the laser. It also has a square marking that denotes the region where the engraver can operate. In addition, it comes equipped with a motion detector that will switch off the laser if the engraver is tilted at an angle of thirty degrees or more.
It is an interesting device for do-it-yourself enthusiasts who want to produce microscopic laser engravings on various materials. Comgrow's customer care, offered through email, assists you in troubleshooting the engraver if you have any issues.
Product Features:
The laser engraving machine offers FOUR MODES, each of which makes it possible for you to participate in the enjoyable activity of DIY making.
The effect is most noticeable in drawings that resemble sketches or have a lot of lines.
Text editing, photography, photo albums, material libraries, erasers, and manual resizing are just a few features.
Mini laser Carving Tool with a unique 1600mw German OSRAM laser chip for use on metal cups.
The laser head's output power is consistent and can maintain its steady-state operation for more than 10,000 hours.
Pros
Great For small jobs.
Budget Friendly.
3. Compact Laser Engraver, Mini Handheld Laser Etcher Printer: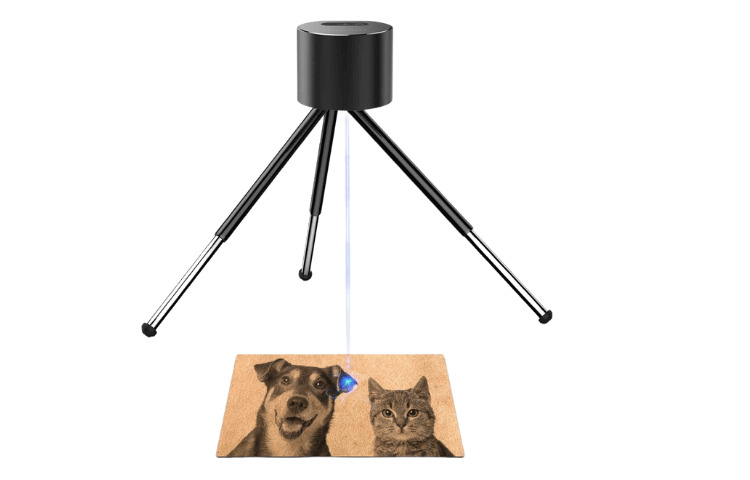 Manufacturer: LaserPecker
Item Weight: 1.1 pounds
Compact Laser Engraver:
The Laserpecker L1 is a compact laser engraver primarily made of a laser module, a tripod platform, and a power supply. Its name comes from the company that makes it. Because of the simplicity with which it can be used, it pushes the boundaries of what is possible in portable engraving. You can even use the engraver by attaching it to a power supply with an emission rating of 5.0V 2000mA.
Engraving Angle:
It is possible to engrave at any angle, and it may even be used without the tripod support, as long as the laser module is maintained in a steady position. This provides it with a broad range of use. The overall package weighs only a little more than one pound and has a slick design in addition to having a high build quality.
Laser Engraving Materials:
Papers, timber, wood, leather, fruit, and felt are just some of the materials that may be engraved with this device's 1.6-watt diode laser, which operates at a wavelength of 450-nanometers. The output that can be achieved with this engraver is satisfactory when working with soft plastics; however, it cannot be utilized to etch glass, ceramic, or metals.
Autofocus:
However, it does have a focal length of 7.9 inches, and they supply a wooden ruler that is the correct length to help in centering the laser on the workpiece. The L1 does not enable the autofocus capability. L1 links to your mobile phone through Bluetooth, which further contributes to its mobility, and it is controlled via the Laserpecker app, which has a very simple interface.
Interface:
You can write, draw, or import any image into the app and then send a signal to the engraver from your smartphone to start the process. It features a USB interface for power input, a type-c interface, and a button to turn the power on and off.
Safety Features:
The Laserpecker L1 includes several built-in safety measures, such as a password lock, a motion detection sensor that shuts off the laser whenever the sensor detects an undesired movement of the laser engraver, and an overheat shutdown that eliminates the possibility of a fire starting. In general, the Laserpecker L1 is fairly simple, and the manufacturer provides e-mail assistance to all its clients.
Product Features:
The L1 is a portable laser engraver that can be charged by a battery bank and used virtually anywhere.
Greater power, quicker speed, and 0.01mm exact precision engraving; Wireless Bluetooth control through a smartphone; Controlled by the smartphone;
The laser etching machine's high-quality laser head contributes to the machine's long-term durability, improved stability, and increased productivity.
Accidents can be avoided if you have functional safety features, including warning alerts, motion-triggered stops, overheat shutdowns, and password locks.
Pros
Easy to set up and use.
Works best with IOS.
Compact laser engraver.
4. Snapmaker Original 3-in-1 3D Printer: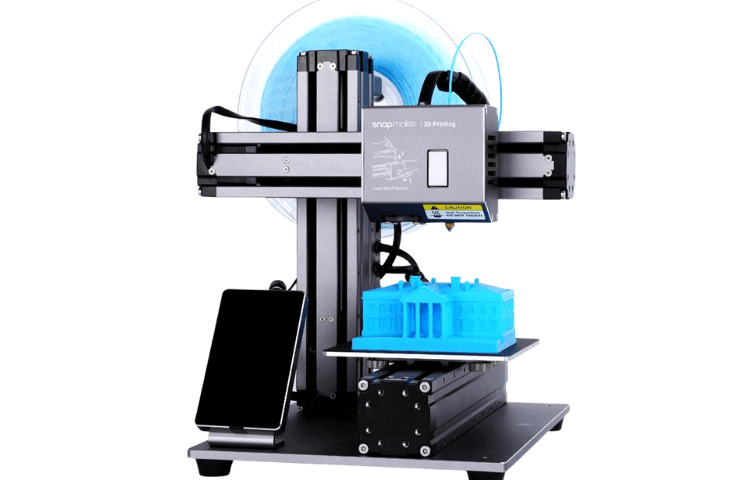 Brand: Snapmaker
Material: Carbon Fiber
Supported File Format: OBJ, STL, STEP, IGES
Operating System: Windows
3 in 1:
An intriguing piece of machinery, the Snapmaker Original is a laser engraver that combines the capabilities of three separate machines into one. It can also perform 3D printing, CNC carving, and laser engraving. Snapmaker Original is an excellent option to pick up if you want to create a convenient engraving workspace on your desk.
Build Quality:
This laser engraver has a solid construction with a frame made of aluminum alloy and weighs about 10 pounds. If you carefully follow the included directions, putting together, this engraver should take around forty minutes.
CNC Machine:
The time required to switch the cutting head of a CNC machine, a laser engraver, or a 3D printer should be around ten minutes. To enable the motion of the laser module along the X-axis, it is placed on a gantry that contains leadscrew drives. Meanwhile, the surface that supports the workpiece travels along the Y-axis.
Power Output and Engraving Materials:
The original Snapmaker has a laser module with a power output of 0.2 watts and a wavelength of 405 nanometers. This module can engrave various materials, including paper, hardwood, wood, suede, plastic, and fabric.
One of its many drawbacks is that it cannot be used to etch metals or other hard objects. When engraved onto a sheet of opaque acrylic, it produces good results.
However, Snapmaker also offers a supplementary 1.6 W laser module that can be purchased separately and added to your order to increase the capabilities of the laser engraver that you have purchased.
Engraving Area:
The laser module has a minimum diameter of approximately 0.2 millimeters. The Snapmaker Original features a touchscreen of 3.5 inches, which may be used to control the device. The engraver may receive G-codes from the computer through a USB drive or by connecting directly to the computer via the USB port. Both of these methods are possible.
File Formats:
Take note that for the computer to deliver G-code, it must be connected to the machine during the entirety of the engraving process if you want to utilize it. It only accepts the Snapmaker Parameter interface, which has a straightforward design and is compatible with all the most common file formats, including SVG, JPEG, PNG, CDR, and others.
Safety Features:
The Snapmaker Original ships with a set of safety goggles; however, the company also sells an optional component called the Safety enclosure. This enclosure, consisting of aluminum and acrylic, shields your eyes from the glare of the powerful laser.
You may contact them via their website's e-mail address or phone number for any technical support. In addition, they provide extensive manuals and video instructions that simplify all of the operations.
Compared to the other items on our list, it is heavier in terms of its weight and price point; nonetheless, it offers a great degree of adaptability and is well worth the money.
Product Features:
The Snapmaker Original, the product of Snapmaker's first generation, features three interchangeable functional modules. These modules are 3D printing, CNC cutting, and engraving.
High accuracy thanks to its all-metal construction: the all-metal frame enables the production of prints of high quality. Personal hobbies, parent-child education, STEAM education, and quick prototyping are just some of the numerous applications that might benefit from using a Snapmaker 3-in-1 3D printer.
Powerful and user-friendly software: Snapmaker can do all of the jobs for three different functions, making it easier for novice users to finish the work in a shorter amount of time.
The Snapmakers app receives regular updates that include new features designed to provide users with an improved overall experience when using the app.
Pros
Good Quality.
Variety of Engraving Applications.
Solid 3D Printer.
Cons
Small working area.
No EU power connector is included in the box.
5. Beamo 30W Desktop Laser Cutter & Engraver: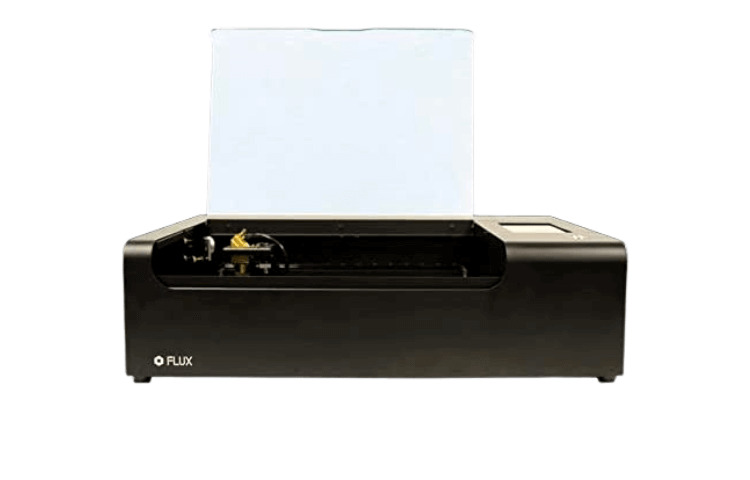 Brand: Beamo
Item model number: 30w
Item Weight: 49 pounds
Entry-Level Laser Cutter:
This laser engraver has the most powerful lasers and the lowest footprint of any currently available on the market. It is an entry-level laser cutter that is c capable of producing work of professional quality and is suited for use in various, including your home, business, classroom, or design studio.
Features:
Businesses who wish to carve their logo into items they offer as presents, such as mugs or keychains as part of their marketing efforts, will find Smart Trace a very helpful feature.
Thanks to the technology, you can select the graphics editor you want to use for JPG, SVG, PNG, and DXF file types. If you purchase the rotary, you may use it to etch bottles and glasses. A bright LCD touchscreen on the top of the machine features an on/off button and options that make it easy even for a toddler to set up.
Software:
You can even capture photographs with your phone and transfer them to the printer. Align the design, and your printer will handle the printing process. It is compatible with Windows Word, PowerPoint, CorelDraw, Silhouette Studio, Adobe Illustrator, and Inscape.
The weight of this device, which is only fifty pounds, is far lower than that of the majority of cumbersome printers. In addition to preventing fires, removing smoke and gases, and providing several additional safeguards, the ventilation fan is an essential component.
Product Features:
The laser can engrave with a layer spacing of 0.05, which is far thinner than the width of a human hair.
It has a high resolution of 1,000 dots per inch.
System of liquid cooling using a closed loop.
Protection against laser light for the working area.
If the cover is opened while operating, it will automatically pause.
a switch that cuts the electricity in an emergency.
Pros
The device's footprint is the same size as an A4 sheet of paper. It may be stored neatly on a shelf or a desk with little effort.
It can cut a wide variety of materials, including wood, leather, stone, rubber, bamboo, cloth, acrylic, cement, glass, and anodized metal, to mention a few more common ones.
Cons
Because acrylic is a potentially hazardous material, the ventilation might be improved somewhat if you want to cut it.
6. Laser Engraver 20W A5, Laser Engraving Cutting Machine CNC: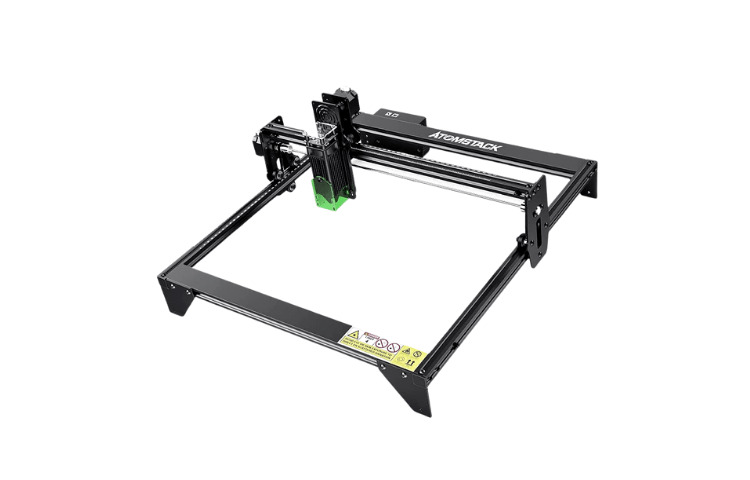 Brand: Beamo
Item model number: 30w
Item Weight: 49 pounds
Accuracy:
Laser engraving and laser cutting may be accomplished with this system. The X-axis and the Y-axis have measurement scales calibrated to ensure precision down to the millimeter level. Because of this, you will have precise control over the size of your finished product.
Engraving Materials:
It is compatible with various file types, including Jpeg, Bmp, DXT, and NC. It can carve through materials such as wood, wood, leather, cardboard, plastic, TCB board aluminum, anodized metal, and non-reflective plating. Even non-woven materials like felt, cardboard, light woods like balsam, plastic material, and flimsy plastic board are no match for their cutting power.
Engraving Area:
In addition to carving, it makes a wonderful cut into the leather. It is built to last for more than 10,000 hours of continuous operation. This is the same as working nonstop for nine hours every day over the largest area that may be engraved is 16.14 inches by 15.7 inches. Before you begin using it, make sure that the focus has been properly adjusted.
In addition, the power and the engraving speed may be adjusted to meet the specific demands of the various types of materials. You risk destroying the circuit board if the power is too high and the speed is too sluggish.
Power Range:
Because an unsatisfying engraving will result if either the speed or the power is too high, it is beneficial to adjust both settings. The optical power ranges between 4.5 and 5 W, whereas the electric power is 20 W. The wavelength is 445 nm, give or take 5 nanometers. When the settings are proper, the engraving precision may be adjusted to 0.0004 inches.
Product Features:
Material of the highest quality and a structured design that is sturdy and straightforward in its installation.
The design of the machine, which is made entirely of metal, makes it more sturdy, increasing the engraving precision.
In ten to twenty minutes, you should be able to finish the assembly.
The most up-to-date firmware is utilized by this engraving machine, which results in an engraving that is more intuitive, quicker, more accurate, and simpler to operate.
Your eyes will be properly protected by the laser protective cover, which filters out 97 percent of UV radiation. You don't need to wear goggles to see laser engraving or the others around you.
Pros
It is possible to make repeated adjustments to the engraving settings to get the desired engraving result.
It cuts paper with high precision, making it an excellent tool for use in the classroom in creating cut-outs, puzzles, and stencils.
Cons
This model will cut metal oxide and non-reflective coating, but it will not cut metal unless the metal has been lacquered beforehand.
7. ORTUR Laser Master 2: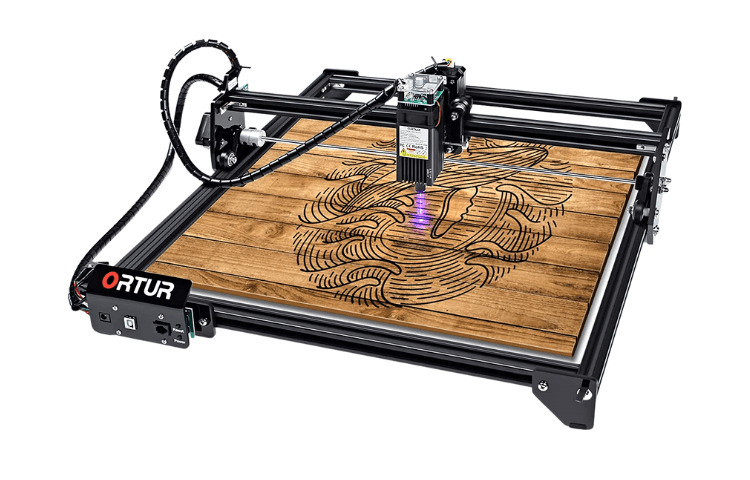 Brand: Beamo
Item model number: 30w
Item Weight: 49 pounds
Intelligent Machine:
This very sophisticated device is capable of simultaneously preprocessing up to 32 instructions. It contains a G sensor on the mainboard that stops the machine if it detects any movement that is not approved.
Safety:
This provides an outstanding level of safety protection. If the USB cord is unplugged, the laser beam will also cease to prevent a fire from starting. There is no need to halt the operation of the laser module for cooling. It features a frame made of aluminum.
Engraving Materials:
No one under 14 years old should use this equipment, and anybody who does so should always wear safety goggles to protect their eyes. Paper, food, ceramic tile, glass, wood, flexible leather, marble, and acrylic are some of the surfaces that it may be used on.
Some typical applications include printing a company logo on free promotional products, such as tablet covers or eyeglass cases, creating stencils and three-dimensional puzzles, and printing the company logo on free things for marketing purposes. Goggles and assembly tools are included in the box when purchasing this product.
Product Features:
It is equipped with a 32-bit motherboard, enabling quick and smooth carving.
The pace of the engraving is around 3,000 millimeters per minute.
The wavelength is between 445 and 5 millimeters, give or take.
It is compatible with Mac OS, Windows, and Linux.
Pros
This machine's laser can be controlled with millimeter-level accuracy, and it even has the capability of drawing a picture onto the paper.
The solidity provided by the aluminum frame is exceptional, which is precisely what is required for precise carving.
Cons
The construction is fairly complicated, but once it's put together, it's really simple.
Best Portable Laser Engraver: Buying Guide
Although purchasing a laser cutter and engraver is not the easiest thing in the world, the goal of this tutorial is to make the process as simple for you as possible.
Even if there are hundreds of aspects to think about before making a purchase, I want to highlight the most important aspects that set the best laser cutters apart from the excellent and good laser cutters, so let's begin with the most important aspect:
Laser Lifespan:
A laser tube has an expected lifespan of between 1,200 and 2,000 hours. Even though it might not seem like much, that equates to nearly a month and a half of nonstop work. You probably won't use a laser cutter for the entirety of your work hours, and it's even more likely that you won't use it for half of the time, so four months with 2,000 hours isn't a terrible amount.
Large Space for Working:
Put another way, the simpler you can put things, the greater the surface area you have to work with, and the simpler your task will be. Even though high speeds and wattage are essential, you won't be able to leverage your laser cutting machine's full potential until you have a large work surface.
Price to Value Ratio:
The price-to-value ratio is not the same as cost-effectiveness or value judgments. This component is entirely objective and takes into account both of these aspects. It is a common misunderstanding that the price of a machine needs to increase proportionately to its overall size.
Purchasing a laser cutter and engraver is not the same as going shopping for something you need now; rather, it is more comparable to making a long-term investment. If they aren't completely happy with their current model, not many people can liquidate thousands of dollars and switch to something else.
If you give the list that follows a careful glance, you'll see that it contains machines in practically every price range, beginning with the range below $500 and finishing with the range below $1,000. Before making a final decision, it is important to consider your requirements and how you want to put your equipment to use.
Frequently Asked Questions:
How does Laser engraving work?
Laser engraving resembles printing. First, design the engraving. You may scan a hand-drawn image or use CoralDraw or AutoCAD. The laser driver sends the graphic. When you begin, the laser cuts or engraves the board's substance. JobControl laser software automatically optimizes the process by storing graphics in the printer driver. This simplifies daily use.
How do Lasers operate?
Engraving lasers feature a narrow beam of light with almost identical wavelengths. The light beam peaks become narrow and brilliant when the machine aligns them. The machine's optics concentrate light into a point smaller than a hair. Depending on the substance being cut or engraved, this powerful light will burn, melt, or evaporate, giving a crisp, flawless finish.
Is there anything that a laser with 0.2W cannot cut through?
It is possible to make cuts using a laser with 0.2W power on specific types of materials.
Conclusion:
Any company that does engraving as part of their day-to-day operations absolutely needs to have access to a portable laser engraver. Portable laser engravers are available at a wide range of pricing points, and we have researched and compared the seven models that we feel would be most beneficial to your company.