CO2 lasers like Glowforge open up a whole universe of materials for laser cutting and engraving. The brand provides a comprehensive list of suitable materials for its laser machines. However, people still experiment with new materials to test the limits of their powerful laser engraver.
The main problem with experimentation is that some materials can damage the machine, while others can lead to sensitization and allergic reactions. So, can Glowforge cut metal? Read this article to find out.
Suitable Materials for Glowforge: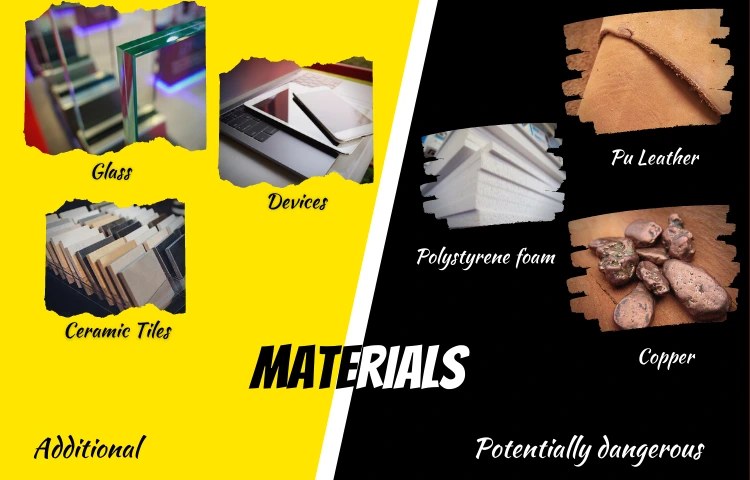 Glowforge is the top brand of high-end, powerful laser engravers and 3D printers. Still, you need to be very careful with the material selection and the laser requirements. It is because a variety of material qualities are available in the market, and each of them reacts differently to the laser. For example, the list of compatible materials includes hardwood.
However, some types of hardwood can damage the laser, while others produce harmful fumes that can severely damage your health. Similarly, Glowforge metal etching is another popular question among enthusiasts.
The metal's properties require special treatment before it is suitable for laser engraving. In short, it is best to consult the material providers before trying to cut it with Glowforge. Here is a list of materials suitable for Glowforge laser:
Brand's List:
Plywood
Acrylic (plexiglass)
Hardwood
Cardboard
Fabric
Mylar
Canvas
Rubber
Leather
Corian
Eva foam sheets
Tile
Paper
Food
Cork
Delrin
Additional Materials List From the Internet:
Ceramic tile
Glass
Titanium
Devices (like a laptop)
Marble
Rubber stamps
Stone
Anodized aluminum
Silver
Potentially Dangerous Materials:
PVC
PU leather
Vinyl
Copper
ABS
HDPE
Polystyrene foam
Fiberglass
Chrome
Coated carbon fiber
Size of the Material:
The size and dimensions of your laser engraver are the two most important factors when purchasing a laser machine. This factor determines the size of the material that you can use for laser tasks.
For instance, Glowforge's basic dimensions are 12 x 20.4 inches, and the maximum Glowforge cutting area is 11 x 19.5 inches. It means that you can use material with up to 214.5 in2 areas with your laser machine. 
Similarly, the cutting depth is another crucial factor of any laser engraving machine. The depth determines whether the material is suitable for cutting and engraving, just engraving, or only marking. In this regard, Glowforge max cut thickness depends on the material thickness.
For instance, if you remove the tray, you can put a material with up to 2-inch thickness. Your Glowforge can then produce an engraving of up to 0.5-inches, depending on the laser settings. Furthermore, the Glowforge passthrough slot can accommodate up to ¼-inch thick material with no length limits.
Step-By-Step Guide: How to Etch Metal With Glowforge?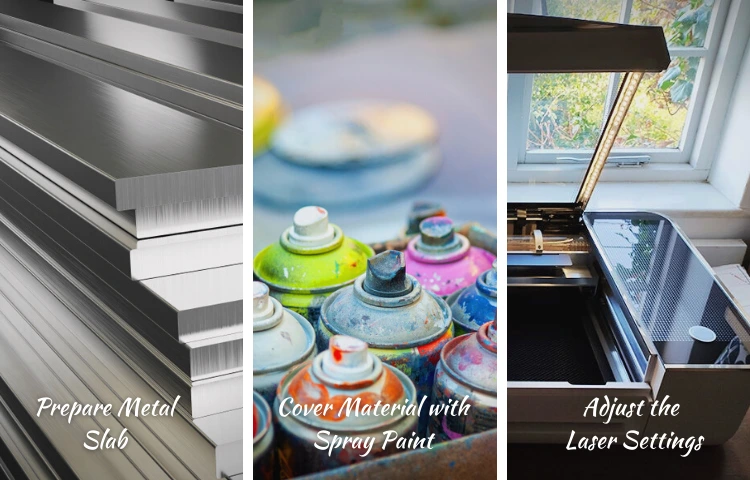 Glowforge is among the most powerful desktop CO2 laser machines. However, even such laser power is not sufficient to directly etch hard metals like copper, aluminum, and gold. Fortunately, you can use special paint and some tricks to etch on such surfaces. For the sake of simplicity, I will use an example of a copper and brass alloy slab.
Here's how you can etch metals with Glowforge:
Prepare the metal slab by rinsing it with clean water and completely drying it.
Cover the material with spray paint of your choice and let it rest for at least 12-hours.
You can adjust the laser settings by consulting the material provider or searching online.
Secondly, if you can't find information from these sources, you can always check various laser settings on the test models.
The following settings are suitable for a 0.5-inch thick copper-brass sheet:
| | | |
| --- | --- | --- |
| Settings | Engraving | Scoring |
| Speed | 1000 | 500 |
| Power | 20 | 15 |
| Passes | 2 | 2 |
Place the material in the laser work area and import the design into the software.
After engraving, you will notice some paint residue on the edges of the design.
It is recommended to use fine synthetic steel wool to remove the paint residue carefully.
For further detailing, you can use a resisting reagent like Patina with the design.
Patina enhances the design etch textures and preserves the design from environmental hazards.
Frequently Asked Questions:
How deep can Glowforge cut?
According to the Glowforge website, you can make a 0.5-inch engraving on a 2-inch material without any alteration. However, remove the passthrough tray to fit the 2-inch thick material. Otherwise, the passthrough tray only allows 0.5-inch materials.
What materials can Glowforge cut?
Glowforge uses a Class 1 laser that can cut several materials, including hardwood, paper, leather, plastic, tiles, etc. Moreover, you can experiment with the laser settings to use it with metals like anodized aluminum.
What is the Glowforge optional air filter?
Glowforge provides an optional air filter with all its products. The air filter is the size of a regular recycle bin that rests under the laser table. This filter takes air from the laser, filters it, collects the residue, and returns clean air back into the room. Alternatively, you can place the device near a window to release the non-filtered air from the laser machine to outside the room.
Conclusion:
Glowforge is home to some of the most powerful CO2 laser machines in the world. You can use your Glowforge printer to laser engraver and cut various materials like hardwood and leather. Furthermore, Glowforge can cut metal if you use the appropriate technique. I hope this article has provided enough information to get you started with your project.