Laser cutting is gradually becoming popular among DIYers and professionals alike. The affordable price, easy maintenance, and automation have led to an increase in laser cutters globally. The increasing use of laser cutting has also amplified the need for new and improved materials in the market.
In this regard, laser cutting MDF board is a common discussion in the laser community. However, not all MDF boards are suitable for a laser machine. Therefore, this article is all about, how to laser cut MDF boards and apply them in your business.
What is MDF?
Before starting the debate, it would be best to first understand its basics. MDF stands for Medium Density Fibreboard, an engineered type of wood. MDF is prepared by combining softwood and hardwood with resin binder and wax. It is a synthetic product specially designed for laser machines.
MDF has several advantages over standard wood boards. Firstly, it is cheaper and more easily accessible than others. Secondly, laser engraving MDF produces the least amount of residue and molt, and there is no chipping in the process. As a result, you will always end up with a professional and clean cut.
Lastly, MDF is a synthetic material, so it is eco-friendly as the trees are not harmed in their production. Overall, MDF is the most suitable material for laser cutting, even better than natural wood.
How to Cut MDF?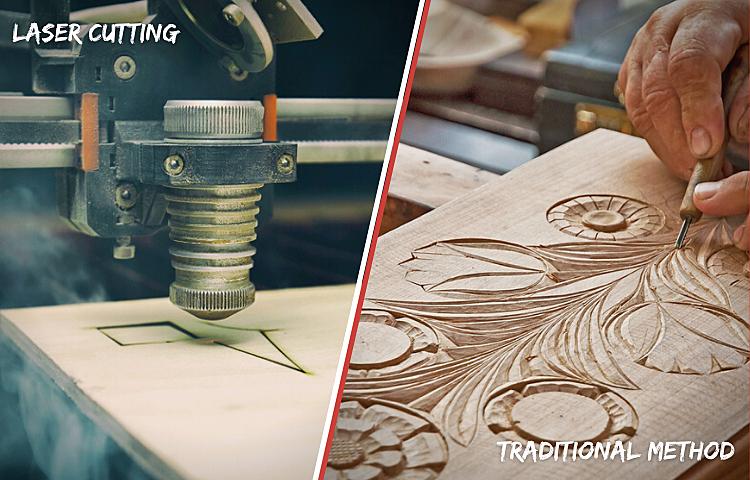 MDF is a common raw material for most aesthetic, complex, and simple designs. You can imprint all types of engravings and cuts on an MDF. However, the elegance and perfection of the design depend on the technique that you use. For instance, MDF can be cut with traditional blades, or you can simply laser cut MDF.
Traditional Method:
The most basic cutting technique is to use sharp knives and mechanical tools. The method is very appealing for home DIYers as it doesn't require purchasing a separate machine. However, the traditional method produces chips, requires precision, and the final cut is not perfect.
You can use a handheld rotary tool to cut curved MDF designs or a carbide blade with several teeth for straight cuts. It is best to use a blade with more teeth as it produces a fine cut and the least amount of chipping.
Laser Method:
The most efficient way to cut MDF is to use an MDF laser cutting machine. It is an automatic process in which computer software controls the laser path. Moreover, the final results are perfect, and no chipping is produced in the process. You can use any CO2 laser machine for the job, and the results are always accurate.
However, you need to understand the material's nature and adjust the laser settings accordingly for the best results. Otherwise, the powerful laser beam can damage the board or even the laser machine.
Applications of MDF Laser Cutting: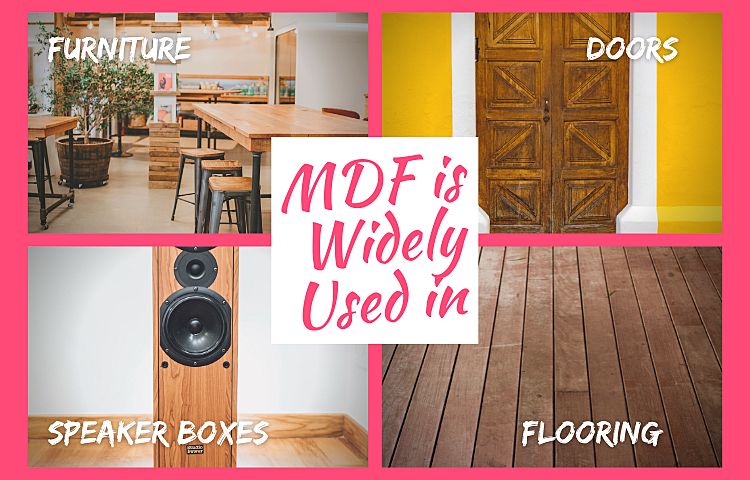 Medium Density Fiberboard or MDF is a versatile material with several beneficial properties. Manufacturers prefer MDF over other wood forms for its durability, affordable price, ease of access, strength, and consistency. It is a material that you can find in almost every local hardware store. Moreover, MDF is optimized for cutting as it doesn't produce any cracks, and the lack of knots in the fiber results in a clean cut every time. MDF is widely used in:
Furniture
Tradeshow booths and theater set construction
Doors and door frames
Speaker boxes
Decorative projects
Flooring
Wainscoting
Cabinets and shelves
Moreover, MDF is widely used in the interior design of both commercial and residential structures. It is a fine wood with no knotting or rings, making it perfect for planning and sanding. Secondly, MDF provides the perfect surface for painting, remolding, waterproofing, fireproofing, and curving. You can also replace plywood and real wood with MDF to save money and enhance durability.
Material Properties:
MDF or Medium Density Fibreboard is a synthetic material produced with a combination of hardwood, softwood, resin binder, and wax. It is engineered wood with better durability and lower price than real wood.
Moreover, MDF board laser cutting is a common practice as it doesn't produce cracks or chipping and results in a perfect cut every time. However, the material properties of MDF depend on the thickness and manufacturer of the board. So, it is best to consult the manufacturer and product specifications before using them in a project.
Secondly, MDF is optimized for both traditional and laser cutting. However, laser cutting provides a clean-cut, takes less time, and without making a mess. On the contrary, traditional MDF cutting is also a suitable option, but it produces a lot of chipping. So, it is recommended to use a laser machine to engrave or laser cut MDF boards.
How to Laser Cut MDF?
MDF is a soft material appropriate for most laser tasks. You can use any CO2 laser cutter at home or consult an online laser cutting service for the job. In this regard, you can use a laser machine for cutting and engraving MDF boards. Here's how:
Laser Engraving: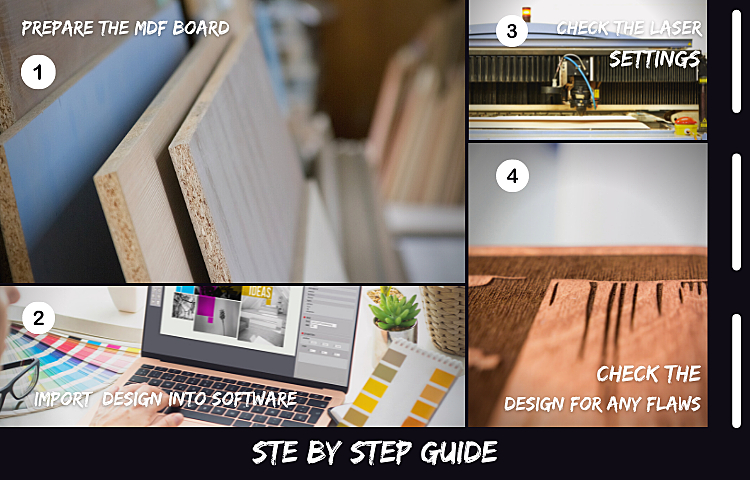 Laser engraving is a process to vaporize a material partially. The process produces shallow grooves on the material, forming the image or design. Moreover, the process is very quick compared to laser cutting, as the grooves only require a single laser pass.
Step-by-Step Process:
Prepare the MDF board and cut it according to the machine's work area.
Adjust the laser settings for engraving MDF on the laser software.
Import the design or image into the software. You can use Raster and Vector images for the process.
Press the print button and carefully monitor the laser path.
For best results, it would be best to first check the laser settings on a test section before using the actual MDF.
Once the engraving is finished, check the design for any flaws, and wipe it with a clean cloth to remove any residue.
You can enhance the engraving's durability by painting it with a protective coat.
Laser Cutting: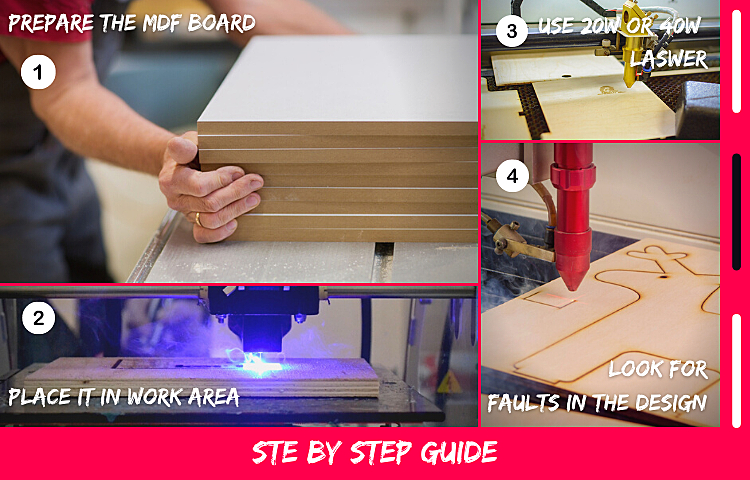 Laser cutting is a similar process to laser engraving. Unlike engraving, laser cutting involves cutting the material completely rather than just etching. So, you can use your laser to precisely cut simple and complex designs with minimum effort. Here's how:
Step-by-Step Process:
Prepare the MDF board and cut it according to the work area of the laser cutter.
Place it in the work area and close the acrylic protection lid of the machine.
Import the design image in the laser software and resize it according to the MDF dimensions.
Adjust the laser settings as described in the specifications of the MDF board.
Usually, a 20W or 40W CO2 laser is enough to laser cut MDF.
Press the print button and monitor the laser path.
Sometimes, it takes more than one laser path to cut MDF, so don't worry if it didn't work the first time.
Once the laser cutting is complete, examine the design and look for any flaws.
Although it isn't needed, you can polish the edges with sandpaper and some paint.
Benefits Of Laser Cutting On MDF:
Laser cutting MDF doesn't produce chipping, and you don't have to clean the work area after every project.
The cut is far cleaner than traditional methods.
You can cut complex and simple designs with a laser cutter even if you don't have any prior experience.
Laser cutting is a computer-controlled process, so the cut is accurate, fast, and effortless.
The laser cutting is an automatic process, so there is little to no chance of injury.
Traditional Cutting On MDF Vs. Laser Cutting On MDF:
| Laser Cutting | Traditional Cutting |
| --- | --- |
| Fast and accurate | Slow but effective |
| Takes less time | Inexpensive |
| Suitable for plane surfaces | Suitable for both plane and curved surfaces |
| Little to no chipping | Chipping and dust are compulsory. |
| Cuts complex designs | Only suitable for simple designs |
| No cracks or material damage | Material is prone to cracks and damage. |
Frequently Asked Questions:
Where to get MDF for laser cutting?
MDF is a common synthetic, engineered wood. So, it is available in all online and local hardware stores. In the case of the online store, Amazon is the best place to get MDF as it correctly shows the material specifications and comes from a trusted brand.
How much laser power is required for cutting MDF?
Fortunately, you can use any 20W-40W CO2 laser for cutting and engraving MDF. Almost all modern laser machines provide such laser power modules. However, it would be best to get a laser machine from a trusted brand like Glowforge or Ortur.
Do all MDF boards have Formaldehyde?
Yes, most manufacturers use Urea-formaldehyde based resin binders. As binder is a key component in the production of MDF, so it is most likely that all MDF have some percentage of formaldehyde in them.
Conclusion:
MDF is among the most common materials used for laser cutting and engraving. It is a synthetic wood engineered to provide perfect cuts with little to no residue. However, it is best to understand the material's nature before testing it in any project. Therefore, this article discussed all the secrets of MDF laser cutting; I hope it helps you in the job.