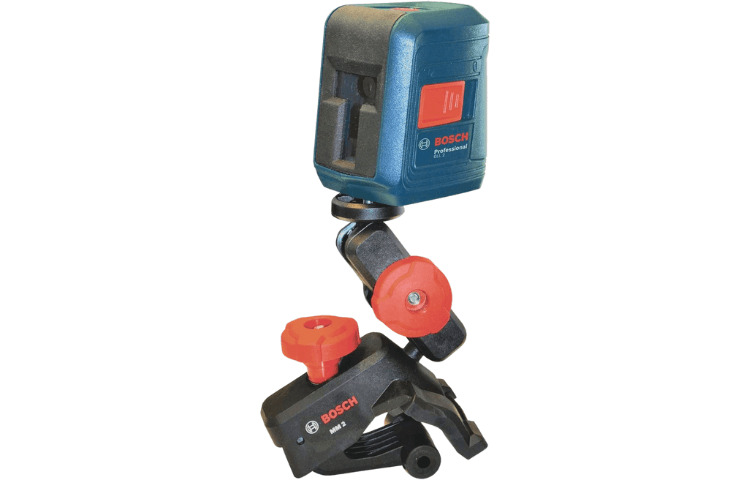 Bottom Line:
A space-saving option for leveling and alignment, the Bosch GLL 2 10 is accessible now. It has an Intelligent Pendulum System that automatically levels itself and alerts the user to any point that is out of level. 
| | |
| --- | --- |
| Product Name | Bosch GLL 2-10 |
| Brand | Bosch |
| Type | Line Laser |
| IP Classification | IP 54 |
| Number of Laser Lights | 2 pcs |
| Projection | 2 lines |
| Working Range | 10 m |
| Max. Measurable Distance | 10.0 m |
| Max. Measurable Temperature | 50.0 °C |
| Min. Measurable Temp. (minus) | 10.0 °C |
| | |
| --- | --- |
| Power Source | Battery |
| Battery Type | AA |
| Item Weight | 0.49 kg |
| | |
A lockabletch slider is included in the system so that it may be transported safely. The straightforward use of a single button allows the user to select between cross-line, vertical and horizontal modes based on the task at hand, and it offers an accuracy of 3/16 in. at a distance of 30 ft.
For the most significant amount of adaptability, the unit comes with a flexible mounting mechanism that may attach itself to virtually any interior surface. In the manual mode, the user can lock the cross-line, enabling the operator to close the line and set the level at any angle they want.
Product Description: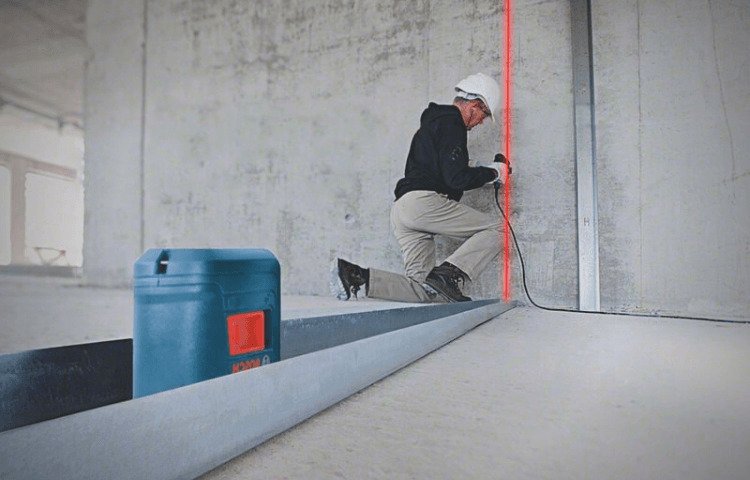 You are aware that most companies who make power tools have a cross-line laser in their product lineup. Regarding lasers and other measurement devices, Bosch offers a wide variety of options. One of my all-time favorites is the Bosch GLL 3-80, which comes in at a much higher price than its predecessor, the Bosch GLL 2.
Even though the three-plane laser is fascinating to use, not everyone needs all three lines. In situations like this, having a cross-line laser that can measure in two planes like the Bosch GLL 2 that doesn't strain your finances may be pretty helpful.
Bosch Gll 2 10 Laser Features:
The mode selection keypad is simple and easy to grasp.
15m line visibility.
Lock for the pendulum to ensure safe transit and maximize slope functionality.
Protection up to IP 54 for the most demanding work environments.
A precision of 0.3 mm per meter.
Horizontal and vertical line modes project two lines in any direction, individually or combined, to facilitate a wide variety of leveling and aligning tasks.
With only the push of a single button, you can quickly switch between horizontal, vertical, and cross-line modes and turn the tool on or off.
A flexible mounting mechanism clamps many surfaces in a suitable location for speedy and straightforward installation.
The intelligent pendulum leveling mechanism auto-levels detects and informs when there is an out-of-level condition and has a switching slider that locks for travel.
Product de laser de class II has less than one milliwatt output power.
Because of its compact form and user-friendly operation, it is effortless to handle.
Two AA batteries serve as the power source for the Bosch GLL 2, which creates both a horizontal and a vertical line. You can use any one of these lines on its own, or you can use both of them at the same time.
The precision of the cross-line laser can be as high as 3/16 inches at a distance of thirty feet. The laser ranges around 30 feet and weighs approximately.5 pounds. This was created by Bosch using a red laser with a wavelength of IIM 650nm and a power of 1 mW.
One solitary button, colored red, can be found on the very top of the laser. Simply giving it a single press will activate the laser. The lines in the horizontal and vertical directions will be active simultaneously.
Once you have pressed the button, you will see a horizontal line. With one more push of the button, you will obtain a line that runs vertically. After the final push, the device will switch off, and you must repeat the pattern to acquire your desired line.
A sliding switch may be found on the side of the laser. The laser may now be locked and unlocked with this. The laser can automatically level itself to within 4 degrees. This laser provides you with three different use options.
You have the option of using the mounting bracket that is provided with the product, using a tripod that has a 1/4-20 mounting thread, or using it on a flat surface. As was just said, the laser will create not one but two distinct lines: vertical, horizontal, or both simultaneously.
One of the features that I appreciate about the laser is that it has a green or red light on the top of it. When the green light comes on, it indicates that the laser has been unlocked and that the self-leveling feature will now take control. If you observe a red light, this means that the laser has been secured.
A mounting bracket is included with the laser purchase. Thanks to the mounting bracket, you can adjust the laser to appear on any level and point it in any direction. I feel obligated to tell you that this mount is among the best we have observed. Simple to operate and exceptionally adaptable.
The Performance of the Bosch GLL 2 Laser: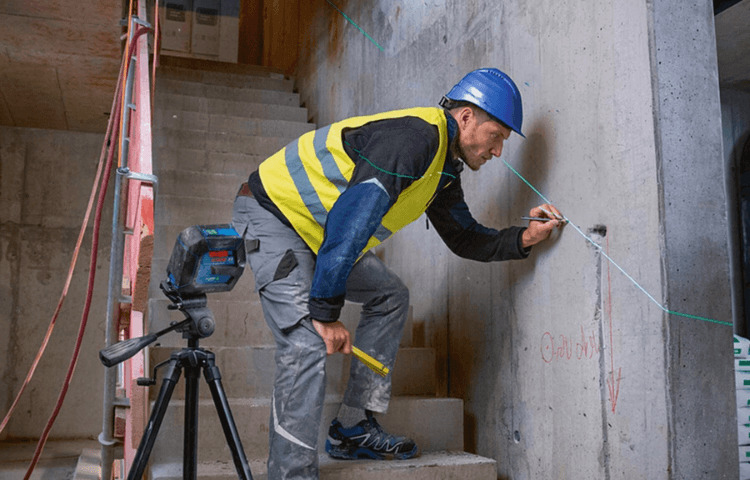 In most cases, mounting devices aren't something I find to be handy. Each serves a specific function, but I've encountered quite a few that don't allow unfettered mounting or mobility.
Using a cross-line laser, I can confidently say that this mounting mechanism is the best and easiest one I have seen. Because of this mounting mechanism, setting up your line in the location of your choice is quick and straightforward.
The storage option is the one feature missing from this laser that I like to see included. After you remove it from its packaging, all that is left is the laser and its mount. It would have been convenient to have a pouch or container made of plastic.
When used inside, the red line is quite visible due to its vivid color and the fact that it is effortless to spot. This is around five inches away, and you should have no trouble picking up the line.
Accessories and Attachments for Gll 2: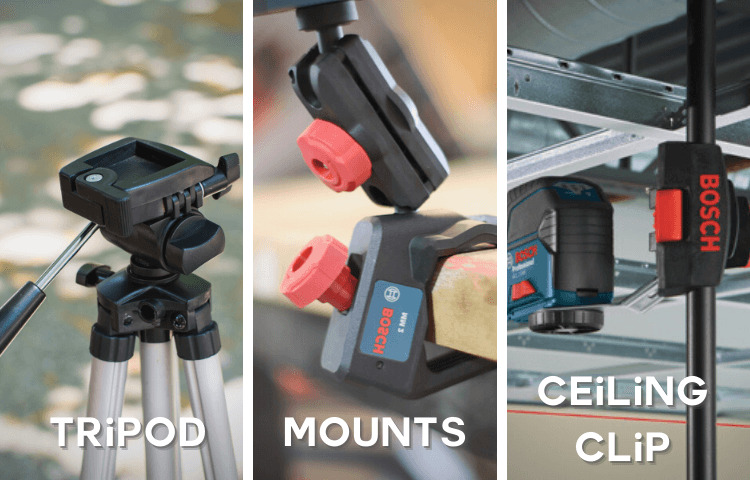 Mounts
Pole System
Positioning Devices, Ceiling Clips
Tripods
Bosch GLL 2 Laser Value:
The Bosch GLL 2 can be purchased on Amazon for around $57. I know you can get an additional cross-line laser for a lower price and more money. The cost of $57 is an absolute value considering that Bosch is one of the market leaders in this area.
Considering that this mounting mechanism makes it possible to set a line wherever there is no way
Equipment and Application:
It may be utilized for various interior applications, including installing shelves, doors, and sockets, mounting drop ceilings; mounting frames; and laying floor tiles.
The GLL 2-10 Pro has an operating range of up to 10 meters and can automatically level itself to within +/- 4 degrees in fewer than four seconds. When the device is turned off, the pendulum will automatically lock into place so it may be transported without risk.
Ideal for use in conjunction with the optional rotating mount RM 1 Professional, which may be rapidly mounted using a straightforward sliding mechanism.
Conclusion:
When it comes to lasers that can be used in cross-line applications, the line of lasers manufactured by Bosch is hard to top. They have many lasers available, all of which have performed exceptionally well in our tests over the years. Both long-lasting and trustworthy, it is just what one would want for use in the field. The cost is reasonable, the mounting mechanism is helpful, and it is not difficult to follow the line.