Tiles have greatly eased home décor with their sophisticated structure. However, it is important that all the tiles are perfectly aligned, whether you are tiling the floor, ceiling, or walls. In this regard, workers used conventional tools like spirit levels in the past, but those tools weren't as accurate. As a result, you will find numerous tiling malfunctions in old constructions. However, times have changed, and modern laser-powered tools rapidly replace conventional tools. For example, most construction companies use laser levels instead of spirit levels for tiling.
The pinpoint accuracy of a laser allows the workers to align every tile to ensure maximum benefit perfectly. The device emits an easily visible laser beam that forms a virtual plane on the structure so that you don't need to check the alignment after every tile. However, finding the best laser level for tiles isn't an easy task, especially with so many options available in the market these days. Therefore, I have compiled a list of the top 9 best laser levels for tiles so that you don't have to research anymore.
Top 9 Best Laser Level for Tiles:
1. DEWALT Line Laser DW089K:
DeWalt is a well-known brand that provides excellent tools and gadgets for professionals. Their products are among the few that last for a lifetime without causing any trouble. Moreover, DeWalt tools offer great value for the price. For instance, the DW089K is a versatile laser tool that you can use on several indoor projects and some outdoor ones as well.
Features:
This line laser level emits a bright laser beam in both vertical and horizontal directions. So, the user can view perfect squares throughout the structure. Moreover, you can mount the device on the ground or align it at up to a 90-degree angle to project an accurate laser plane for over 50-feet. So, you don't need to move the device when working on different sections of the room.
One major benefit of this product is that it doesn't require a tripod unless you are working outdoors. The built-in magnetic mount ensures that the device firmly attaches to any metallic surface. As a result, the laser won't move on its own unless destabilized by someone. Moreover, DeWalt claims that this laser is twice as brighter than any other DeWalt laser level for tiles. Those who are familiar with the brand's reputation understand the value of this claim.
Application:
Similarly, the DW089K is an easy-to-use device that can be operated even by unskilled laborers. The simple one-button operation allows the user to form the virtual plane without any complications. Furthermore, it is a battery-powered device that can operate for up to 30-hours on just four AA batteries. Overall, it is the perfect laser level for small companies who want the most for their budget.
2. Huepar 902CG Self-Leveling:
Huepar is yet another renowned brand for professional and heavy-duty products. All products by Huepar are consistent in performance throughout their lifespan. Moreover, they provide such features that you can only find in high-end premium devices but at an affordable price. Therefore, the brand is highly trusted by construction companies and DIYers. In this regard, the 902CG is a top-notch product that has been enlisted as the best green laser level of 2022 so far.
Features:
The 902CG emits a powerful green laser beam that is easily visible in indoor and outdoor conditions. Thus, it is a versatile tool that you can use for interior décor and outdoor jobs without any alteration. The main benefit of a green laser over red is that it has a higher wavelength that is better visible under the sun than the red laser.
Similarly, the double crossline feature simultaneously emits the laser plane in horizontal and vertical axes. You can also lock the laser plane at the desired settings for even better accuracy. The self-leveling feature is provided by the intelligent pendulum system built inside the frame. So, you can save the first 30-minutes or more as the device calibrates itself.
Application:
The 902CG is also an effective laser level for floor tiling in swimming pools. The pulse mode increases the laser's visibility by almost three times. However, you must use a laser detector to benefit from the pulse mode. In short, if you are looking for an all-in-one solution to all your leveling problems, I suggest that you get this laser level.
3. Bosch GTL3 65ft Square Laser Level:
You must have heard about Bosch if you have any experience with hardware and tools. The company is notorious for the most long-lasting and efficient tools globally. In some countries, Bosch appliances are even included in textbooks to set the standards. So, if you choose to buy the Bosch gtl3 tile laser level, you won't ever regret your decision.
Features:
The Bosch gtl3 professional tile laser is the standard tool for most construction companies. However, it is equally effective for DIYers as you don't need a professional degree to use it. The device emits powerful red laser lines in all directions that you can easily view for up to 60 feet. Similarly, you can control various features directly from the device without consulting the manual or tutorial book.
The pinpoint accurate laser plane of the Bosch tile square laser level ensures that it projects perfect squares on the surface. Moreover, you can further verify the device's integrity by using the switchable 45-degree line. It means that you won't ever miss the alignment if you correctly follow the laser plane.
Applications:
Another reason to choose this product for your job is that it is durable. The device is certified IP54 waterproof and dustproof by ASTM and other authorities. So, you don't need to worry about water damage in the field. Lastly, the laser doesn't need a tripod when working indoors. The tool forms an elevated laser beam on the surface to make it even clearer at long distances.
4. Tavool Line Laser Level Tool:
Green VS. Red laser level is a popular debate in the construction community these days. According to professionals, the green laser outperforms red in all aspects, be it brightness, applications, power, or versatility. Fortunately, Tavool's line laser level makes use of this technology, making it accessible for everyone. It is an entry-level tool usable by both professional and non-professional operators. So, if you are new to laser technology, I suggest that you start with this laser level.
Features:
Tavool's line laser is a user-friendly device specially designed for beginners and DIYers. Its one-button operation ensures that the user faces no difficulty in mastering the tile laser leveling system. The tool emits a powerful green laser on the X and Y axis, forming a perfect square. Moreover, the usage is not limited to tiling only, and you can also use it for other projects that require high accuracy.
The laser is powered by two AA batteries that provide a backup of up to 9-hours of continuous usage. Moreover, you can further increase the battery timing by turning on the power-saving mode. That's right! The one-button offers variable laser brightness between 80% to 65%, maximizing the battery backup.
Applications:
Similarly, it is a self-leveling device that can calibrate itself for up to 4 degrees. However, you must place the device on a plain surface to ensure quick leveling and maximum accuracy. Furthermore, the green laser is two times more powerful than any red laser on the market. So, feel free to take out your laser level in those hard outdoor projects.
5. Makita SK104Z Self-Leveling:
Makita is by far one of the most successful brands of hardware and construction tools. The brand is the direct competitor of DeWalt without any second opinion. So, it won't be wrong to expect a little extra from their professional-grade products. In this regard, Makita SK104Z is an efficient tool highly trusted by most professionals. It offers the same versatility and features as the top-notch products but with a few improvements. So, if you are only looking for the best laser level that the market has to offer, I suggest that you check this one out.
Features:
Makita SK104Z is a self-leveling device that can correct up to 4 degrees in less than 3-seconds. You can only find such accuracy in either Makita or DeWalt laser levels. However, it has a lot more to offer than its DeWalt counterpart. For instance, it is a battery-powered tool that lasts for more than 35-minutes on four AA batteries. So, now you can push those work hours even more to increase your productivity.
Another reason to prefer this device is its extreme durability. Unlike DeWalt's laser level, it comes with a rugged design. The rubber covers all the important parts of the tool, making it resistant to impact and fall damage. However, the rugged casing doesn't add much to its weight, so it's still safe to call it a lightweight laser level for professionals.
Applications:
Similarly, the crossline laser can project a visible plane on almost any surface. The magnetic mounting system lets you place the device vertically, horizontally, or in an angled position. Therefore, it is a multi-purpose tool suitable for tiling and is also the best laser level for electricians. You can even find several other uses for this powerful laser level as you experience its true potential.
6. SKIL LL932401 Crossline Laser:
Skil is a well-known brand of hardware and construction tools for professionals. Their devices make every project so easy that it cuts down the work duration by almost half. Moreover, the reliable performance and superior features only increase your company's dependencies over time. For instance, the Skil LL932401 is a reliable and efficient laser level that has won many hearts in only a short period of time. So, if you are looking for a laser tool that you can trust, I highly recommend this product to you.
Features:
Skil's laser levels are highly effective, which makes every job far easier. For example, it can easily replace several of your tools, including measuring tapes and levels. The tool emits a visible laser plane along with projection marks for up to 65 feet. Moreover, you can easily change the spacing between the marks by moving the device closer or farther away.
Similarly, Skil introduced another vital feature in their laser levels that most prominent brands like DeWalt and Makita failed to do so. The laser level comes with a long-lasting rechargeable battery that can take you through a whole day on a single charge. Moreover, the recharging time is less than 2.5-hours, making it worth every cent.
Applications:
Another reason to buy this product is its powerful green laser beam. Skil has greatly improved the green laser technology to make it more visible under direct sunlight. A typical green laser is only visible for less than 50 feet, while Skil's laser level projects fade-less laser beams for up to 65 feet. So, it won't be wrong to declare it the best outdoor laser level of 2022.
7. Johnson Level & Tool 40-0921:
Unlike some brands, Johnson doesn't brag about its products. Instead, they provide the highest quality, durability, and efficiency and let the product do the talking. In this regard, Johnson tile and flooring laser level is an effective device suitable for professionals and DIYers alike. The device is user-friendly and comes with pure laser power. So, if you are looking for a simple yet reliable laser level, I suggest that you check this one out.
Features:
Johnson's 40-0921 is a versatile laser tool that you can use on multiple projects. This tool is all you will ever need, whether it is a laser for tile layout or hanging pictures. The device emits a powerful red laser that travels farther than any of its competitors. Where most laser levels can only reach 65 feet or less, Johnson can reach up to 100 feet without any problems.
Moreover, its self-leveling pendulum locking system is more efficient than others. The device can calibrate itself for up to 6 degrees in minimum time. But what if you need more? In that case, the device comes with a built-in flashing system that lets you know if you need to adjust the balance.
Applications:
Another benefit of the Johnson floor and wall tile laser level is that it comes with multiple laser modes. For instance, you can use the crossline system for straight surfaces or the 360 degrees graduated laser plane for angled locations. In short, wherever you need a laser level, Johnson's device will serve you well.
8. Firecore F112R Horizontal/Vertical Laser Level:
The benefit of laser levels is that the market offers an option for all types of uses. For instance, if you are a large company, you can go for a high-end product. Similarly, small businesses and DIY projects can use a medium-ranged laser level like the Firecore F112R. It is a basic yet effective device that offers all the necessary features that you need to execute the project. So, don't worry if you don't have a large budget; Firecore has the perfect option for your needs.
Features:
F112R is a medium-ranged laser level equipped with everything you need for a basic project. For instance, the powerful laser beam offers a 1/8-inch accuracy for up to 33 feet. So, you can use the laser for laying tiles in rooms and large halls. However, the laser beam isn't visible under the sun, so if you are working on an outdoor project, I suggest that you go for a better option.
Firecore has introduced an improvement to self-leveling technology. Usually, a self-leveling laser doesn't allow for angular projections as the pendulum doesn't lock at any angle except 90 degrees. On the contrary, the manual mode of F112R allows you to lock the pendulum and pivot the laser level at any angle you need. So, the device is perfect for tiling the stair walls and other projects that require angular alignment.
Applications:
It is a versatile tool that you can use for different purposes. The one-button operation allows you to navigate between the three laser modes to best suit your needs. For instance, you can use this device as a plumb, level, and crossline laser level. So, a single F112R can easily replace half of your leveling tools without costing you a fortune. Thus, the product is suitable for small projects and home DIY tasks.
9. WOKELINE WK3CG Laser Level:
WOKELINE is an emerging yet trusted brand in the world of laser levels. The brand offers various high-quality products that are equally beneficial for professionals and DIYers. Moreover, they also provide other construction equipment and gadgets with premium quality and a reasonable price tag. In this regard, the WK3CG is an excellent product that deserves to compete against top-notch brands like DeWalt and Bosch. So, if you aren't troubled by testing new products, I guarantee that this laser level won't disappoint you.
Features:
The list of features for WOKELINE WK3CG can go on for several pages. The most notable feature is surely its triple laser beams in all planes. The device projects two powerful green laser beams in the vertical plane and one in the horizontal plane. All lines rotate at a fast speed in 360 degrees, forming a consistent laser chalk line in all directions.
Similarly, the device is IP54 certified for water and debris resistance. It means that you don't need to worry about minor water splashes and dust when working outside or in a newly constructed building. Furthermore, you can also adjust the height of the laser plane by tuning the magnetic pivoting base. Lastly, the device comes with one spare battery that you can quickly swap in the field to double the battery backup.
Applications:
Considering all these features, it won't be wrong to say that WK3CG is one of the most versatile laser levels on this list. For instance, you can use the 3×360 feature for leveling, grading, plumb leveling, and alignment. Furthermore, the powerful green laser is visible for up to 130 feet under the sun, making it the perfect choice for outdoor projects. Overall, this product offers professional-grade accuracy and quality at an affordable price.
Why Should You Use a Laser Level for Tiling?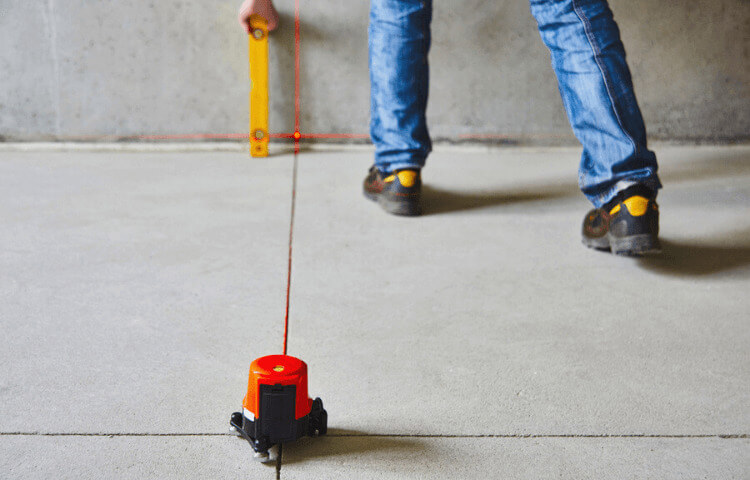 Tiles have become almost compulsory for any modern structure. The tiles' simple yet effective design protects your walls, doesn't fade over time, and enhances the interior's elegance. However, one must take great care when laying the tiles. If all tiles aren't perfectly aligned, then the imperfect ones stand out very easily. Therefore, you need a floor and wall tile laser level to ensure that all tiles are at a perfect right angle to each other.

A laser for laying tile is a simple device that emits a powerful laser beam on the vertical, horizontal, and sometimes angled axis. These lines form a virtual plane on the surface that acts as a guiding system to align all the tiles perfectly. Moreover, you can further enhance the laser's accuracy by balancing it perfectly, which can be complex even for professionals.

Fortunately, some modern self-leveling laser levels or pendulum locking laser levels make the job even easier. The pendulum can correct itself from anywhere between 4 to 6 degrees within a few seconds. Similarly, you can also find green laser levels that offer better visibility than red ones over long distances. In any case, every professional and DIYer must use a laser level for laying tiles for the best results.
Buyers' Guide: How to Choose the Best Laser Level?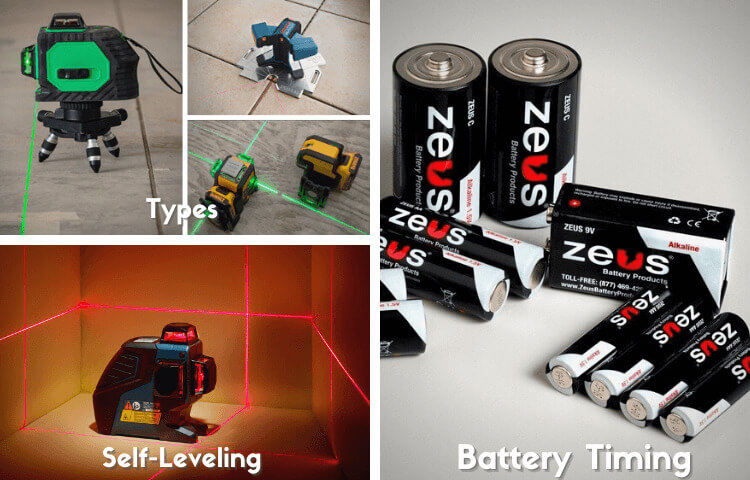 Laying tiles has never been easier, thanks to modern laser technology. Nowadays, almost every company, worker, and DIYer use a laser level for various tasks. The laser emits an accurate laser beam on the surface for guidance throughout the project. However, it is important that you purchase the best laser level on the market for increased productivity. The problem is that the market is oversaturated with laser levels, all claiming to offer the highest grade of quality. Here are a few factors that can help you decide which product suits you the best:
Type of Laser:
The first question you must ask is whether you want a bright and crisp laser. Nowadays, you can find two types of lasers in the devices, i.e., red laser and green laser. A red laser is an economical option that works best for short distances and in indoor conditions.
However, if you are going to work in a bright area with long stretches, only a green laser level can serve you the best. The problem is green laser levels are comparatively more expensive than red. So, if you have the budget, then go for a green laser. Otherwise, you can still manage with a red laser level.
Self-leveling:
Self-leveling or pendulum laser levels are the talk of the market these days. These modern laser levels use a pendulum locking system to correct the device's level before operation automatically. In my opinion, you must always go for a self-leveling device as it can save you a lot of time. Another benefit of self-leveling laser levels is that they offer higher precision and accuracy than manual ones.
So, you will always have perfect accuracy if you let science do the job. Similarly, you can also use an improved self-leveling device with a manual pendulum locking system. This feature allows you to lock the device and project the laser plane on inclined surfaces.
Battery Timing:
Another important factor to consider before choosing a laser level is how much battery backup it offers. Almost all laser levels are portable devices that use AA or rechargeable batteries to work. However, the maximum duration for which the level can continuously function in one recharge dictates your productivity. In most cases, a laser level that lasts for 6-hours or more is perfect for you. However, the rechargeable laser levels get the upper hand as they don't need any maintenance costs. On the contrary, if you prefer mobility over maintenance cost, you should go for an AA battery-powered laser level.
Versatility:
The beauty of laser technology lies in its versatility. It is overwhelming how a simple beam of light can enhance accuracy, provide guidelines, and cut solid metal sheets. In this regard, the laser level is also a versatile device that can replace several of your equipment.
For instance, you can find some advanced laser levels that can be used for tiling, grading, leveling, plumb leveling, hanging pictures, and aligning various décor items. Therefore, when choosing a laser level, it is important that you don't only consider the current project. For instance, you can easily purchase a laser level with different modes to help you out in several other projects.
Features:
Besides the necessary aspects, some laser levels provide extra features that make your job even easier. For example, you can choose a laser level with improved laser technology to reach even longer distances. Similarly, some laser levels offer a pulse mode that works with a detector for working on outdoor projects. You can find elevated laser planes in some laser levels to better view standing and angled sights. Lastly, some laser levels offer variable laser brightness that you can use to increase the battery backup. In any case, you must first evaluate your requirements before finalizing your purchase.
Frequently Asked Questions:
Conclusion:
Laser levels are rapidly replacing conventional leveling tools like the spirit level. The main reason is that the laser levels offer pinpoint accuracy and form a consistent laser plane that cuts off the project duration. You don't need to check and re-check the alignment manually if you are using a laser level in the project.
However, it is difficult to find high-quality products suitable for professionals. Therefore, this article provides the top 9 best laser levels for tiles to help you make an intelligent purchase.