Rotary laser levels are probably the most important power tools to level ground for construction projects. You can use a rotary laser for either digging down or building up for construction grading.
Similarly, it also helps generate a virtual indoor plane to ease renovation works. In any case, rotary lasers cut off the time required to take site measurements during a construction project accurately.
Construction workers prefer a laser level over analog tools because the laser offers pinpoint accuracy regardless of site conditions. Therefore, I will provide a basic guide about how to use a rotary laser level so that you can enhance your job accuracy.
What is a Rotary Laser Level?
A rotary laser level is a device that produces an accurate beam of light to establish a horizontal or vertical plane. The laser only shoots a single dot that spins close to 1200 RPM forming a curved or straight path around the room. Usually, a straight-line laser is used for indoor tasks, and a rotary laser is used for outdoor activities.
However, the rotary laser level is a multi-purpose tool that combines with various attachments for various sites. For example, you can use a rotary laser level with a detector grading outdoor structures.
Difference Between Red and Green Rotary Laser Levels: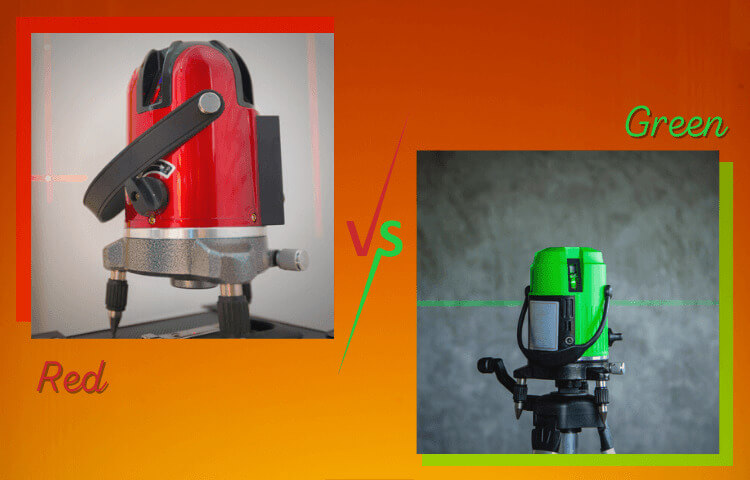 Laser is the best way to measure any object accurately. However, the laser beam's color plays an important role in invisibility. For instance, the rotary laser levels are available in two colors, i.e., green vs. red. The main difference between red and green lasers is visibility and price.
Both green and red lasers are equally accurate and efficient. However, the green laser is slightly brighter and easily visible in indoor conditions. Moreover, the green light produces a crips line that is even visible from a distance. The only problem is that the green laser diode is relatively expensive than the red laser.
On the other hand, red is comparatively hard to notice from a distance. So, if your job is mainly based on indoor areas, the green laser would be the perfect investment for the business. However, if you have an outdoorsy job, neither red nor green laser will be perfectly bright. So, you can purchase the best laser that suits your budget.
Rotary Lasers with Horizontal or Vertical Levelling?
Rotary lasers form a virtual plane level through a powerful laser beam. In most cases, the laser produces a horizontal beam that gives the right level as soon as you turn it on.
Moreover, the laser stops working if it is disturbed or tipped over. Thus, you will never get inaccurate readings with a self-leveling rotary laser level.
Similarly, the high-end rotary lasers like the 20V Dewalt laser level offers vertical leveling along with horizontal. You can use such a rotary laser level for grading, steel structures, plumbing, and frame leveling.
Which Rotary Laser Level Should I Choose?
Gone are the days when the traditional spirit level was the only equipment for both professionals and DIYers.
Nowadays, everyone uses a laser level as it is faster, affordable, user-friendly, and much more accurate than spirit levels.
However, there are certain factors that you must consider before purchasing any product from the market so that you only end up with the best rotary laser level possible.
Accuracy:
Rotating laser degrees are gauged by exactly how exactly they go to a particular range, with some gauged at about 30 feet to as high as 100 feet. As you can visualize, the resistance tightens up as the rate factor increases. When you are picking a rotating laser, you will discover the majority of about 1/8-inch precision at 100 feet while the premium devices.
Range:
Jobsites are difficult atmospheres where staff participants topple as well as or else damages delicate devices. Yet, since the rotating diode of a rotary laser level's transmitter is fragile, it is also more crucial to always keep it safe from potential damage. Make sure you select a rotary laser degree with some integrated protection like rubber bumpers, or arms/manages for impact resistance.
Self-leveling:
Rotary lasers have 2 primary parts. A transmitter, commonly mounted on a tripod with a rotating diode that discharges a laser beam of light and a receiver, installs on a big leader called a transit or grade rod. The transit is used for laser detection to accurately identify the ground and level difference.
Cheaper transmitters might have bubble degrees to accurately level the device before using it. Yet higher-end transmitters are self-leveling within 4 or 5 levels. While this is practically optional, it isn't really in our book. We will not utilize one that does not have this attribute.
Rotational Speed:
Several high-end rotary lasers come with optional variable rotation speed. It may seem like a strange function, but it doubles its efficiency. For instance, a fast-moving laser helps accurately detect the beam.
Similarly, a slow-moving laser is easy to detect in both indoor and outdoor conditions. Therefore, a rotary laser with variable rotational speed makes it suitable for multiple conditions.
How to Use a Rotary Laser Level?
Set up your rotary laser level on a flat surface. Elevated surfaces often lead to inaccurate measurements, and the device may not function correctly.
In this regard, you can use a tripod to mount your laser level. However, sawhorses can also be used as an alternative.
Mount the laser on your desired surface and balance the bubble. Make sure that the bubble is as close to the circle's center as possible.
Some rotary lasers are self-leveling. You can skip the above steps if you own the best self-leveling rotary laser. However, you still need to give some time to the device to level itself before you can use it.
Otherwise, a manual leveling laser comes with a balancing bubble. The device is accurately leveled when the bubble stays at the center of the circle and vice versa.
The laser will beep continuously as soon as it connects with the receiver. Usually, the process takes up to 30-seconds, so take your time.
Aim the rotary laser level at the wall or other surface at which you want to find the level and press the rotation button to form a virtual plane.
Alternatively, you can adjust the speed on some devices for a crisp laser beam.
Rotary Laser Level Applications: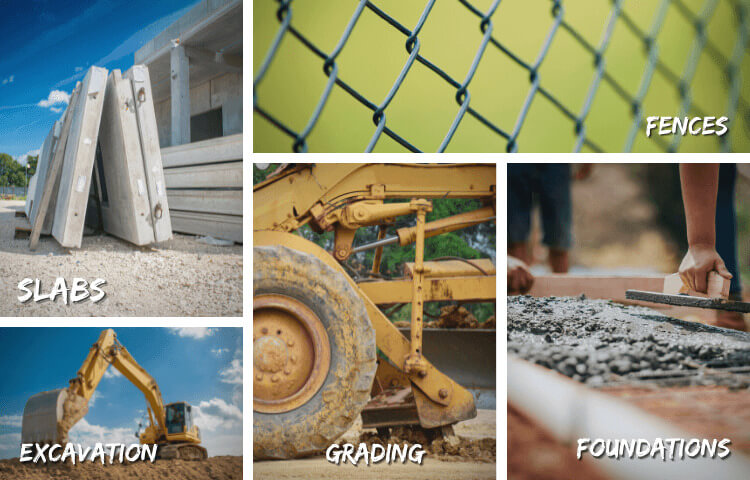 The rotary laser level is a multi-purpose device that you can use for various jobs. Here are a few basic applications:
Grading
Excavation
Foundations
Acoustic Ceiling
Framing
Trim Work
Slabs
Window & Glass
Fences
Interior Work:
Usually, a line laser is used for indoor tasks. However, you can also use a rotary laser level to increase your work efficiency. Moreover, you don't need a laser mount or a detector when working indoors. It is because the indoor sites have a small area, and you can mount the laser device on the ceiling and walls.
Exterior Work:
Rotary laser levels are perfect for outdoor projects. The laser has a higher range and better accuracy than any other. Furthermore, you can adjust the rotational speed on some devices for better detection. However, you need to mount the laser on a tripod to level the device. You will also need a laser receiver system to detect the laser on large outdoor sites.
Frequently Asked Questions:
How to use a rotary laser level for grading?
A rotary laser level is a fairly simple device as compared to spirit levels. All you need is to mount the laser on a flat surface or a tripod stand. Level the laser device and set it up. The area above the right level needs to be excavated, while the area below the laser level must be filled.
How to use a rotary laser level for pole barns?
Pole barns are usually installed outside. So, you need a rotary laser level mounted on a tripod and a laser receiver system. Start with the right level and slowly scan the whole site. Excavate the elevated portion or fill the downslope to get a flat surface.
What is the difference between a green and red rotary laser?
Both green and red rotary lasers are equally accurate in their work. However, the green laser produces a crisp plane level as compared to red. Moreover, green laser devices are comparatively more expensive than red ones.
How to use a rotary laser level to set the grade for a concrete pad?
Concrete pads need flat ground, and the real-life ground condition is far from perfect. Therefore, you need a rotary laser level to set grade, excavate the elevated surface, and fill up the downslope areas. Now you can lay the concrete pad on the flat surface.
How to use a Dewalt rotary laser level?
Dewalt rotary laser levels are among the high-end devices. They offer variable rotational speed and self-leveling. So, you can skip the leveling part and directly jump to using the laser. Turn on the device, form a true slope, and optimize the ground level accordingly.
Conclusion:
Rotary laser levels are highly effective for construction and renovation projects. They form a virtual plane level, and you can form a flat surface by comparing the ground level with the right level.
However, there are certain guidelines that you must follow to ensure accurate measurements. This article provides a detailed guide on how to use a rotary laser level for beginners and professionals.