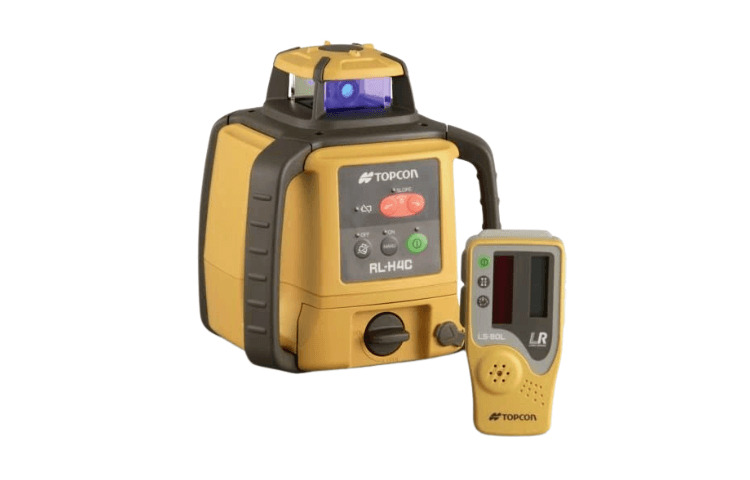 Bottom Line:
As a general purpose rotating laser level, the Topcon RL-H4C has all the features you would expect from Topcon. With a long range, you can work farther before resetting the device.
| | |
| --- | --- |
| Brand | Topcon |
| MPN | 313980752 |
| GTIN | 4582130471326 |
| Model | RL-H4C |
| | |
| --- | --- |
| Product | Rotary Laser Level |
| Leveling Method | Electronic Auto-Leveling |
| Accuracy | Horizontal |
| | |
| --- | --- |
| Weight | 5.3lbs |
| Depth | 7.0 in |
| Width | 7.7 in |
| Length | 8.5 in |
Are you debating whether or not to buy a rotary laser level, such as the Topcon RL-H4C Laser Level? We realize it… since you must locate a laser that is not just hardy but also provides a high level of precision. Nothing is more frustrating than spending your hard-earned money on something, only to be unhappy with your purchase.
This is our evaluation of the Topcon RL-H4C Laser Level, and in it, you will find an insight into this Topcon laser level. After that, we will discuss the positives and negatives of the product, as well as what others have to say about it, and finally, we will give our overall impressions of Topcon. Rl-H4C Laser Level
Overview of Topcon Laser Level RL-H4C: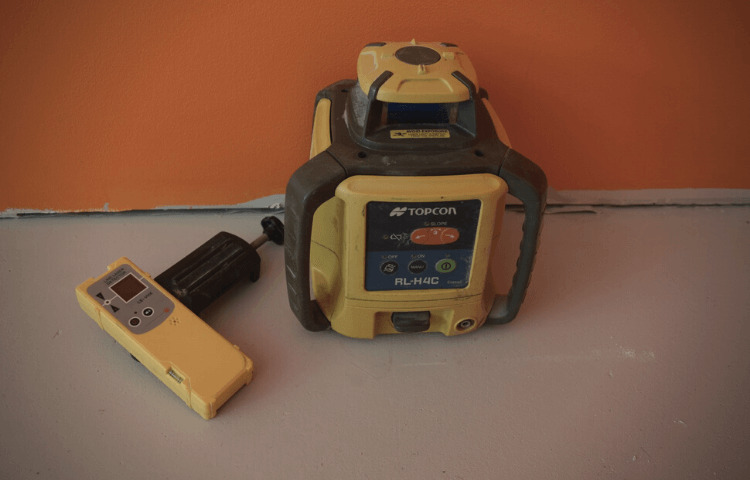 Precision, adaptability, and an unbeatable price all come together in the Topcon Laser Level RL-H4C from Topcon. Due to the exceptional slope that it possesses, it is the ideal instrument for use in the excavation process.
It can automatically re-level itself with a fantastic precision of +/-10 arc seconds in angular readings if it gets knocked out of place, which, as we all know, happens all the time with these things.
Topcon Laser Level RL-H4C Features:
The Topcon RL-H4C excels in specific applications due to its many characteristics, which distinguish it from other similar products on the market, including the following:
Design:
The fact that it has a double handle, which can be used comfortably by those who are either left- or right-handed, is the first thing that stands out about this product.
The revolving laser has a sense of being a little bit heavier, which contributes to the impression that it is more sturdy than its predecessor.
The Topcon RL-H4C now has a charging jack so that the rechargeable battery pack does not need to be removed to be recharged. Additionally, the rechargeable battery pack is now included as standard equipment.
You can continue working even if you discover that the batteries have died since you can use regular alkaline batteries while the battery pack is recharged. This will save you from having to stop what you're doing.
Accuracy:
The Topcon RL-H4C has an accuracy of 10 arcseconds, which translates to 1.2 millimeters over a distance of 30 meters. This is a 33 percent increase in accuracy when compared to the Topcon RL-H3C.
When you combine this feature with the recently released Topcon LS-80L receiver, which features a precise mode with a tolerance of 1 mm, you finish up with the most accurate laser levels currently available. To help with the work that has to be done regarding leveling, the Topcon LS-80L additionally provides 11-grade information channels.
Simple in Operation:
The Topcon RL-H4C is just as simple to operate as its predecessor, but it can quickly and automatically level itself up to a more accurate position. Thanks to the automatic height of instrument warning, you won't have to worry about working to the wrong levels.
This feature is beneficial if the Topcon RL-H4C takes a hit or is placed on exceptionally soft ground. The red laser beam has a higher intensity, making it simpler to spot against backgrounds such as walls and other objects.
The Topcon RL-H4C also comes with a guarantee from the manufacturer that is good for five years and covers defective components and artistry.
Excellent Resistance to Wear and Tear:
The Topcon RL-H4C has an IP rating of 66, nearly flawless. This translates to the device being "dust tight" and protected against rough waves or forceful jets of water, all of which contribute to the product's status as a highly regarded outdoor laser level.
Long Shelf Life of the Battery:
The Topcon boasts an incredible battery life of 100 hours, powered by just 4 D Cell batteries. The RL-H4C may be purchased alongside rechargeable batteries and an AC/DC converter, both sold by Topcon. This means that three distinct methods provide power to the device.
This power adaptability might be helpful on the job site if one or two powerful ways fail for whatever reason.
Versatility:
The Topcon can complete any tasks that a professional contractor could face. As a result of the fact that it is one of the most accurate laser levels now available on the market, it can carry out jobs that call for an extremely high degree of precision.
Long Range:
Because it has one of the most extended ranges available, the Topcon RL-H4C is the best choice for significant surveying operations and building projects.
Due to its potent mix of range and precision, the Topcon Laser can satisfy all your requirements for a laser level at the most advanced and professional level possible.
Critical and Prolonged Warranty Coverage:
The guarantee that comes with the Topcon laser is one of the longest of any rotary level that is currently on the market. It is valid for a full five years.
The incredible endurance of the Topcon laser, along with the lengthy warranty that comes with it, ensures that it will continue to deliver services of a professional level for many years to come.
The Topcon RL-H4C Laser Level's Many Possible Applications:
Large-scale general construction operations, such as grading, excavating, digging, and constructing a foundation, are ideal applications for the Topcon RL-H4C Laser Level, which is ideally suited for these jobs.
This is due to its enormous range and simple slope control, all of which make it ideal for grading tasks that would otherwise be difficult.
It is also particularly suited for activities that need a high degree of accuracy, such as excavating and building the foundation of a home or aligning fence posts, all of which require precise positioning of the posts. The Topcon RL-H4C Laser is one of the most effective outdoor laser levels.
It can also do more routine jobs that people typically confront within the house, such as correctly hanging windows and finding studs before hanging shelves or cabinets. These are examples of common challenges that individuals experience.
Topcon RL-H4C Pros:
In this evaluation of the Topcon Laser Level RL-H4C, like in all of our other reviews, we would like to provide you with a list of the benefits we discovered while testing the product. The following are some advantages that we found:
Because of its exceptional durability, it can survive drops that would cause other rotating laser levels to be rendered useless.
Because it is resistant to dust and water, it is an excellent choice for use in any environment, even our typical ones.
The battery may last up to 80 hours. However, it will automatically cut off after 30 minutes of inactivity.
1It has a lot of power. 2.4 milliwatts per diode indicates that the device has an operating range of 2600 feet.
The Topcon RL-H4C is equipped with unique capabilities for slope matching.
Also, let's not forget the limited warranty that lasts five years.
Rl-H4C Laser Cons:
There are drawbacks to even the best items, such as the Topcon RL-H4C Laser Level. We believe everyone should be aware of these drawbacks before making any buying decision regarding a product. The RL-H4C Laser Level has several disadvantages, all of which are detailed in the following list.
The cost is the first disadvantage. However, it might not be that big of a deal for certain people. If you are a homeowner or will not use it very often, we recommend you go with a cheaper model. However, the pricing is perfect for you if you are a contractor.
Even though the slope function is excellent, nothing informs you of the slope you are now on. If they had this option, it would be of tremendous assistance.
Frequently Asked Questions:
Is it possible to level the ground using a laser level?
A tripod and laser level should be set up at a location that isn't in the way of your work, whether you're using it to level the ground or an excavator working on a foundation. Once you've established your benchmark grade, you don't want to keep shifting it around.
How much money is it necessary to calibrate a laser level?
To cleanse and calibrate construction lasers, you'll need to pay at least $150.00, plus the cost of any necessary repairs to the equipment. The cost of other equipment calibration varies based on the kind of equipment.
Is it necessary to get my laser level calibrated regularly?
All lasers and optical levels should be examined for calibration every six months, Spot-on suggests, and the device should be checked before any substantial work is done.
Conclusion:
The Topcon RL-H4C Laser is the most acceptable rotating laser level on the current market if you are an expert contractor willing to spend a little more money to ensure that your tools operate to their full potential.
In addition to its many remarkable characteristics, including its long operating range, long battery life, and simple slope manipulation, this drone also boasts a high level of durability and one of the industry's most comprehensive warranty policies.